Bordeaux is in the southwest of France, approximately 600 kilometers (360 miles) from the capital, Paris.
It is easy to reach Bordeaux by
train from Paris Gare de Montparnasse in just over 2 hours.  The trains arrive at Bordeaux Saint-Jean train station.
If you arrive in Paris Charles de Gaulle (CDG) airport, take a quick 1-hour flight to Bordeaux or hop on the
SNCF train to Bordeaux right at CDG.  
More on other options of getting to Bordeaux from Paris is in my article How to Get from Paris to Bordeaux.
Bordeaux Merignac Airport (BOD) is about 30 minutes away from the city center.  The airport is well connected to other European cities.  Besides Air France, airlines like EasyJet, Ryanair, and Volotea perform regular flights to Bordeaux.  Here is more information on How to get to Bordeaux from Bordeaux airport.
RELATED: Can I Visit Bordeaux Wineries from Paris in One Day
What is the Best Season to Visit Bordeaux?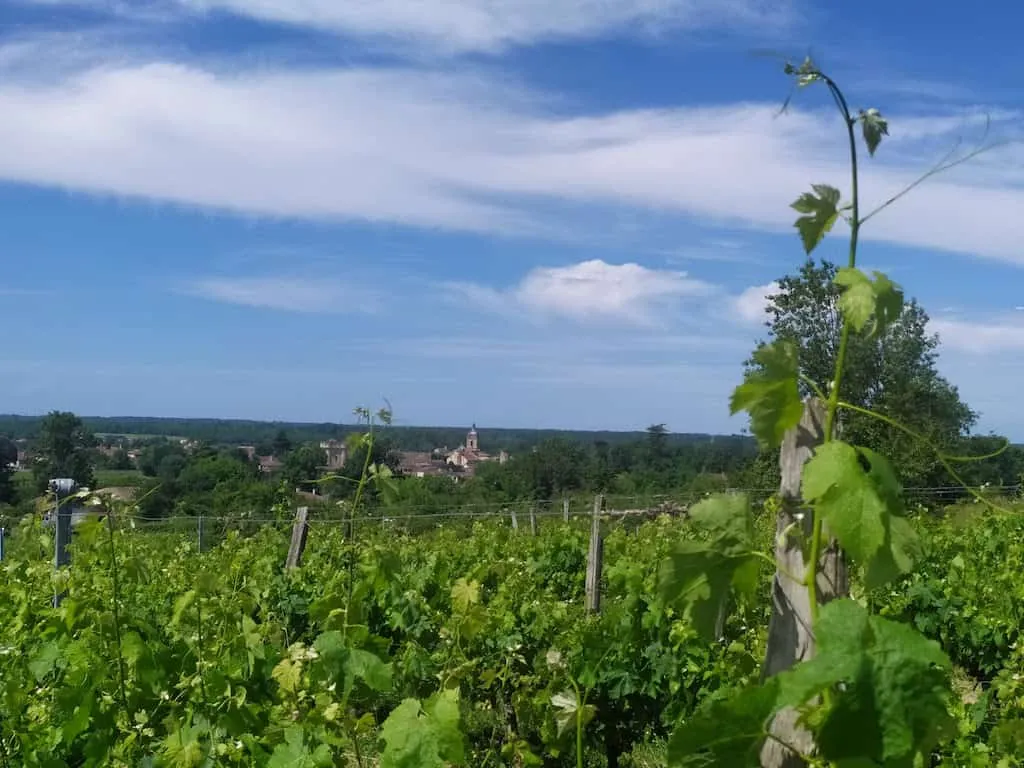 All year round, however winters may be rainy
April to October is a high season for visiting Bordeaux wineries
Harvest lasts from mid-September to mid-October.  Read about visiting Bordeaux wineries in September here.
January and February are a low season with some restaurants closed, however wineries are open and there is more chance to visit the best ones.
June – River Festival and Wine Festival
Where to Stay in Bordeaux?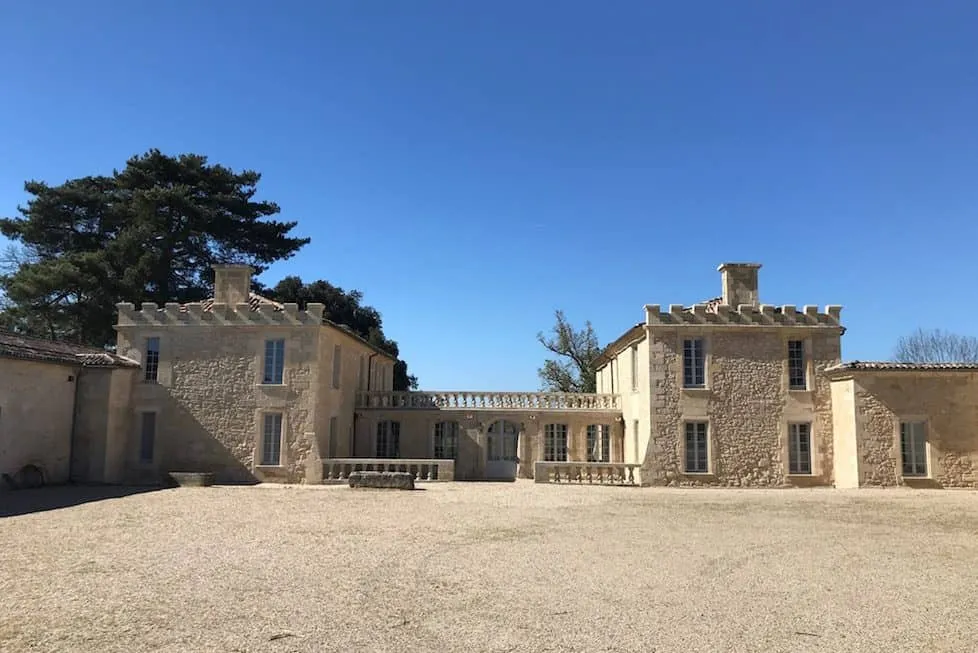 I recommend staying in the center of the city in the areas near the Grand Theatre, the Golden Triangle, or the quarter of Saint-Pierre, which is the heart of the vibrant social life of Bordeaux.  You will be close to shopping, restaurants, the Garonne river promenade, and all major attractions.  
Wine tours pick up from the Office of Tourism or from your Bordeaux hotel.
Where to Stay in Bordeaux City Center?
The Best Boutique Hotels and B&Bs in Bordeaux
You can also choose to stay in the wine country, which is about 30 minutes to 1 hour drive from the city center. The choice is quite wide including luxury spa hotels, rooms at chateaux, the country house stays (gite).  
See some suggestions of Bordeaux wine country stays below.

If you stay outside of Bordeaux, you might look into renting a car. However, driving in the city of Bordeaux can be challenging due to narrow roads and hectic traffic, especially during rush hour. Learn more in my article on whether you need to rent a car in Bordeaux.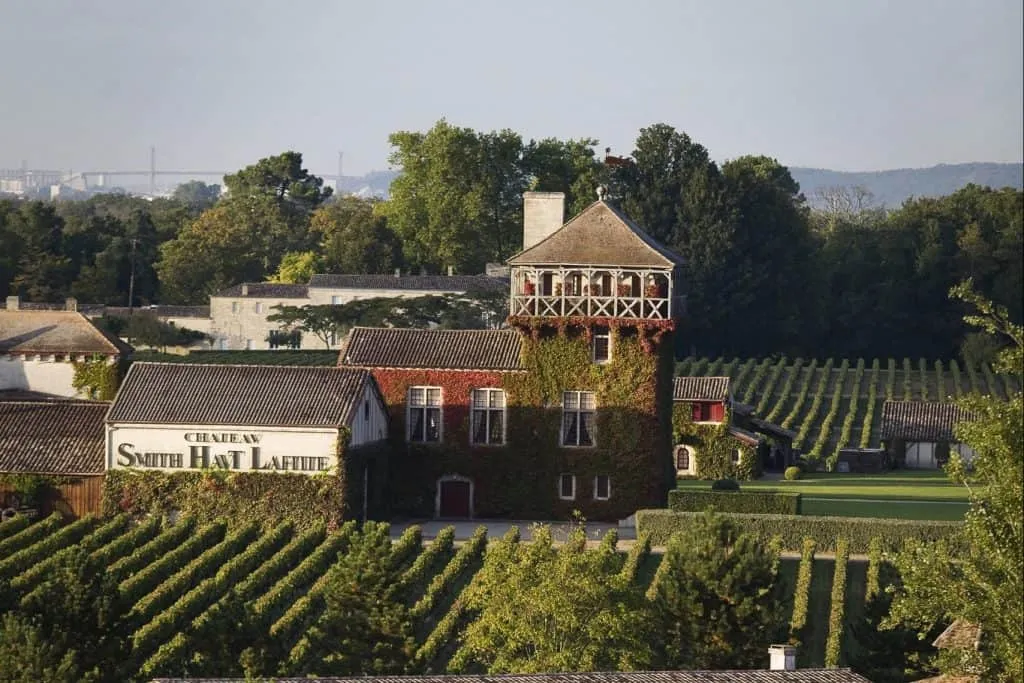 1. Wine Tours
Bordeaux is the capital of a vast wine country and home to thousands of wineries – from prestigious chateaux to small charming family estates.
A wine tour is a "must-do" when in Bordeaux. You will see spectacular vineyards, and historic castles and learn how famous Bordeaux wines are made, and taste them, of course. Choose your preferred Bordeaux destination among the Medoc, Saint-Emilion, Pomerol, Pessac-Leognan and Graves, Sauternes and Barsac, hop on an organized wine tour or drive around independently.
Most Bordeaux winery tours depart from around the Office of Tourism right in the center at 12 Cours du 30 juillet, which is very close to Grand Theatre.
In my blog, I cover all aspects of wine tastings around Bordeaux such as
Can I Visit First Growth Wineries in Bordeaux?
Organic and Biodynamic Wineries in Bordeaux
And much more..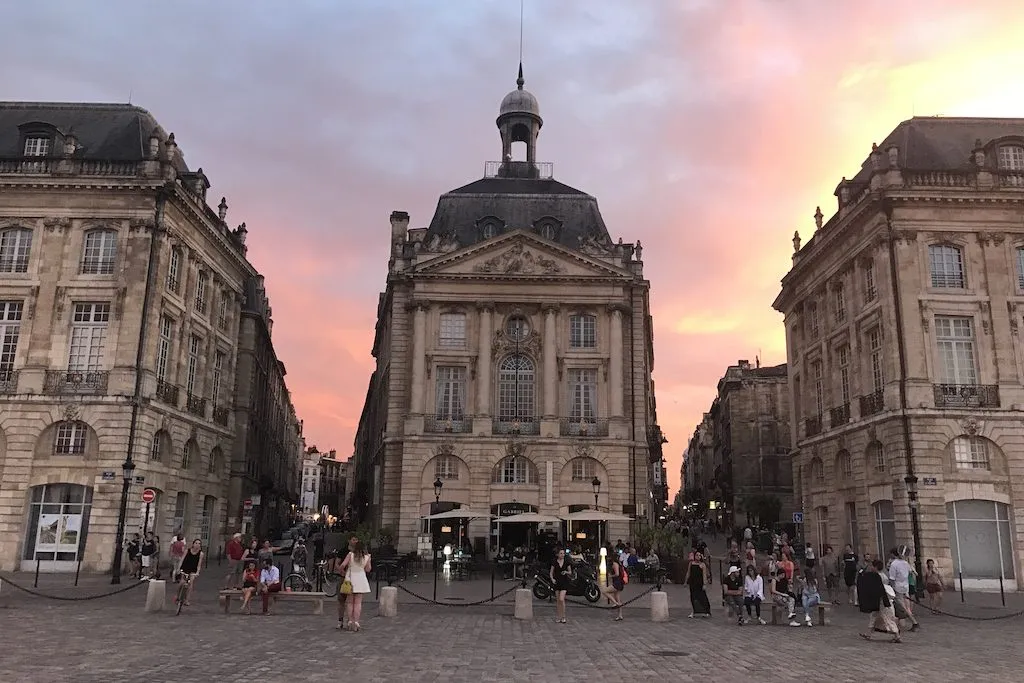 2. The City
Bordeaux city center is lively, very walkable, and full of 17-18th century architectural masterpieces.
Get lost in narrow cobblestone streets, visit small boutiques, spend time people-watching in city cafes, stroll through colorful farmers' markets, stop at wine bars, or take a boat tour.
The Best Farmers' Markets in Bordeaux

Join locals for an apero at one of the Bordeaux squares, or an oyster tasting at a farmers' market, and enjoy southwestern cuisine at one of the traditional or chic Bordeaux restaurants.
One of the best things to do in the wine capital of France is a wine tasting tour like this one.
Where to Taste Wine in Bordeaux
During the summer, there are multiple festivals celebrating wine, music, and the Garonne River.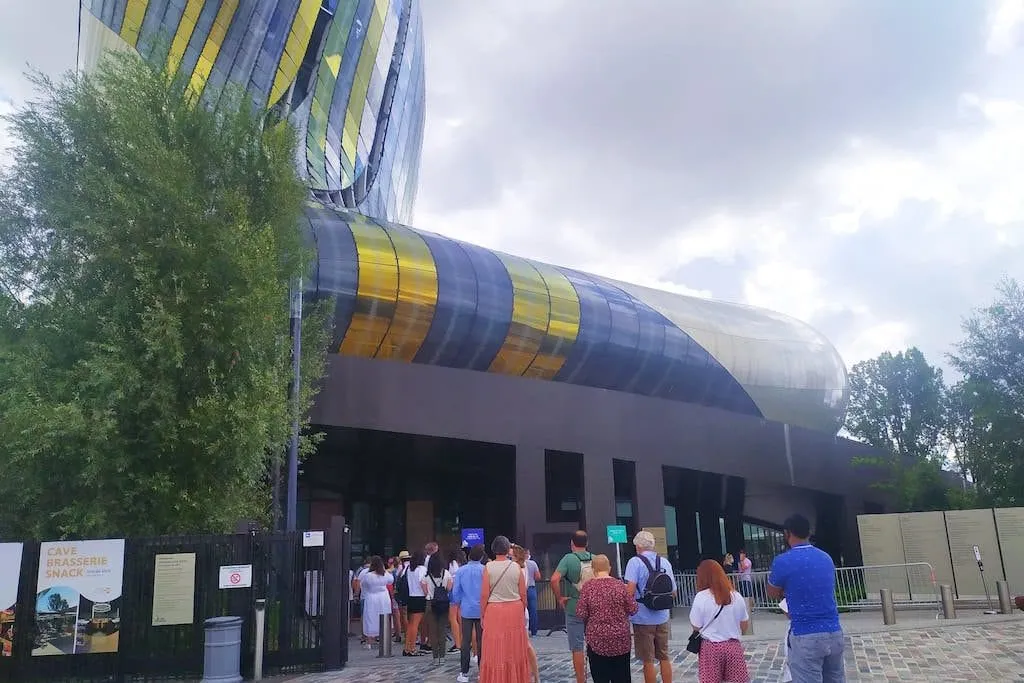 3. Museums
There is a modern Wine Museum (La Cite Du Vin), as well as the Museum of Fine Arts, the Contemporary Arts Museum, and the Decorative Arts Museum.  
See more about visiting La Cite Du Vin below.  

4. The Beach
The beaches of the bay of Arcachon, the Dune of Pyla make a good day trip from Bordeaux.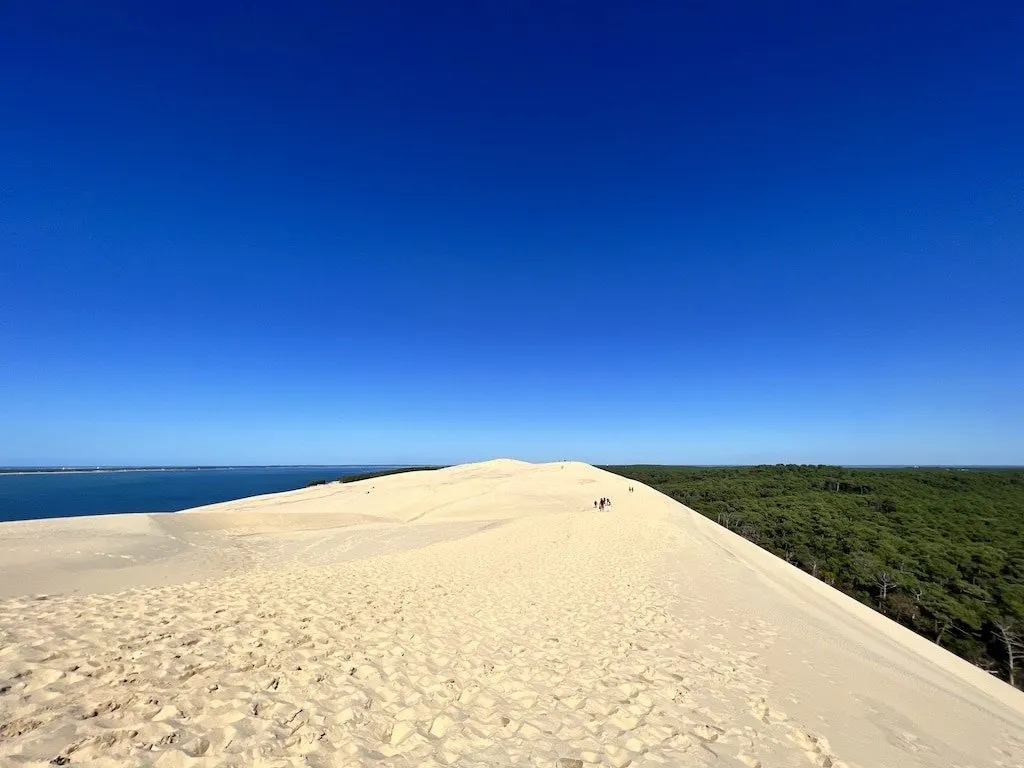 Bordeaux Wine Tour Destinations
The 10,000 vineyards of Bordeaux are spotted everywhere across the region, however, the most prestigious wine-growing areas and wine tour destinations in Bordeaux are Medoc and Pessac-Leognan, Graves, and Sauternes on the Left Bank of the Gironde Estuary, Saint-Emilion, and Pomerol on the Right Bank.  
The Medoc
The Medoc is on the Left Bank (west bank of the Garonne river). The region is famous for prestigious first-growth chateaux classified back in 1855 and the historic castles. Did you know that Thomas Jefferson was one of the first to create a classification of wines of the Medoc?
The Medoc wine tours will take you to Margaux, Pauillac, Saint-Julien, Saint-Estephe, or Haut-Medoc, which are home to the top chateaux in Bordeaux.
Here, you will taste wines of famous grand cru classe names and visit massive cellars. At one of the cellars at Chateau Mouton Rothschild, there are 1,000 barrels, all in one room. Baron Rothschild asked an architect to build a cellar in a way that he could see all his barrels at once.
The landscapes of the Medoc are flat. Most of the land is covered by vines and marshlands. In the Medoc, you will mainly find Cabernet Sauvignon and Merlot blends.
The farther north you move in the Medoc, the more Cabernet Sauvignon will likely be in the blend, thanks to the high gravel content in the soils.
If you have a car, you can organize your own self-guided Medoc wine tour using my Medoc Wine Tour Guide.
Saint-Emilion and Pomerol
On the Right Bank (the east bank of the Dordogne river) the rolling hills, landscapes and the Medieval town of Saint-Emilion, included into the UNESCO World Cultural Heritage, attract many visitors. 
Saint-Emilion wines are elegant and smooth. Merlot is king here. Merlot is often blended with Cabernet Franc in approximately 70/ 30 proportion. Saint-Emilion's wineries are smaller and more homey. You often get to talk to winemakers themselves.
Pomerol winemakers are famous for one of the best Merlots in the world. Petrus of Pomerol remains one of the top wines in France.
Sauternes
The appellations of Sauternes and Barsac are dedicated to the production of unique sweet white wines.  
This Bordeaux wine country is exceptionally beautiful and home to the famous Chateau D'Yquem.
Recently, many Sauternes wineries added beautiful crispy white wines to their product line.  A must-try!
Map of Bordeaux Wine Country
How to Go on a Wine Tour in Bordeaux?
In Bordeaux, all winery visits are by appointment only.  They last approximately 1 to 1.5 hours. Do not plan any visits during lunch time between 12 pm and 2 pm.
Between November and March, wineries can be open Monday through Friday only. Wine tours still run on the weekends in the off-season months to visit select wineries.
If you are planning a self-guided tour, be sure to make your appointments in advance by phone or by email. For some prestigious wineries you may need to call months in advance.
However, from my experience, it is not the prestige of a winery that provides the best experience. Many times, it is the friendly hosts, the extensive tasting program with nice food pairing, unique architecture, history, or combination of all of the above with the breathtaking views and the calm of the French countryside.
My blog article on 10 Best Wineries to Visit in Bordeaux and the Map of Bordeaux wineries may be helpful in planning of your Bordeaux vineyards tour.
If you don't feel like driving around and booking your own winery visits, hop on one of the small-group wine tours or a private wine tour.  Group day tours to Bordeaux wineries depart from the Office of Tourism near the Grand Theatre.
Private tour guides will pick you up at your accommodation. If you are arriving from Paris, which is only 2 hours away, the driver can pick you up at the the Bordeaux train station Gare Saint- Jean and drop you off on your way back.
Private tours are recommended if you want to make the most of your stay in Bordeaux, visit top chateaux or authentic family wineries, enjoy the gastronomic scene at your own pace and get the undivided attention of your guide during winery visits.
Many Bordeaux chateaux offer extended wine tasting programs, where you can taste best vintages, pair wines with food or even blend your own wines. Another interesting option is a cooking class at a chateau.
More helpful tips on how to visit wineries in Bordeaux in my blog posts about Bordeaux.
Map of Top Wineries in Bordeaux
La Cité du Vin is an international wine museum in Bordeaux with a remarkable architecture.
A new generation museum, it is another "must-do" in Bordeaux.
The museum offers a self-guided tour explaining the culture of wine in an immersive and an interactive way. There is a small wine tasting at the end of the tour.  If you would like to taste more, there is a bar and a roof-top restaurant.
You can visit La Cite du Vin with kids.  There is a special "Children's Tour". Alternatively, children can have fun with many interactive installations.
The museum is about 25 minutes walk from the city centre. You can take a taxi, a tram, or a water tram.  Read more in my article on How to Get to La Cite Du Vin?
Buy your skip-the-line tickets online or use Bordeaux city pass to visit the museum. Note that the latter gives you the option of a morning visit only.
Stay at a Winery in Bordeaux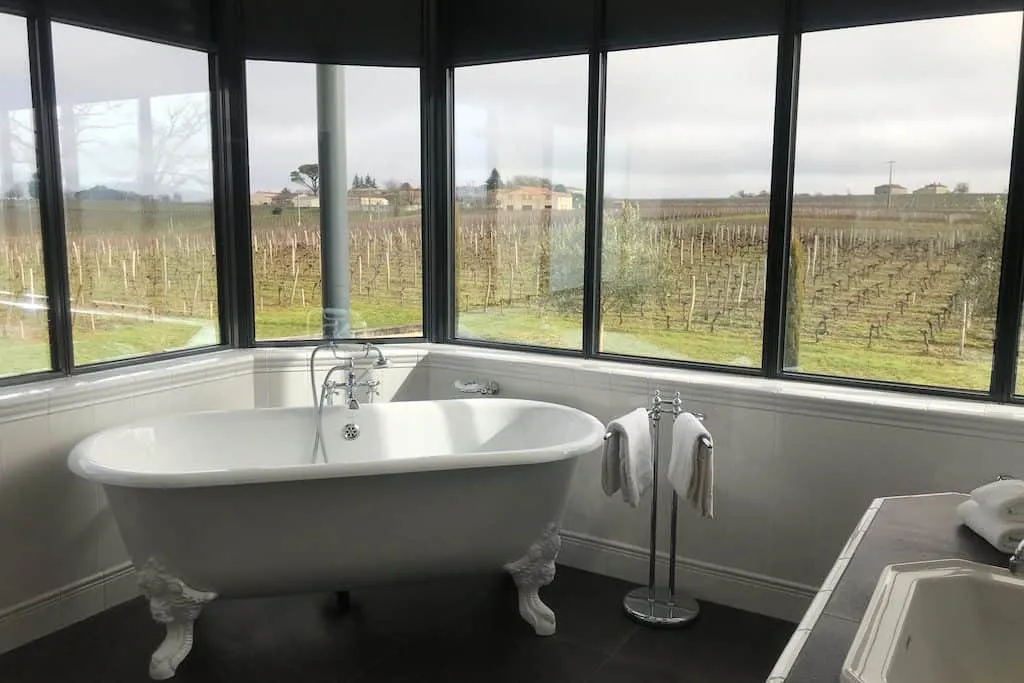 Grape varieties
Black: Merlot, Cabernet Sauvignon, Cabernet Franc, Petit Verdot, Malbec, Carmenere
White: Sauvingnon Blanc, Semillion, Muscadelle
Food pairing
Left bank reds: beaf, steaks, lamb
Right bank reds: duck, chicken, veal, turkey

Whites: oysters, shell fish, fish of all types, clams, mussels, sushi, veal, chicken, pork
Best vintages for Bordeaux reds
2000, 2005, 2009, 2010, 2015, 2016, 2018