As in many old cities, finding a supermarket in Bordeaux centre is tricky.  However, nice grocery stores are present in Bordeaux, even if not always visible.
Here is the list of Bordeaux supermarkets best for grocery shopping, beauty supplies, and of course wine and beer.  
Some supermarkets are excellent for gourmet foods that you can bring home as souvenirs.  And some supermarkets are excellent places to buy Bordeaux wine, even premium wine.
€€€ - Gourmet foods, Wine, Beauty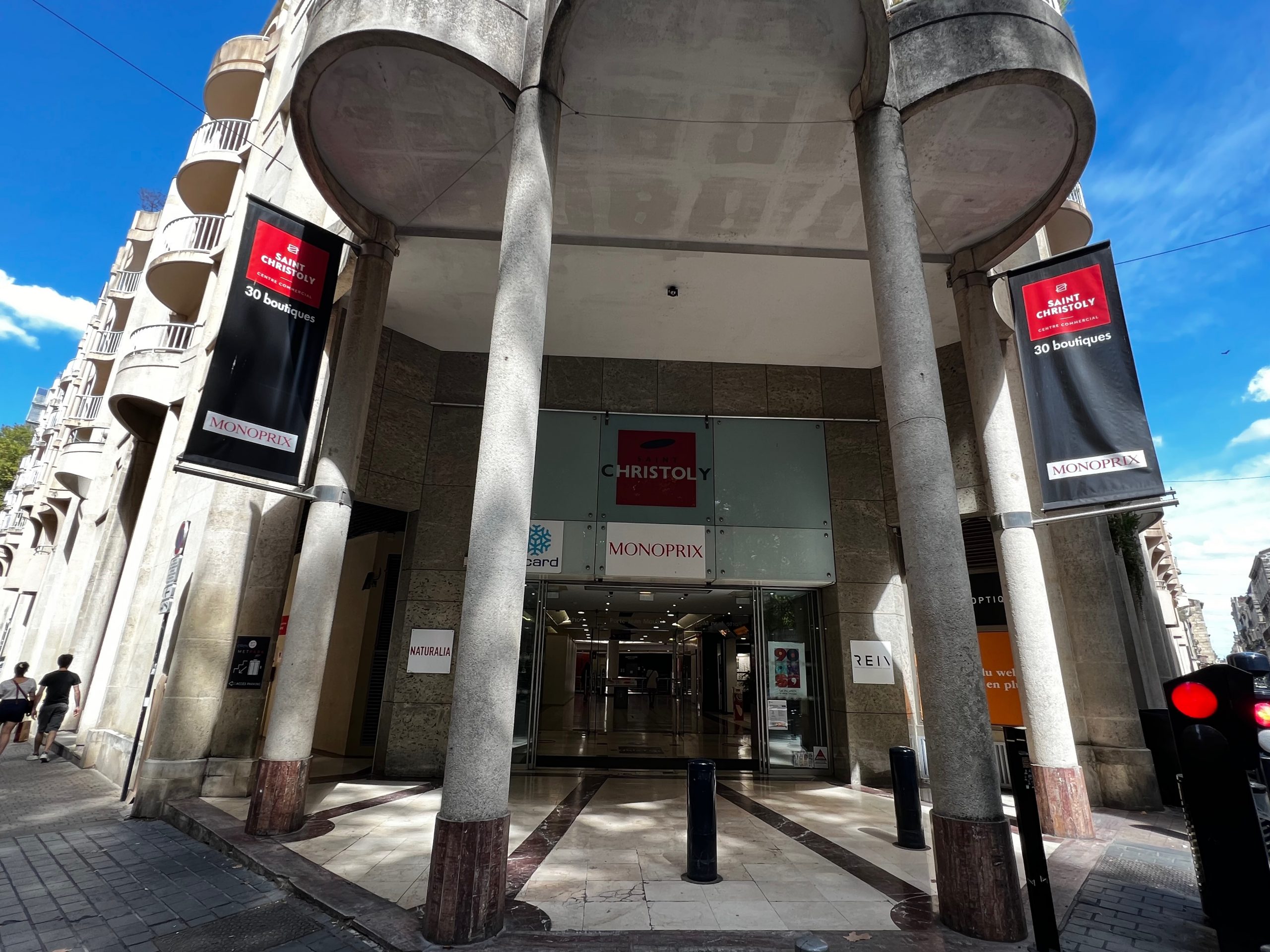 €€ - Grocery shopping, Cosmetics
This supermarket is also hidden in the basement of La Galerie des Grands Hommes shopping center in the Golden Triangle district behind the Intercontinental Grand Hotel.
The steel and glass building is located on the former market square and was constructed in 1961 and then redone in 1991 when it was inaugurated by Queen Elizabeth II.  
The supermarket on in the basement of the gallery is of decent size and would serve your needs for groceries, cosmetics, and over-the-counter medications.  
Regular hours are 10 am to 7:30 pm.  Closed on Sundays.
€ to €€ - Groceries, Vegetables, WIne, Household items
Another hidden supermarket is a huge Auchan store inside the Meriadek shopping center.  There is convenient underground parking.
This store carries a wide selection of fruits and vegetables, including a large organic produce section.
Fresh fish and meat are in abundance.  You have to take a number to be served at the fish counter.
Given this is a huge supermarket you will find an impressive wine department.  
Auchan is my go-to store when it comes to supplies for Thai and Indian recipes.  They also offer international foods – Chinese, Spanish and Portuguese.
Do not forget to check the second floor for household items everything from electronics to garden supplies, home decoration, books, and office staples.
I find prices at Auchan to be very reasonable.  In addition, this store also has a section for "discount" groceries.
Regular hours are 8:30 am to 9:30 pm.  On Sundays, the shop is open till 12:30 pm.  
I would recommend avoiding Auchan on weekends and during lunch hours when lines get too long. 
€ - Groceries, Vegetables, Beer
Aldi is a discount store that has recently opened in the center of Bordeaux.
Dry foods, a basic selection of fruits, vegetables, cold cuts, cheeses, and beer at cheap prices. 
I do not specifically recommend shopping for wine here, but nothing beats a 13-euro bottle of Champagne at Aldi.  Look for it at the cashiers' desk.
€€ - Groceries, Vegetables, Beer, Wine

Carrefour City is conveniently located just off rue Sainte-Catherine on Place Saint-Projet.
This shop is small but has a decent selection of groceries and wine.  Could be a good place to get a snack and a drink.  It is open later than other shops in Bordeaux center.
Open every day from 7 am to 10 pm and 9 am to 1 pm on Sundays.
Some organic foods and wine can be found in this small shop in the center of Bordeaux.  
Perhaps not enough for weekly shopping but good for some snacks and drinks and if you are looking for organic foods and wines.
Conveniently open from 8 am to 9 pm every day.  There is a lunch break from noon to 4 pm on Sundays.
€ - Groceries, household supplies, fruits and vegetables
This shop is small but has everything you need including meats, poultry, cold cuts, cheeses, household supplies, wine, beer and fresh bread baked onsite.
Not the greatest selection, but reasonable prices, excellent for everyday shopping.
Popular for rotisserie chicken and fresh orange juice, 
Open from 7:30 am to 8:45 pm.  On Sundays they close at 7:45 pm.