Where is Saint Emilion, France?
Saint Emilion is located in the Aquitaine region of France (Nouvelle-Acquitaine), approximately 47 kilometers, or 28 miles from the city of Bordeaux.
Saint Emilion is to the east of the Dordogne river, which is considered to be the Right Bank of the Bordeaux region.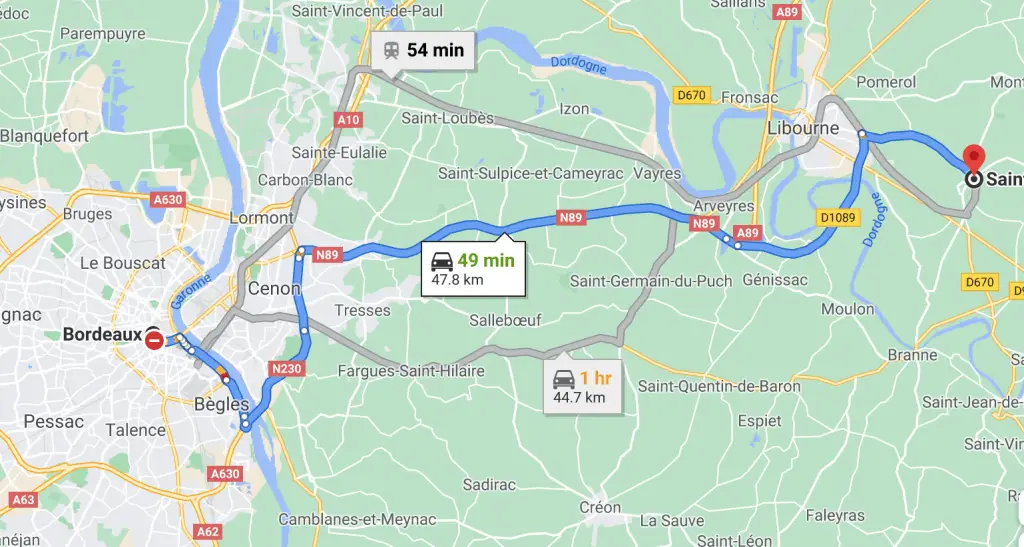 How to Get to Saint Emilion from Bordeaux?
For my Saint-Emilion wine tours from Central Bordeaux, I find it the easiest to take a route along the river Garonne in the southern direction, over the Francois Mitterrand bridge and then via highway N89.  The road is quite comfortable and fast. It takes about 45-50 minutes to get from Bordeaux to Saint Emilion.
Take exit 9 from D1089 toward Périgueux/Bergerac/Castillon/Saint-Émilion/Libourne-Est and enjoy a drive to through the most famous vineyards of Pomerol and Saint Emilion.
If you take exit 8, be aware of the speed radar on D670.  The speed limit is 50 km/h (31 mph).  I do not recommend D670 as it is a busier local road, it is less picturesque than the road that runs alongside Pomerol (exit 9). 
If you are not comfortable navigating narrow cobblestone streets, do not drive into the town unless you absolutely need to.  Instead, park outside the walls.  Saint-Emilion is tiny, you will have no problem walking anywhere.
Parking can be paid by credit card.  I find it easier to use parking apps PayByPhone or FlowBird on my phone.
Take a train from Bordeaux to Saint Emilion, head to station Bordeaux Gare Saint Jean and catch a regional train to Saint Emilion.
The train schedule is here. You can buy tickets online or at a machine at the station.
It takes approximately 30-35 minutes to get there by train. Trains run approximately every 1-2 hours.
Once you arrive to Saint-Emilion, there is a walk of approximately 20 – 30 minutes to the center of the town. It is an uphill walk. You may want to take a bottle of water with you.
A one-way ride can cost you 50-70 euros.
If you are interested in wine tastings, visiting Saint Emilion with a wine tour is one of the best options.  You can do a one-day tour where you visit 2-3 wineries and stop at Saint Emilion for lunch, or even a short 4-5 hour tour.  
Get Your Guide has a good selection of wine tours to Saint Emilion.  I organize private tours to Saint Emilion.
Why to Visit Saint Emilion, France?
A Nice Day Trip From Bordeaux 
Saint Emilion is a small picturesque village of approximately 2,000 inhabitants.  Saint-Emilion tracks its history from the 9th century.  The city is a UNESCO World Heritage site since 1999.
There are multiple historical buildings and churches to see.  You can wonder cobblestone streets, enjoy the views of surrounding vineyards, buy local souvenirs and, of course, taste wines.
Wine Tasting in Saint Emilion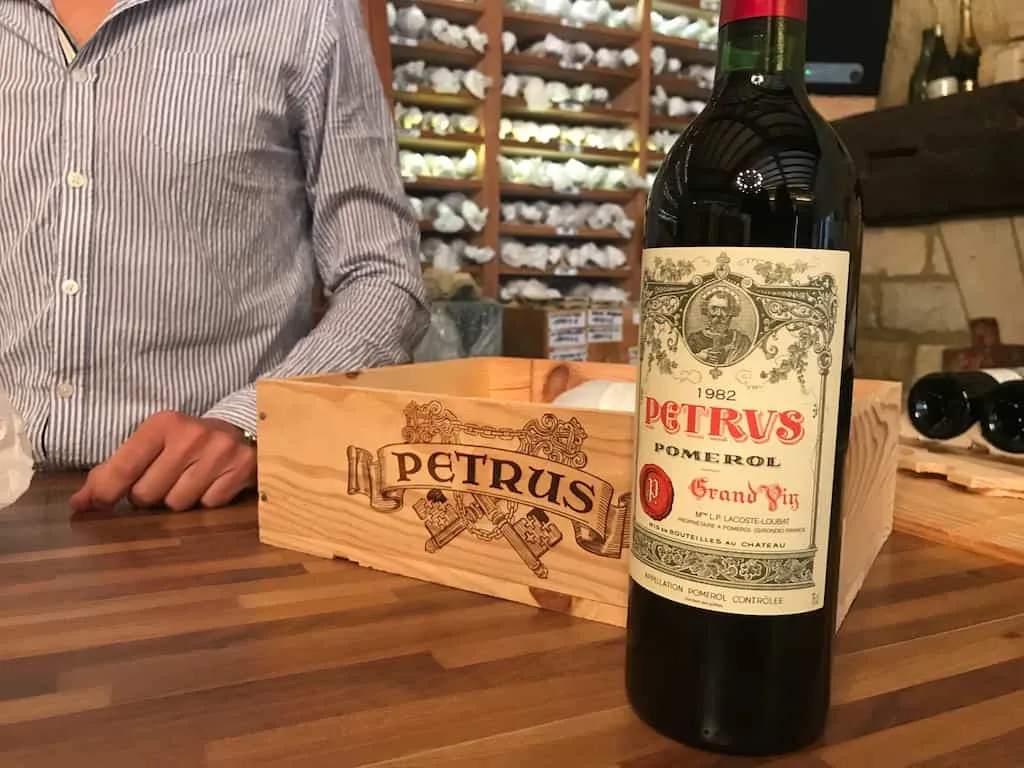 Saint Emilion is also a capital of a small but very famous wine country.  There are approximately 800 winemaking estates around the town of Saint-Emilion.
Some of the most prestigious wines in the world are made within a mile from the center of Saint Emilion. Saint Emilion wines are produced under several appellations.  There are wineries within the city limits of Saint Emilion, however the Saint Emilion wine region extends to an area of and includes 20 local communes.
Lean all about Saint Emilion wine tours in my Bordeaux Wine Tour Guide.
How to Get to Saint Emilion from Paris?
The most efficient way would be by train or by plane to Bordeaux.  Then drive, take a train, or hope on Saint Emilion wine tour.
A train ride can be under 3 hours with a short stopover at Bordeaux St Jean train station.
A drive from Paris to Saint Emilion will take approximately 6 hours.
Best Saint Emilion Wineries
Map of Saint Emilion, France