The sweet white wines of Sauternes are unique to the Bordeaux wine region and a visit to Sauternes and Barsac is a must during your time in Bordeaux. 
While it is possible to visit a couple of Sauternes wineries on a day trip, if you want to extend your stay and give yourself time to enjoy what the region has to offer, consider one of the following hotels to rest up for the evening and prepare for a long day full of wine tastings and gastronomic experiences.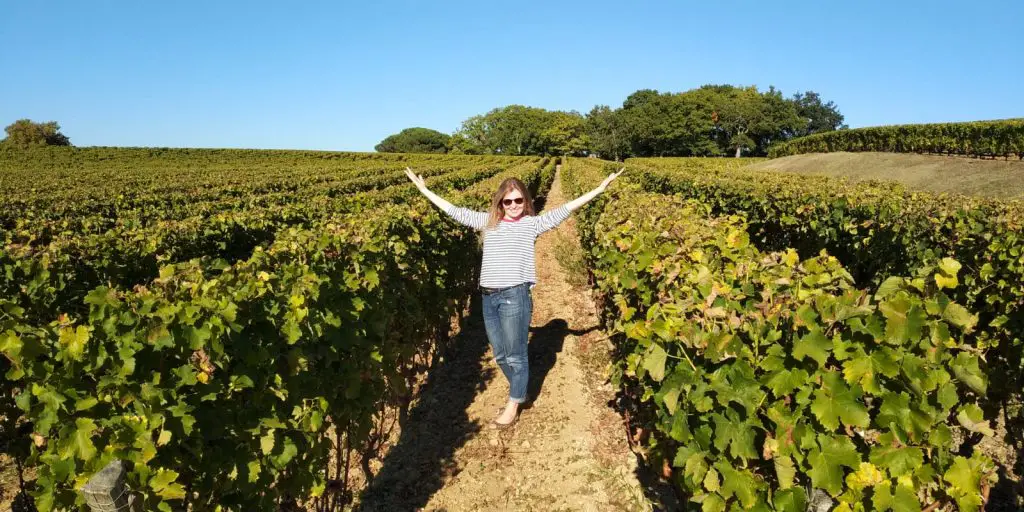 How Far Is Sauternes Wine Region From Bordeaux City?
The Sauternes wine region is located about 40 km southeast of the city of Bordeaux. 
Driving to this wine region by car from Bordeaux city will take about forty-five minutes on a good highway.
Sauternes is the name of the wine region and wine appellation (AOC) as well as the name of one of the five wine-making villages. Other villages in the appellation are Bommes, Barsac, Fargues and Preignac.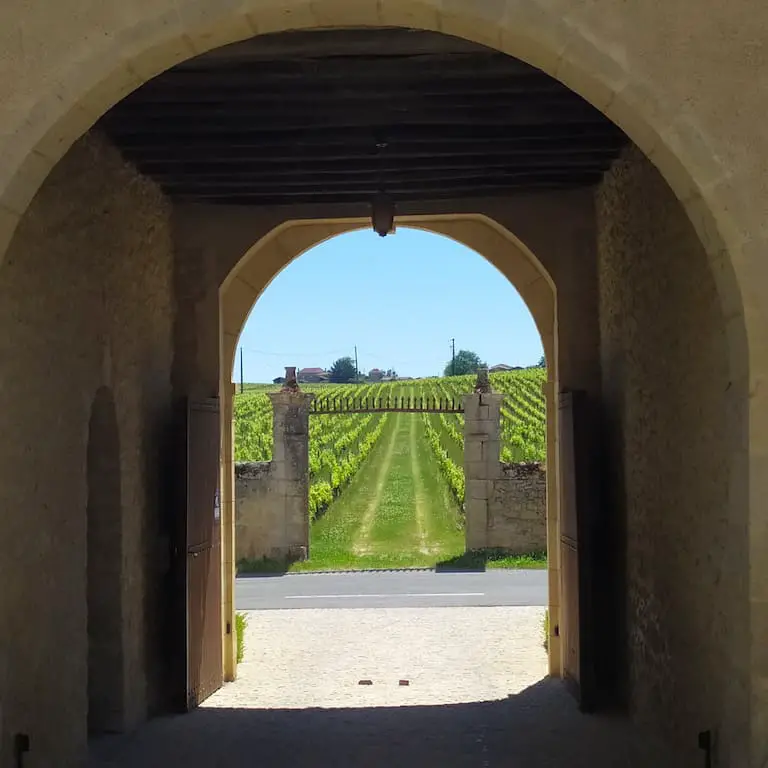 How Can You Get To Sauternes?
From the city center of Bordeaux, hop on a thirty to forty-minute train from Bordeaux Gare de Saint-Jean to Gare de Langon. While Gare de Langon is the closest train station to Sauternes wine village, upon arrival you will need to take a taxi to get to the wineries you want to visit, as it is not a walkable region. 
If you want to avoid the fuss of having to take a train, rent a car from Bordeaux city to give yourself the flexibility to explore the region of Sauternes at your leisure. 
Alternatively, join one of the Sauternes wine tours through Viator, GetYourGuide, or splash on a private Sauternes tour with pick up from your hotel.
Should You Stay In Sauternes?
The villages of the Sauternes wine region are surrounded by beautiful wine country with very fine wineries and amazing landscapes.  
In my opinion, the Sauternes area is more picturesque than the Medoc wine region and is way less touristy.  Plus, there are very nice restaurants and hotels in and near the villages of Sauternes and Bommes.
You can stay near the iconic Chateau D'Yquem and come for a tour or tasting or simply enjoy the views on Sauternes wine country from its beautiful grounds.
Located to the south of the city of Bordeaux, Sauternes may be a little out of the way from major wine tourism paths of Bordeaux, but you can still explore the wineries of the Medoc and Saint-Emilion while staying in Sauternes.  
A stay in Sauternes can be a good idea if you are keen on visiting wineries in Pessac-Leognan/Graves where both reds and dry whites are made.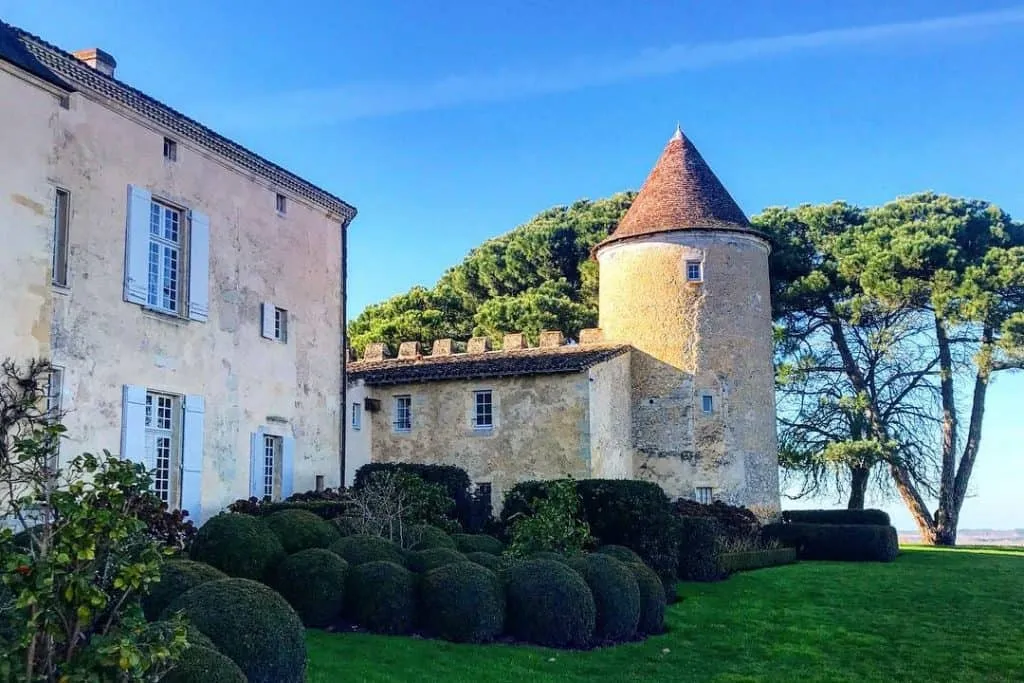 What Are The Best Hotels In Sauternes?
This impressive hotel and restaurant are at Château Lafaurie-Peyraguey, a premier grand cru winery in Sauternes. 
Lalique offers visitors the opportunity to spend the night in a lavish 17th-century castle where you can sleep surrounded by vines. The hotel is located in Bommes, just moments from Château D'Yquem.  
Enjoy a meal onsite at a Michelin-star restaurant Lalique and taste some of Château Lafaurie-Peyraguey's delicious wines with views of the picturesque vineyards.  
The cozy courtyard of Lalique is my favorite spot in Sauternes.  In the summertime, the courtyard turns itself into an outdoor dining place, La Terrace de Lafaurie-Peyraguey.  Highly recommended!
If you are looking to stay right in the heart of the wine-making action, a stay at Château d'Arche's onsite hotel is the perfect option for your time in Sauternes.
You get to stay at the 1855 Grand Cru Classe Chateau founded in 1611, and witness the famous morning fogs of Sauternes.
Relais du Château d'Arche located near the famous river of Ciron, has eight guest rooms with king-sized beds.  The rooms are decorated in a classic French style.
Besides the sweet wines of Sauternes, the winery is making dry whites and dry reds from a small plot in Graves.
Chateau Sigalas Rabaud is the first grand cru classe of Sauternes classified in 1855. 
You will stay in the 17th- century "Chartreuse" in the heart of a 14-hectare vineyard with a view of prestigious châteaux. During your stay, enjoy a free wine tasting of Chateau Sigalas Rabaud wines.
La Sauternaise is a luxury bed and breakfast located right in the heart of the village of Sauternes. With four charming guest rooms and a shaded outer terrace perfect for enjoying a refreshing glass of Sauternes after a long day.  A delicious breakfast is included in the price of the hotel. 
While staying in the village I highly recommend enjoying a meal at L'Auberge les Vignes which is located next to the hotel. Watch your meal get cooked over an open fire in the restaurant. I could have easily spent hours sipping Sauternes in this cozy restaurant, but unfortunately had to leave for my next winery tour. 
Hôtel Le 23 is a 19th-century, completely renovated home located in the village of Sauternes and just minutes away from many amazing wineries. It offers eight simple but spacious rooms, including a reduced mobility room.
Navigate around Sauternes with ease on bicycles provided for your convenience by the hotel.

The region of Sauternes offers many unique stays from sleeping among the vines at a château to relaxing in a charming bed and breakfast. Safe travels!