If you are looking for a day-tour from Madrid, a wine tour to Ribera del Duero are is an excellent choice. 
Here is my list of top reasons why you should go for a wine tour to Ribera del Duero.  
1. Excellent wines of world-renowned quality
Although the region has more than 2,000 years of history making wine, Ribera del Duero has become a denomination of origin (DO) only in 1982 and the number of wineries has grown exponentially to over 300. 
Today, wines of Ribera del Duero have an extremely high reputation in the world.  Names such as Vega Sicilia and Dominio de Pingus are known to wine connoisseurs around the world. 
DO Ribera del Duero produces mostly red wines that tend to be full-bodied, powerful, well-structured with intense aromas of ripe black fruit, vanilla, and spice.  The region gained popularity producing Tempranillo-based blends, concentrated and aged in oak.
If you love California Cabernet Sauvignon, you will most likely enjoy the refined style of Ribera del Duero wines.  
Even though, the region is dominated by red wines, Ribera white wines (Ribera blanco) are also present. They are made from Albillo grapes.  
The neighbouring wine region DO Rueda produces its famous Verdejo white wines, and in Arribes del Duero whites are made from Malvasía Castellana grape. 
In other words, if you love white wines, you will find them around here as well.
Lamb roasted in a wood-fired oven is at the top of every menu as well as chorizo, morcilla, other pork dishes, and mushrooms 
Here, you will find a full array of restaurants from family-owned authentic tabernas, to gourmet restaurants at wineries, and gastronomic wonders recognized by reputable guides such as Sol Repsol and the Michelin Guide.  
Many bodegas offer wine and food pairing experiences and dining as part of visits.  On the map of wineries to visit below, you will find Ribera Del Duero wineries with restaurants.
Roasted lamb (lechazo)
Castilian garlic soup (sopa de ajo)
Grape pies (torta de uva) during the harvest season
Marzipan sweets with  pine nuts (empiñonados)

Chorizo pork sausage

Morcilla blood sausage
There is more to do in Ribera del Duero region than tasting wine.
Castles, monasteries, archeological sites, and underground cellars will make excellent stops along the Ribera del Duero wine route.
Harvest festival in Peñafiel
Peñafiel castle with wine museum in it
Wine museum Museo del Vino Ribera del Duero in the underground winery in the center of Aranda de Duero.
Wine therapy treatments available in spa resorts
Ribera
stands for a riverbank.
Ribera del Duero region gets its name from the Duero river that starts in Soria and flows through the province of Castille-Leon to Portugal where it becomes the Douro.
5. Convenient access from Madrid and Bilbao
If you are staying in Spain's capital consider one of the wine tours from Madrid.
Only about two hours away from the hustle and bustle of the capital, you will find breathtaking landscapes, historic monuments, excellent wines and some of the best restaurants in the world.
Bilbao is approximately 2.5 hours away from the Ribera del Duero wine route.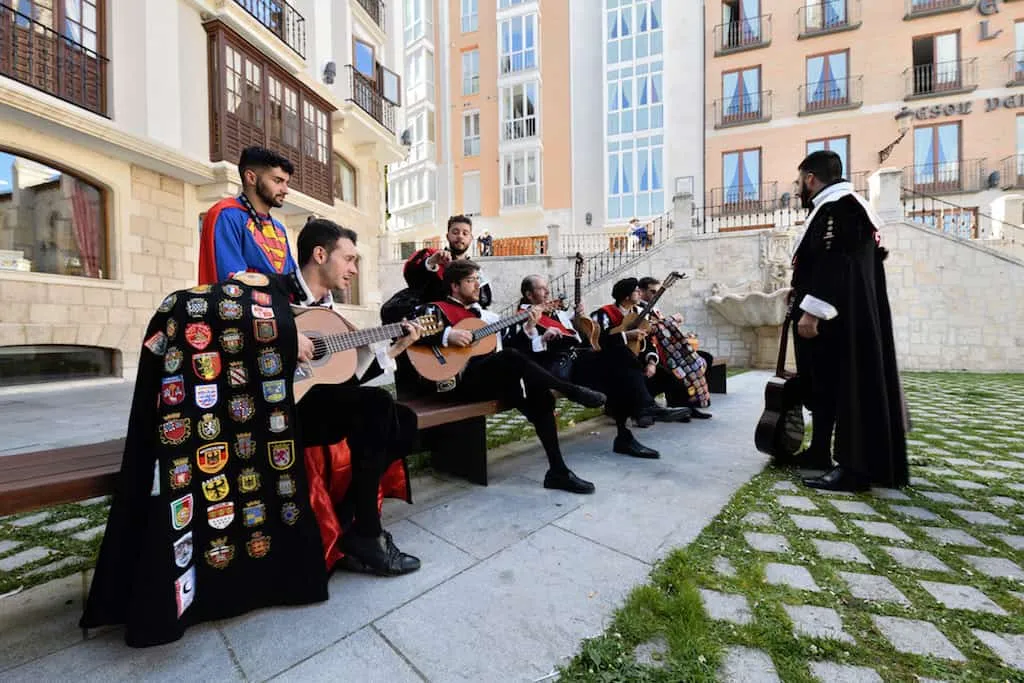 Ribera del Duero Wine Tasting by Car or on a Wine Tour
Travelling by car or getting on one of the organized wine tours would be the two best options to visit Ribera del Duero wineries. 
The Ribera del Duero wine route runs through the plateau of Castile-León.  The four winemaking provinces of the region are Burgos, Segovia, Soria, and Valladolid.  
The wine route lies along the Duero River and covers a length of 115 kilometres (70 miles) near towns of Aranda de Duero, Fuentelcésped, La Horra, Peñafiel, Peñaranda de Duero, Roa de Duero, San Esteban de Gormaz, and Valbuena de Duero.
The village of Quintanilla de Onésimo in the Valladolid province is called the Golden Mile of the Wine.  It is home to 10 bodegas producing DO Ribera del Duero Wines.
The  Ribera del Duero wine route can be reached from Madrid following A-1 highway (approximately 2-hour drive), or the N-122 main road that connects Aragon with Castile-León and Portugal through the Duero Valley.
The nearest local airports are Valladolid and Burgos.  Madrid (Barajas) is 165 kilometers (100 miles) away, and Bilbao airport is within 250 kilometers (150 miles).
Ribera del Duero by Public Transport
If you're travelling by public transport there are various stations and bus stops located in all the main towns along the route.
The city of Valladolid has good train connections with many Spanish and European towns. You can find schedule information with at www.renfe.es
Once you reach Valladolid station, you can be picked up by a local wine tour company.
Another option to reach the Duero River Valley is by bus. Take a bus from Madrid to Aranda de Duero or to Valladolid.  Check out these coach companies, that also serve intercity lines within the province of Castile-León. 
Navarro
Empresa de las Heras
Eurobus, S.A.
How to Organize Visits to Ribera del Duero Wineries?
For a self-guided tour, I recommend to find wineries you are interested in (see my map) and contact them to request an appointment.
Alternatively, join a group or private wine tour from Madrid.
Tips for Self-guided Wine Tour of Ribera del Duero
Many wineries (called Bodegas in Spanish) are open to the public, however, it is strongly recommended to book your winery visits in advance by calling them up or emailing.  Make sure you get a written confirmation from a winery.
Times of group visits are usually pre-set and shown on winery website.  Some wineries are closed on the weekends.  
A typical visit includes a walk through vineyards, vat rooms and cellars, in Spanish or in English, and and a tasting of 2 to 4 wines, sometimes accompanied by tapas. 
Allow approximately 1 to 2 hours for each winery visit, plus, for time to move around.  It is practical to plan for 2 or 3 winery visits in a day.
Top wineries of Ribera del Duero such as Vega Sicilia and Dominio de Pingus will be harder to get an appointment for.  You may want to write to them well in advance and request a visit. 

 

Visits and tastings cost usually starts from approximately 15 euros. Expanded tastings and wine food pairing options can cost anywhere up to 90 euros per person.
Best Ribera del Duero Wineries to Visit

There are over 300 wineries in the area producing approximately 100 million bottles per year.
The core wine-making areas of Ribera del Duero are close to the towns of Peñafiel, Roa, and San Esteban de Gormaz.
These areas produce different styles of wine.  If you like are fruitier and rounder wines, look around Peñafiel. Wines found in Roa area have more structure. Wines from San Esteban de Gormaz are very flavourful and unique in their expression of fruits.
Best Ribera del Duero Wineries (90+ Points)
I have plotted on the map below the best wineries of Ribera del Duero, which produce excellent wines that are highly rated by wine critics and got 90+ points on their wines by Robert Parker of the Wine Advocate.
I hope this would help you to select interesting wineries to visit in Ribera del Duero.
On this map, I also marked wineries with restaurants (see yellow tags).
Organized Ribera del Duero Wine Tours from Madrid
If you want to avoid driving and the hassle of organizing your own itinerary, hop on one of the organized wine tours from Madrid.  
Tour companies would typically pick you up in Madrid and take you to 3 wineries in Ribera del Duero, as well as arrange lunch at a winery or at a local restaurant.
Opt for a private wine tour if you prefer a pick up and drop off at your hotel, and an ability to select your favorite wineries. I find a private wine tour to be a good investment, in case if you are interested in specific wines and want to purchase them at a winery.
If you are already in the region, consider a wine tour from Aranda de Duero.

What is the Best Time to Visit Ribera del Duero Wineries?
You can visit wineries any time of the year.  Some bodegas may be closed in August or during harvest time. It is best to inquire with the wineries when planning your trip.
The climate is continental, with harsh winters, hot summers and wide temperature variation between day and night. 
Tip:  The area may get quire cold starting from October and through the winter.  We visited in late October and night temperatures were closed to 0C (32F) even though temperatures in Madrid and coastal areas around San Sebastian were around 15C (59F).
You may want to pack for colder weather, especially if you are planning to stay the night in the area.
Ribera del Duero is known for its high-end wines Vega Sicilia, Dominio de Pingus, Bodegas Aalto and Vina Sastre.   
At the same time, there are excellent Ribera del Duero wines sold for very ordinary prices.  Some of the top wineries may also produce bottles for less under $40, and there excellent choices in even in the $20-$30 range, for example Bodegas Antidoto and PSI by Dominio de Pingus.
As to the best vintages of Ribera del Duero, 2010 and 2016 have recently been considered the most successful. Robert Parker of The Wine Advocate gave ratings of over 95 points to these Ribera del Duero vintages.
Ribera del Duero Wine Profile
Reds: Main grape variety is Tempranillo.  Wines must contain at least 75% of Tempranillo to satisfy the requirements of Ribera del Duero DO. 
The other 4 permitted black grapes are Cabernet Sauvignon, Merlot, Malbec, Garnacha Tinta
Whites: Albillo Mayor
CRIANZA: 1+ year(s) in barrel
RESERVA: 1+ years in barrel, 2+ years in bottle
GRAN RESERVA: 2+ years in barrel, 3+ years in bottle
COSECHA: Wines that do not fall within the defined aging specifications but often meet or exceed classification requirements
It is a dry area with very diverse soils, including clay, sand, limestone, marl and chalk. It is protected from any maritime influence by a ring of mountains. 
Vineyards are located at high altitudes between 700 m and 1,100 m.   
Harvest typically starts in the last two weeks of September and lasts to up to late October and early November, which is later than other neighbouring wine appellations, which is explained by wide variation of temperatures between night and day hours.
Deep ruby color, full body, medium to high acidity, black fruit flavours, spicy and woody notes.  
Ribera del Duero wines are some of the most food-friendly wines.  They perfectly complement local pork and lamb dishes, prime rib, skirt steak, and red beans,
Where to Stay in Ribera del Duero?
Book your Ribera del Duero wine tour