Known as one of the world's largest wine museum, La Cité Du Vin stands boldly in the heart of Bordeaux city, welcoming visitors every day to learn more about the vast history of wine. 
For wine novices, enthusiasts, and connoisseurs, La Cité Du Vin is full of unique exhibits that delight visitors' senses and encourage a deeper understanding of the wide world of wine. 
While in Bordeaux a stop by La Cité Du Vin is high up on many visitors' to-do lists. Discover how to visit La Cité Du Vin on your next adventure to Bordeaux, France. 
Using interactive displays, video projections, sensory experiences and more, La Cité Du Vin is a museum focused on all aspects of wine. 
Explore vineyards from the sky, meet wine-makers from around the world, walk through the centuries to learn how wine as we know it came to be, enjoy a meal with a sommelier and compete to see how many smells you can identify. 
While primarily a museum, La Cité Du Vin also operates as an educational facility and a seminar space offering guest lectures focused on wine from around the world. 
The museum also has a wine bar on the top floor. A tasting of one international wine is included in the price of your admission ticket to the museum. 
An extensive wine shop that sells wines from Bordeaux and around the world is one of the best in Bordeaux. 
La Cité Du Vin is open seven days a week from 10 am to 7 pm from March to August. 
From September to January, the museum is open from 10 am to 6 pm on weekdays, and from 10 am to 7 pm on weekends and school vacations.  Closed at 4 pm on Christmas eve and completely closed on Christmas Day.  Please check the exact opening hours on the museum website.
Is La Cité Du Vin Worth Visiting?
A visit to La Cité Du Vin might not be for everyone, but for anyone looking to learn more about the world of wine, a visit to La Cité Du Vin is definitely worth it. 
With endless exhibits and interactive experiences, La Cité Du Vin is excellent for those who know little about wine or never really had an interest in it before.  The museum is a great starting point making learning about wine fun and accessible. 
Here is more on the pros and cons of visiting La Cite du Vin.
How To Get To La Cité Du Vin?
La Cité Du Vin is located in Bordeaux city at 134 Quai de Bacalan, 33300 and is easily accessible by public transport. From the Quinconces tram stop, take tram line B in the direction Berges de la Garonne, five stops. Exit at the La Cité Du Vin tram stop right in front of the museum. Tickets for the tram are €1.70 for a one-way trip and can be purchased on the platform at each tram stop. 
You can also walk on the banks of the Garonne river for 30 minutes to reach La Cité Du Vin from the city center.
A really fun way to get to La Cite du Vin is to ride on a water tram.  Have a mini river cruise on the Garonne at the price of the tram ride.  Read more in Bordeaux Water Tram – the Best Way to Get to La Cite Du Vin.
You can also do an Uber ride, but it is hard to get an Uber in central Bordeaux as many streets are closed for non-local traffic and there is no place to wait.
Where to Buy La Cite du Vin Tickets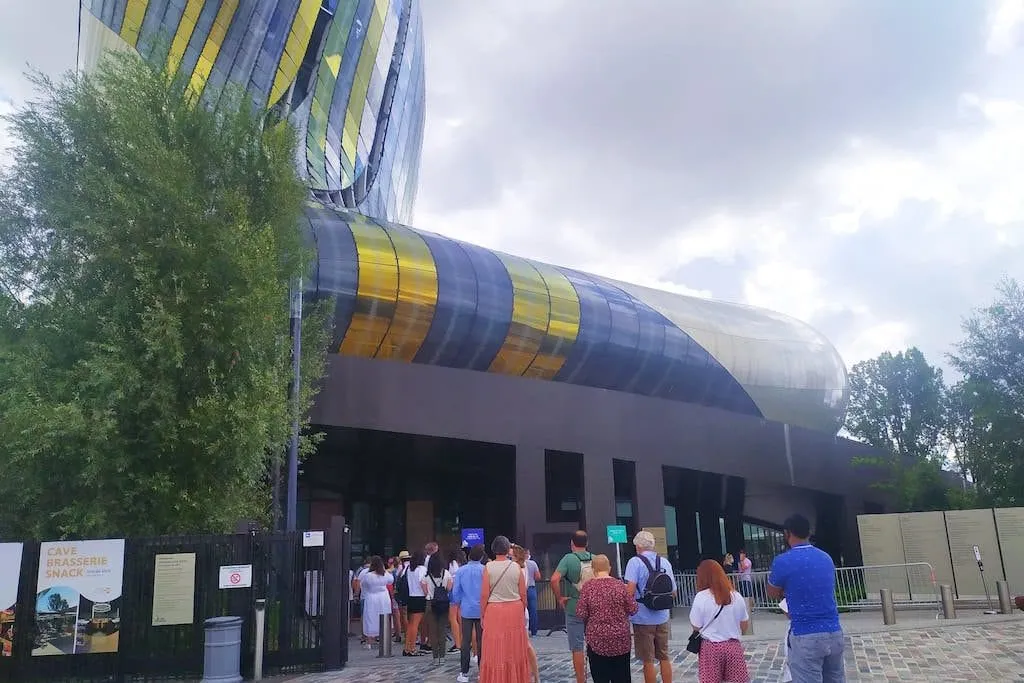 You can buy tickets at the counter.  However, during busy times, the lineups can be quite long.
Skip-the-line tickets are sold online as well as included in the Bordeaux City Pass.
It is important to mention that the city pass gives you savings but it only allows to visit La Cité Du Vin museum in the mornings before noon.
How Many Hours Do You Need In La Cité Du Vin?
Generally, visitors spend between two to three hours exploring La Cité Du Vin's permanent exhibition.
However, with ten hours of content interspersed throughout the permanent exhibit, the museum offers endless opportunities for learning. 
The museum provides audio guides for all visitors as a part of the ticketed price, so the amount of time spent exploring La Cité Du Vin can be customized based on personal interests. 
Can Kids Visit La Cité Du Vin?
While wine might not be a topic most children express interest in, the interactive displays will keep them entertained during your visit. 
Let your children learn through play. With exhibits that they can touch, smell and play with, plus electronic games they can participate in, your little ones are sure to have just as good of a time as you while exploring La Cité Du Vin. 
Can You Taste Wine At La Cité Du Vin?
Tickets to the museum include a tasting of one wine at the Belvedere Wine Bar that can be found on the eighth floor of La Cité Du Vin. With 360-degree panoramic views of the city, La Cité Du Vin makes for the perfect spot to taste wine. The Belvedere rotates their wine selections weekly, ensuring a unique experience for each visit. 
If you're visiting with children, grape juice is available for them to enjoy alongside you. 
Additionally, tasting workshops are available at La Cité Du Vin daily for an extra cost.
On the seventh floor of La Cité Du Vin, Restaurant Le 7 offers a wide selection of five hundred wines from fifty different countries should you wish to continue your tasting experience. 
Can You Buy Wine At La Cité Du Vin?
Latitude20 is La Cité Du Vin's own wine shop and can be found upon entry to the museum. It is not necessary to buy tickets to the museum in order to enter Latitude20. 
If you're looking for the perfect bottle of Bordeaux wine, La Cité Du Vin has options from affordable to luxury from each region of Bordeaux. Branch out to other wines from France, or countries from all of the continents. With wines from Japan, Lebanon, Morocco and more, you're certain to find a unique bottle of wine to take home with you.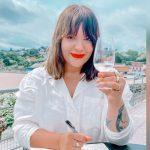 Jessica Blanarik is an American wine and travel tourism writer.  She is currently receiving her master's degree in Wine Tourism with the Wintour Erasmus Mundus program in Spain, France, and Portugal. She believes wine is not only delicious but also an important unifier of people and cultures. You can find more of her work at www.jessisjourney.com.