Travelling by car or getting on one of the organized wine tours would be the two best options to taste wines in Tuscany. 
Using public transport will require more organization and planning, but it is possible to reach wineries by train, bus and a bit of biking and walking.  
Trains to Tuscany wine regions from Florence, Siena, Rome and other cities. Train schedules can be found here. 
To visit Chianti wineries take a train to Poggibonsi or Castellina stations. You need to change trains at the Empoli train station if you're coming or going to Florence. To reach wineries from there, arrange a taxi or ask wineries to pick you up.
If travelling by bus from Florence, one of the options is to reach Greve in Chianti or another town of Chianti that I listed above, and walk from the town to one of the wineries.
An organized wine tour is another good option when travelling without a car. 
Tuscany wine tours pick up from Florence, Rome, Pisa, Siena, San Gimignano, Lucca, Arezzo, or your accommodation in Tuscany.
Best season to visit Tuscany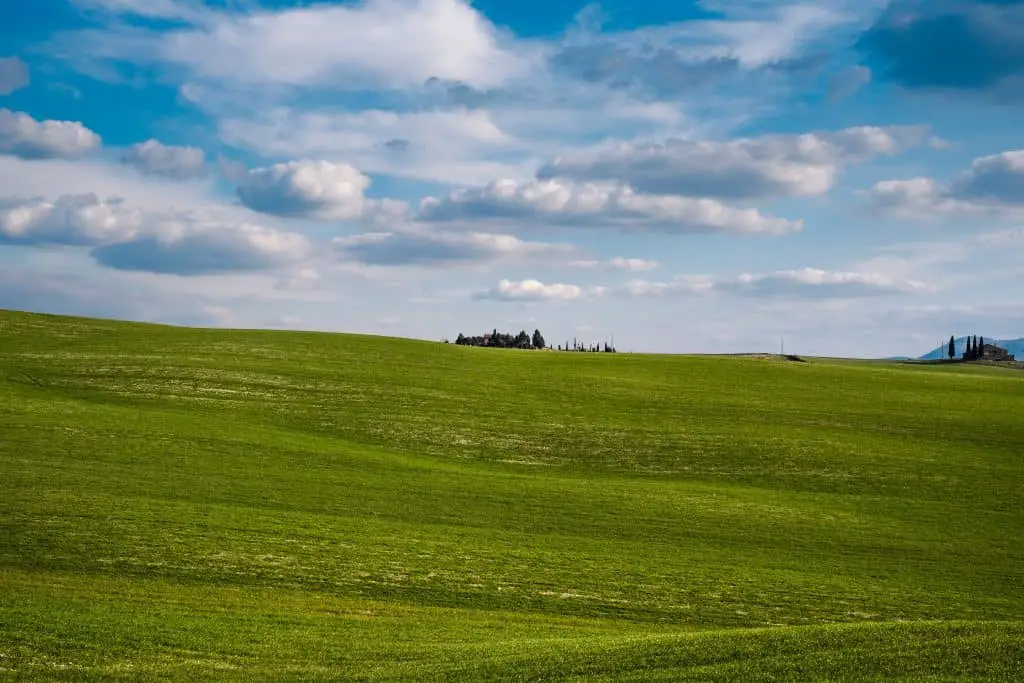 September – October, April – May are the most comfortable
July and August may be very hot
Some attractions, agriturismo bed and breakfast, churches and wineries may be closed November to March
Which Tuscany wine region?
If you want to go for a wine tasting in Tuscany, you can pick one of these three main areas: Chianti, Southern Tuscany (Brunello di Montalcino), and the Coast (Bolgheri Super Tuscans, Maremma). 
Chianti is the closest to the city of Florence.
To create your itinerary, review the list of recommended wineries, restaurants and hotels.
How to arrange winery tours in Tuscany?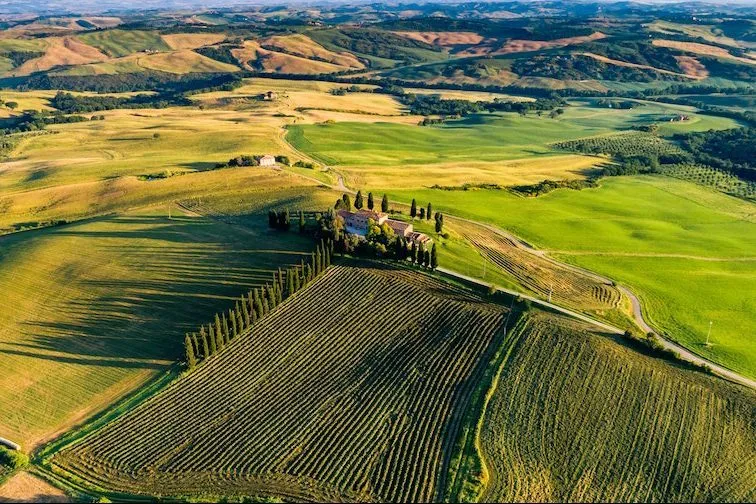 Most Tuscany wineries are open to the public, however, it is recommended to book your winery visits in advance by calling them up or emailing.  You may use Book Tour button when browsing my winery catalogue.
Allow approximately 1 to 2 hours for each winery visit, a tasting and a chat with a winemaker, the wineries will tell you the duration of the visit.
To visit top wineries of the region like Antinori and Ornellaia, I suggest to make your arrangements with the wineries as early as possible, even a few months in advance. Some wineries will be closed for visits on weekends.
Chianti and Chianti Classico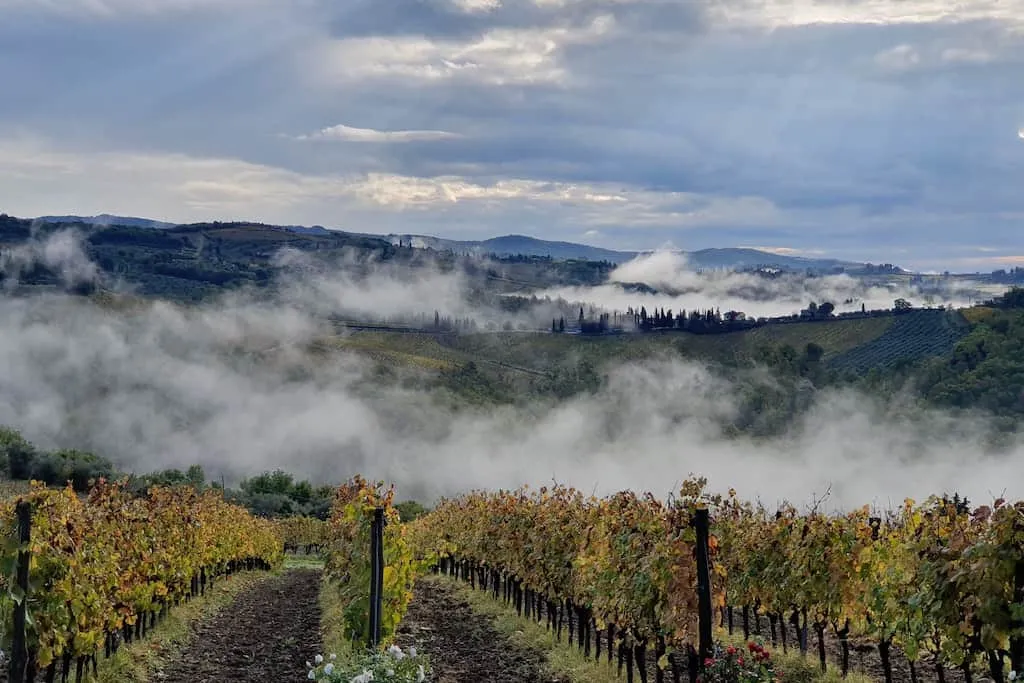 Chianti is based on the foothills of the Apennines between the cities of Pisa, Florence and Siena.
wines are produced in the appellations of Chianti DOCG, and the more prestigious Chianti Classico DOCG and Chianti Classico Riserva DOCG.
The latter two are marked with a little black rooster on the label. Sangiovese is the main grape of the region. 
The vineyards of Chianti Classico are at higher altitudes than Chianti and produce wines with greater acidity and herbal aromas.
The Chianti Classico region is defined by the towns between Florence and Siena: Greve, Panzano, Castellina, Gaiole and Radda.  Almost all the famous Chianti estates are located near one of these towns, and in Rufina is to the East of Florence. 
The best years for Chianti Classico have recently been 2006, 2010, 2013, 2016.
Chianti's main black grape is Sangiovese.
White wines lovers – taste the Vernaccia di San Gimignano, Trebbiano, Malvasia, Vermentino and the sweet Vin Santo (or vinsanto).
You can find more information about Chianti wineries to visit and to stay, and book your wine tour in the catalogue of Tuscany wineries.
Other options to book visits of Tuscany wineries:
Southern Tuscany - Brunello di Montalcino and Vino Nobile di Montepulciano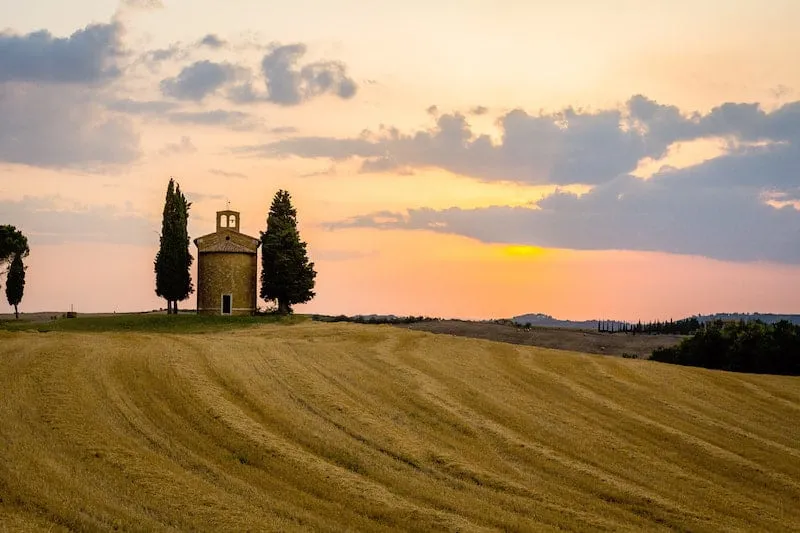 This wine region is located to the south of Siena. It is warmer here than in Chianti, and the wines are often more intense and fuller-bodied.
The Brunello di Montalcino DOCG appellation is a star of Tuscany. Brunello is one of the most treasured wines of the world. Today, there are nearly 200 producers of Brunello di Montalcino, mostly small farmers and family estates, together producing nearly 330,000 cases per year. 
The wines are produced strictly from Sangiovese grapes grown around Montalcino, a picturesque classic Tuscan hilltop village with amazing views. Brunello di Montalcino wines undergo a minimum ageing of five years.  Brunello has enormous tannins with touches of leather, tobacco and dark fruit. I would not miss an opportunity to taste Brunello and take some home.
The best years for Brunello di Montalcino have recently been 2006, 2007, 2010, 2013, 2015, 2016 (Parker).

Vino Nobile di Montepulciano is produced around the town of Montepulciano. Wines must be a blend of Sangiovese  (minimum 70%) and other permitted varieties primarily Canaiolo Nero and must be aged for a minimum of two years in oak and 6 months in the bottle before being made available for purchase.  
Vino Nobile's small brother,  Rosso di Montepulciano is lighter and can be enjoyed at any time. 
Brunello di Montalcino wineries dominate many wine rankings.
You can find more information about Montalcino wineries to visit and to stay, and book your wine tour in the catalogue of Tuscany wineries.
View wine tours to Brunello.
The Coast and 'Super Tuscans' of Bolgheri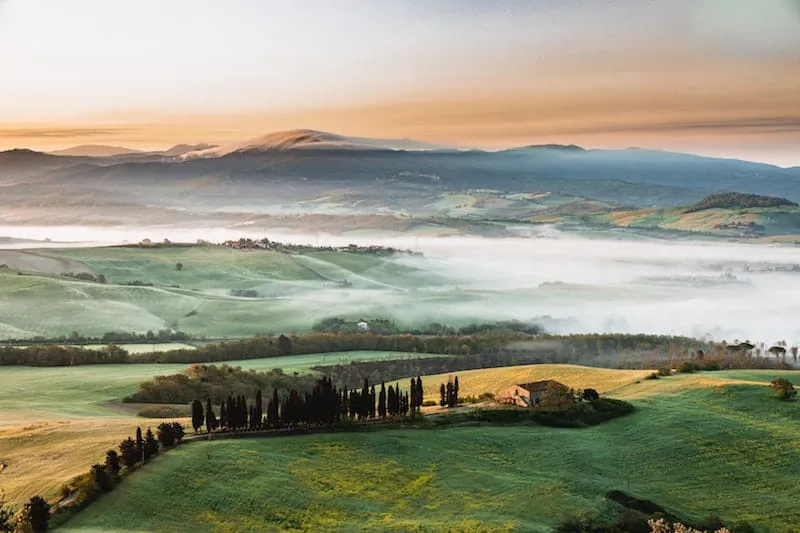 The coastal region of Tuscany is cooled by sea breezes.  Cabernet Sauvingnon, Merlot and Syrah are widely planted here.  Super Tuscan wines, a mix of French grapes with Italian terroir first became popular in the 1970 and still are among the most appreciated wines of Italy.
The best Super Tuscans are rich and full-bodied, with well-integrated tannins and spice from oak, and can age for decades.
High quality wines are made in the new appellations of Bolgheri and Maremma Toscana on the cost of the Tyrrhennian sea.  Maremma  is also home to excellent Morellino di Scansano DOCG robust reds, great beaches and outdoor hot springs open all year around.
The best years for Bolhgeri have recently been 2006, 2009, 2016 (Parker).

 View wine tours to Bolgheri.
Hire a private guide or get on one of the wine tours if you don't want to navigate the winding Tuscan roads, to deal with Italian drivers, or to designate a driver.
Wine tours usually run from Florence, Siena, Pisa, Rome, Arezzo, and San Gimignano.
Most organized wine tours will run with up to 8 people and last between 3 and 12 hours.  A visit of 2-3 wineries in the Tuscan hills with lunch makes a perfect day-tour from Florence or another city.
Depending on the tour itinerary, your guide may also stop in popular cities and at historic castles. On many tours, besides the wine, you can taste olive oil, Pecorino cheese and other local specialties.
Private wine tours in Tuscany would usually pick you up from your accommodation. This would be an easier way to visit your preferred wine regions and wineries, and enjoy Tuscany at your own pace.
Where to stay in Tuscany?