Rioja is the name of the wine region that spreads over three provinces in northern Spain – La Rioja, Navarre, and the Basque Country. Rioja DOCa is an appellation with approximately 600 wineries.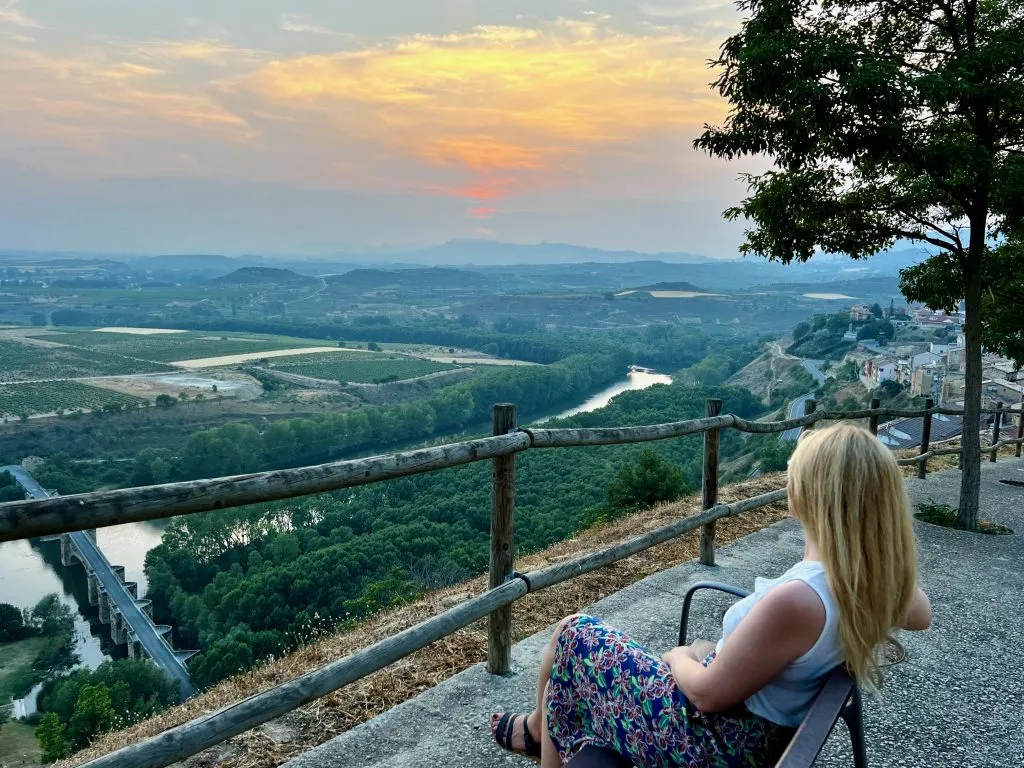 When I think of Rioja, it is the magnificent mountains of Sierra de Cantabria, breathtaking views all around, the yellow and orange ground of vineyards, wonders of modern architecture, and fruity full-bodied wines that come to my mind.
However, Rioja is not only about wines and vineyards.  Historic towns of Rioja are linked to the Pilgrim's Route to Santiago de Compostela. Monasteries, buildings dating back to the 11th century, monuments, and museums are in great supply. 
If you haven't been to northern Spain yet, local gastronomy will surprise you.  Whether you want to taste flavourful and hearty dishes of Riojan and Basque cuisine or refined creations of high gastronomy – you can find restaurants for any taste in the Rioja wine country.  Logroño is one of the best places in Spain to enjoy creative tapas and pintxos.
Rioja appears to be one of the few places unspoiled by industries and mass tourism.
If you are visiting San Sebastian, Bilbao, Pamplona, or Madrid do take two or three days to discover Rioja wine country.
How to Get to Rioja Wine Country?
What is the Best Season to Visit Rioja?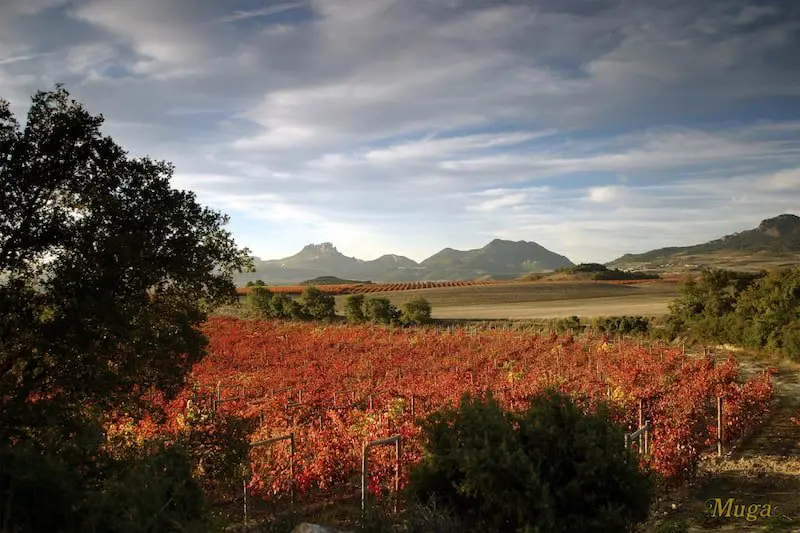 Rioja is beautiful all year round. To me, Rioja landscapes are the most attractive in the fall when leaves turn yellow and red, between late September and November.  
During winter time, it is nice to enjoy a glass of Rioja with the views of vineyards and snow-covered Cantabric mountains. There is less people too.
August can be very hot and some wineries are closed. Check ahead when visiting in late July, August, and around Christmas time.  
During harvest time usually mid-September to late October, most bodegas remain open to visitors.
Wine events in Rioja
February and March – Wine Carnival in Haro
June – San Bernabé festival in Logro

ñ

o
Around the 20th of June – Haro Station Wine Experience
End of June – Batalla del Vino (Battle of Wine) Festival in Haro
1st Sunday of September – Festival of Virgen de La Vega
San Mateo – La Rioja Wine Harvest Festival in September
Map of the Rioja Wine Region
The Rioja wine region is divided into three distinct subregions. 
Rioja Alavesa is on the north-west of the city of Logroño and north of the river Ebro, on the foothills of the Cantabrian mountains. The wines of Rioja Alavesa have the most finesse and the lightest tannins.
Rioja Alta is to the west of Logroño, between San Asensio and Haro, making classic-style Tempranillo wines with smooth tannins, vibrant red-fruit flavors, vanilla and spicy aromas.  Most plantings in the Rioja wine region are found in Rioja Alta.  
Rioja Baja (Rioja Oriental) is to the west with hot climates and more full-bodied reds.  More of the Garnacha grape variety is found here than in other Rioja regions.
What Kind of Wines Are Made in Rioja?
Reds, whites and rose mostly in dry style.  You can also find semisweet whites and sparkling wines in Rioja (Cava).
The wines of Rioja are the most famous wines of Spain.  Rioja DOCa (denominación de origen calificada) is the Spain's leading Designation of Origin with more than 600 wineries and 14,800 grape growers and the largest number of barrels (1.4 million).  The governing body of Rioja imposes strict rules on winemakers and protects quality levels through regular checks and blind tastings.
Grape varieties
91% of all vines are black grape varieties used for reds, rose and rose sparkling.
Tempranillo and Garnacha are the main black grape varieties in Rioja, as well as Mazuelo (also known as Cariñena) and Graciano.  
Tempranillo occupies approximately 80% of all vineyards.  It is extremely versatile and can be used to create both easy-drinking wines and well-structured wines destined for long aging.
Garnacha is thin-skinned, accumulates a lot of sugar and gives a lot of alcohol to the wines.
Graciano adds floral notes, tannins and acidity.  It is used in blends with Tempranillo in some of the finest wines of Rioja.
Known for their structure, Rioja red wines often appeal to lovers of Cabernet Sauvignon.  Cabernet Sauvignon is also permitted in Rioja but not as widely used.
Viura (also known as Macabeo), Tempranillo Blanco, Verdejo and Sauvignon Blanc are the main white grape varieties in Rioja DOCa.
Rose wines are presented in wide variety from young and fresh to aged oak-aged roses, and from light to dark.
Dry styles of Cava (Viura and Chardonnay) are produced in Rioja along with a new high-quality category of sparkling wines called Espumosos de Calidad de Rioja with long lees-aging requirements, similar to Champagne and even longer.
Labeling of Rioja reds
Joven, or generic, are young wines, easy to drink, and fruity.  Joven bottles are marked with a green label on the back.
Crianza wines are aged in Bordeaux-size oak barrels for a year at a minimum, and 2 years in total including bottle aging. Oak-spice, medium-bodied, medium-level of tannins are typical of Crianza reds.  Crianza is marked with a bright red color label on the back of the bottle.
Reserva wines have to spend 2 years in oak and 3 years of overall aging.  Oak, vanilla, cedar, perfumed red and black fruits, and sometimes eathery, earthy notes are found in Reserva wines. Crianza is marked with a dark red color label on the back of the bottle.
For Gran Reserva, there is a minimum aging requirement of 2 years in oak and 5 years overall.  Dry fruit, forest floor, earthy, leathery notes are common in Gran Reservas. Gran Reservas are marked with blue color label on the back of the bottle.
The new labeling terms are coming out to mark the origin of grapes:
Vino de Zona – produced of grapes grown in one of the zones – Rioja Alta, Rioja Oriental or Rioja Alavesa.
Vino de Municipio – made of grapes produced in one of the specific municipalities in Rioja.
Vinedo Singular – single-vineyard wines produced using hand-harvesting and with low-yield requirements. Vines need to be at least 35 years old.  
Aging
Rioja wines are ready to drink at the time they are released to the market.  Wineries in Rioja pay special attention to bottle aging conditions.  
Food pairing
Rioja reds go best with local products: Jamon, chorizo, lamb, red pepper dishes, Manchego cheese, and game.
Whites will be complemented well by grilled fish, shellfish, prawns, and white asparagus.
Best years
2001, 2004, 2005, 2009, 2010, 2015, 2016
How to Visit the Best Rioja Wineries?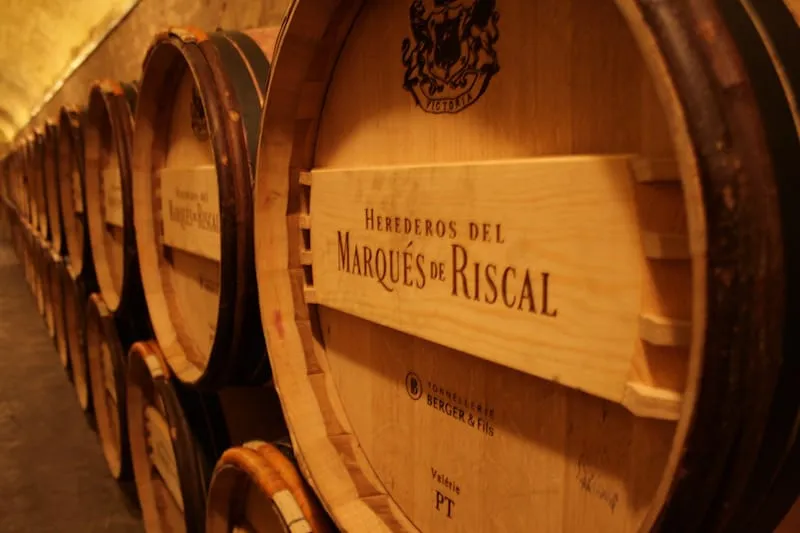 Wine tourism is mainly concentrated in the Rioja Alta and the Rioja Alavesa areas between the towns of Haro and Logroño (about 1.5 hours from Bilbao).
If you plan to rent a car,  you can do a self-guided tour, be sure to make your winery visit appointments in advance by phone, by email, or online. See a list of bodegas open for visits here.
Try to set up appointments at least a week in advance of your tour. Make sure you request a visit in English if that is your preference, and that you have a designated driver.
It is best to plan to visit 2-3 bodegas per day.  If you plan a guided visit of the facilities allow about 1.5 hours for each visit.  Many wineries offer just a guided tasting option.  
Pay careful attention to opening hours, as some wineries may be closed on Sundays, Mondays or Tuesdays, and national holidays. End of July and August is the time when wineries can be closed too. 
You can choose to focus on top wineries of Rioja highly-rated by critics, authentic and traditional family-owned bodegas, wineries with remarkable architecture, or just the wines that you tend to drink at home.  See my blog for various suggestions on visiting Rioja wineries.
Top Wineries to Visit in Rioja
Guided tours and wine tastings are usually for a fee starting from 12 to 20 euros per adult and half-price for children. The pourings are quite generous in Rioja.
You can purchase Rioja wines and various wine souvenirs at the wineries. Wineries will be happy to ship wine back to most countries. 
When planning your lunch, you may find dining at a winery an interesting option.  Many wineries offer tasting menu with wine pairings or have an onsite restaurant.  Remember to book lunch options in wineries a few days in advance.
Rioja Wine Country Restaurants – Best Lunch Options
Wine bars at wineries are good opportunities to taste (and drink!) best vintages.  You can generally drop in to taste wines at wine bars and shops in the bodegas.  However, some wine bars require appointments. In my catalog of Rioja wineries, I marked bodegas with open wine bars.
Some Rioja wineries welcome kids while others only accept adults. For example, CVNE wineries offer workshops for children while parents are touring and tasting.
I stayed in Logroño and it was a great choice. You can be a part of vibrant local nightlife and avoid driving after the Calle de la Laurel tapas and pintxos bars crawl.
5 Tapas Bars Not to Miss in Logrono, La Rioja
If you are looking for a more relaxed stay, check out options in small towns and villages.  My top choices are Briones, Laguardia, Elciego, Briñas and Cenicero. 
Map of Top Rioja Wineries
If you don't feel like driving around and booking your own winery visits, hop on one of the small group wine tours or a private wine tour.
Rioja wine tours depart from Logroño, Bilbao, Pamplona or San Sebastian. 
Private tour drivers may be able to pick you up from your accomodation in the area. 
See suggestions of the best wine tours in Rioja below.  TripAdvisor and GetYourGuide would have the widest choice of options.
Rioja Wine Tours from Bilbao
Rioja Wine Tours from San Sebastian