I have been working as a Bordeaux wine tour guide for some time and have visited hundreds of Bordeaux wineries.  
If you are planning to stay at a vineyard near Bordeaux, here is my list of the best accommodations at Bordeaux wineries with a focus on quiet, authentic places with great wine. There are various options between cottages, hotel rooms, independent apartments at a winery, and luxury accommodations.  
Keep in mind that some chateaux may have a restaurant on-site, while others don't. In that case, you will need a car to move around.  
RELATED: Stay at a Winery in Bordeaux Wine Country – The Medoc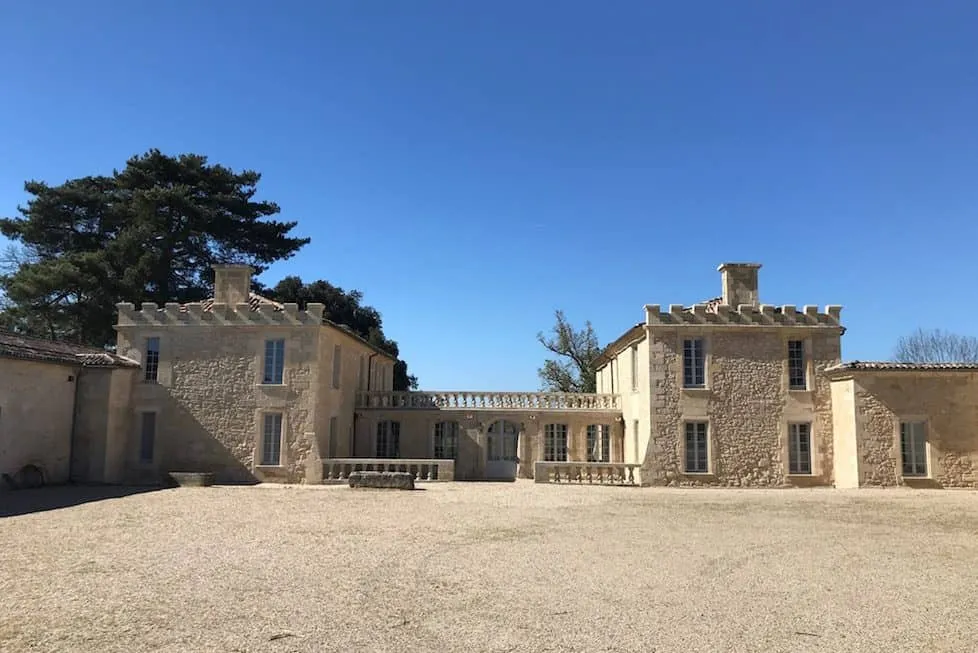 Located in Saint-Hippolyte about 10 minutes drive from Saint-Emilion, Chateau de Ferrand is a new gem of Saint-Emilion. 
Château de Ferrand's story began in the early 18th century. Elie de Bétoulaud, the founder of the chateau, wanted to pay a tribute to King Louis XIV. He built Ferrand to remind the elegance, eccentricity, and joy of Versailles.
In 1977, the chateau changed its hands for the first time. Baron Bich, who co-founded multi-national ballpoint pen co BIC, purchased the chateau.
Today, his daughter, Pauline Bich Chandon-Moët, and her husband Philippe Chandon-Moët manage this Saint Emilion Grand Cru Classe chateau.
The estate has undergone a beautiful renovation in 2020 and now offers five elegant guest rooms with views of famous Saint-Emilion vineyards.
During your stay, do not miss an opportunity to have lunch or dinner prepared just for you by the local chef and served in the dining room of this 18th-century manor house.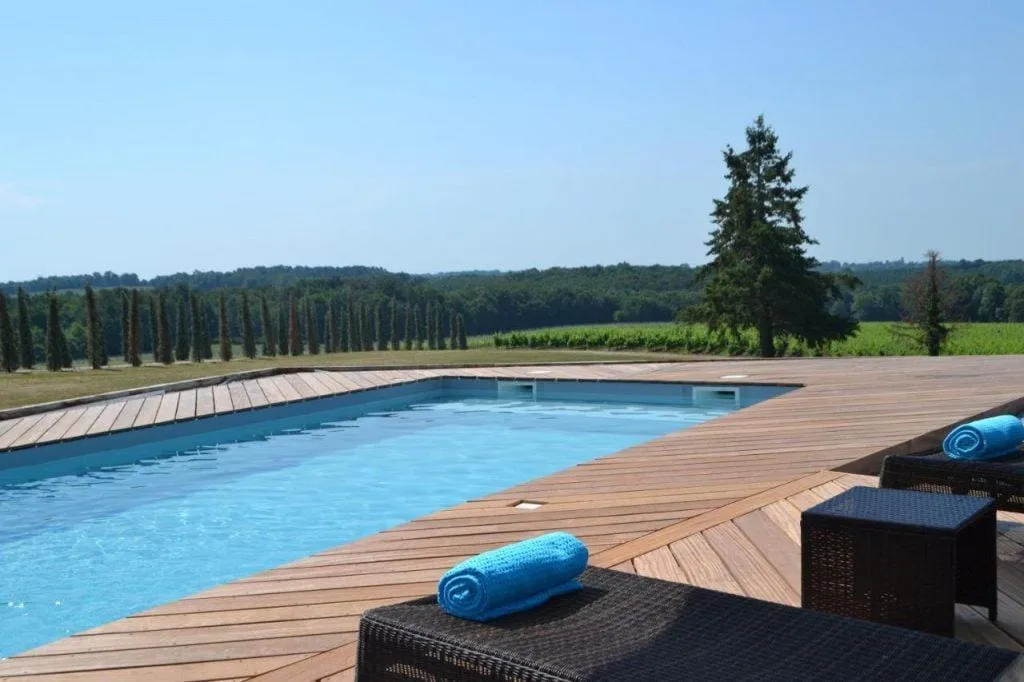 Chateau Prieure Marquet is a luxury bed-and-breakfast on the Right Bank of Bordeaux near Saint-Emilion. 
The chateau is stylish and cozy.  It offers an outdoor pool with views of famous Saint-Emilion vineyards.
Check out the rave reviews!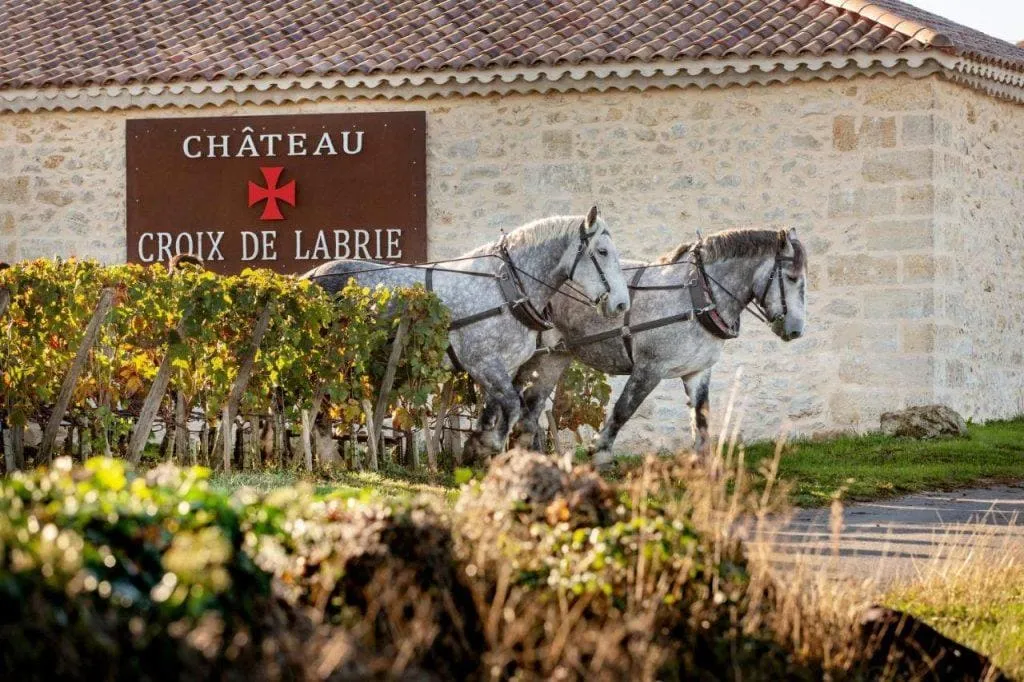 Chateau Croix de Labrie is a family-owned organic winery only 5 minutes from the village of Saint-Emilion.
Rooms are large and stylish.
If you are looking for a quiet and friendly place in the heart of the vineyards, consider Chateau Croix de Labrie.
Château Fombrauge dating back to the 15th century is the largest Grand Cru Classé winery of Saint-Emilion with a vineyard stretching over 143 acres.
Stay at historic Bordeaux chartreuse of local nobility surrounded by a gorgeous French-style garden.
The two large suites and one guest room are decorated in a classic luxury style and look like they never changed from the Sun King's era. 
The common areas are very impressive – the large reception room, a Louis 13th-style dining room, and the billiard room.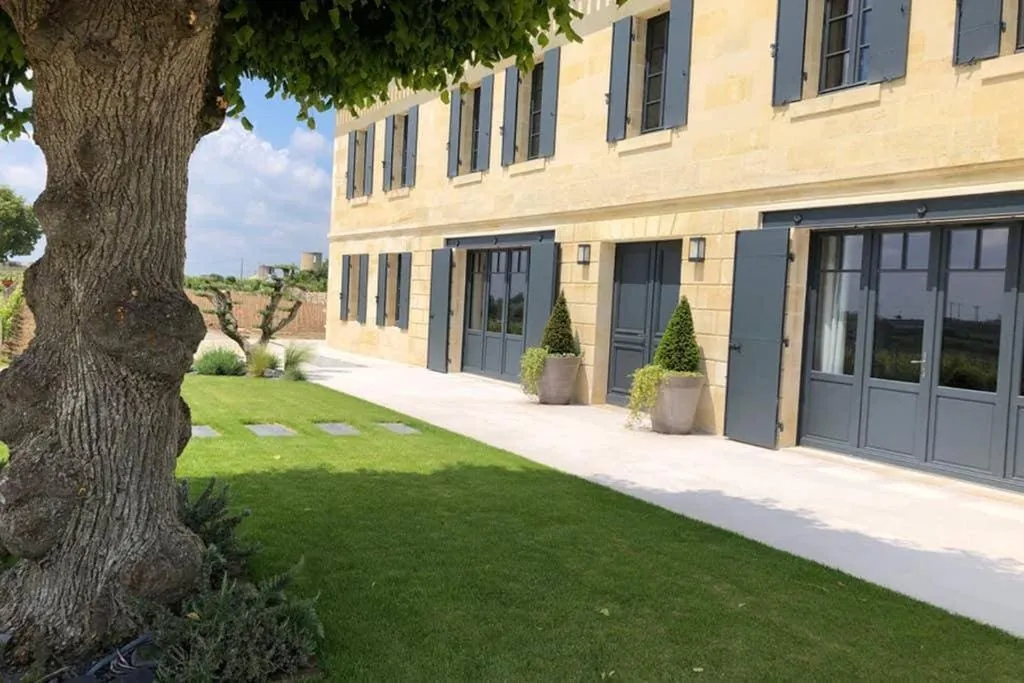 A new vila just outside of Saint Emilion, Chateau Soutard Cadet is perfect if you want to stay in the vineyards, but very close to the the town of St. Emilion.
There are four stylish bedrooms.  This stay is perfect for larger groups.
Located in the vineyards next to the Dordogne River and about 2 miles from the village of Saint-Emilion, this luxury hotel is inside the 19th-century romantic castle with a park.
Among other luxury amenities, the hotel offers an outdoor swimming pool and a spa center featuring a sauna and a hammam.
There is a gastronomic restaurant with a beautiful terrace right at the chateau.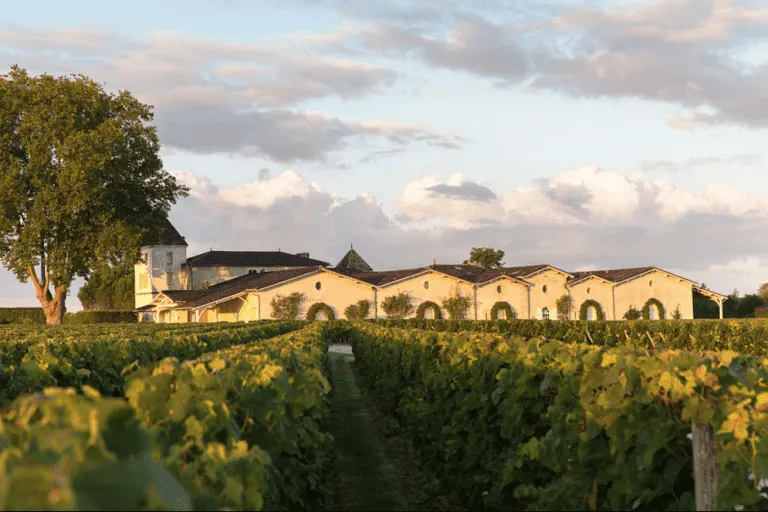 Clos des Jacobins takes its name from the Dominican monks who lived on the outskirts of the Saint-Emilion village and produced their wine.
Today, you can stay at a Grand Cru Classe vineyard, owned by Magali and Thibaut Decoster who are the proprietors of 4 excellent wineries in St. Emilion and of the restaurant L'Atelier de Candale.
Great views, excellent French breakfast, and complimentary tasting of property wines are among the perks of staying at Clos de Jacobins.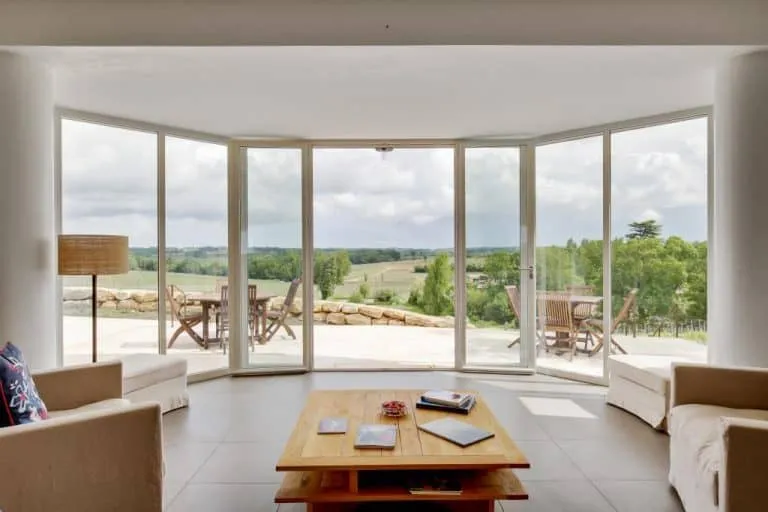 Le Logis de Valandraud is set in a vineyard, a 10-minute drive from the centre of Saint-Emilion, is perfectly located to visit both the village and discover the multiple wineries of the region. 
Bedrooms are simple but was comfortable and tastefully decorated. 
Do not forego the wine tasting of this renowned Saint-Emilion wine house.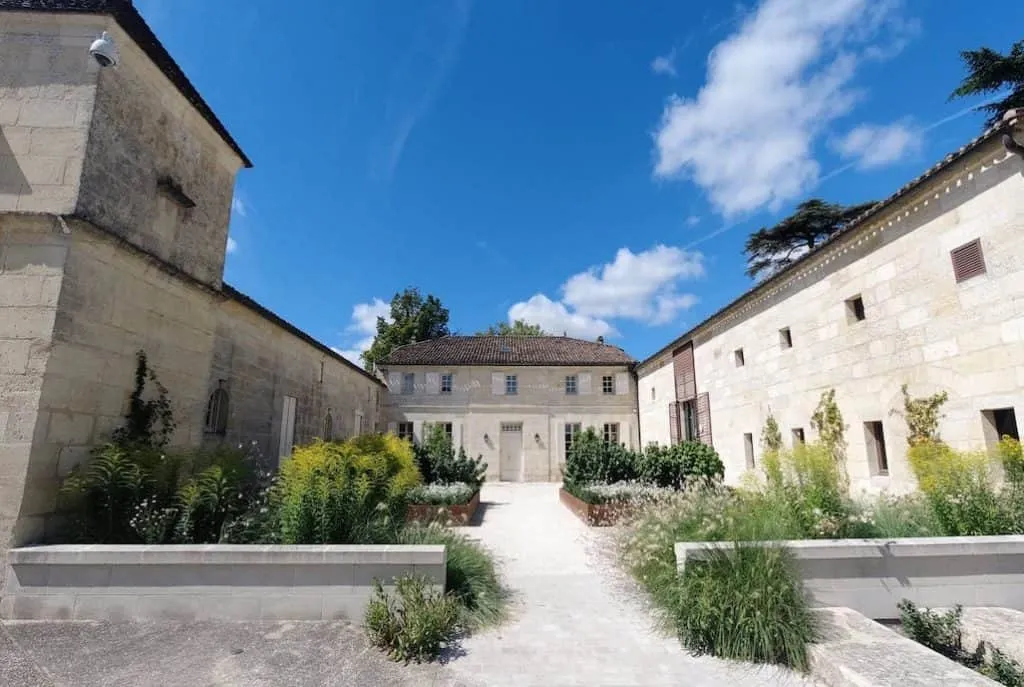 Stay at one of the 4 beautiful guest rooms or a luxury wooden cottage (cabane) at this Saint-Emilion Grand Cru Classe winery.  
The best about staying at this Bordeaux vineyard on a hill is the amazing views. Imagine soaking in a swimming pool overlooking miles of world-famous vineyards.  
You also get to see the secret of the chateau – the long underground galleries dug in limestone rock over 8 centuries.
Nice breakfast served on the terrace is included. 
Animals are welcome for a small extra fee.  
The chateau is a classical castle on a hill with breathtaking views of the Dordogne river and the vineyards of Fronsac. 
Driving up to chateau through a forest is one of the most romantic experiences.
There is an open-air swimming pool on the property.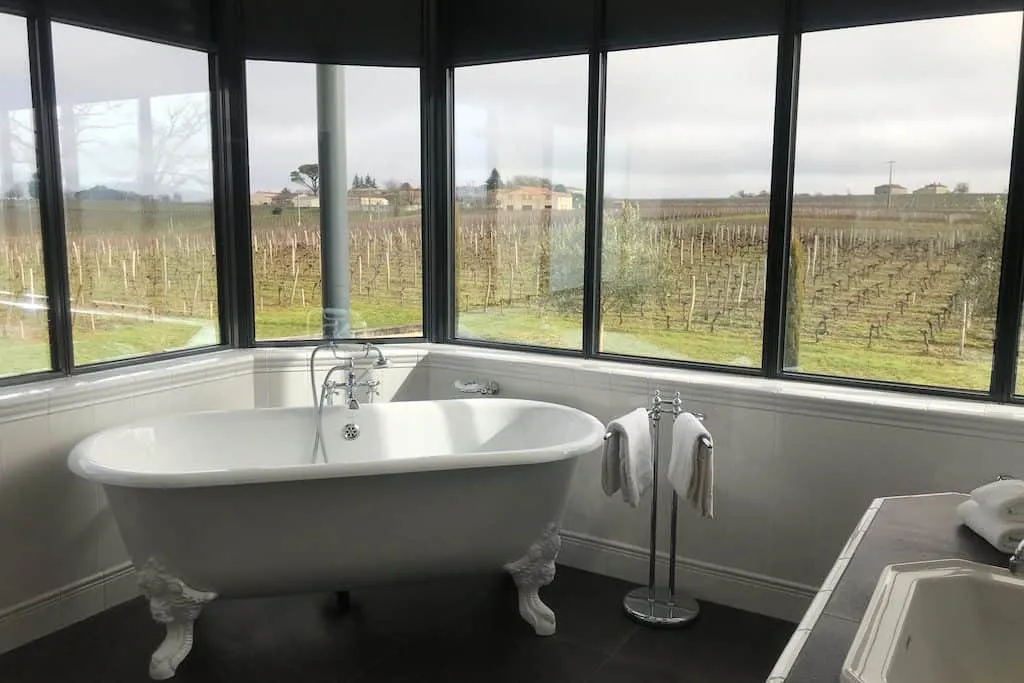 The chateau is near Lussac, about twenty minutes drive from Saint-Emilion in the middle of quaint wine country.  This is a small private place away from crowds.
The views from the rooms and even from the bathrooms are unbeatable.  An outdoor terrace is so inviting for an apero with a glass of Lussac Saint-Emilion.