Bordeaux is one of the most interesting places to visit in Europe, but it isn't exactly a budget-friendly destination. 
I have been living in Bordeaux for several years and here are my local finds and tips to help you save a few euros. 
1. Getting from the Bordeaux Airport to the City Centre Cheap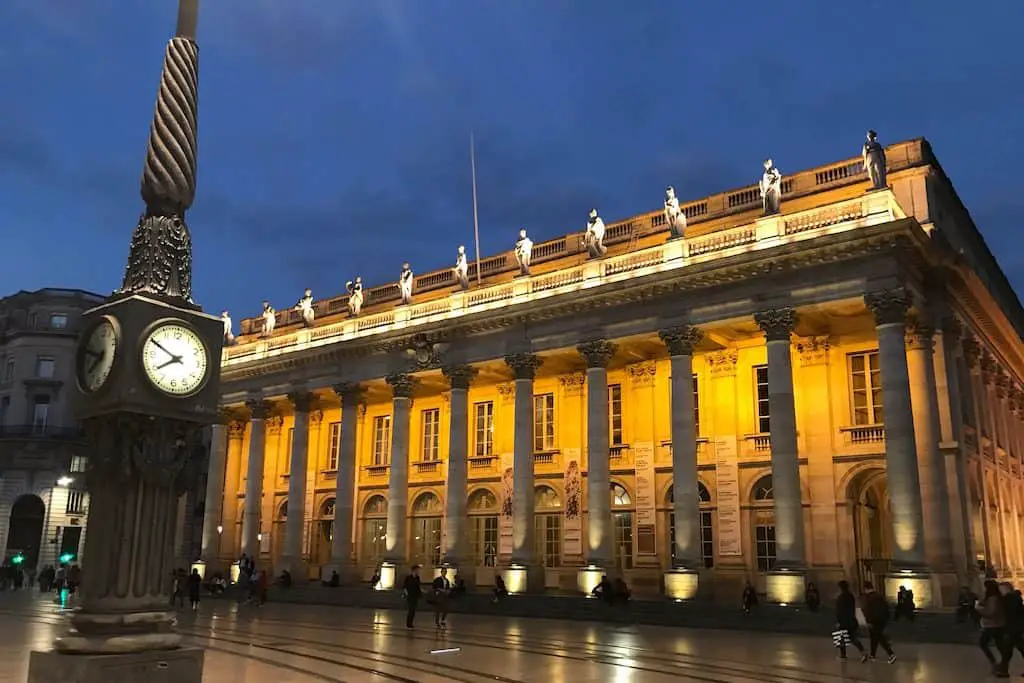 Take bus number 1 at a bus stop located between Hall A and Hall B of the Bordeaux Merignac airport. 
You can buy a magnetic ticket at the grey machine at the bus stop or pay cash to a driver.
The public bus fare is €1.70.  There is no extra charge for luggage.  Drivers do not accept large bills.
As you enter a bus tap your ticket against one of the screens marked TBM.  Recently, TBM installed credit card reading machines on the airport bus.
The bus will take you about an hour to the city center as it makes many stops along the way.
Get off at Centre Commercial Mériadeck or Palais de Justice stop and then walk to the historic center. The bus makes its final stop at the train station, Gare St. Jean.
Download Bordeaux bus schedules here.
A direct tram line is coming is to the airport in 2022.  
See other ways to get from the airport in my article How to Get from Bordeaux Airport to Central Bordeaux.
If you are arrive at Bordeaux by train you will disembark at Gare St. Jean. The train station is about a 25-minute walk from the city center. The easiest way to get to the city is a tram. The tram stop is right in front of the train station. 
Tram C in the direction of Parc d'Expositions or Gare de Blanquefort, or
Tram D in the direction of Eysines Cantinolle
Get off at
Quinconces
or
Place de La Bourse
 stops if you are heading to the central part of Bordeaux. See below on the payment methods.
Here you will find the Bordeaux transport system /(TBM) map.
The Quinconces station serves as a central hub where all tram lines and some bus lines intersect.
The magnetic tickets can be bought at the machines at most bus and tram stops (use cash and credit cards).
The single ticket is €1.70. There are discounts on multiple-trip tickets, day passes (24 hours, 7 days), and evening tickets.  See current ticket prices here.
You can use TBM transport tickets for 1 hour. Remember to validate your ticket every time you make a transfer – just tap it by the machine when you change a tram.
If you buy a Bordeaux city pass, your transport is included for 24 hours or 72 hours.
Another convenient way to pay your bus fare is through a Witick app.  Register and load an app with your credit card. Pay by bringing your phone close to the payment terminal and confirming the payment.
You will find that central Bordeaux is quite small and walkable.  If you like to walk, you may not need to get a multi-day pass or a bunch of transit tickets.  You can also move around by bike or electric scooter.
To give you an idea, the center of Bordeaux is around the Grand Theatre area and anywhere along the river between the neighborhoods of St. Michel and Chartrons.
Tip: the TBM tickets can be used on a TBM riverboat BAT3. Get on a budget river cruise (€1.70). This water tram circulates in the city center.  It is a convenient and fun way to get to the Cite du Vin as well.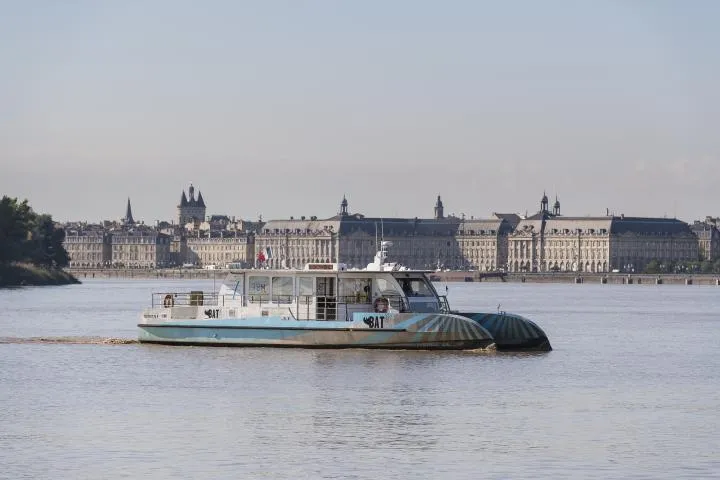 For convenient budget accommodations check out these areas of Bordeaux close to the city center:
As to hostels, there are a few in Bordeaux. The Central Hostel at Place Saint-Projet is very conveniently located off rue Sainte Catherine, the longest pedestrian street in Europe. There is even a rooftop terrace for the hostel guests.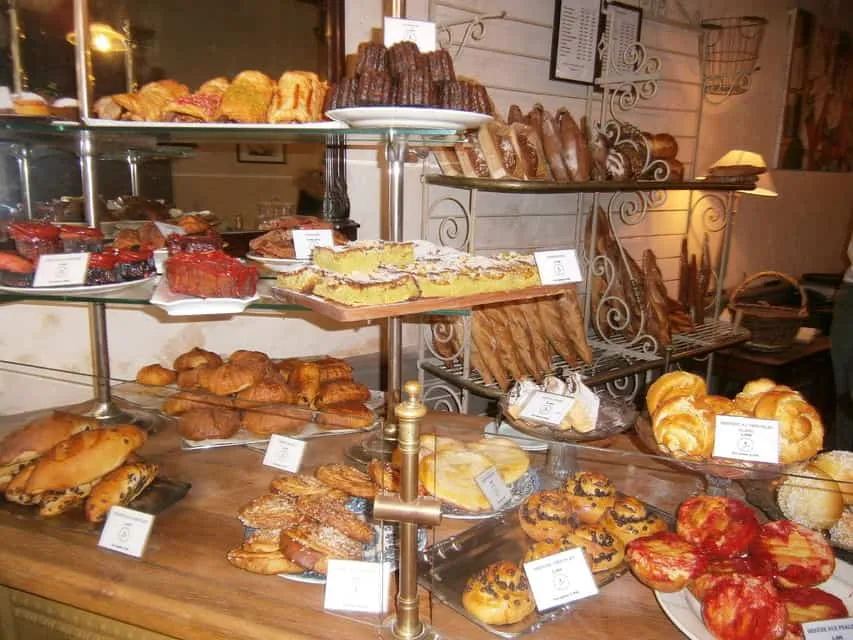 How about a croissant, a sandwich, or a quiche for breakfast? Just find a bakery for croissants to go or a cafe that serves a breakfast fare.
For lunch, there are a few good options:
The best is to find a restaurant that serves a lunch menu (menu midi) which will include an appetizer, a main dish, and a dessert for anywhere between 11 and 14 euros (tax in, small tip optional as the locals rarely tip). Coffee will be an extra, but tap water and bread are included.
The lunch menu options are easy to find. Look for black chalkboards with Entrée-Plat-Dessert offers.  For quality inexpensive lunch check out:
Leopold -67 cours de l'Intendance, 33000  Bordeaux

near Place Gambetta. Quality food with a twist is served by a very friendly family.  They are always open. 

Le Bistrot de Tutelle, 13 Rue Piliers de Tutelle, 33000 Bordeaux

. Very nice and good value for money French lunch and dinner just steps away from the Grand Theatre. Open daily except Sunday and Monday. 

If you are up for a quick salad lunch look for Eat Salad or Pausk chain stores in the city center. They also serve other lunch foods and cold sandwiches.
Bordeaux is famous for its many gastronomic restaurants, however, they could get pricey.  For budget options look for a dinner menu at bistros and brasseries.
Another popular option is L'Entrecot, near the Office of Tourism,  a chain restaurant with amazingly nice entrecote meat served under their secret sauce.  For 19 euros you get a green salad with walnuts and a portion of fantastic entrecote with unlimited high-quality French fries.  There are no other items on the menu except for two brands of red wine, dessert, and coffee which are extra. 
If you don't need a proper dinner, start with an apero, a local aperitif tradition. For example, at one of these places –  3 Squares for an Apero in Bordeaux.
Continue through the evening at a local bar – taste wines and finger foods –  cheese boards, cold cuts or foie-gras.  How about a Spanish bar in Bordeaux with Real Spanish Tapas?
Remember that dinner starts after 7 pm.
Find more local restaurant recommendations in my article here.
One last piece of advice: choose the local La Toque Cuivrée over the more tourist-oriented Baillardrin when it comes to local sweets, Canelés de Bordeaux.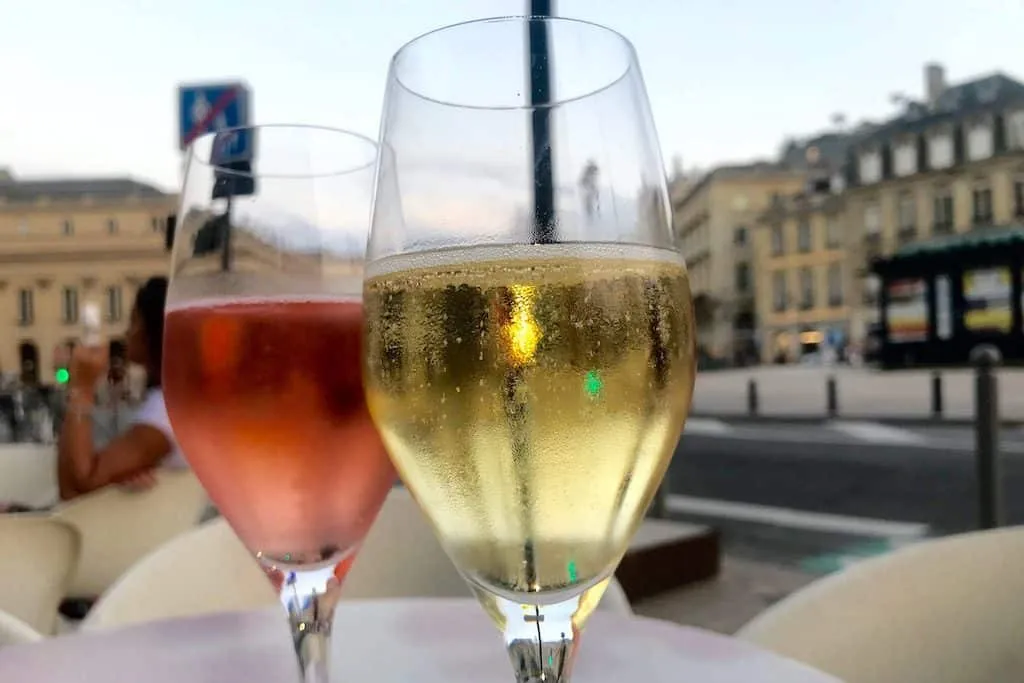 You must taste wines in Bordeaux. There is a wonderful place across from the Office of Tourism – called Le Bar a Vin.
They are open all day Monday through Saturday from 11 am to 10 pm.  For the evening drink, it is better to be there early – around 5 pm. Otherwise, you may have to wait to be seated for a while.  You will see many tourists there, however, locals love this place too.
The idea is that the bar serves wine by the glass with a mission to present the appellations of Bordeaux to the public.
Le Bar frequently updates their wines list which always has a selection of thirty wines: reds, dry, sweet, whites, rosés, clairets, and sparkling wines. You can order a board of cheeses, cold meats, or chocolates to pair with your wines.
A glass of wine costs between 2 and 8 euros. Most wines on the menu are under 4 euros a glass.
My understanding is that the bar is operating on a low margin or no margin at all being subsidized somehow, but I have yet to confirm this.
Try the sparkling Cremant de Bordeaux.  This is a local alternative to Champagne made from Bordeaux grapes.
Obviously, there is a bunch of wine bars in the city.  Remember that many will require you to buy at least an appetizer when you sit down for a glass, a restaurant license requirement. However, there are some secret ones with a bar license. Hint: you will see many young people drinking beers without food at those.
My secret wine bar is Le Vertige in the heart of Quarter St. Pierre.  Excellent choice of wines by the glass, quality appetizers and a friendly team.
There are good discounts on beers and basic cocktails during Happy Hour all around the city from 5pm to 8pm.  A pint of beer will cost you around 5 euros.
If you don't want to spend a nice summer evening inside a bar, you can pick up a bottle to go (bars are allowed to sell bottles to take away (a emporter)) and have a picnic on the banks of the Garonne river.
For a more structured tasting with a professional consider these Bordeaux wine experiences: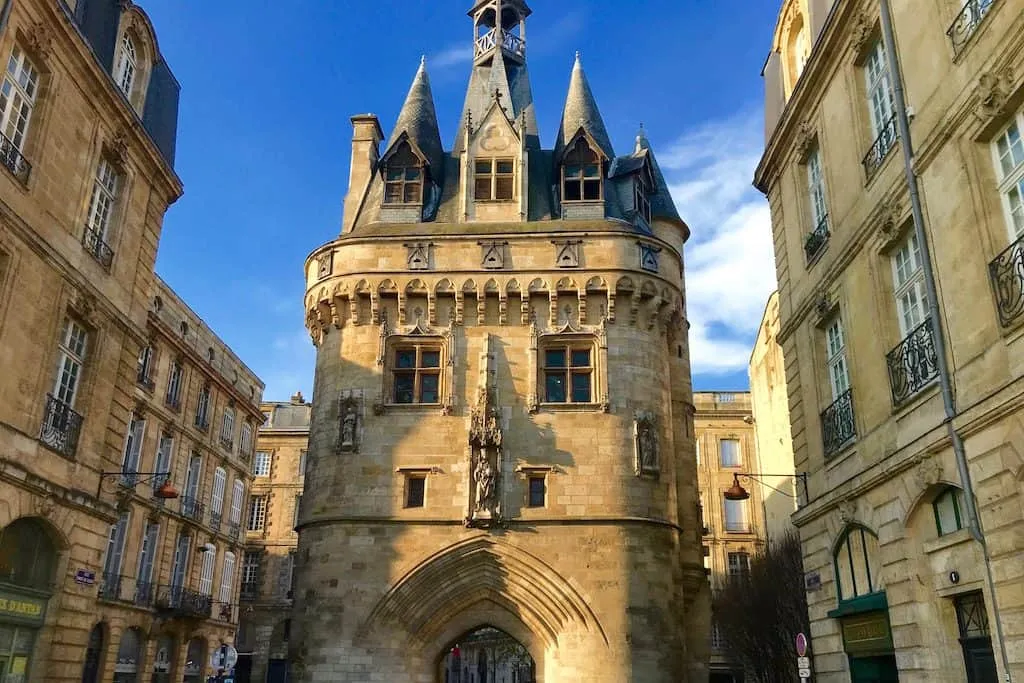 To do a self-guided tour  explore the areas around Saint Pierre, Grand Theatre, rue de Notre Dame, Cours de l'Intendance, Allees Tourny, Cathedral St. Andre, Basilica of Saint-Michel, and the river banks.
For a self-guided food tour  walk through rue des Remparts and visit a Basque food shop, a cheese shop, and a chocolate shop. Some of the food shops offer tastings such as the pairing of cheese and wine.
Another stop is Marche des Capucins, a local farmers market with bars, places to eat, taste the freshest oysters, to snack, and to have coffee.  It is open from Tuesday to Sunday between 6 am and 2 pm, however, some stalls are not open till about 9 am.
Some ideas for good value Bordeaux tours with local guides:
Bordeaux guided walking tour with a wine tasting 
Bordeaux private walking tour with a local
Here is how to visit a Bordeaux winery on a self-guided wine tour without a car:
Option 1:
Take Bus 4 from the Bordeaux center to visit the prestigious Chateau Pape Clement in Pessac.  Reservation required.
Option 2:
Take a train to Saint-Emilion from Gare St. Gean, walk over to the village (20 minutes) and visit wineries located around the village.  Advance booking is required. 
When in Saint-Emilion, visit these wine bars.
Option 3:
Bike to Cantenac or Margaux and visit a chateau for only 8 euros. Advance booking is required. 
If you have a car, check out my Bordeaux guide for suggestions of the best wineries to visit in Bordeaux.
Consider these visit options to one of my favourite wineries in Saint-Emilion and Margaux:
Visit La Cite du Vin, the Bordeaux wine museum on the Bordeaux City Pass.  However, remember that you will need to arrive before noon. 
Skip the line tickets to the Cite du Vin can be purchased online.