Living in Bordeaux, France, I get to visit top chateaux to taste local wines from the various Bordeaux wine regions: the Medoc, Saint-Emilion, Pessac-Leognan, and Sauternes.
The pride of Bordeaux is its dry reds that tend to be full-bodied, complex, with powerful tannins.  In this article, I will focus on the right kind of glass for red Bordeaux.
Let's take a look at what Bordeaux winemakers themselves think about the ideal glass shape for their wines.  
At the tastings, top estates present wines to the public and to the professionals.  To showcase the wines, the chateaux serve them at the right temperature, decanted if necessary, and paired with food. The choice of glassware is of paramount importance.  It contributes to the aesthetics, the experience, and the impressions the wine will leave.
At Chateau Palmer, Grand Cru Classe in the Medoc, a tall wine glass with wide base and broad opening is used for the tasting of this famous Margaux wine dominated by Merlot and Cabernet Sauvignon.  
The iconic Chateau Haut-Brion in Pessac holds tastings using tall glasses with slightly smaller bowls and the same wide rim.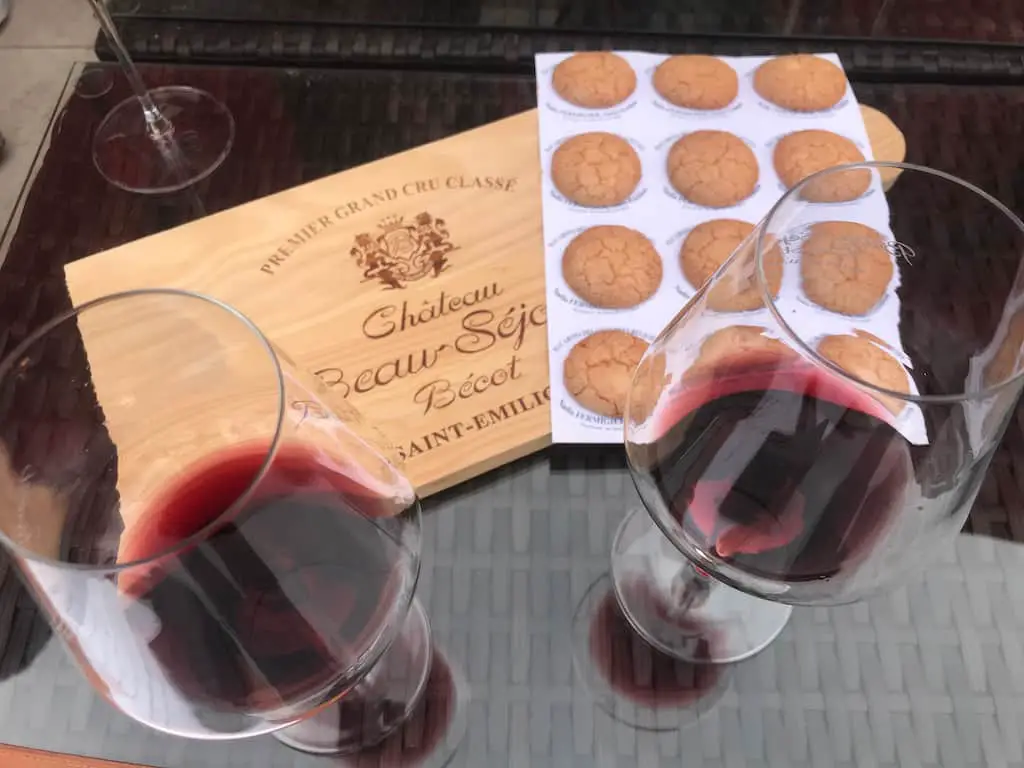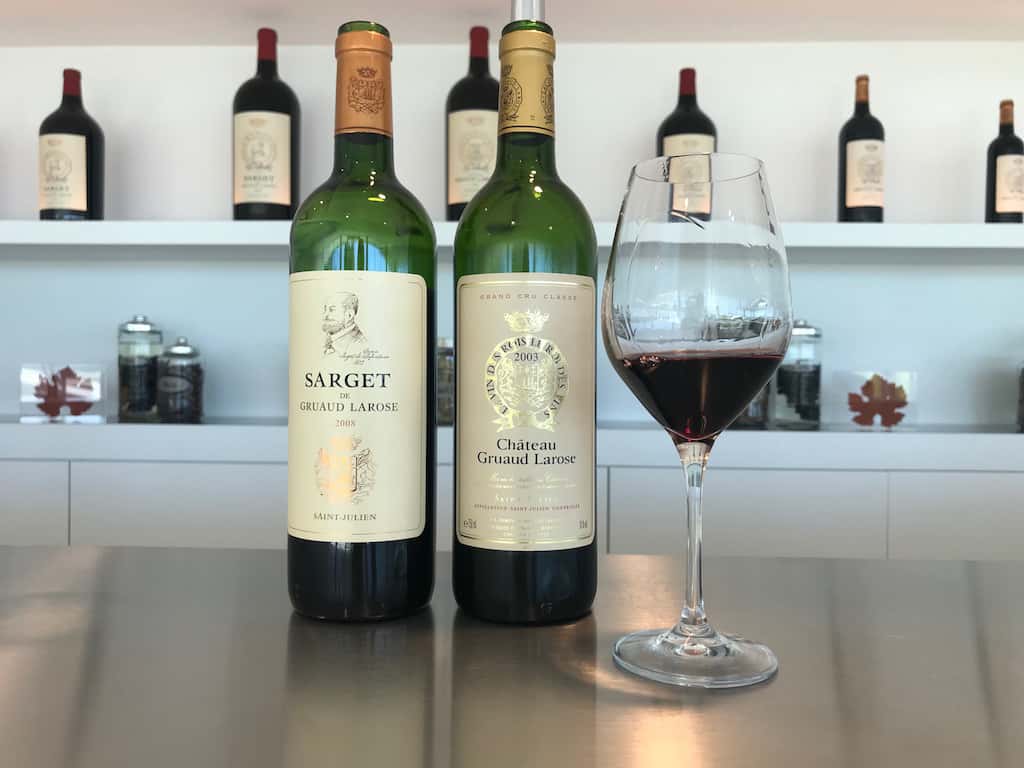 What Kind of Wine is Bordeaux?
Bordeaux red wines are powerful, often high in tannins and acidity.  
Strong tannins may come from thick skins or Cabernet Sauvignon and the long ageing in new oak barrels ageing, typically not less than 12 months. Tannins are the compounds that often produce a mouth-drying feel.
The top Bordeaux wines are intended for long ageing in a bottle. 10 to 40 years of ageing softens tannins and makes wines smoother, more approachable, elegant and balanced.
Bordeaux wines are almost always a blend of various grape varieties.  They combine power and structure of Cabernet Sauvignon, acidity and fruitiness of Merlot, color and spicy flavours of Petit Verdot, and freshness of Cabernet Franc.
Some typical aromas of the Bordeaux blend are blackberry, cherry, raspberry, and strawberry.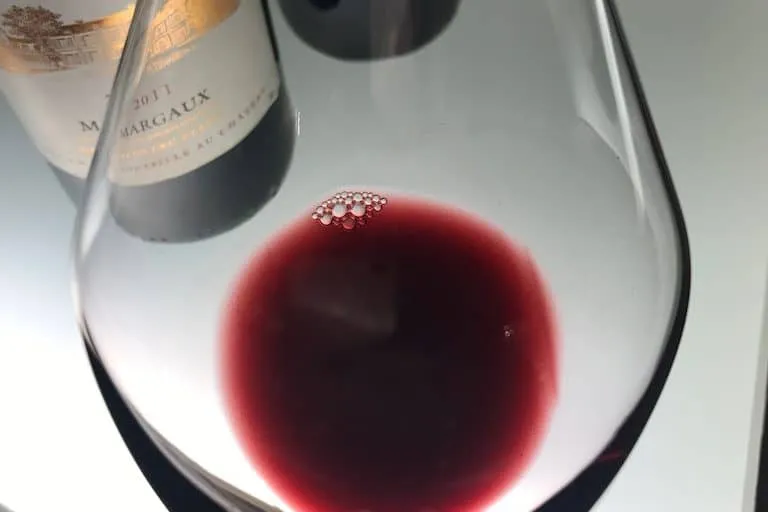 Why a Wine Glass Shape is Important?
I wondered whether there is a scientific evidence to whether the glass shape affects our wine experience.  And here is what I was able to find. 
As wine is poured into a glass, the evaporation of ethanol begins.  Ethanol vapors are the ones responsible for what you smell in a glass of wine. The vapors carry chemical compounds with aromas.
The 2015 study by a group of scientists led by Takahiro Arakawa, identified that different types of wine exhibited very varying evaporation profiles and they performed differently depending on the type of glassware.
Look how amazing the vapors looked under the scientists' "sniffer-camera"!  Also, interestingly,  Cabernet Sauvignon vapors tend to to spread out more than Pinot Noir or Riesling.
Apparently, in a wine glass, that usually has a wider base and narrower rim, aromas tend to distribute more evenly along the glass edge than they would in a straight glass.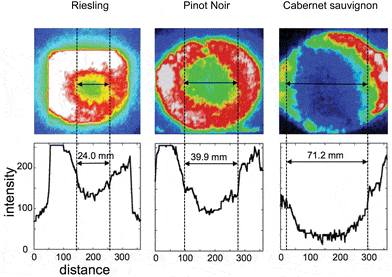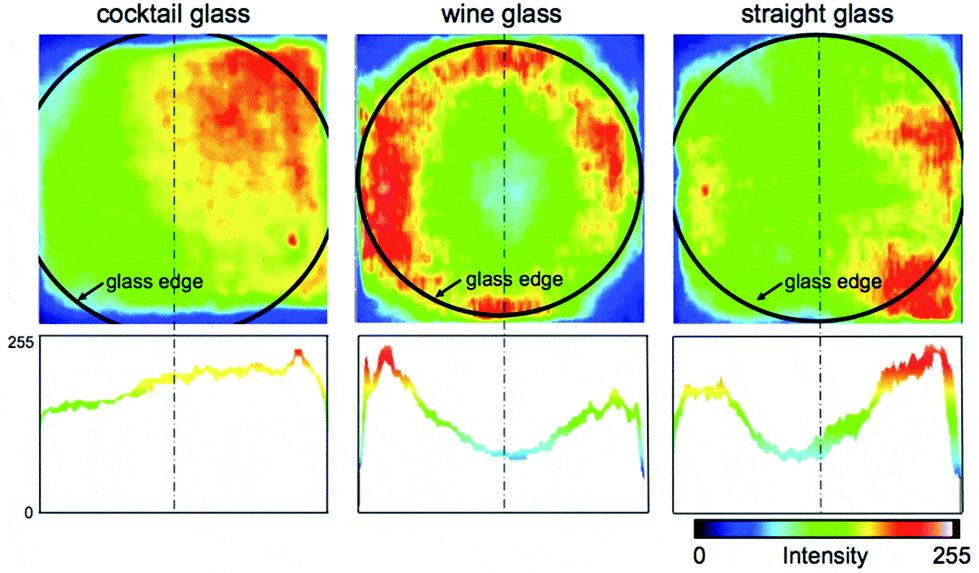 Source: Arakawa, et al. A sniffer-camera for imaging of ethanol vaporization from wine: the effect of wine glass shape, 1995
Why the Large Bowl for Bordeaux?
When tasting and enjoying Bordeaux wine, it is important to soften grippy tannins and expose wine aromas. Therefore, a good swirl in a glass is often necessary for aeration of wine.  
You have probably noticed how different wine smells and tastes straight from the bottle that has just been opened as opposed to decanted wine or a wine left in glass for a few minutes.  The wine opens up, you can smell the aromas and it seems a lot smoother.
A wider bowl creates a larger surface area to let ethanol evaporate.
It also allows for a safe swirl and creates more distance between the wine and us. This way more ethanol dissipates while more oxygen goes through the wine before it reaches us.
The bowl for Bordeaux wines is not as wide as that for Burgundy, but larger than for wines from Chianti or Zinfandel wines.  Typically, you want to look for at least a 20 oz capacity.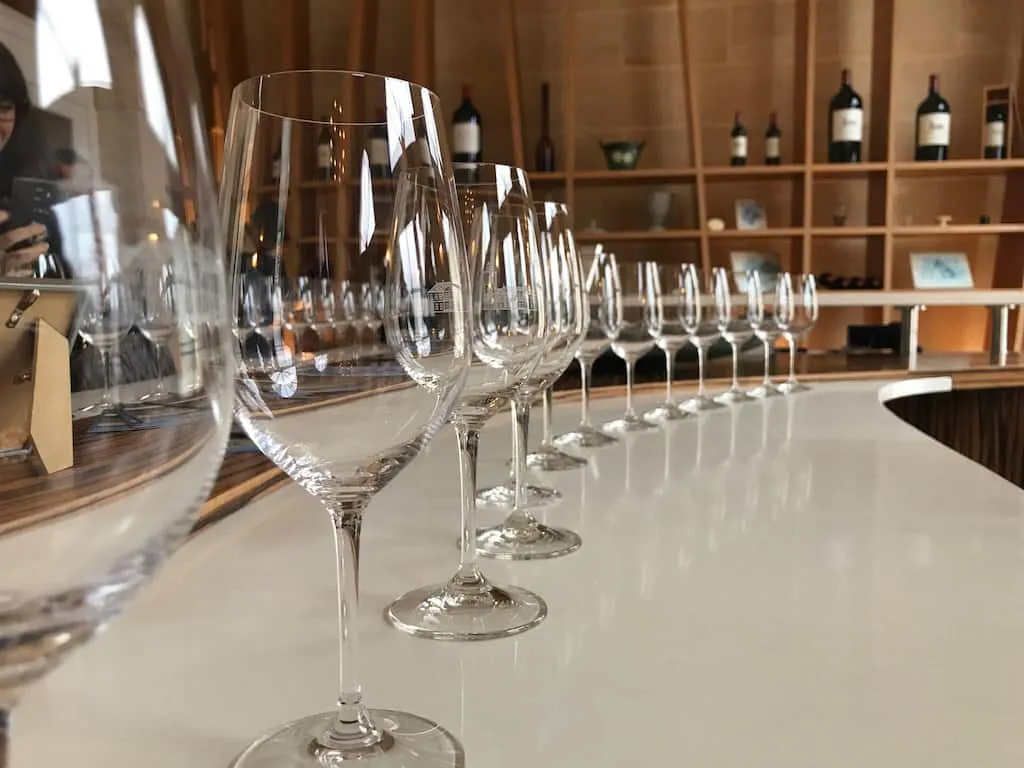 Why the Wide Rim for Bordeaux?
As you can see, the perfect Bordeaux glass tapers less at the top than the "standard" wine glass. 
The wider opening makes wines taste smoother as it helps to direct the wine to the center of the palate, thus mitigating the effect of tannins.
I found it interesting that from what the scientific observation shows, the ethanol compounds of Cabernet Sauvignon tend to distribute wider and to the edges of the glass, which matches the traditional Bordeaux glass shape choice.
The Best Glass for Bordeaux wine
The market offers a variety of glasses for Bordeaux. 
At the top of the range are the large 30 oz crystal handmade sommelier glasses.  They look sophisticated and a treat for those who enjoy fine wines, but unfortunately quite fragile.  You can also use these glasses for California Cabernet Sauvignons and Syrah wines.
Riedel also makes smaller 21.5 oz VINUM glasses for Bordeaux blends and Cabernet Sauvignons. These are smaller but still quite delicate.
For more of an everyday option, look at glasses by producers like Spiegelau (20.5 oz glass) or Schott Zwiesel (27.9 oz glass).
If you already own glasses that you use for your Cabernet Sauvignons, they will be a good fit for Bordeaux wines.   
Although many producers say their glasses are dishwasher safe, I recommend careful hand-washing of delicate wine glasses.  Do not forget to rinse carefully as poorly rinsed glasses mess up the entire tasting and drinking experience.
Should You Decant Bordeaux?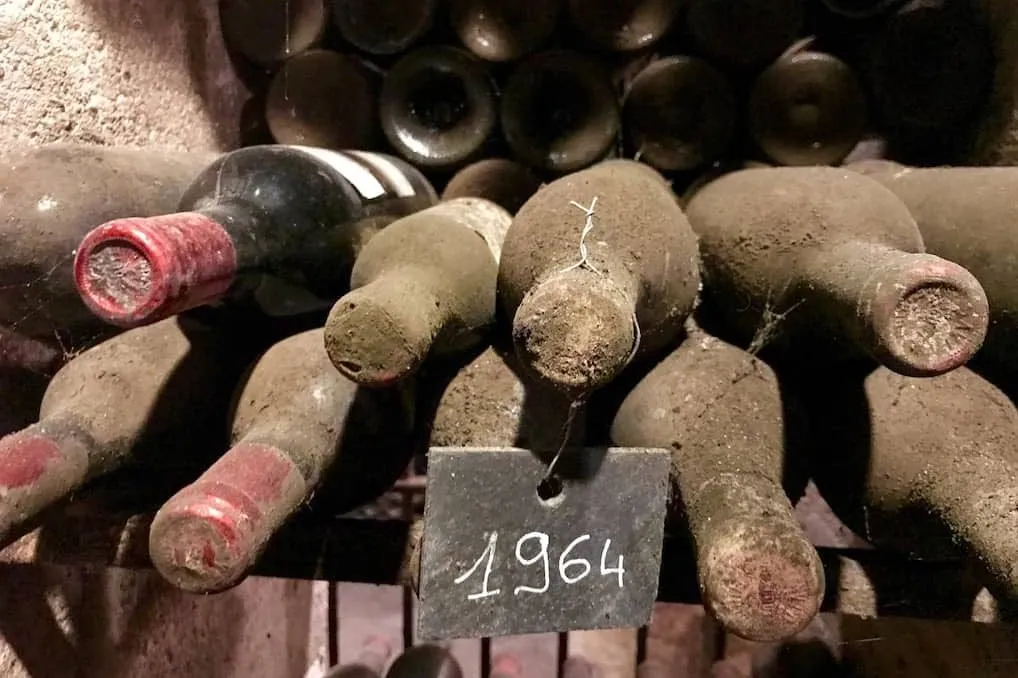 Yes, in general Bordeaux will benefit from aeration to remove excessive tannin grip and to release aromas. You can open a bottle a few hours before serving or use a decanter.
Besides, Bordeaux wine tend to have significant residue. Carefully pour wine into a decanter to leaving any unwanted particles in a bottle. 
Older wines will lose their aromas quite quickly.  Therefore, aeration is not recommended for those wines.  Instead, older Bordeaux wines should be consumed within an hour or so of opening.