Nothing feels more French than strolling through a farmers market with a baguette in hand. "Le marché" is a key staple in French culture and a stop by a local farmers' market is a must. 
If you're heading to Bordeaux, exploring one of the many farmers' markets is a great way to try fresh produce of southwestern France, support local businesses, and get to know the Bordeaux culture.  Besides, any Bordeaux farmers' market is a place to have a drink, a snack, or a brunch.  Come hungry and taste, taste, taste.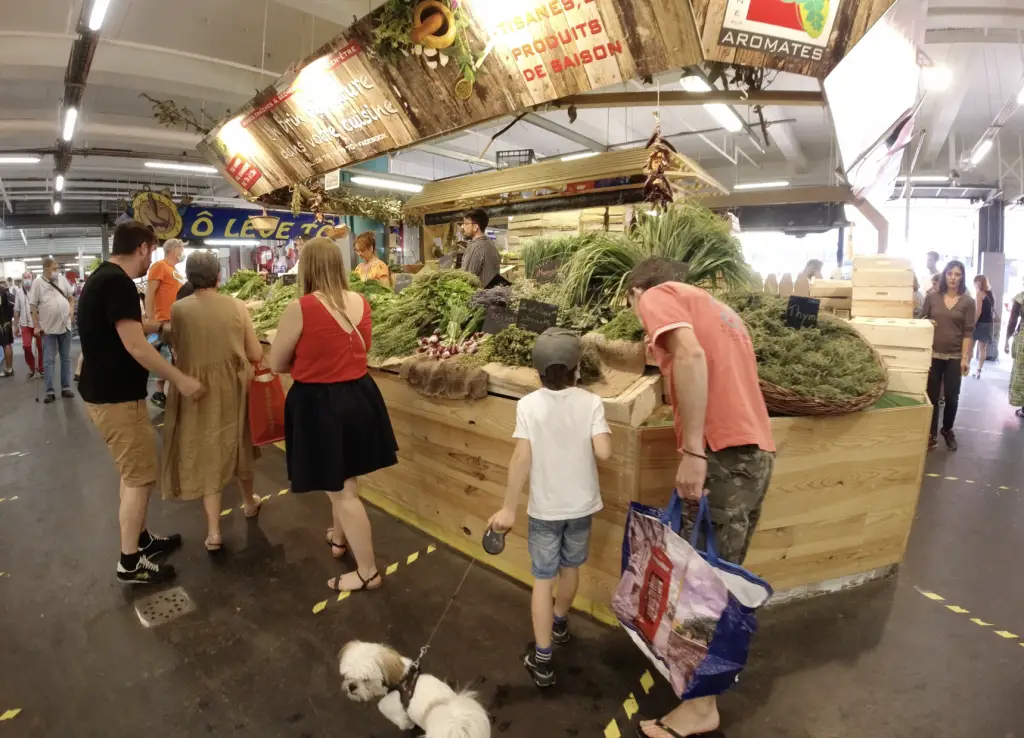 The French farmers' markets offer a variety of foods – from fresh vegetables and fruits to smoked meats and delectable cheeses. Since Bordeaux is so close to the Bay of Arcachon, most farmers' markets will have delicious seafood options, like oysters and prawns, for sale and tasting with a glass of white Bordeaux.
Also, at Bordeaux farmers' markets, you will find fresh meats, poultry, fish, bread,  sweets, and flowers to take home.
If you're looking to go on a picnic, the best way to build your meal is by buying bread, meat, cheese, and something sweet. The French love to layer jelly on top of their cheese, making for the perfect salty, sweet, and creamy combo. Grab a jar of locally made jam or an artisanal cake while in a Bordeaux farmers market. Do not forget a bottle of Bordeaux wine from a small independent vigneron.
Farmers' markets in Bordeaux have not yet turned into tourist attractions and are still a reflection of local life, where you can shop, eat, and enjoy a drink with locals.  
Can You Get To Bordeaux Farmers Markets On Public Transport?
Many of Bordeaux's best farmers' markets are centrally located and can be reached by a short walk from the city center. 
Still, if you would rather hop on public transport to speed up the process, all of the following markets can be reached by either bus or tram.  
What Are The Best Farmers Markets In Bordeaux?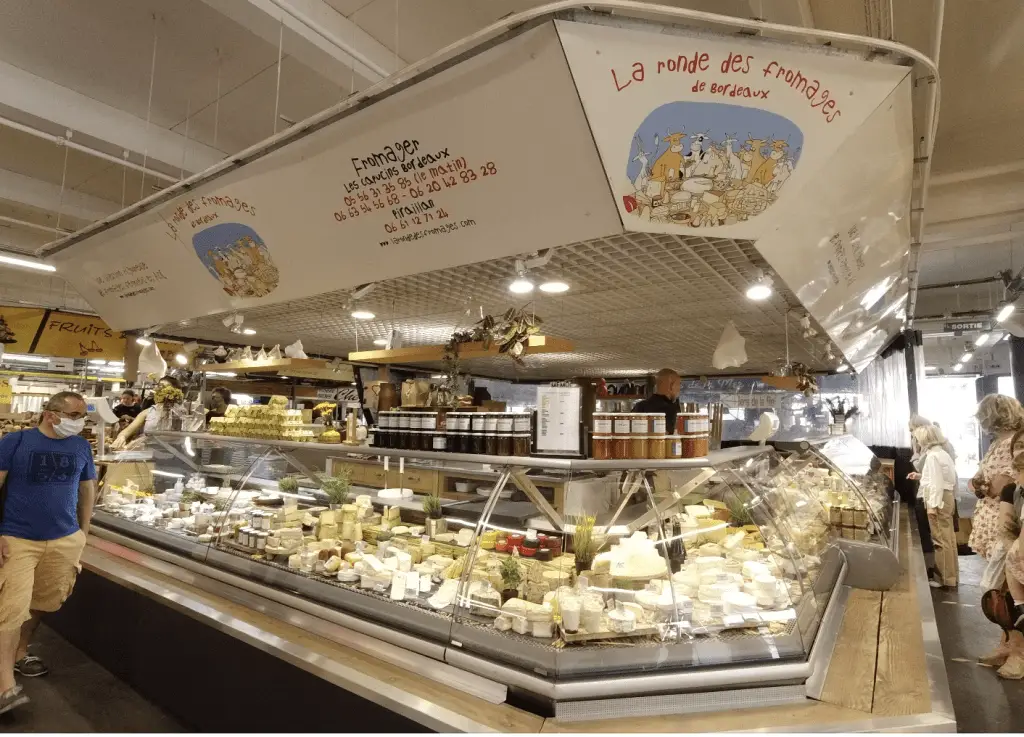 Address: Pl. des Capucins, 33800 Bordeaux, France
Hours: Tuesday-Sunday 5:30 am – 2 pm
Marché des Capucines is one of the most popular spots to visit while in Bordeaux either on your own on a food tour.  It is a covered market, great for days with less than perfect weather.  It is best reached on foot in about 20 minutes from the city center through the extravagant Saint-Michel neighborhood, or on tram C. 
Open daily, which isn't as common in other markets, this spot is perfect for buying food to cook or packing on a quick picnic along the river. G
et the best pick of the produce by arriving early.  There are also many restaurants within the market, ensuring there is something for everyone to enjoy. On the weekend this spot can get busy quickly with locals doing their weekly meal shopping and grabbing drinks with friends.
Do not miss the opportunity to taste the famous Arcachon oysters with a glass of white Bordeaux.  My other favorite stalls with international options are Caribbean samosas, Spanish tapas bars, an Italian deli, and an Argentinian roast.  Come hungry!
I find Marché des Capucines to be less pricey than other markets in the Bordeaux center, however more expensive than markets outside of the tourist center.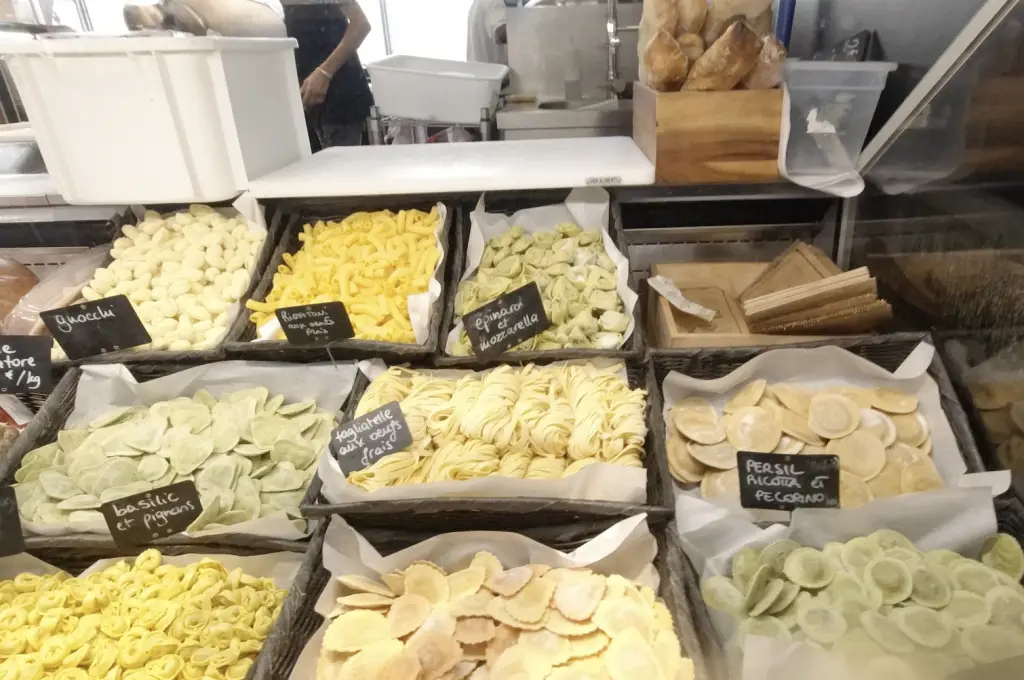 Address: 157 Quai des Chartrons, 33000 Bordeaux, France
Hours: Thursday and Sunday 7 am – 2 pm
Officially known as Marche Bio des Quais de Bordeaux, this open-air market is the easiest to reach from the center of Bordeaux.  Located in Chartrons, a lively neighborhood in Bordeaux by the Gironde river, where both tourists and locals flock, this farmers' market is the perfect place to experience the Bordeaux food scene and what is equally important to watch the real people of Bordeaux. 
If you're looking for fun food trucks with delicious treats and plenty of vendors selling fresh fruits, vegetables, fish, oysters, meats, cheeses, and more, Marché de Quais is the farmers' market for you. 
Grab an early lunch or stock up on wine and food for a later meal. Marché de Quais is one of the best and most affordable spots in Bordeaux to buy oysters, which pair perfectly with a bubbly glass of champagne or crisp white Bordeaux wine.   Join locals for informal brunch.  My favorite options at Marché de Quais are roasted chicken, paella, prawns, and sweet and savory Moroccan treats.
Marché de Quais is somewhat more expensive than the Capucins, however, it offers views of the Garrone river, the beautiful architecture of the quays, and an occasional cruise ship.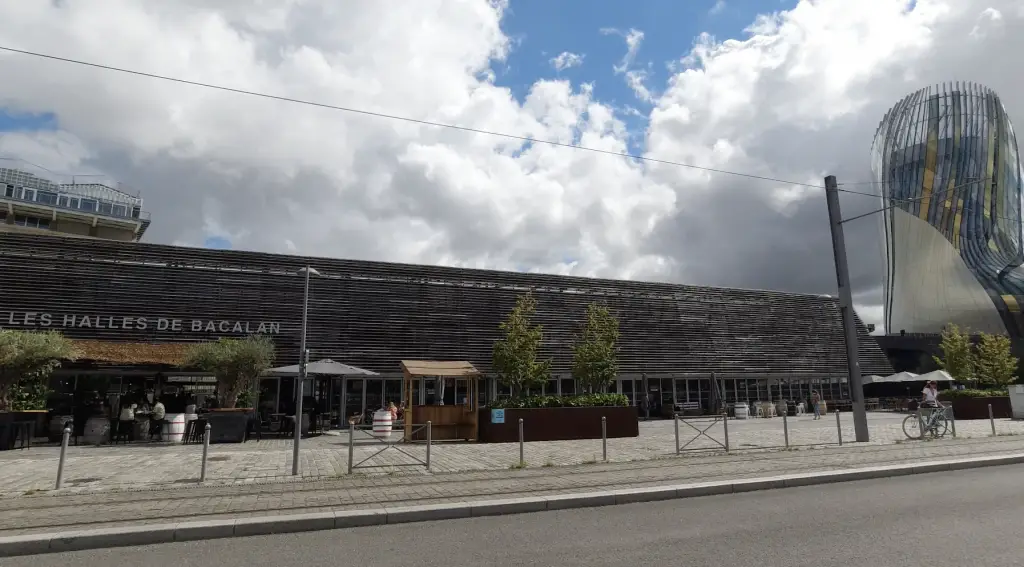 Address:  10 Quai de Bacalan, 33300 Bordeaux, France 
Hours: Tuesday-Thursday 8 am – 2:30 pm/4:30 pm – 11 pm, Friday-Saturday 8 am – 11:00 pm, Sunday 8 am – 4 pm
Just across the street from the Cité du Vin, this food hall is bustling with locals meeting up with friends at their favorite food stalls.  
After visiting the world-famous wine museum, head to Les Halles de Bacalan for your pick of many unique foods, a good selection of European wine, or just for a coffee and a croissant.  
The market gets very busy at lunchtime on weekends.  I recommend arriving early to avoid crowds and to grab a table.
I would not come to Les Halles de Bacalan for my weekly shopping, but it is a great spot for drinks, snacks, and people-watching.  
When coming from the Bordeaux city center, catch train B at Quinconces or Hôtel de Ville and get off at La Cite Du Vin stop.  If you prefer walking, it is a pleasant 30-minute walk along the Garrone river. 
Address:  2 Rue Sicard, 33000 Bordeaux, France
Hours: Tuesday-Saturday 7 am – 1 pm
Marché de Chartrons is smaller than the other markets in Bordeaux, with only seven vendors selling products. Still, this farmers' market offers some of the best local products that represent French eating. Enjoy fresh-caught seafood, charcuterie, and more from Marché des Chartrons.  A bit pricey.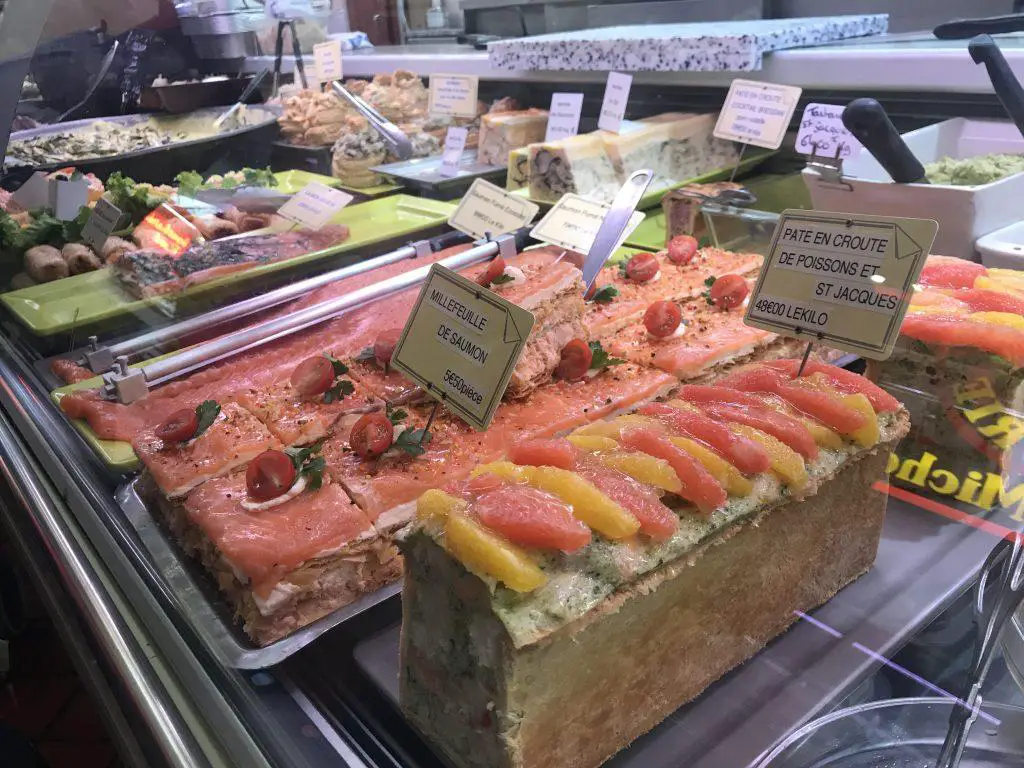 Address: 316 bis cours de la Libération Place Alcala de Henares, 33400 Talence, France
Hours: Tuesday-Wednesday 8 am – 2:30 pm/4:30 pm – 7:30 pm, Thursday-Saturday 8 am – 2:30 pm/4:30 pm – 10:30 pm, Sunday 8 am – 3 pm
Similar to Les Halles de Bacalan, Les Halles de Talence is a food hall with numerous stands full of delicious French cuisine. 
While this spot is pricier than the other farmers' markets in Bordeaux, many locals will come here to grab a bite or a drink with friends. If you're looking to try some Bordeaux wines, but don't want to go to a wine bar, there are wine and beer stands that will wet your whistle. Additionally, if you need an energy pick-me-up, grab a cup of coffee or a sweet treat from one of the local vendors. While there, buy some meat, seafood, fruits, vegetables, or pastries for a delicious meal.
Les Halles de Talence is for those who want to explore Bordeaux suburbs.  It is a 15-minute ride on tram B from Quinconces or Hôtel de Ville in the direction of France Alouette.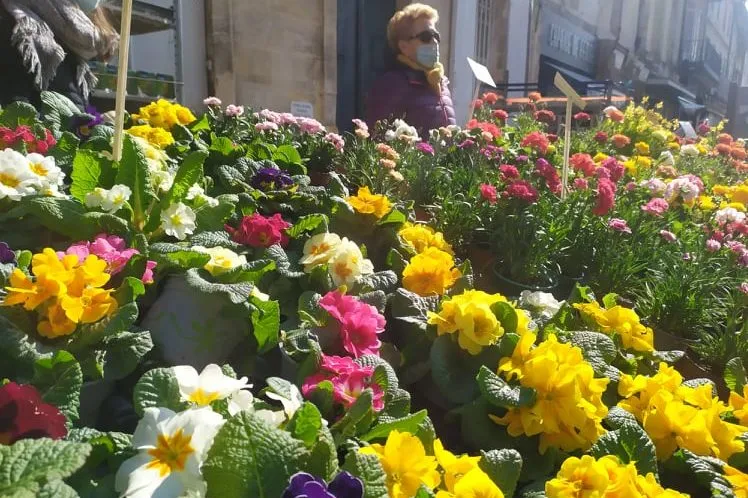 Address: 33150, Espl. François Mitterrand, 33310 Cenon, France
Hours: Wednesday 8 am – 1 pm
When people visit Bordeaux city, they often stay on the left bank to explore the major sites. Marché de Cenon will give you an excuse to cross over the water and explore the municipality of Cenon on the right bank. 
As one of the oldest markets in Bordeaux, this is an open-air market where locals buy daily staples.  Not only will you find some great food finds at cheaper prices, but you will also find many flea market items for sale like clothing, art, and home goods.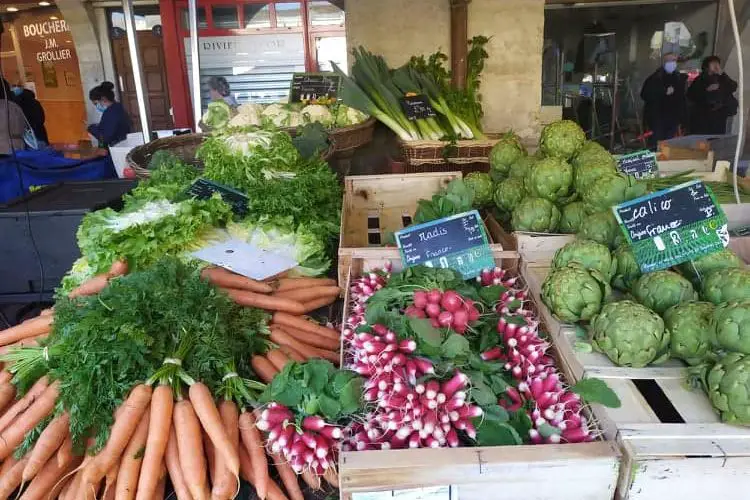 Address: 1 Av. Marcelin Berthelot, 33110 Le Bouscat, France
Hours: Sundays 7 am – 1:30 pm
Found in the Bordeaux satellite town of Bouscat, this is another local market offering great food and prices.  Fresh produce and cheese stalls, rotisserie chicken, honey, wine – all you need for your daily life in Bordeaux.  
Choose Marche du Dimanche if you are looking to experience a real market away from tourists and find bargains you will not get at centrally located markets.  
The market can be reached from the Bordeaux city center by tram C (direction of Gare de Blanquefort) and some walk through a residential neighborhood.  
8. Libourne Farmers Market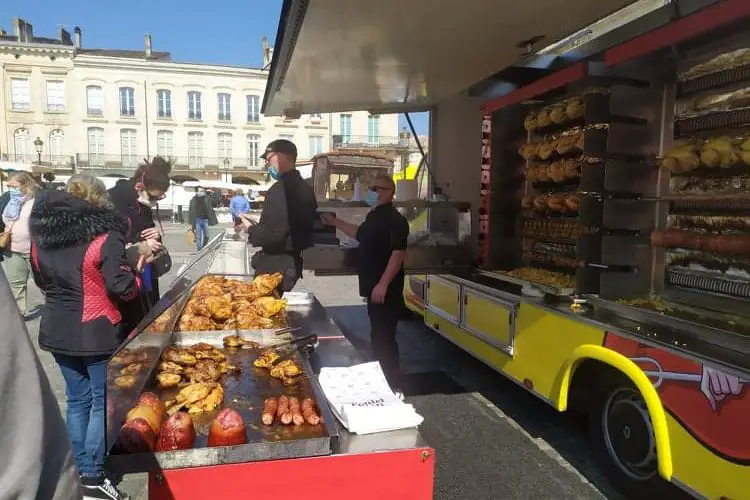 Address: Place Abel Surchamp, Libourne , Libourne, 33500, Bordeaux, France
Hours: Tuesday, Friday, Sunday 8 am – 12:30 pm
If you're traveling to Saint Emilion, take some time to stop by the Libourne Farmers' Market. This open-air market is right in the center of the city of Libourne which is just thirty-five minutes from Bordeaux by car and close to Saint Emilion.
This market is quite impressively large.  Located in a historic square of Libourne, it is atmospheric and pretty.
Fuel up for your adventures with fresh fruits, vegetables, meats, and cheeses. There are also cooked food options like roasted chicken, paella, and couscous should you be on the hunt for something to eat right away.
I found prices at the Libourne market to be a bit higher than at the surrounding village markets, but it is the historic atmosphere, variety of products, live music, and people-watching opportunities are worth an extra penny.
Private Bordeaux wine tours may include a stop at the Libourne market at your request.
There is lots to see and do in Bordeaux, but a stop by at least one farmer's market during your visit is a must. Even if you go just to spend time walking through the winding rows of stalls, you're sure to have a good time. However, we are pretty sure that after just a few moments at these farmers' markets your stomach will be begging you to buy a bite to eat. Bon appétit!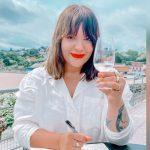 Jessica Blanarik is an American wine and travel tourism writer.  She is currently receiving her master's degree in Wine Tourism with the Wintour Erasmus Mundus program in Spain, France, and Portugal. She believes wine is not only delicious but also an important unifier of people and cultures. You can find more of her work at www.jessisjourney.com.