The village of Barolo is located in Langhe valley in the Province of Cuneo of the northern Italian region of Piedmont between the communes of Cuneo and Asti, southwest of Alba.
The nearest large cities are Turin, Milan, and Genoa.
Barolo is a small medieval village with a castle whose first records date back to the 10th century. The Falletti castle dominating the village is now a Wine Museum, considered to be Italy's most innovative.
The village is listed as the UNESCO World Heritage site.  750 people live in the commune of Barolo. 
Although Barolo DOCG is the most well-known Italian wine appellation, this wine region is still less discovered by tourists than Tuscany. 
It is a little out of the way but makes an interesting day tour to an authentic Italian wine country that makes wines of the highest quality.
Besides, the Langhe valley is a stunning countryside perfect for a romantic trip.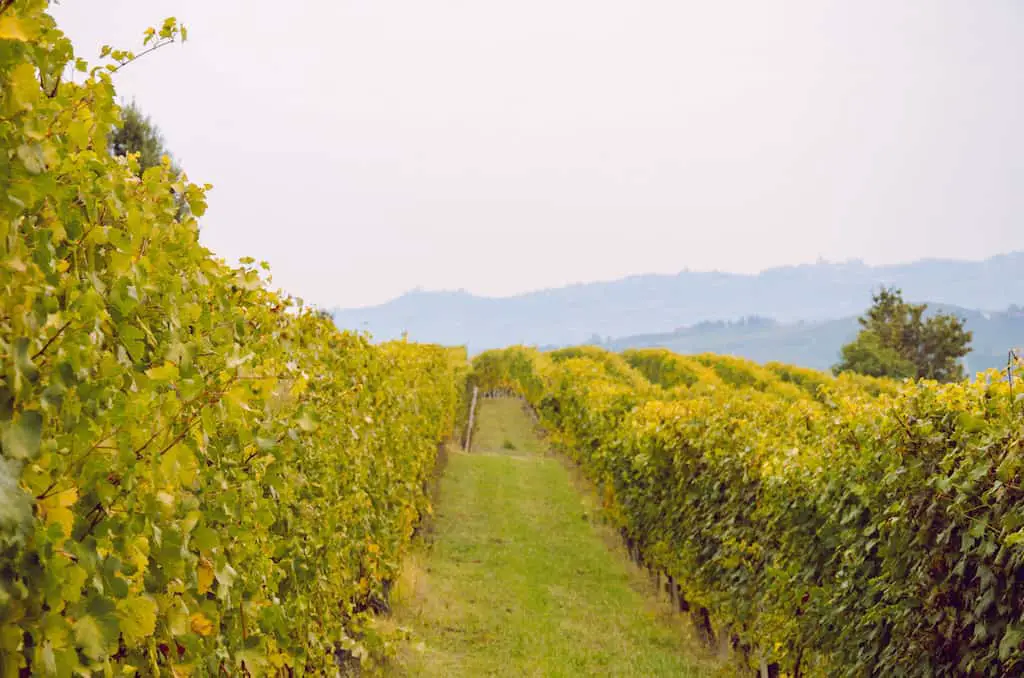 Best Season to Visit Barolo
Grape harvest in October
Alba Truffle Festival in October and November
Spring and summer are good times to visit Langhe.  Be prepared for some mosquitoes in the summer months.
Monforte Jazz Festival in August
Collisioni Rock Festival in August
Winters between December to February could be very slow
What kind of wine is made in Barolo?
Barolo is famous for the red wine produced in appellation Barolo DOCG (Denominazione di Origine Controllata e Garantita).  Barolo is one of Italy's greatest wines and is placed by critics among the top wines of the world.
The zone of production extends into the villages of Barolo, Castiglione Falletto, Serralunga d'Alba and parts of the of Cherasco, Diano d'Alba, Grinzane Cavour, La Morra, Monforte d'Alba, Novello, Roddi, and Verduno. 
Wines produced in the communes of La Morra and Barolo are usually lighter in style as they come from limestone-based vineyards. The communes of Serralunga d'Alba, Monforte d'Alba, and Castiglione Falletto with sandstone soils produce bolder style Barolo.
Barolo can only be made from the Nebbiolo, a small thin-skinned black grape with high acidity and grippy tannins.  Barolo wines are light in colour.
Nebbiolo is called "wine of the fog" from the Italian name for fog "nebbia." As the warm air from the valley meets cold air from the mountains, fog forms and then dissipates through the days.
Vines grow on the sunny southern slopes of the hills at altitudes of 300-500 meters, they break buds quite early but are the latest to be harvested (mid to late October). As grapes ripen slowly, they produce the levels of acidity necessary to balance stringent tannins of Nebbiolo. 
Nebbiolo's other name is "the wine of kings and king of wines," a favorite of the Italian aristocrats, collectors, and connoisseurs.
Typical aromas of Barolo are roses, red cherries, herbs, spices, and dried flowers.
Barolo DOCG wines must be aged for 3 years of which 18 months must be in oak.  These wines generally need to be aged in a bottle for at least 10-15 years to reach their best and soften tannins.
The term "Riserva" can be used on the Barolo label when the wine has been cellared for at least five years.  "Vigna" stands for wines from single-vineyard grapes.
Which are the best years for Barolo wine?
The best years for Barolo wine have been 2016, 2010, 2006, 2001.
How much does Barolo wine cost?
Barolo wines start from $35 per bottle and go to over $200 per bottle for the higher-end Riservas and Vignas.  
The high cost of Barolo comes from its unique quality and supply and demand, however, the cost of production is also high given the hand-picking, long barrel aging requirements, and over a decade of bottle aging.
Which other wines can be tasted in Piedmont?
Barbaresco is located northeast of the city of Alba in the Apennines. Barbaresco awards DOCG status to vineyards located on the south-facing slopes.  
The famous Gaja winery produces wines in both Barbaresco and Barolo appellations.
In Barbaresco, the soils are mostly limestone-based.  The climate having less of a shift between day-time and night-time temperatures than in Barolo produces grapes that ripen sooner but have thinner skins. This means Barbaresco tends to have less tannin, color, and aroma compounds. Thus, Barbaresco wines are usually lighter tasting and less tannic  than Barolo.  They can typically be enjoyed earlier than Barolos.
Other red wines produced in the area are Dolcetto D'Alba and Barbera D'Asti.  Dolcetto is the opposite of Nebbiolo. It is producing wines that are low in acid yet high in tannins. Barbera wines  are dark in color and taste of black cherry, anise, and dried herbs.
Asti is also famous for the sparkling wine produced from Moscato grape.
Dry white wines produced in the area are Gavi,  Arneis  and  Langhe Chardonnay.
You can find a mix of these wines at almost any of the Barolo wineries.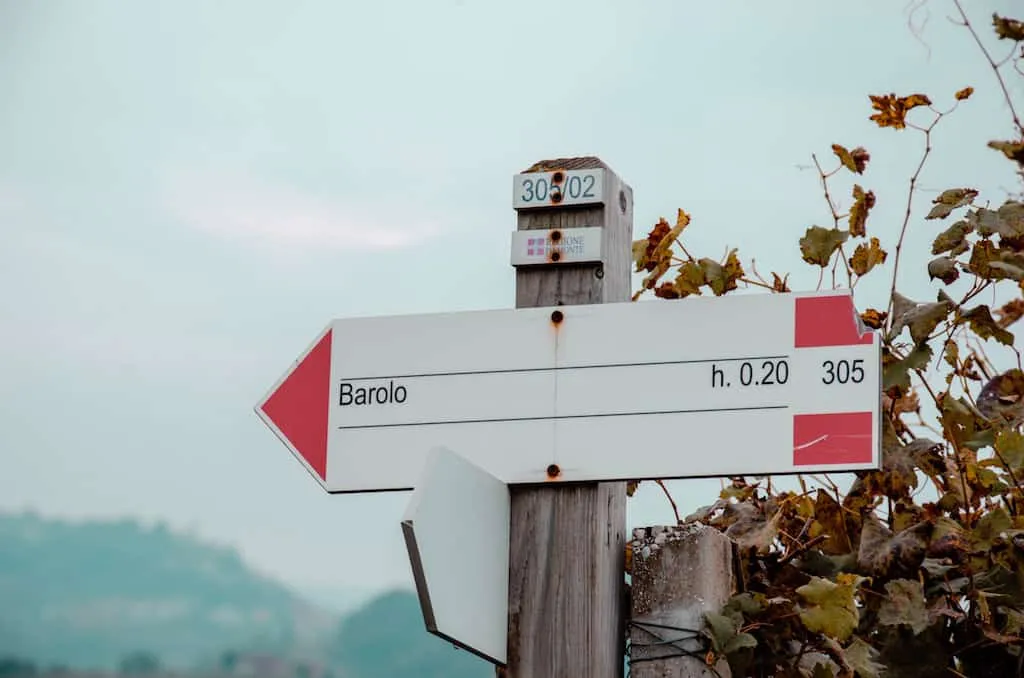 How to visit wineries in Barolo?
It would be easiest to travel around by car.  Make appointments with the Barolo wineries and plan for about 1 to 2 hours for each visit depending on the type of visit you choose.  
Wine tour arrangements to the some top Barolo wineries should be made in advance. Some of them are only open to trade. However, these tours can sometimes be arranged by your wine shop or your wine supplier in the US or the UK or through a local wine tour guide.
Most visit packages include a guided winery tour and tasting of local wines.  
When visiting make sure that you taste some single-vineyard Barolo, one of the crus,  which are the most praised wines.  I found that some less expensive wine tours do not include a tasting of Barolo wines.  Instead, you will be offered a variety of other Langhe wines.
It is possible to trek around the area – for example between Barolo and other communes around: Montfort d'Alba, Novello, Castiglione Falletto, and La Morra.
An organized Barolo wine tour is another good option when traveling without a car. Barolo wine tours pick up from Turin, Milan, Alba, or your accommodation in Piedmont.
Map of Barolo wineries to visit
I marked on the map wineries with exceptional Barolo you can visit on your Barolo wine tour.
You can also check out my catalogue of Barolo and Barbaresco wineries.
Hire a private guide or get on one of the wine tours if you don't want to navigate the hilly and winding roads, or to designate a driver.
Private wine tours to Barolo would pick you up from your accommodation in Turin, Milan or in the area.
White truffles

Hazelnuts

Fresh pasta tajarin and ravioli a la plan
Cheese Robiola di Roccaverano
Langhe bacon and sausages
WiMU Wine Museum in Barolo

Trekking

Cooking classes
Corkscrews Museum in Barolo
Panoramic viewpoints in La Morra, Verdun, Mondorte d'Alba, and Serralunga d'Alba