I often travel to the Rioja wine region visiting wineries. 
Here is my personal list of the best Rioja wine country hotels.  Some are located at the wineries, others are in small historic Riojan winemaking villages. 
Hotel Marqués de Riscal is located near the calm village of Elciego in Rioja's Álava province.
The hotel is a part of the Marqués de Riscal City of Wine.  The original bodega was built in 1860. In 1883, the building was extended to include a Bordeaux-style cellar known as El Palomar where these days the premium wines of Marqués de Riscal are made.
The avant-garde style building of Hotel Marqués de Riscal designed by the renowned architect Frank O. Gehry is dominating the skyline.  The hotel is stylish and has large comfortable rooms. On the premises, there is a Vinothérapie Spa, an indoor pool, a hammam, a Finnish sauna, and a fitness centre.  There are also two restaurants and a wine bar with views on the ancient village of Elciego and the mountains of Sierra Cantabria.
Do not miss the chance to visit the winemaking facilities of Marqués de Riscal.  My favorite part is the impressive collection of old vintages. I found that room to be very impressive.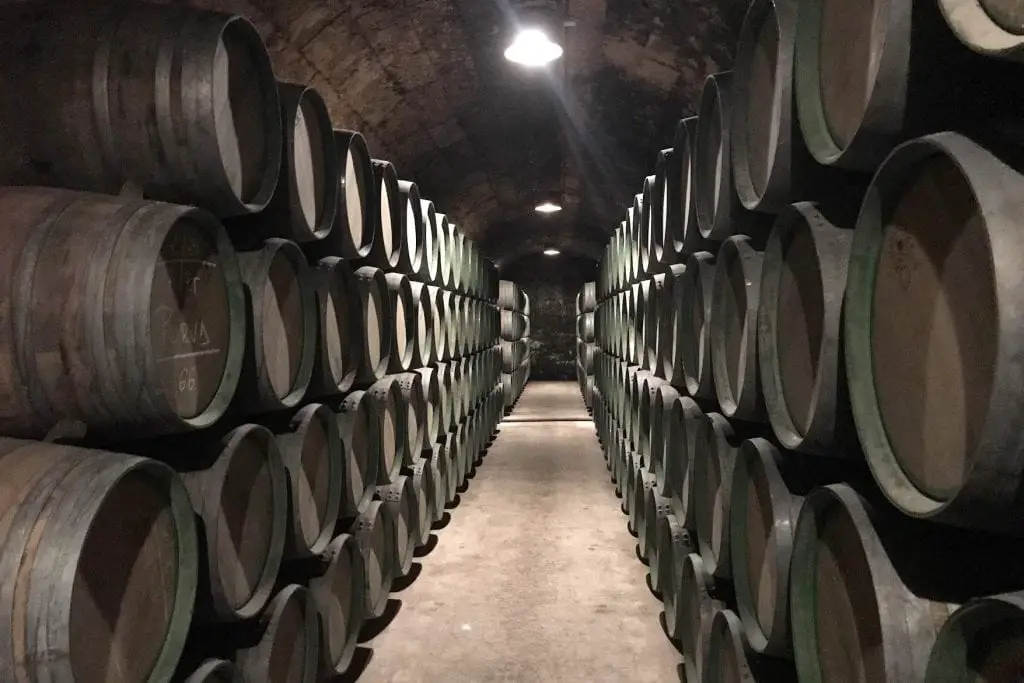 Hotel Eguren Ugarte is part of Bodegas Eguren Ugarte in the Rioja Alavesa region.
Located between Laguardia and Haro in the footsteps of Sierra Cantabria, Eguren Ugarte is in the heart of Rioja wine country. This is my favorite part of Rioja Alavesa – the views of vineyards and mountains are fantastic and so are the wines.
There are 21 rooms at Hotel Eguren Ugarte. I found the rooms very comfortable and reasonably priced.  
If you like the idea of staying at a working winery, this hotel would be the right choice.
Bodegas Eguren Ugarte is a family-owned winery. They produce a great variety of high-quality Rioja wines which you can taste at the restaurant. The winery owner is often on-site to welcome the guests. 
I recommend making restaurant reservations in advance, especially for lunches on weekends.
Palacio Tondon is on the banks of the calm River Ebro in a small village of Briñas, only about 20 minutes walk from Haro. 
I was visiting wineries in Haro, but I preferred staying at Briñas as it is quiet and authentic, and walking to Haro by a road along the river and then through the famous vineyards of Roda. If you are looking to explore some of the Haro Train Station District Wineries, definitely consider Palacio Tondon.
Hotel Palacio Tondon is in the 16th-century palace, refurbished with an ultra-modern and stylish interior.
I enjoyed a charming historic building in a quaint village and a very spacious and comfortable room with river views. 
There is a restaurant on-premises for hotel guests. You will find another local restaurant just around the corner. I had my best Riojan meal at Restaurante Bodegon de Ayala in Briñas.
Located in Villabuena de Álava, the village of winemakers, Hotel Viura is excellent as a base for exploring the Rioja wine country.  Did you know that Viura is a name of a local grape varieity?
Hotel Viura is special. The astonishing modern architecture of the hotel makes it look more like a sculpture than a building. The building is embedded into a rock next to a traditional village church.
Rooms are large and modern and chic. Concrete walls are decorated with attractive details made of wood.
There are a lovely rooftop terrace, an excellent restaurant, and a bar at Hotel Viura. 
Real Casona de las Amas is not a winery hotel, but quite a unique experience in Rioja wine country.  The hotel gives you a feeling of a Spanish castle.  The building is a 17th-century palace, with traditional decor and six large comfortable rooms.  
Hotel Real Casona de las Amas also has a beautiful deep salted-water pool.  
If you are looking for a relaxing atmosphere or a romantic getaway, pick this hotel to stay on the Rioja wine route.  
The hotel is only 7 km from the spectacular Rioja Alta Golf Course in Cirueña.
Finca los Arandinos is a winery with a hotel and a spa.  Here, you will have a unique chance to stay at a working Riojan bodega.
Art, modernity, design and views of endless vineyards will surround you. The decor of the 14 rooms was created by a famous Spanish designer David Delfín and an architect Javier Arizcuren.
Local restaurant Tierra serves Riojan cuisine paired with wines pressed from grapes grown outside the hotel.  
Palacio de Samaniego is a new hotel of the Edmond de Rothschild Heritage in the small village of Samaniego in Rioja Alavesa, about 10 km west of the town of Laguardia.  
The village is surrounded by vineyards and has some of the best views of the Sierra de Cantabria mountain range which rises north of Samaniego.
The 18th-century palace was transformed into a luxury hotel which offers nine rooms and suites, a French-Basque restaurant, a terraced garden and a swimming pool.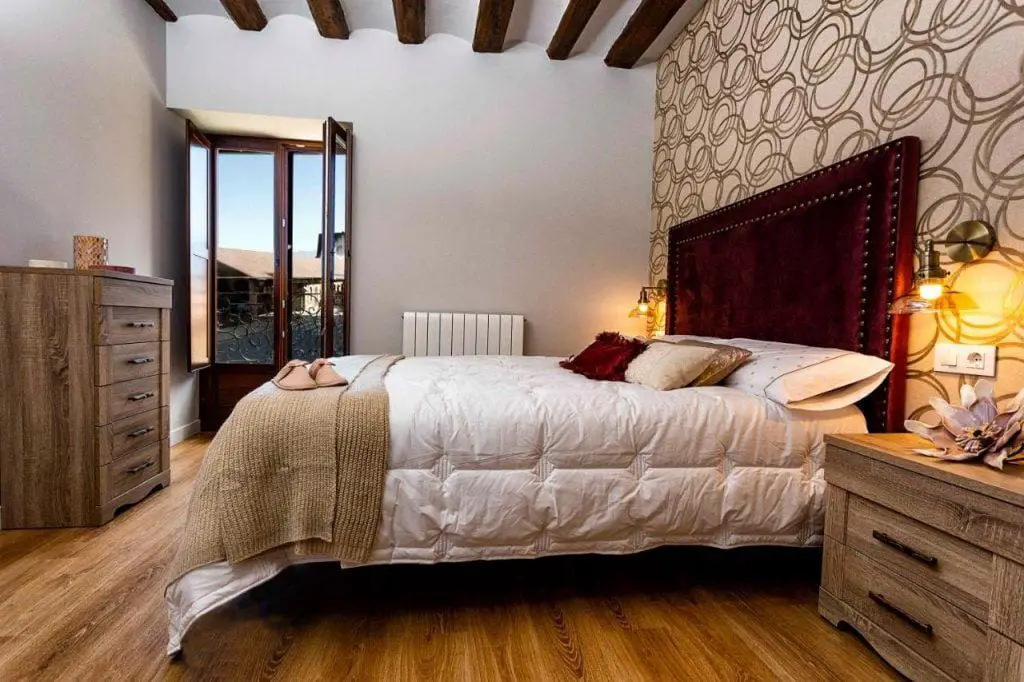 Finally, not a luxury hotel in the middle of vineyards, but several apartments in a wine theme in Cenicero, an authentic winemaking town halfway between Haro and Logrono.  The town is home to popular Bodegas Marques de Caceres. 
Rioja Valley Apartments was a highlight of my stay. The apartments are modern and very nicely furnished.
Very caring owners, Soraya and her daughter, make you a gift of Rioja wine and bring a basket of amazing local products for breakfast.  
Check out Rioja Valley Apartments if you need a comfortable and affordable stay in Rioja wine country.  You can choose between apartments with a view of mountains or a ground-floor apartment with a huge patio (recommended).  
Check out the rave reviews!