Which are the top wineries in Rioja, Spain?
High-quality "artisanal" wines, interesting stories, unique production techniques and remarkable architecture are all good reasons to visit a particular winery (bodega).  However, as much as I love beautiful wineries, a nice tasting room does not always equal excellent wines.  
When planning my Rioja wine tours, I try to look for wineries producing the best classic examples of the regional style and highly rated by international critics.
Here is the map and the list of the top wineries to visit in the Rioja wine region.
Map of top Rioja wineries to visit
A typical wine tour itinerary is starting from Haro and ending in Logrono, the two main towns of La Rioja. However, you have all the flexibility to explore these wineries in any order or direction.  
Just be sure to check opening hours and to make your visit appointments in advance. Also, keep in mind that winery visits and tastings tend to take about 1.5 hours. Confirm tour durations with wineries.  
Some, but not all wineries offer lunch and picnic options.  
Viña Real is part of Compañía Vinícola del Norte de España (wine company of northern Spain) which also owns other Rioja wineries including CVNE and Contino. The winery is located half-way between Logroño and Laguardia on a hill called the Cerro de la Mesa.
The Viña Real brand was launched in the 1920s.  The proximity of the vineyards to the old Camino Real (King's Road) inspired its name.  
The new winery was designed by French architect Philippe Mazières and inaugurated by King of Spain Juan Carlos in 2004.
The main winery building is made in the shape of a giant wine fermentation vat.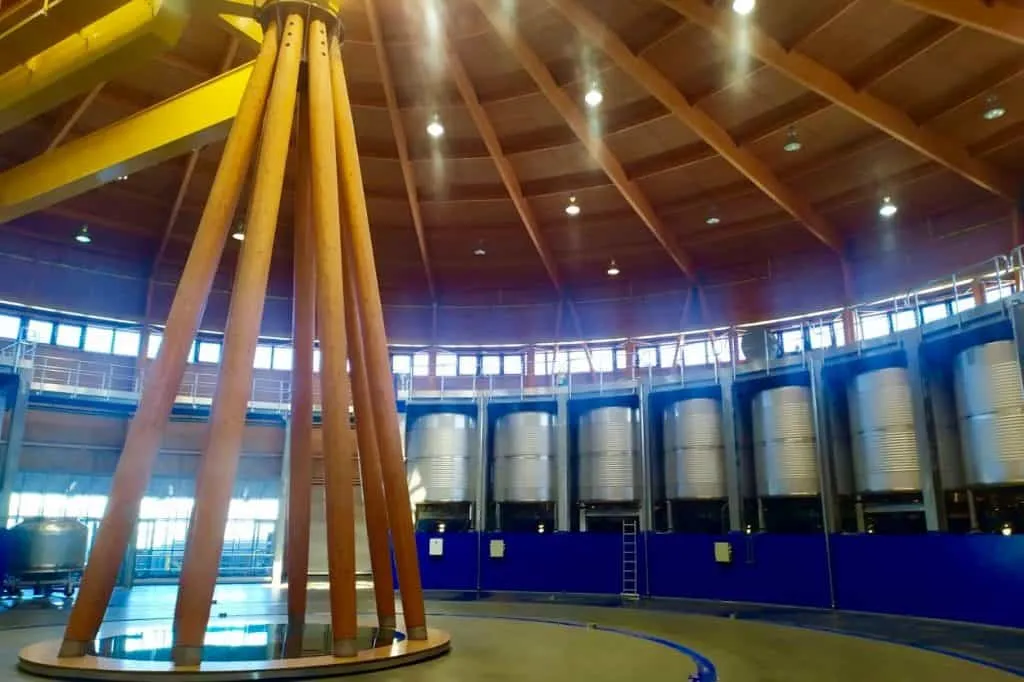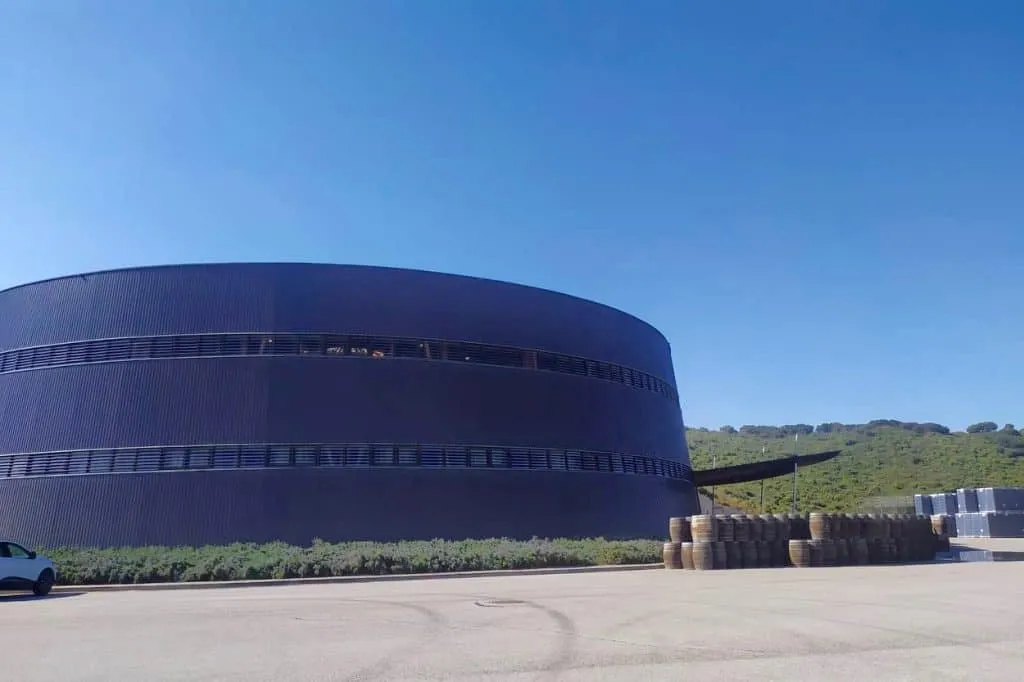 At Vina Real, CVNE follows the philosophy of a balance between tradition and modernity. The winemaking process uses gravity to avoid pumping and the negative impact it has on the wine. Therefore, the cellar is located right below the fermentation room which allows for the no-impact transfer of wine from vats to barrels.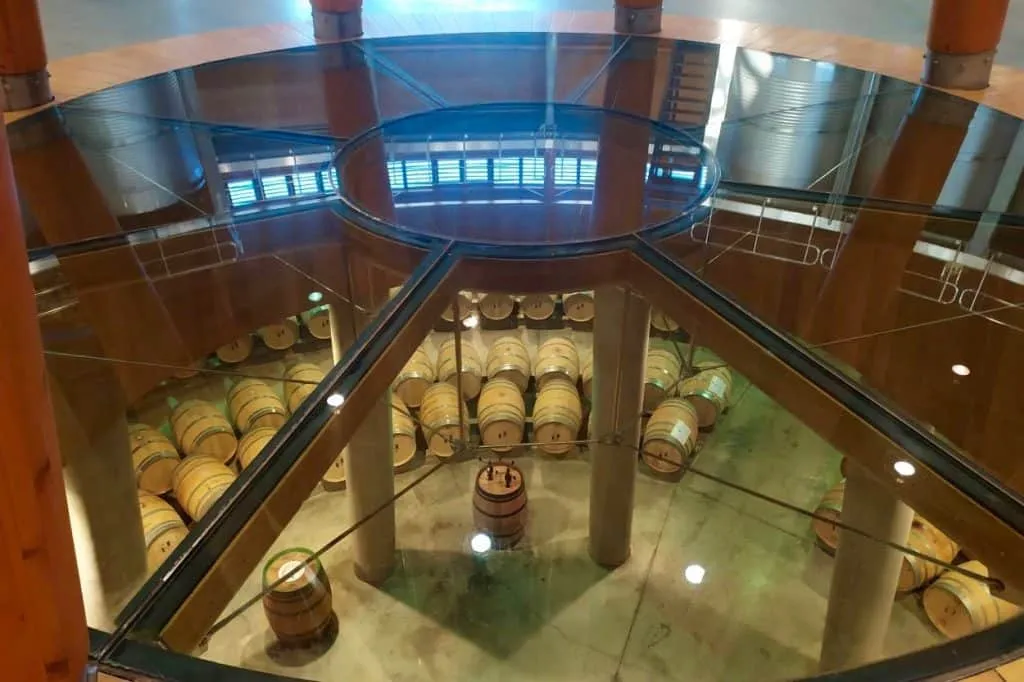 I was very impressed with the size of the aging cellars dug in the mountain. They reminded me of a huge metro tunnel filled with thousands of wine barrels.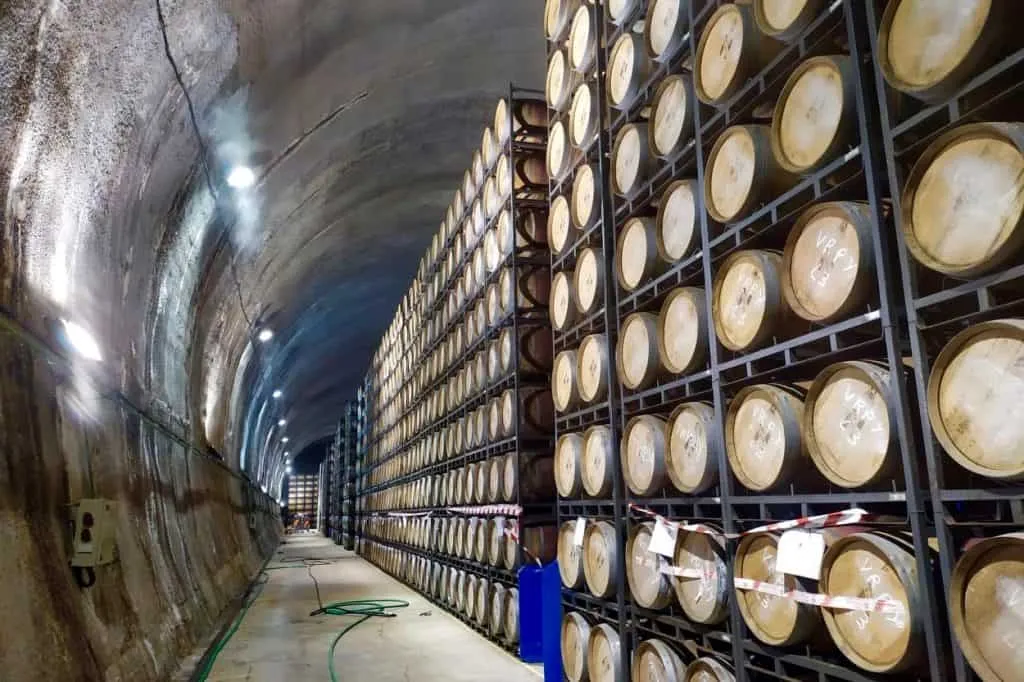 Top-rated Viña Real wines
Viña Real Crianza 2016 – 91 Parker points
Viña Real Reserva 2015 – 93 Parker points
Viña Real Gran Reserva 2013 – 92 Parker points
Pagos de Viña Real 2016 -94 Parker points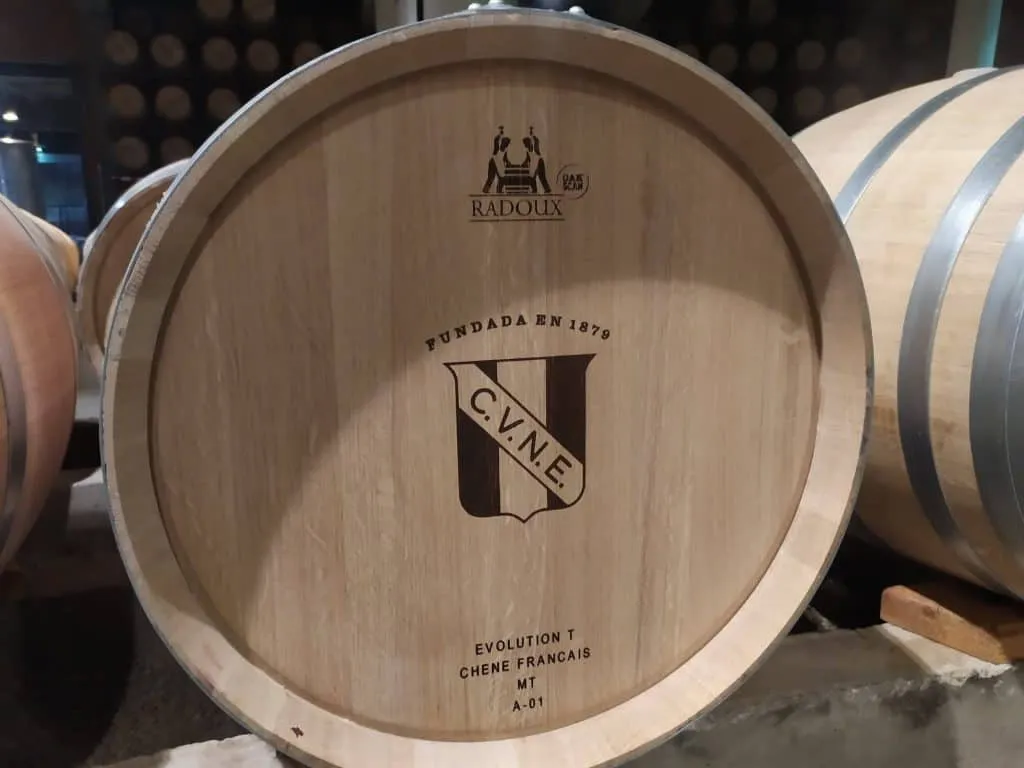 Visit bodega Viña Real
Visits are held Monday through Sunday and cost 15 euros per adult and 5 euros for kids. The winery closes Monday and Tuesday during July and August. 
Be sure to visit the cellars that are a true architectural wonder. However, if you are short on time, you can drop in for a quick 15-minute tasting which costs 6 euros. 
Management is very welcoming. There are lunch, brunch, and picnic options at the winery, and even a children's workshop. 
How about a wedding at the avant-garde Viña Real?
The winery is fully accessible for people with disabilities. 
Book your visit online. 
CVNE stands for Compañía Vinícola del Norte de España (or the wine company of Northern Spain).  The winery was founded in 1879 by brothers Eusebio and Raimundo Real de Asúa from Basque country, and Isidro Corcuera from La Rioja. 
Located in the heart of the traditional Train Station District in Haro, the winery is composed of 22 buildings, which include the original 1879 premises, as well as the plant designed and built by the Gustav Eiffel architectural studio in 1909.
Today, CVNE is led by the fifth generation of the Real de Asúa family, and there have only been five chief winemakers during this time including the current Technological Director Rioja-native Maria Larrea. 
Top-rated CVNE wines
Cune Crianza 2016 – 90 Parker points
Cune Reserva 2015 – 90 Parker points
Cune Gran Reserva 2013 – 91 Parker points
Cune Gran Reserva 2012 – 91 Parker points
CVNE Real de Asúa 2016 – 93 Parker points
Imperial Reserva 2015 – 93 Parker points
Imperial Gran Reserva 2012 – 95 Parker points
Visit bodega CVNE
Guided tours run from Monday to Sunday, with prices starting from 6 euros per adult and 3 euros for kids. The winery closes on Tuesday during the summer months.  
There are a wine bar and a wine shop on the premises.  You can have a traditional lunch along with the visit and tasting. If you are with kids, CVNE offers a children's workshop.
Book your visit online on the CVNE website.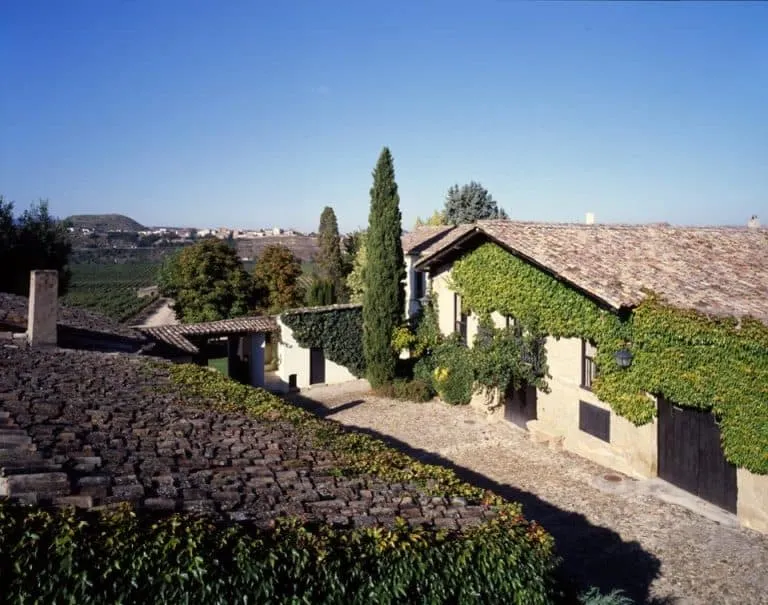 Contino was created as the first one using the "château" concept in Rioja, meaning that Contino wines are made exclusively from the grapes grown on its 62 hectares (153 acres) of vines surrounding the winery. 
Located in an almost 200-years old manor house in Alava, Contino was built on top of the 16th-century caves.  The "contino" means an officer who protected the royal family "de contino" (continuously) from the times of the Catholic Kings.
The estate is small and cozy with wonderful views.  Contino is only a few minutes' ride from Viña Real.
Top-rated Contino wines
Contino Viña del Olivo 2017 – 94 Parker points
Contino Reserva 2015 – 94 Parker points
Contino Gran Reserva 2012 – 93 Parker points
Contino Garnacha 2017 – 93 Parker points
Contino Blanco 2017 – 91 Parker points
Visit Contino
The guided visit of Contino winery visit includes a tour through the winery and vineyards, followed by a wine tasting with local appetizers. The price is 25 euros per person.
Tours run Monday through Saturday. The winery closes on Mondays and Tuesdays during the summer months.
Book your visit online.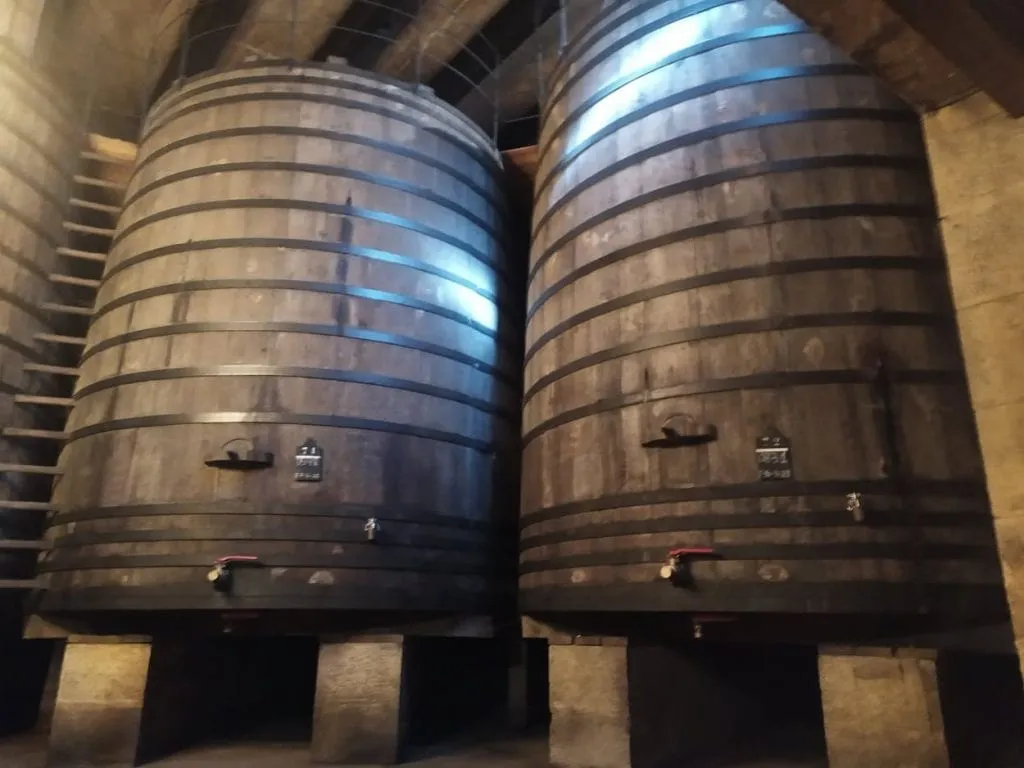 The bodega is located in Haro.  Rafael López de Heredia y Landeta, who returned to his homeland from France, started building the bodega that became a "cathedral to wine" with vaulted underground corridors, staircases, and long underground cellars descending to a depth of 15 meters. 
72 oak vats are used for vinification and 12,900 Bordeaux oak barrels are used for aging.
The estate owns 170 hectares (420 acres) of vineyards.  Viña Tondonia which occupies 100 hectares (247 acres) of them along the Ebro river has to be is the most spectacular in Haro and produces the most famous wines. 
Other vineyards are Viña Cubillo, Viña Bosconia and Viña Laconia.
The wines produced here are unique even to Rioja.  They are the most classic among the classics as everything is produced in a very traditional way. 
If you admire the modern architecture, you will be drawn here to see the work of Zaha Hadid, who created an external pavilion for the winery.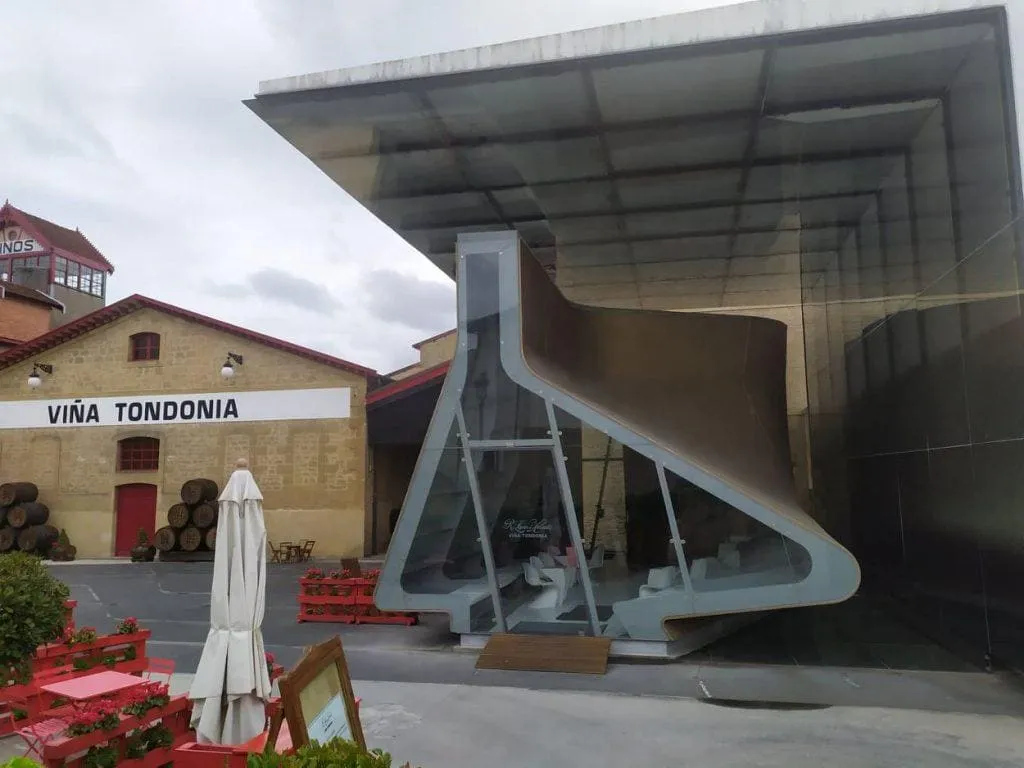 Top-rated Lopez de Heredia wines
Viña
Tondonia Reserva 2007 – 96 
Parker points
Viña
Tondonia Blanco Reserva 2007 – 96 
Parker points
Viña
Tondonia Reserva 2004 – 94 
Parker points
Viña
Tondonia Gran Reserva 1994 – 96 
Parker points
Viña Tondonia Gran Reserva 1995 – 97 Parker points
Visit Lopez de Heredia
Visits are organized on request. Contact the winery by filling out the form on the winery's website.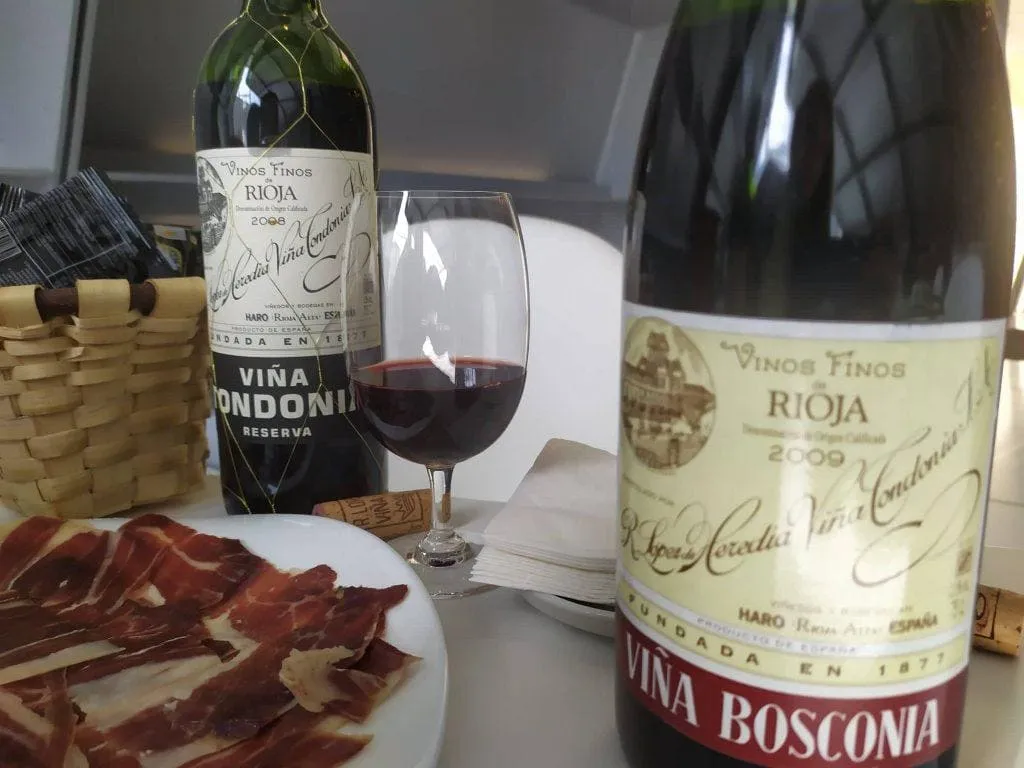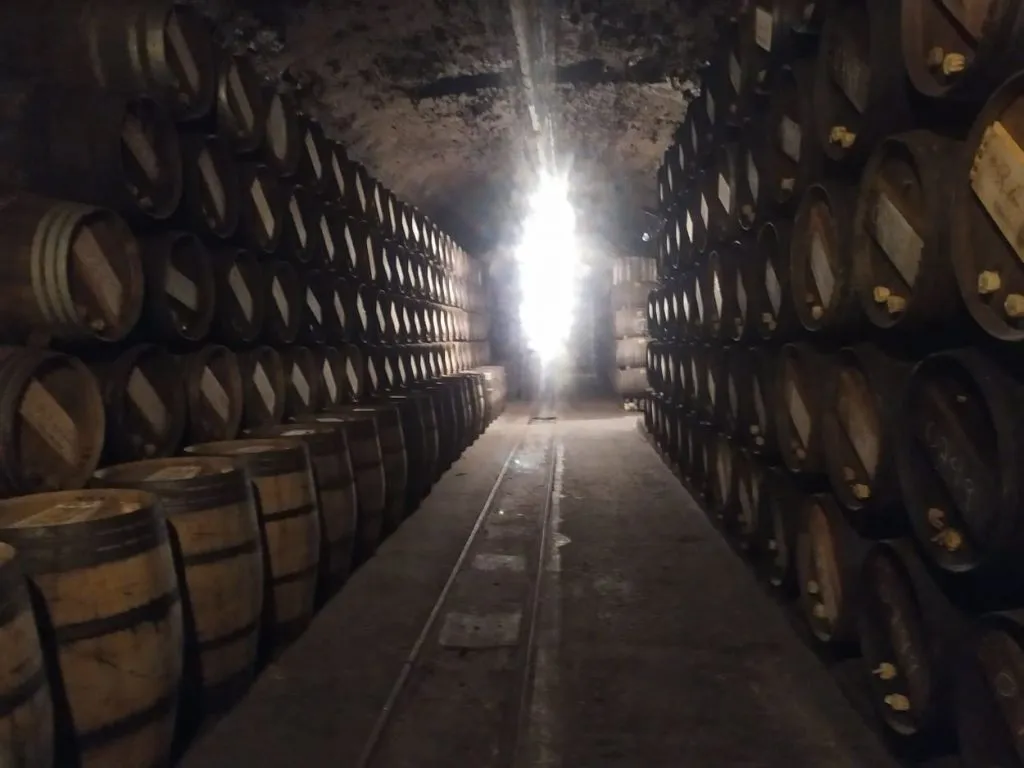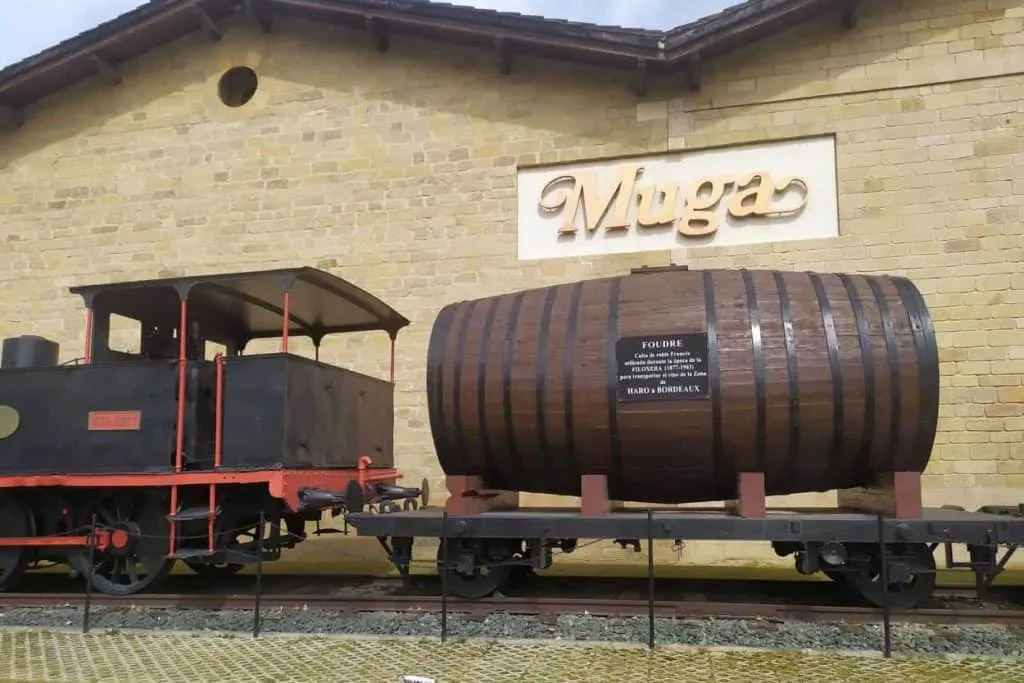 Bodegas Muga was founded by Isaac Muga and Aurora Caño in 1932. Located in the  historic Barrio de La Estación (Station Quarter) of Haro, it is home to both the most traditional winemaking methods and the latest cutting-edge techniques.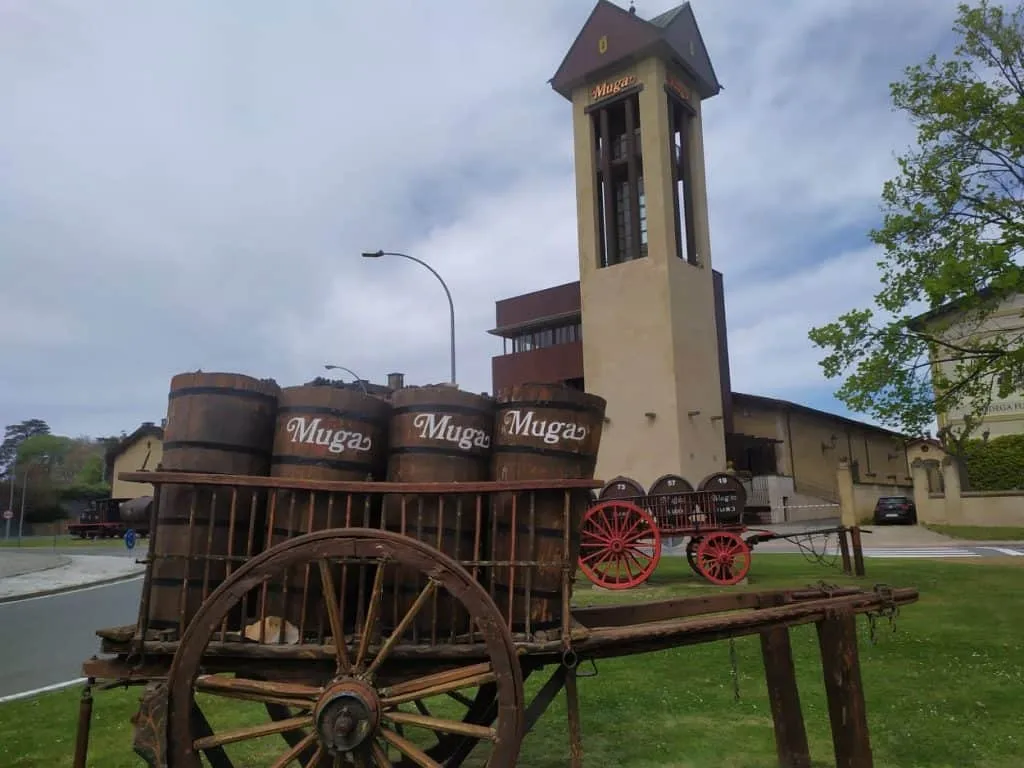 Top-rated Bodegas Muga wines
Aro 2016 – 96 
Parker points
Torre Muga 2016 – 96 
Parker points
Prado Enea Gran Reserva 2011 – 96 
Parker points
Muga Seleccion Especial 2015 – 94 
Parker points
Muga Reserva 2016 – 93 
Parker points
Visit Bodegas Muga
Visits require an appointment.  The winery offers regular visits with a tasting of 2 wines from 15 euros per person, as well as the tour of a vineyard on segways and hot-air balloon experience. Please note that there are age limits for these activities.
To book contact Bodegas Muga at +34 941 306 060 or by emailing them at visitas@bodegasmuga.com.