The Rioja wine region, located in the north of Spain, is a must-visit destination for wine enthusiasts visiting San Sebastian/Donostia. Known for its world-class red wines made from Tempranillo, Garnacha, and Graciano grapes, the region offers a range of wine-tasting experiences, from traditional bodegas to modern wineries. In addition to the delicious wines, the region is also home to stunning landscapes, rich history, architectural masterpieces and delicious local cuisine, making it a perfect day-trip destination.
Another great option for wine lovers visiting San Sebastian/Donostia is the Txakoli wine region known for its crisp, refreshing white wines made from the Hondarribi Zuri grape variety, which are often served as an aperitif or paired with seafood. 
From San-Sebastian to Rioja by Car
It takes approximately 1.45 minutes to reach Rioja wine country from San Sebastian.  Logroño is 167 km (104 miles) away while Haro is 143 km (89 miles).  The road from San Sebastian and Rioja vineyards lies through mountains and planes with breathtaking views. I found the drive on AP-15 to be particularly scenic.
You can head directly to the wineries or select a destination such as Haro, Logroño, or Laguardia and explore the areas nearby.  
Logroño is the capital of La Rioja province and the largest city.  My personal favorite towns in the Rioja wine region are Laguardia and San Vicente de Soncierra.
There will be tolls to pay on the highways in the Basque country.  Tolls are automatic and accept cards and cash.
From San-Sebastian to Rioja by Bus
The bus from San Sebastian to Logroño takes AP-15 and the trip takes 2 hours and 15 mins.
Private company La Estellesa runs buses at 12:45 pm and 7:30 pm with 3 stops. One-way tickets are 17.95 euros per person.
Phone:  +34 948 326 509
atencionalcliente@laestellesa.com
If you are calling a phone number in Spain from the United States, you would dial 011 + 34 + 948 326 509.
Once in Logroño, take a quick taxi ride to wineries nearby.  I have listed some options of wineries near Longroño in this article:
Rioja Wineries to Visit Near Logroño
From San-Sebastian to Rioja by Train
Trains operate regularly between San Sebastian and Logroño, with a stopover at Miranda del Ebro.
The train ride will take at least 3 hours depending on the connection. 
Buy separate tickets for each leg of your trip on the official renfe.es website.
Rioja Wine Tours from San Sebastian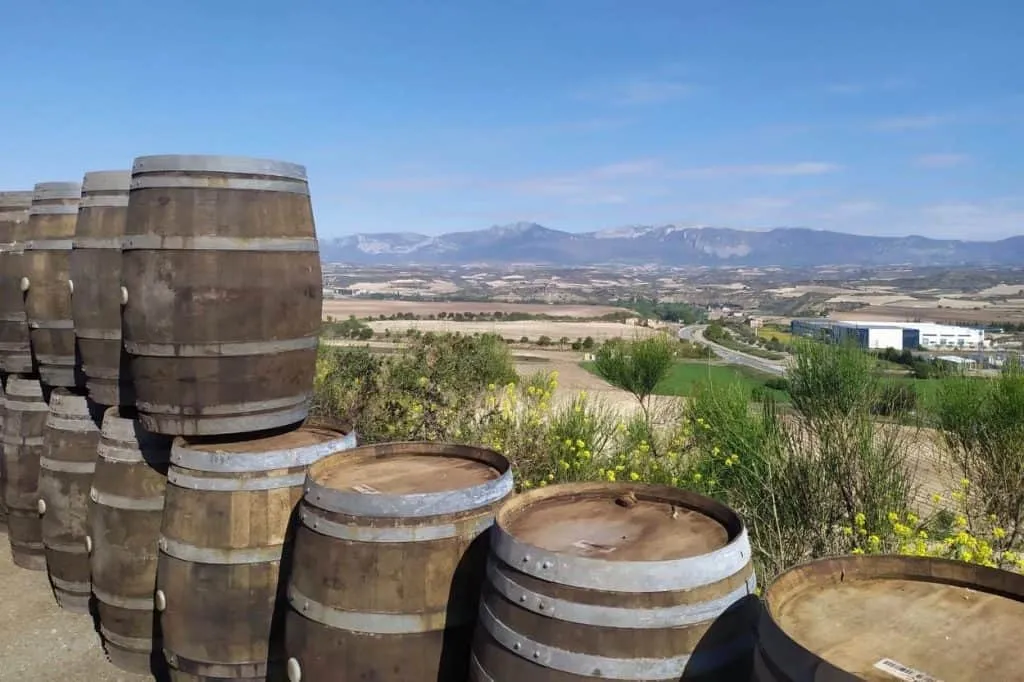 Private wine tours would pick you up at your hotel and arrange two or three winery visits and lunch in Rioja wine country.
This is the easiest way to visit Rioja wineries.