If you are visiting San Sebastian or around, definitely leave time to experience cider tasting and gastronomy of the Gipuzkoa province in the northern part of the Basque Country. 
Cider is known here as sagardoa, and cider houses are called sagardotegi in Basque, or sidreria in Spanish.
In the Basque country, the main apple growing region is near the town of Astigarraga, a few miles from the city of San Sebastian and from the French border. 
Cider tasting is an excellent day-tour from San Sebastian, Bilbao or Biarritz.  You will  learn all about cider-making, drink a lot of it, have an authentic meal and participate in a fun local tradition of txotx. 
If you are fond of authentic non-touristy activities, go for a txotx.  This is definitely a living tradition that Basques seem to enjoy.  Cider tasting experience is a good way to meet local people.  
Just be aware that cider tasting is incomplete without a lot of Basque food.  Count on getting very abundant lunch or dinner at a cider house.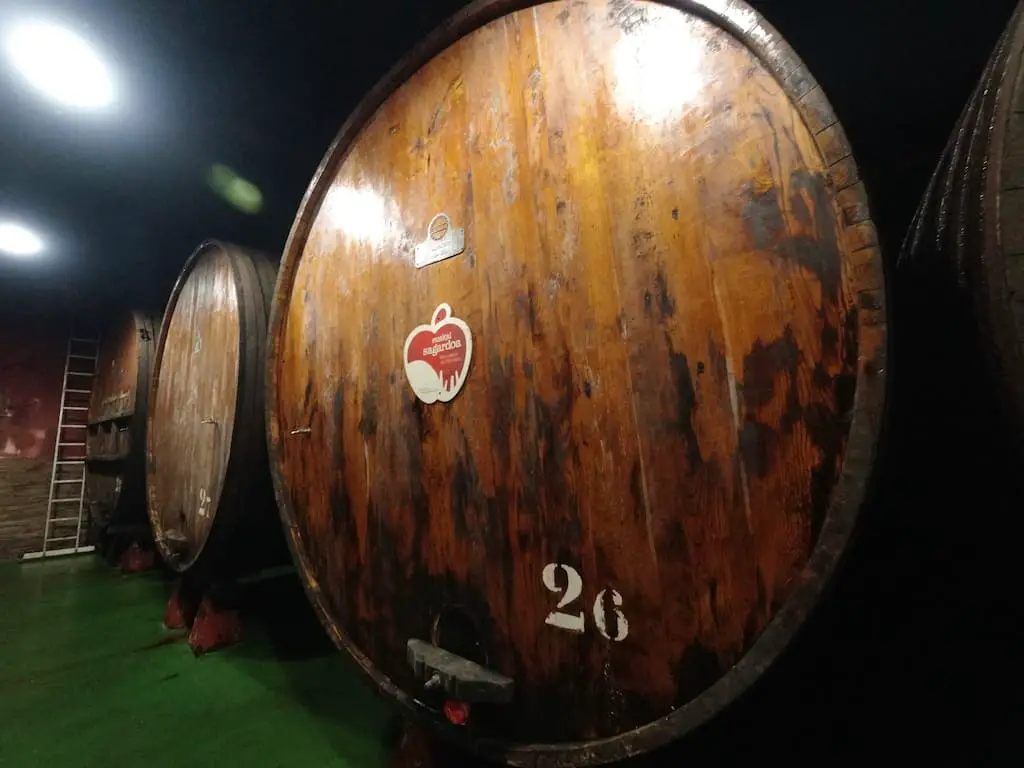 Cider is served in bottles at most local bars and restaurants in the Basque country.  
You can taste cider accompanied by typical food, right in the center of San Sebastian at one of the cider houses.
For example, Txirrita Cider House is right in the center.  This cider house offers all the traditional and vegan and vegetarian meal options.
Salaberria sidreria is another option in town.
Cider House Tours Near San Sebastian
If you are looking for an even more authentic cider experience and, perhaps, interested in a tour, take a short 10-15 minute car or a bus ride from San Sebastian to the Astigarraga area.
Most of sagardotegis are in the north part of Gipuzkoa close to the towns of Astigarraga, Hernani, Urnieta, and Usurbil.
Cider houses can also be found in other parts of Gipuzkoa, in the northwest of Navarre and the northern Basque country.
Tours can include a walk through an apple orchard and through cider-making facilities, and tasting cider directly from barrels.
Tours usually run on the weekends between June and October, and every day during the txotx season, from January to April.
Some cider houses will stop guided tours during cider-making season between October and December. Depending on a house, they may take the first week of January off.
A tours and a tasting typically cost 12 to 15 euros per person.
My tour at Petritegi cider house included an apple-tree orchard, the cider museum and the cellars. The family follows the cider-making tradition from the 18th century. Cider tasting was accompanied by cider-cooked chorizo sausage.
You may want to confirm whether there is the availability of tours in English, as some cider houses do not have permanent English-speaking staff.
Most cider houses offer tours that include tasting from barrels (txotx) and a gastronomic feast, a full traditional menu for 35-40 euros per person.
There are also options to make-your-own-cider, various activities for kids and concerts.
It is recommended to make your tour bookings a few days in advance to guarantee a spot on a tour.  There is usually a minimum group requirement for a guided tour to run.
If you are looking for an organized cider tour from San Sebastian, check out these options:
Cider House Experience From San Sebastian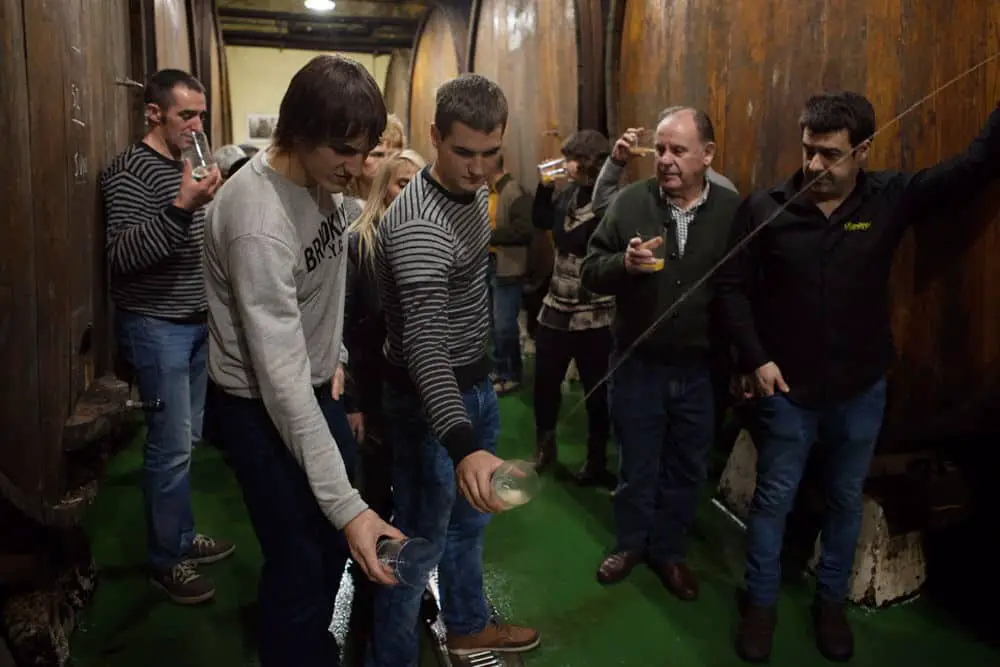 Txotx (pronounced "chotch") is a ritual of tasting cider straight from the barrel.
Txotx season typically runs from approximately mid-January to the end of April. 
During this time, at the cider houses in the hills surrounding San Sebastian, you can enjoy unlimited cider from huge 20,000-liter barrels called kupelak. 
You are given a special thin cider glass.  A "cider man" opens a tap and pours cider to your glass from the height.  Drink it all at once and get a new pour.  It is unlimited!
Here is more on How to Drink Basque Cider.
You also get to taste traditional Basque foods right in the cellar. 
Reserve your spot in advance, as these events are extremely popular among locals.
The Best Cider Houses Near San Sebastian
The best cider houses in the Astigarraga area are: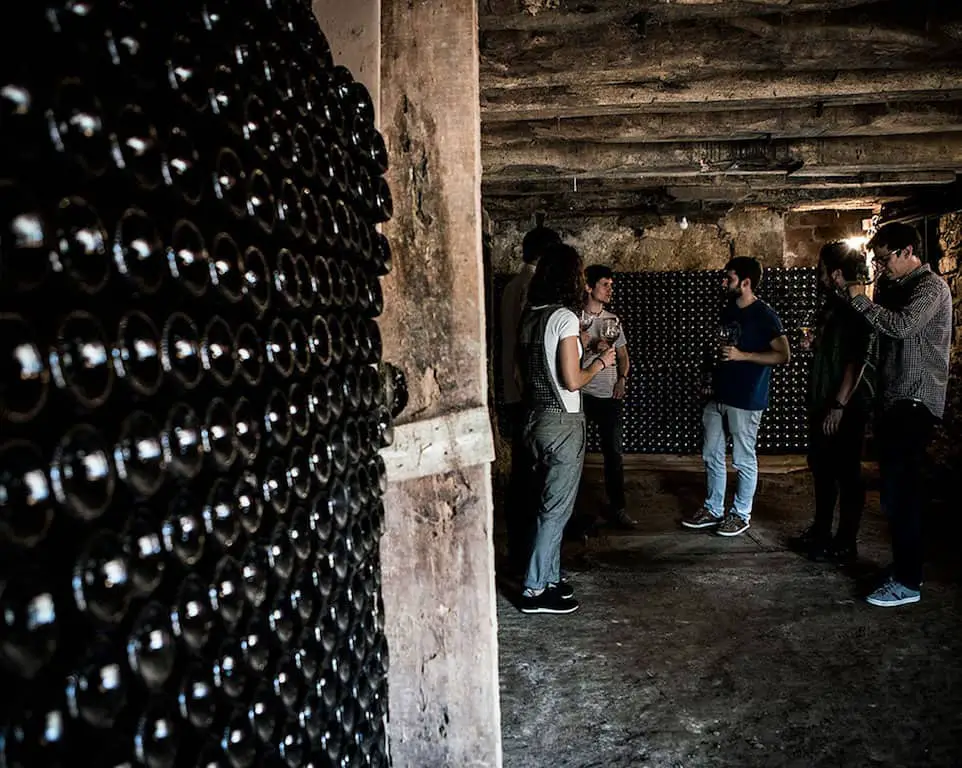 Astarbe Sagardotegia offers tours in English where you will learn the history of the house, visit the orchard, taste cider from the barrel with a cheese pintxo and chorizo cooked in cider. 
Astarbe also offer txotx experience and traditional meals.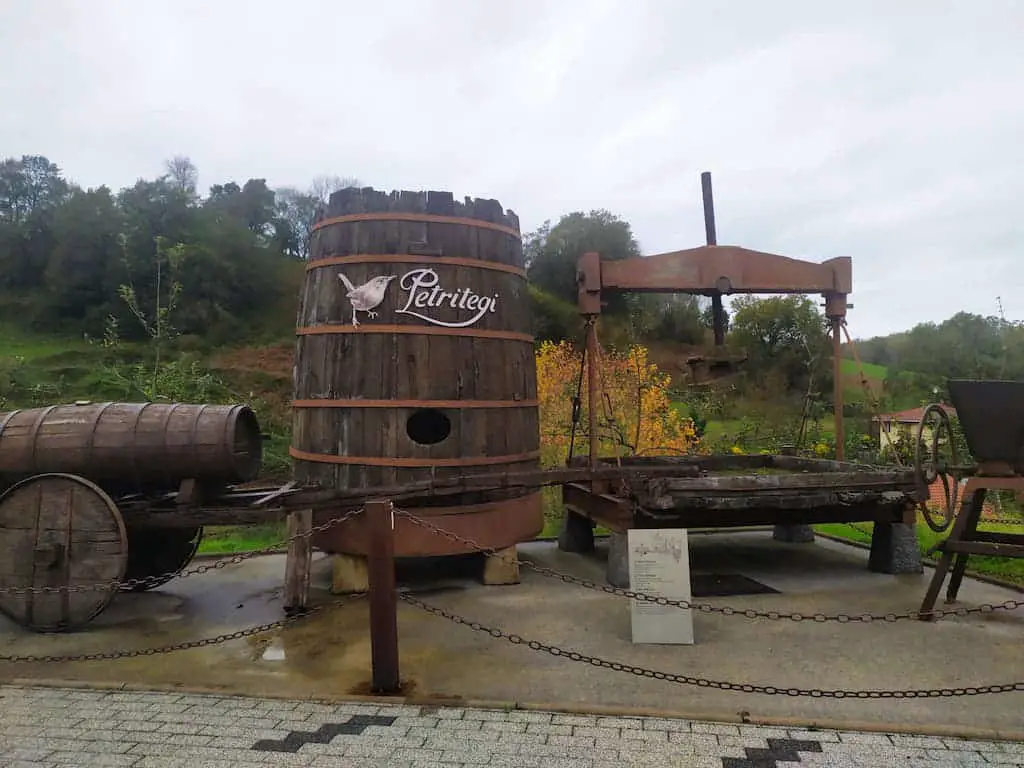 Petrilegi is a popular traditional cider-house with a family feeling to it.
There are two tasting rooms and a dining room with barrels. Wooden furniture,  friendly hosts and service, and simple fresh local food.
Petrilegi cider house offers a variety of experiences, including cider tours in English.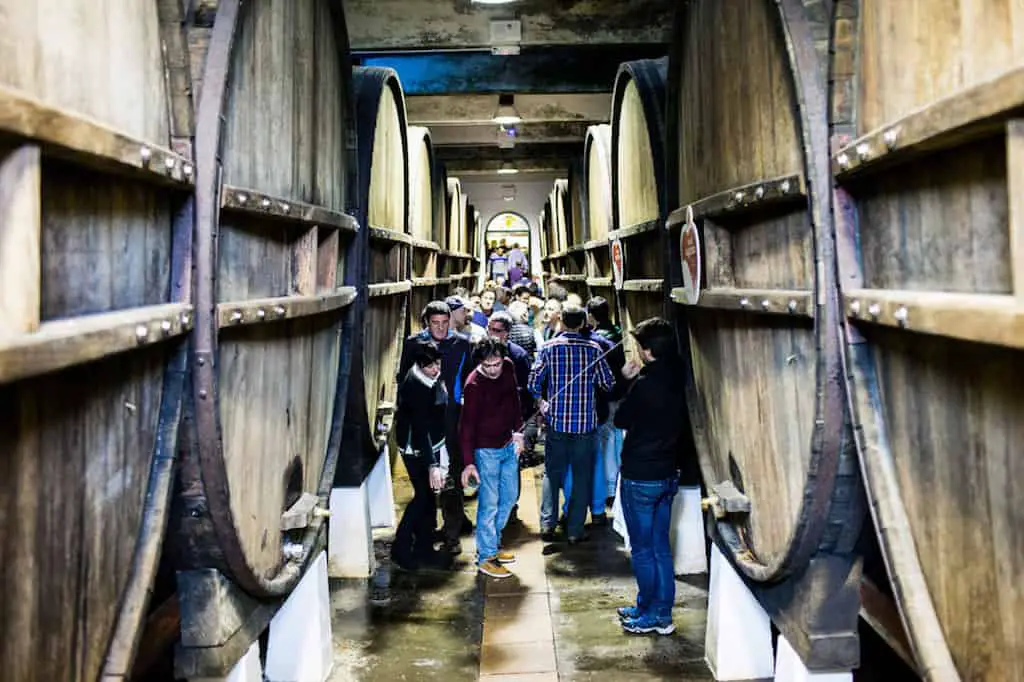 Zapiain cider house is also very popular.  They offer traditional txotx experience every night starting late January. You can reserve your txotx online.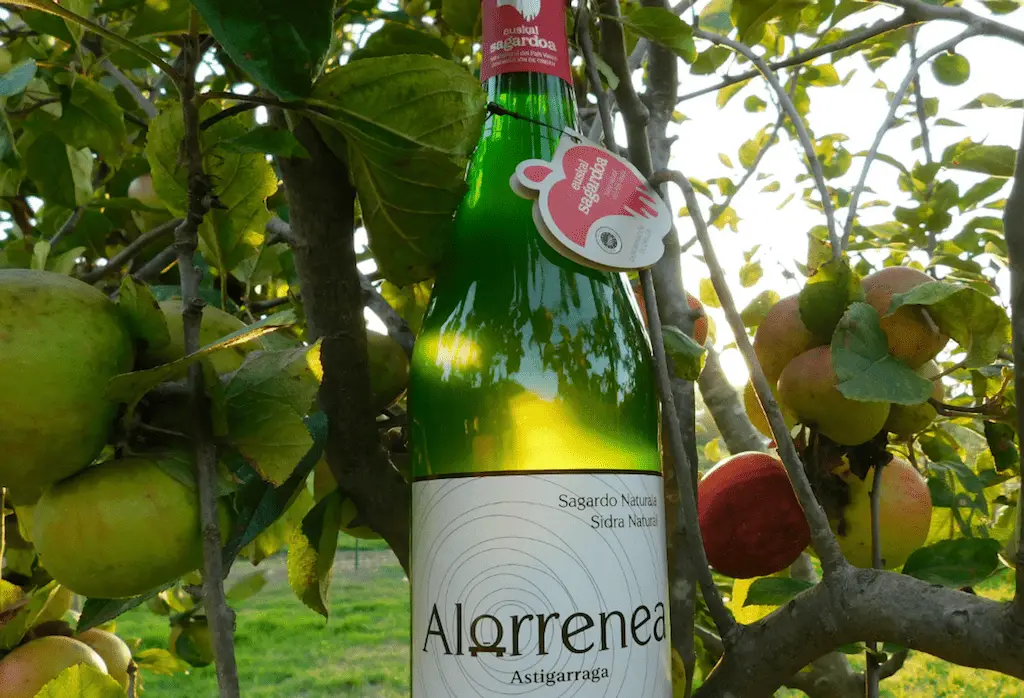 Photo: Alorrenea website.
No formal tours are currently advertised, but you can enjoy txotx with the Basque menu for 33 euros, as well as the a la carte menu.  You can inquire about the txotx experience throughout the year.
They are open all year round, every day except Mondays.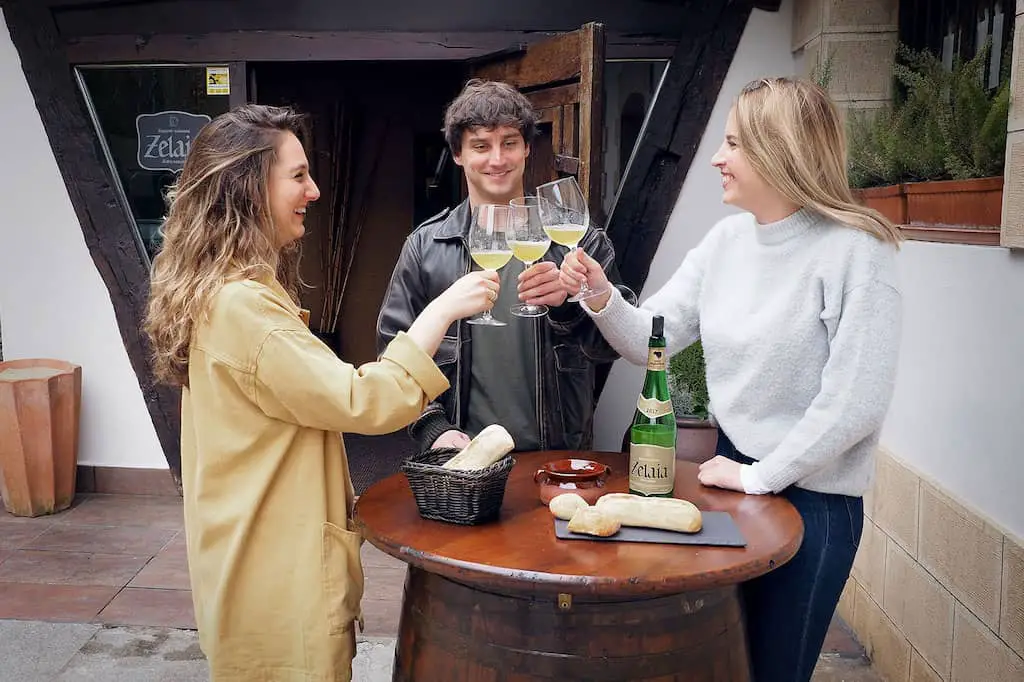 Family-owned cider house with top quality cider, Zelaia offers txotx experience and traditional dinners. They do not propose official guided tours.
Zelaia cider house offers a vegan menu in addition to its traditional menu.
Cider is a naturally fermented apple juice drink with an alcohol content of approximately 6%. Natural cider does not contain preservatives or added sulfites, and thus it has to be drunk soon after making.  Natural cider from northern Spain is made in a dry style. It is distinctly acidic and sour. 
Cider takes some time getting used to.  I took me a couple of tastings to appreciate it.  I love its freshness and zesty taste.  Locals seem to drink a lot of cider.  You can find an empty crate for like 12 cider bottles next to each table at a sidreria. The crate get which gets filled during a dinner and replaced with another one.
Basque cider is drunk in small quantities. Pour no more than 2 or 3 fingers into a large and thin cider glass.  Cider is served a small quantity at a time, as it has to be drunk right after pouring when the aromas are still present in a glass.
Drink it in one shot and do not leave any cider in a glass.
Cider has to be filled with bubbles before serving, therefore, at cider houses, cider is served from large barrels and it gets oxidized before reaching your glass and during pouring.
The optimum temperature for serving cider is 10-12ºC. Before opening the bottle, take it upside down and shake lightly such that the sediment mixes with cider, pour immediately.  
Today, many cider bottles are closed with a special type of synthetic cork with an aerating opening which helps to provide for the oxidation of cider during pouring.  Pull the cork out until you see the carved out part and pour cider through it without fully removing the cork from the bottle. 
Basque cider houses offer various pre-fixed menus for groups of 2, 4 and up.  This way you will taste a full range of dishes that have been paired with cider for hundreds of years.
These are simple foods, however cooked from the freshest products using the traditional recipes.  
The menu looks very similar in all cider houses.
Typical dishes include cod omelette (tortilla de bacalao), fried cod (bacalao frito), grilled Atlantic mackerel (txitxarro), cider sausage (txistorra), charcoal-grilled T-bone steak (txuleta).  Yes, these are all hard to pronounce, however, give it a shot, just read 'tx' as 'ch'.
For a dessert, taste local cheese (queso idiazábal), quince marmelad (membrillo), and walnuts (nueces).
For those looking for vegan and vegetarian options, there is a salad, some sidrerias offer expanded vegan and vegetarian menus.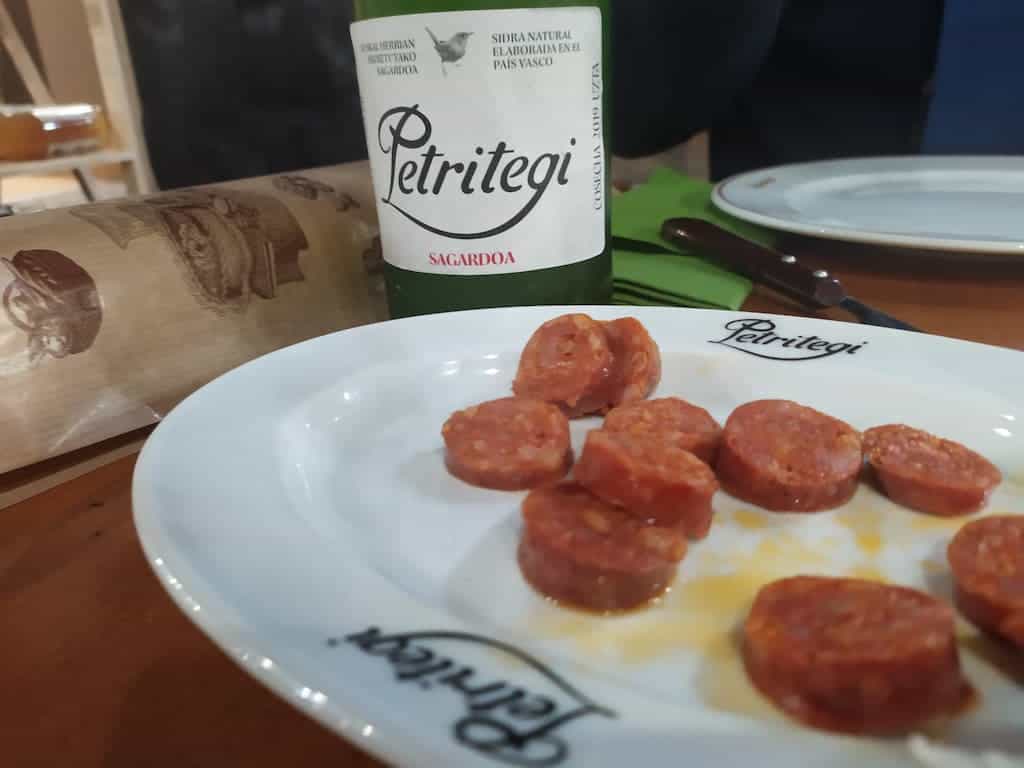 Enjoy your stay in San Sebastian and your cider house tour!
I mostly write about wine tasting experiences in Europe, check out my Blog for more articles about wine tours in Europe.
Subscribe to my blog updates below to get more wine travel tips like this.
Where to stay in San Sebastian?