Rioja wine country is located in Northern Spain.  The Rioja wine region covers areas of three Spanish provinces – La Rioja, Basque Country and Navarre.
Many Rioja wineries are around the towns of Haro, Logroño, San Asensio, Briones, Cenicero, Brinas, Ollauri, Najera and Laguardia.
Other cities around the Rioja wine country are Miranda de Ebro, Pamplona, Vitoria-Gasteiz, Burgos, Bilbao and San Sebastian.
Most people would fly into Bilbao.  San Sebastian and Burgos have smaller regional airports.  
It is best to move around Rioja by car.  You can rent a car in Bilbao or San Sebastian and enjoy a scenic 1.5 hour drive to Rioja wine country.  Check local car rental rates here.
Here is a list of main towns around Rioja wine country with distances to the capital of La Rioja province, Logroño.
| | Population | Driving Time* | Distance* |
| --- | --- | --- | --- |
| Logrono | 151,113 | - | - |
| Haro | 11,776 | 37 min | 43 km/27 miles |
| Miranda de Ebro | 35,477 | 52 min | 61 km/41 miles |
| Pamplona | 199,066 | 1 hr | 85 km/53 miles |
| Vitoria-Gasteiz | 249,176 | 1 hr 01 min | 62 km/39 miles |
| Burgos (airport) | 175,921 | 1 hr 20 min | 104 km/65 miles |
| Bilbao (airport) | 345,821 | 1 hr 26 min | 136 km/85 miles |
| San Sebastian (airport) | 186,665 | 1 hr 55 min | 165 km/ 102 miles |
* Driving time and distance to Logroño
Logroño is a capital city of La Rioja.  With population over 150,000, it is a large city with wide avenues, bus lines, tall office buildings and a shopping street.
There are several wineries in and around Logroño, which offer guided tours and tastings.
Rioja Wineries to Visit Near Logroño
Logroño has a beautiful historic district.  Tapas bars of Calle Laurel attract thousands of tourists and locals.  Logroño is very lively by night.
5 Tapas Bars Not to Miss in Logroño, La Rioja
Logroño can be a good base to explore Rioja wine country, however, try to find a hotel away from busy bar streets.   We stayed at Mercure Carlton at Av. Gran Via Juan Carlos I.  I thought the area was central, convenient, quiet and only a few minutes walk from the party scene.
See more options for hotels in Logroño.
The history of Haro dates ti at least 1040.  In the 19th century, the town has become known as the center of Rioja wine production.
Haro is a must to visit on a Rioja wine tour.  I recommend to visit at least the Barrio d'Estacion wineries – La Rioja Alta, R. Lopez de Heredia Vina Tondonia, Muga, Roda, and CVNE. 
Haro hosts the annual Haro Wine Festival. 
Top Wineries to Visit in Rioja: Bodegas Roda
Best Rioja Wineries to Visit in Haro
Haro has a nice old town, however, overall it gives more of an industrial city feeling. While the Train Station District attracts thousands of visitors, the town itself is not as touristy, its authenticity is attractive.
I would not choose Haro for a long-term stay, however, when in the area definitely walk up to the Haro downtown and have a drink on the central square of Haro to feel the vibe of the historic center of Rioja wine production.
If you want to be close to Haro and its world-famous bodegas, but enjoy a calmer environment of Rioja countryside, consider Briñas, just a few minutes drive from Haro.  
Briñas is small village of 250 inhabitants with a couple of bars, a nice local restaurant and the old church of La Asunción.
I stayed at Palacio Tondon which had wonderful vies on calm river Ebro and vineyards.  It took me half-an-hour to walk to bodegas in Haro by a scenic riverside trail. If you are looking for hike out of Haro, it may be a good idea to walk through vineyards by the Ebro river to Briñas, walk its cobblestone streets, see its old church, and chat with locals in a bar.
Briñas also has several small family hotels, Casa Rural de Legarda and Hospedería Señorío de Briñas.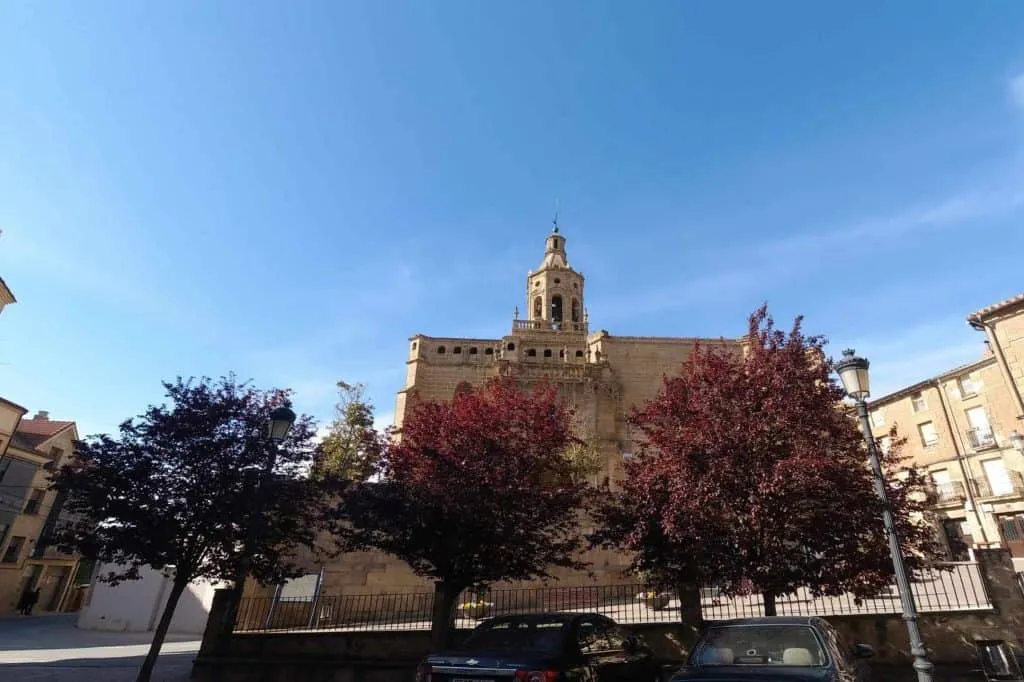 I stopped in San Asensio, La Rioja, to visit small family bodegas. 
San Ascensio is a quaint little town with a castle, Castillo de Davalillo, and historic churches.
If you visit in April, find the blooming almonds alley.  Unforgettable!
On July 25, there is the Battle of Clarete Wine of San Asensio.
There are several hotels in San Asensio.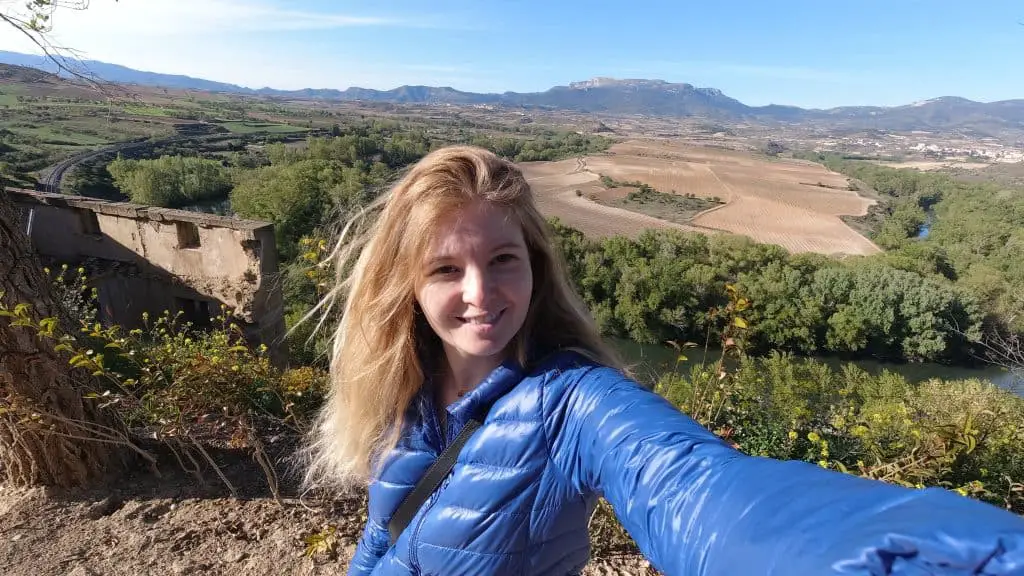 Briones is a very cute little town on a hill with the most incredible views on Rioja Alavesa. 
I recommend to at least stop in Briones and find this viewpoint with breathtaking views from the altitude of 500 meters and to visit its majestic Renaissance Church of La Asunción built in the 16th century.
An excellent winery Bodegas Vivanco with the wine museum are located just outside of Briones.
Briones has several budget hotels.
I stayed in Cenicero for several nights.  It was a convenient stop between Haro and Logrono, with great access to the iconic Marques de Riscal in Elciego.  Marques de Caceres was just next door.
My hosts at  RIOJAVALLEY Apartments were the kindest people.  The owners will offer you a bottle of wine and a rich delicious Spanish breakfast with homemade jam as a takeaway gift. The apartments are incredibly nicely decorated and well-equipped.  Highly recommended if you are looking for a place to stay in Cenicero!
The medieval town of Laguardia is the capital of Rioja Alavesa in the Basque Country. 
Laguardia founded in the 10th century served as a defense for the Kingdom of Navarre. The fortified churches of San Juan Bautista and Santa María de los Reyes, and medieval, Renaissance, baroque and neoclassical buildings are well preserved and attract numerous visitors.
Laguardia has great restaurants, picturesque streets and several viewpoints.
I think Laguardia and the wine country of Rioja Alavesa are one the great places to stay when visiting Rioja.
Stays at wineries near Laguardia
If you are planning a self-guided tour to Rioja wine region, check out the list and the map of local wineries and wine country restaurants.  
Alternatively, hop on one of the many wine tours.