Where does Bodegas Roda name come from?
In 1987, Mario Rotllant and Carmen Daurella arrived in La Rioja to start a bodega with a new word in winemaking.  The name RODA combined the two last names of the founders.
How to get to Bodegas Roda?
Bodegas Roda, extremely successful today, stands in the Haro Train Station District, next to the historic wineries of Rioja built in the 19th century.   You can get here on foot from the center of Haro in approximately 10-15 minutes, or take a short taxi ride. 
Bodegas Roda is approximately 35 minutes away from Logrono by N-232.
You cannot miss Bodegas Roda in Haro, its sign dominates the Train Station District.  Roda is the first winery that you see entering Haro Train Station District from the highway.
Address: Bodegas Roda, Av. Vizcaya, 5, 26200 Haro, La Rioja, Spain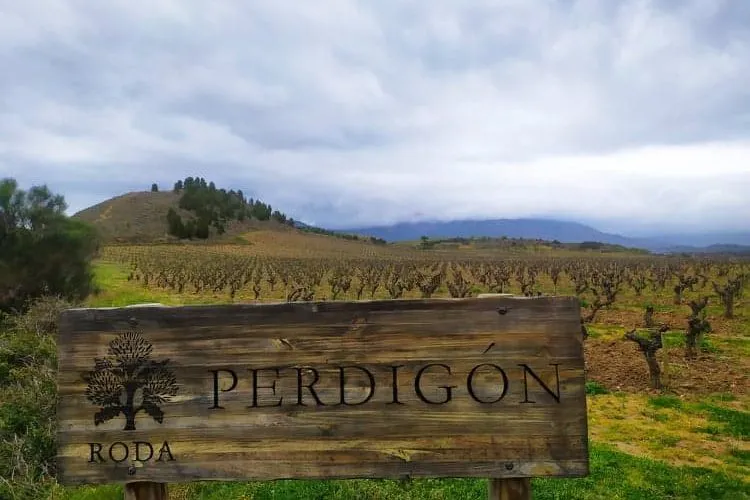 The Perdigon vineyard of Bodegas Roda is just outside Haro.  You can see it if you walk along the river Ebro in the direction of Brinas. The Perdigon plot will be on your right side.  Spectacular views all around.
Why to visit Bodegas Roda?
Even though Bodegas Roda is located just next to the historic wineries of Haro, it follows a very different philosophy in everything from the architecture of its building to the approach to winemaking and the style of its wines. 
At Bodegas Roda, the winemakers follow the so-called Bordeaux chateau method, in the sense of using only grapes from the estate-owned parcels to produce wine. Harvesting is done by hand and different vintages are never mixed.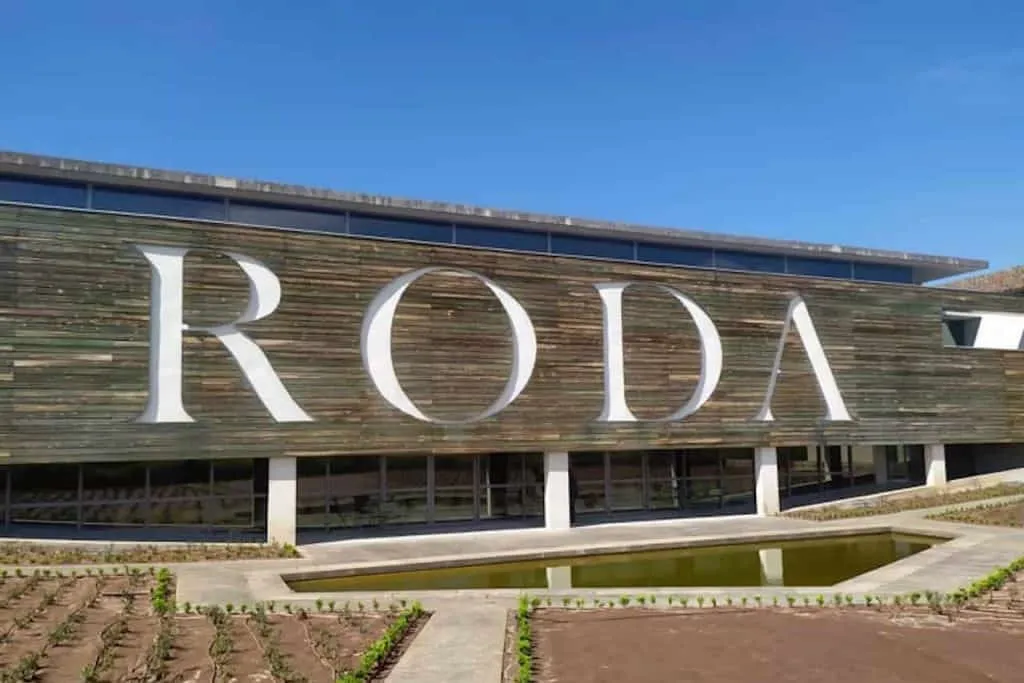 My impression of Bodegas Roda is that it is very similar to a Bordeaux winery just very large. Of course, there are major differences, but this vat room alone made me feel a bit like in the Medoc.
Here, vinification is done in temperature-controlled French oak vats and aging is completed in French oak barrels.
Barrels, hundreds of barrels are everywhere and they are familiarly painted red in the middle. 
A French oak barrel is made of 200-year-old tree, of which only 30% can be used for barrel making.  Barrels are made by hand and then used only for a couple of vintages.  With a cost of a barrel at around 1,000 euros, imagine, the investment and work that goes into only one of these cellars.  But Bodegas Roda has three.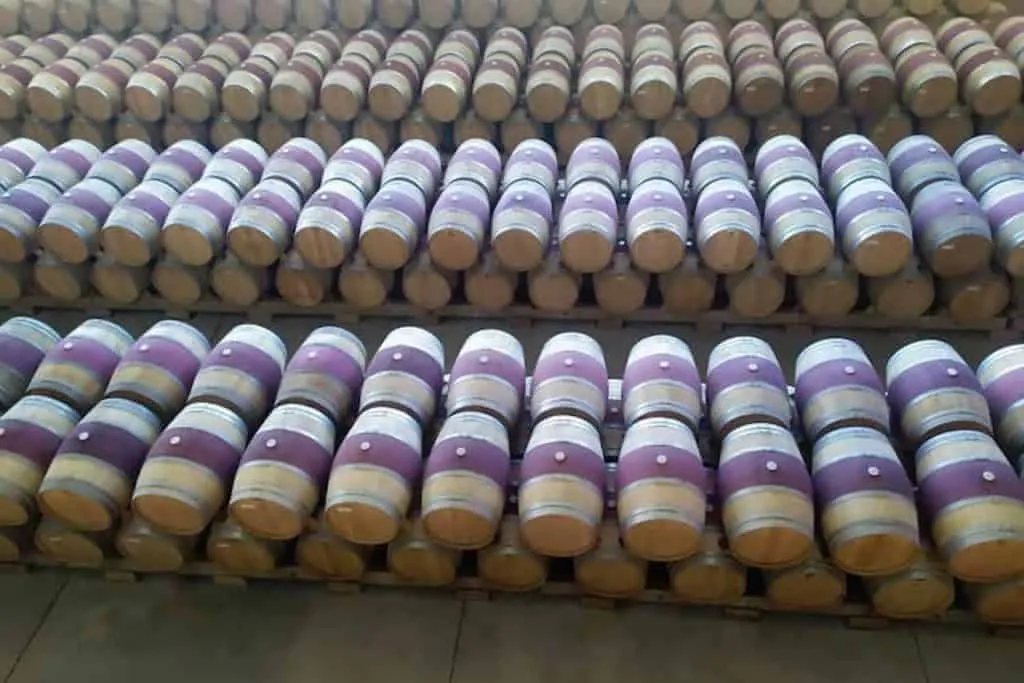 Besides this impressive modern cellar, you will visit a couple of very unusual ones.
The winery looks very modern on the outside, but it stands on top of "calado", an underground cellar built in the 19th century.  "Calados" are often found in this area.  
In the past, they were used as cool spaces to keep crops, food and wine. Today, at Bodegas Roda, the underground space is turned into an aging cellar where the wine spends between 6 months and several years.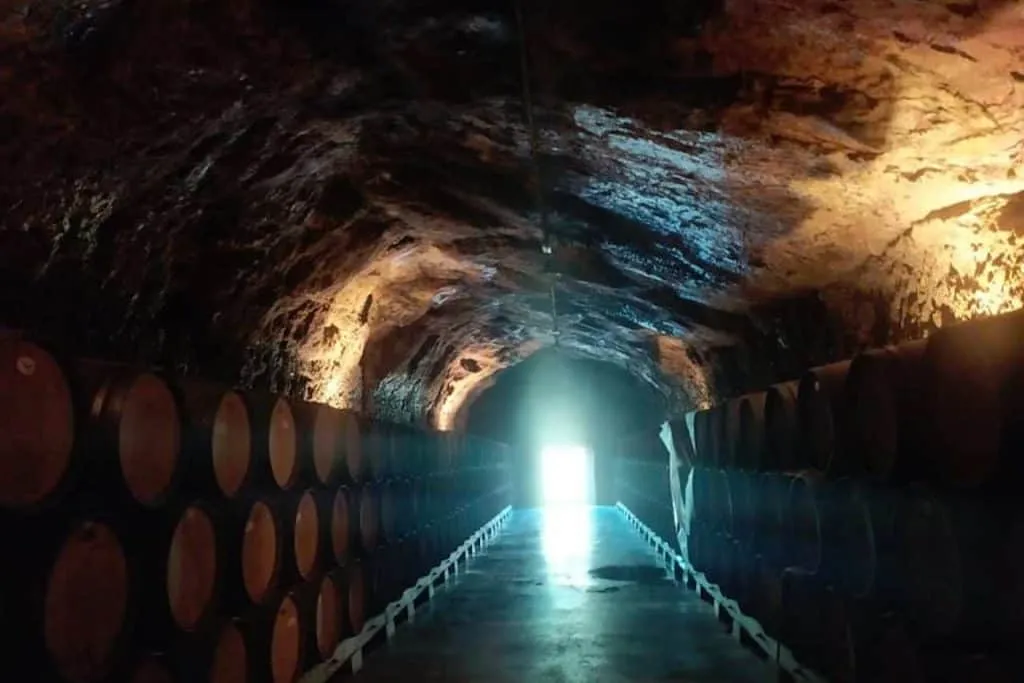 The top wines of the estate are held in "calados" which have been extended to create a huge underground aging cellar for premium Roda wines (below).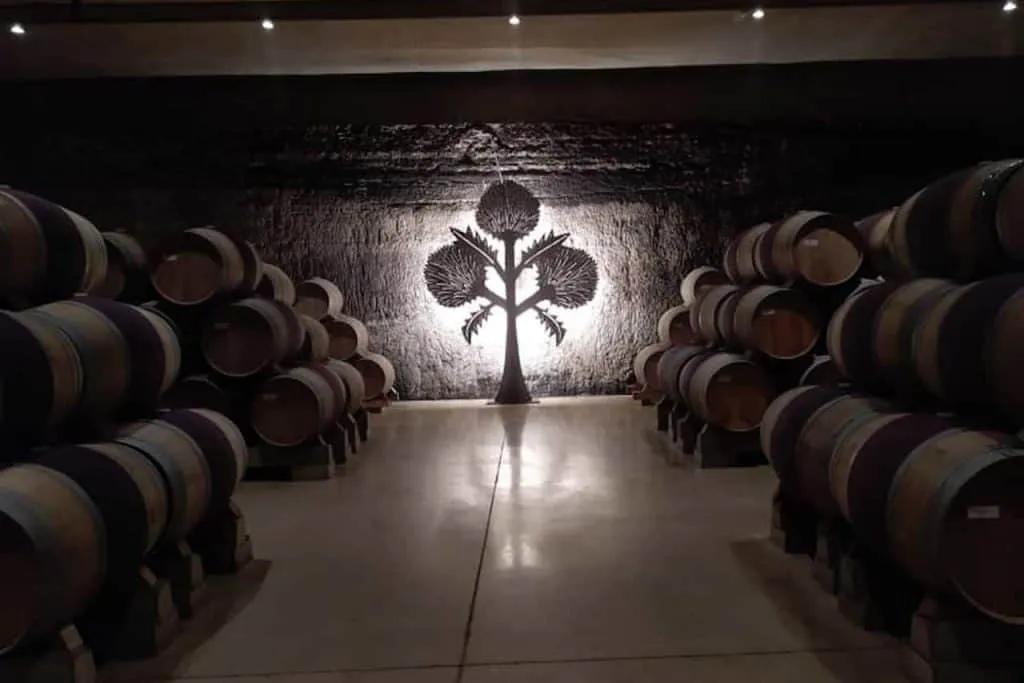 These cellars are dark and moist creating ideal temperatures for the aging of Rioja wines.
My guide opens the door at the end of the historic calados, and we are on the banks of the river Ebro. This looks like a great spot for tastings and picnics with the views and the river breeze.  
If you are looking for a private tour at Bodegas Roda, look into the Ebro Balcony option.  It includes a tasting of four wines paired with tortilla (Spanish omelet), jamon, salads, and other Riojan delicacies.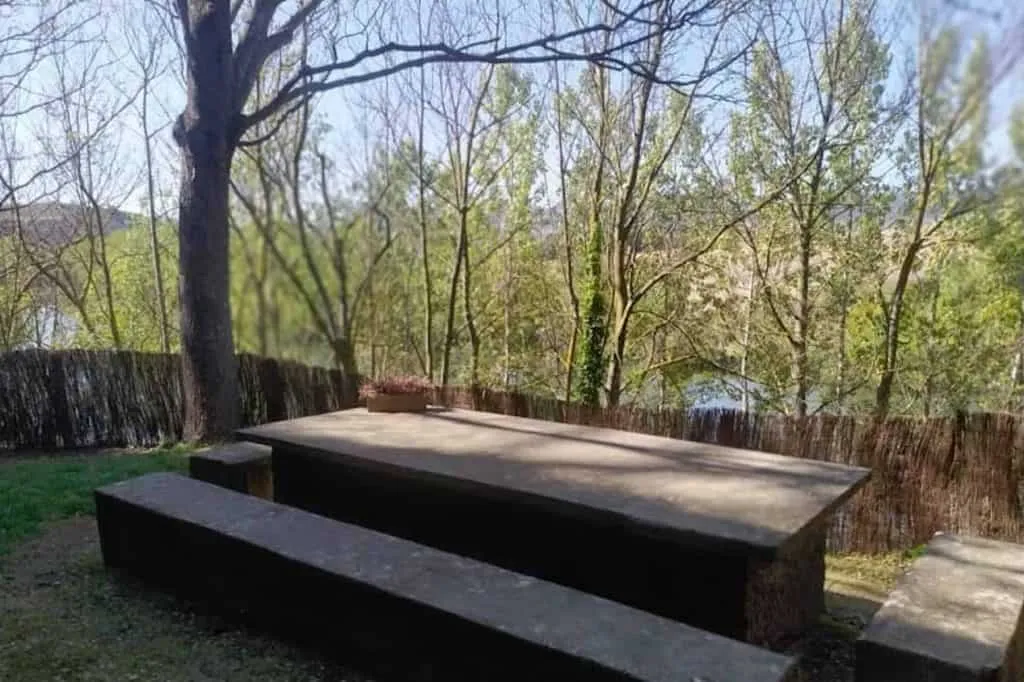 Our tasting was organized in the modern side of the winery, on a terrace with a view of vineyards, Haro on the hill and by a fish pond – another amazing outdoor tasting room.
What kind of wines are made at Bodegas Roda?
Bodegas Roda produces 4 red wines:  Sela, a young wine, two reserva wines, Roda and Roda I as well as a collection gem Cirsion. 
Every year Bodegas Roda sends several people to search for the best old vines in the region which can then be made into Cirsion. They do not find good enough grapes each year, so Cirsion is only made in good years. We tasted 2017 – cherry and violet dominate the palate. Cirsion is a young wine that spends only 8 months aging in new French barrels.  The wine is fruity, fresh, yet has an impressive body and pleasant tannins.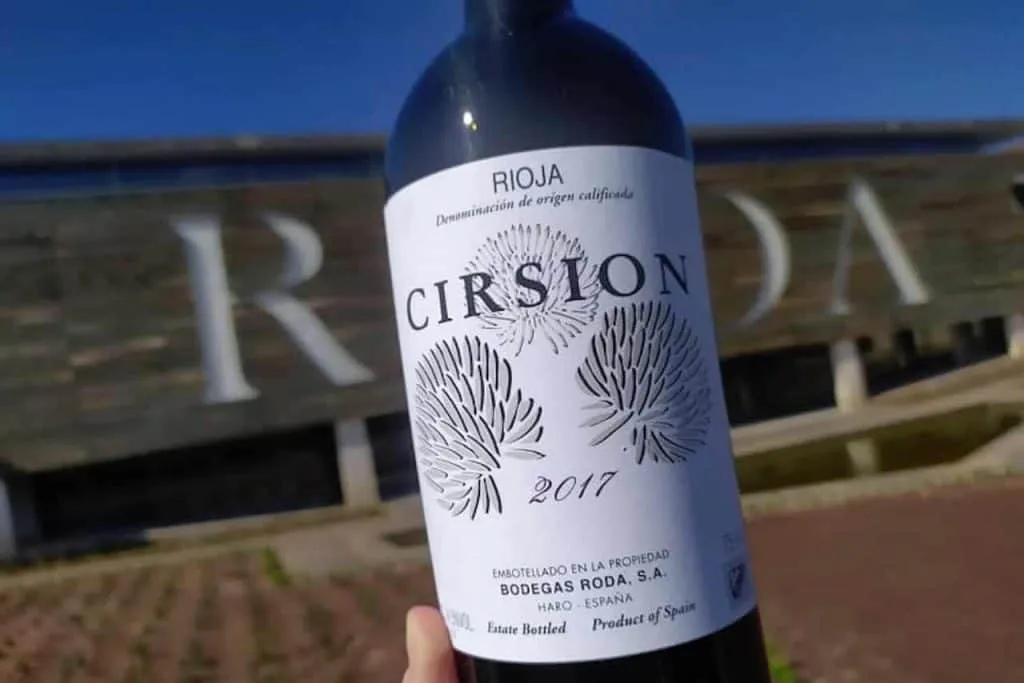 Besides wines, Bodegas Roda offers tasting of two premium olive oil brands that the owners produce on the island of Majorca.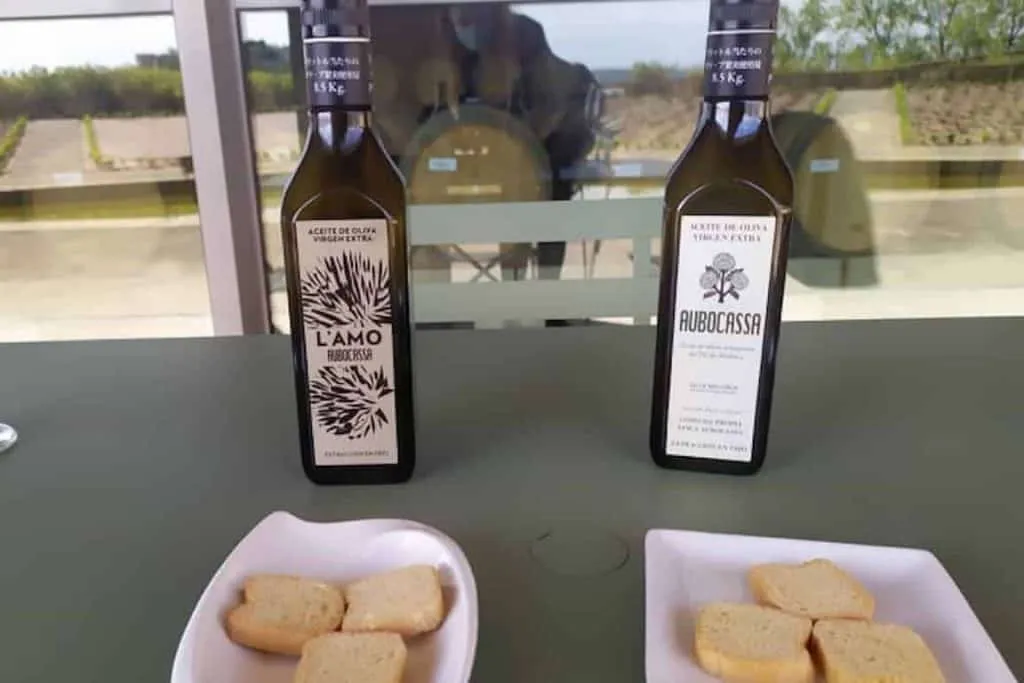 Where to stay near Bodegas Roda?
See my blog for more great wineries to visit in Rioja and other tips on visiting Rioja vineyards.