You have probably heard that the Douro Valley is a must-visit when in Portugal, especially if you have made it to Porto or other areas in the Northern Portugal.
The Douro Valley landscapes are simply stunning.  The area has a long tradition of wine growing for Port wines. In recent years, it has also gained recognition for its production of high-quality dry wines. The deep-colored structured reds and well-balanced whites have attracted wine connoisseurs from around the world.
The Douro Valley is definitely worth visiting, whether you're a wine enthusiast or simply looking for a remarkable travel experience. My article Is the Douro Valley Worth Visiting? provides more insights.
So how do you go around the Douro Valley?  I have tried several different ways of navigating the valley and its wineries.  You can visit the Douro Valley by car, by train or by boat.  Day trips from Porto, Peso da Régua or Pinhão are also a great option.
Each travel method has its benefits, however, travelling by car is the easiest way to see the Douro Valley and visit its wineries. 
Organized tours from Porto is the second best option.  
You can also combine travelling by train with organized wine tours and experiences originating from Pinhão and Regua, the two major Douro Valley wine towns served by train.
Visiting the Douro Valley by Car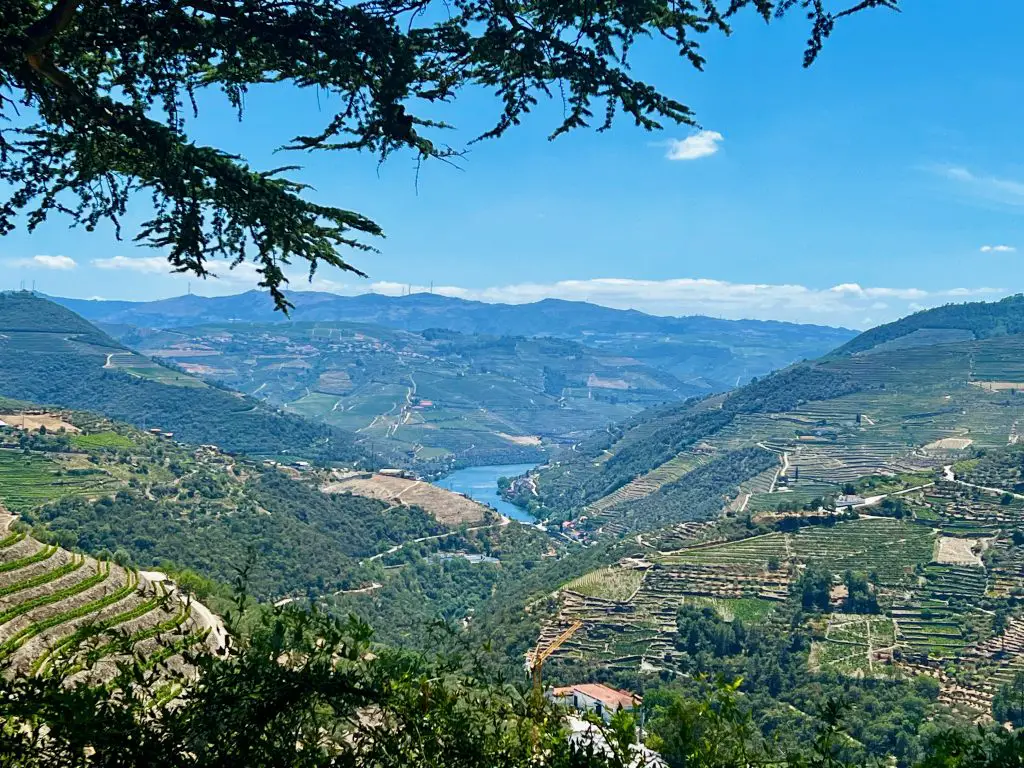 Although some wineries are situated along the Douro River, many are located slightly inland, on higher altitudes, or along the tributaries of the Douro. I find these remote wineries to be particularly charming and less crowded with tourists.  See Small Family-Owned Wineries in the Douro Valley.
However, accessing these wineries requires a car as the train primarily runs along the riverbank. Anything farther from the river usually entails a steep climb.
Having a car provides greater flexibility, allowing you to visit more wineries, explore the best viewpoints, and stay at hotels with fantastic views.  Moreover, the car journey to the Douro Valley takes you through beautiful valleys, bridges, and mountain roads, offering glimpses of stunning Portuguese landscapes.
In my opinion, the main disadvantage of traveling by car are the narrow roads in the wine country, which can be challenging to navigate for those unfamiliar with the Douro Region.  When planning to drive, also consider high cost of gas in Portugal and road tolls which could be 5 to 12 euros one way depending on your chosen route.
While parking may be slightly challenging in Pinhão during peak tourist season, finding parking spots is generally not a significant issue and most parkings are free of charge.
In my article How Far is Douro Valley from Porto, I discuss transportation options from Porto to the Douro Valley.  If you are travelling from Lisbon check out my article Douro Valley from Lisbon.
To find the most competitive car rental rates, consider checking Rentalcars.com for local options specific to your travel dates. If you prefer to enjoy wine tastings without worrying about driving, you can hire a private driver for the day through Get Transfer.
Tip: 
When planning your trip by car and visiting wineries, it's important to consider not just the distances between destinations but also the driving times. The winding roads in the Douro Valley can significantly slow down your journey. 
To make the most of your trip, plan for additional travel time and mark the most beautiful viewpoints along the way.
Tip:

When renting a car, consider opting for a Via Verde transponder for automatic toll payments.  Some toll roads in Portugal do not accept foreign cars which means you will have to bring cash.
Scenic drive in the Douro:
Road N222 between Peso da Régua and São João da Pesqueira
The N-222 route takes you through the heart of the Douro wine region, a UNESCO World Heritage site. You'll pass by several renowned wineries and quintas.  Do not miss the viewpoint Miradouro de São Salvador do Mundo 
Road N322-3 is a winding mountaneous road that runs through the heart of the Douro Valley, connecting the towns of Pinhão and Alijó. This scenic route spans approximately 17 kilometers (10 miles) and offers stunning views of the surrounding landscape.
As you approach Alijó, the road leads you through the village of Favaios, known for its sweet Muscatel wine. Here, you can visit the Adega Cooperativa de Favaios, a cooperative winery that produces some of the best Muscatel wines in Portugal.
The N322-3 is known for its hairpin turns and steep inclines, making it a challenging yet rewarding drive. Along the way, you'll have the opportunity to stop at viewpoints such as Miradouro de Vale Mendiz where you can take in the panoramic views of the Douro Valley. 
You may also find interesting:
How to Visit Wineries in The Douro Valley?
Visiting the Douro Valley by Train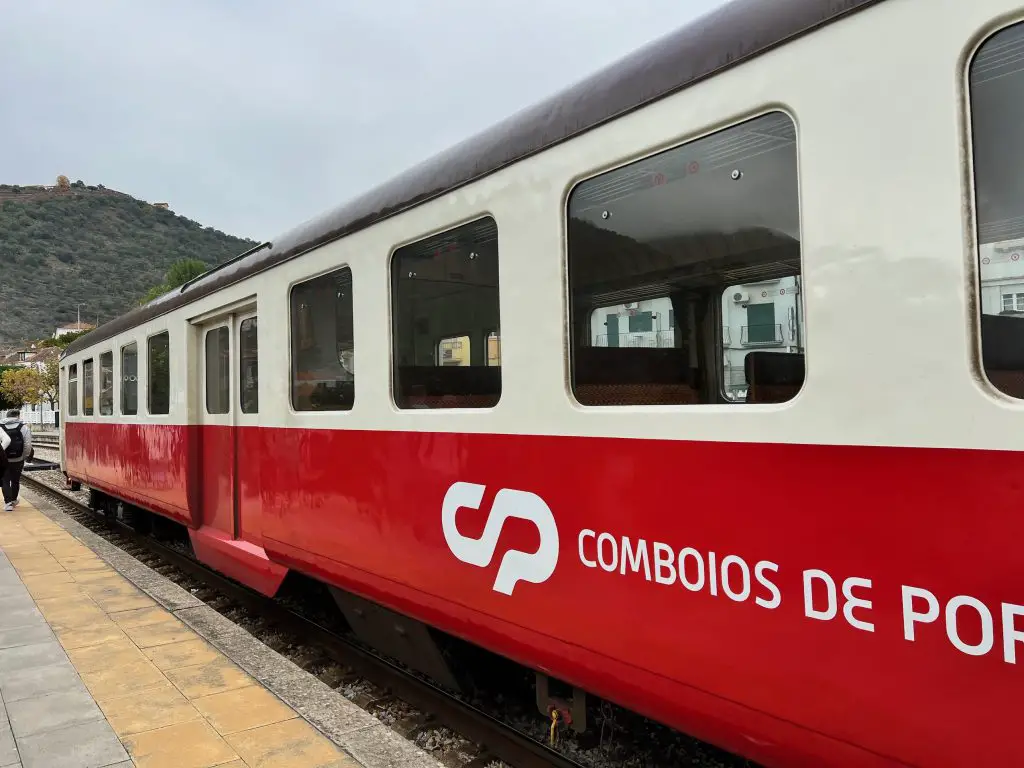 The completion of the railway line connecting Porto to Spain in 1887 played a significant role in connecting and revitalizing the isolated villages and towns in the Douro Valley as well as in transportation of port wine.
Today, trains depart from Sao Bento and Campanha train stations in Porto, offering a convenient way to reach the Douro Valley. 
My article How to Visit the Douro Valley by Train provides detailed information on taking the train from Porto.  To help you plan your tour, here is a video guide:
Choosing to travel by train offers an economical option, with return train tickets priced under 25 euros. However, it's important to note that train schedules are limited, providing less flexibility. 
Régua has more frequent train services, while trains to Pinhão (Pocinho line) are more limited. You can find train schedules and buy your train tickets on the Comboios de Portugal website.
When traveling by train, some wineries can be reached by a short walk from the train stations, while others may require a ride. Taxis are readily available at Régua and Pinhão train stations, and the cost of a taxi ride to nearby wineries typically ranges from 5 to 10 euros.
Upon arriving at Régua or Pinhão, you have several options of guided tours which I describe here.
You may also find interesting:
Visit Douro Valley Wineries Without Car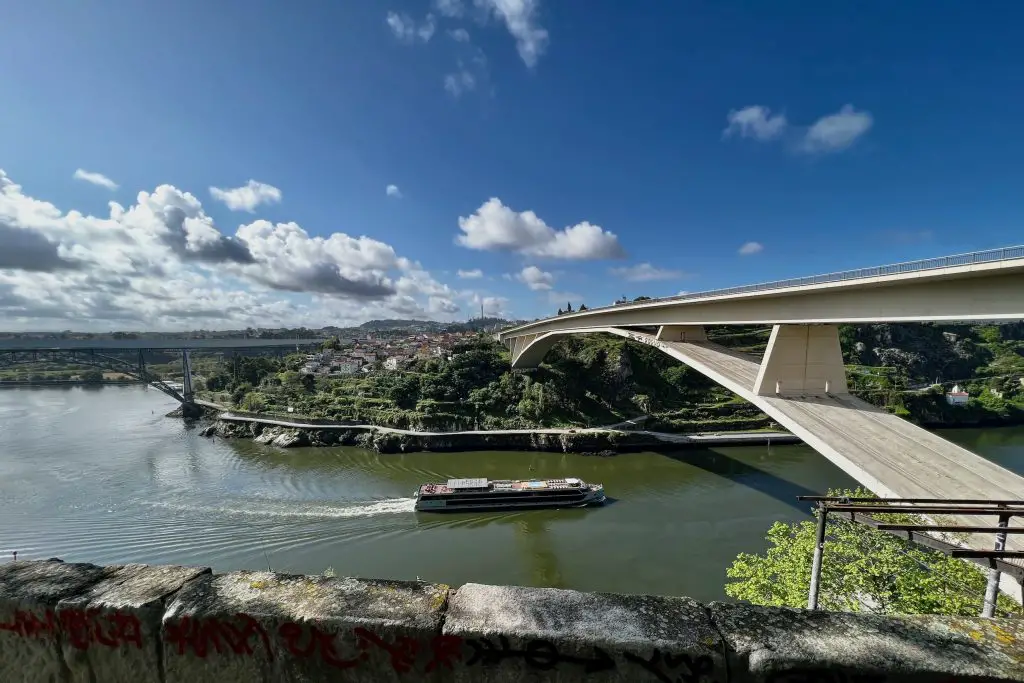 The Douro River is third longest river of the Iberian Peninsula after Tagus and Ebro. Its total length is 897 kilometres (557 miles),  The main Portuguese towns on the riverside include Miranda do Douro, Foz Côa, Peso da Régua, Lamego, Vila Nova de Gaia, and Porto.
The wine was taken downriver from Douro Valley wine country in flat-bottom boats called rabelos, to be stored in barrels in cellars in Vila Nova de Gaia, just across the river from Porto. 
Once dangerous and wild, the Douro is now a safe river thanks to the construction of dams. In the 1960s and 1970s, dams with locks were built along the river including 5 dams in Portugal leading to the creation of the Douro Navigation Channel, a waterway with about 200 km, from the mouth in Porto to Barca d'Alva near the border with Spain.
Douro cruises are a fantastic opportunity to contemplate the beautiful landscape of the Douro Valley and enjoy the amazing experience of going up or down the dams of the Douro River.
Douro Valley Cruises from Porto
Some cruises would take you up the river and return to Porto by bus or by train. Cruises usually depart from the Porto area – Cais da Estiva or Cais de Gaia.  On a trip from Porto to Pinhão a cruiseship will pass 3 dams.  For example, this Douro Valley Cruise to Pinhão. 
Others, like this Douro Valley and Regua Panoramic Cruise will drive you to Régua and take back to Porto on a boat.  
Most of these tours will take you a full-day.
Douro Valley Cruises from Pinhão
You can also go on shorter cruise from Pinhão.   Typically, the options include:
A two-hour tour take you up all the way to Tua
Tip:  Many companies offer Douro River cruises from Porto, which may mean that they tour the river near Porto.  If you are looking to see the famous Douro Valley vineyards by boat, you have to make sure the boat will take you all the way up the river to the wine country (Régua or Pinhão). Allocate a full day to this journey.
Most tours offer visit to 1 to 3 wineries, lunch and a boat tour from Pinhão or Régua docks.
Private tours would pick you up from your accommodation in Porto, Vila Nova de Gaia or even your hotel in the Douro Valley.  Private tours are flexible and you can ask for your favourite wineries and restaurant for lunch.
Small group in groups of up to 8 people tours may have a meeting point or offer a pick up as well.  You will join fellow travellers for a fun day in the Douro Valley.
There are quite few tours offered through Viator or Get Your Guide platforms.
The most popular Douro Valley small group tour is Douro Valley Small-Group Tour with Wine Tasting, Lunch and Optional Cruise
The best-rated private Douro Valley tour is this one.
Overall, organized tours are a convenient way to explore Douro Valley.  Skip itinerary preparation and driving the narrow wine country roads, enjoy your tastings and good company.