There are a few ways to visit Douro Valley wineries without a car from Porto.  
If you are looking for a self-guided tour, you can take a train from Porto to the Douro Valley and visit several wineries, stop for lunch or a drink with a breathtaking view, or even stay a night.
How to Visit Douro Valley Wineries by Train from Porto?
Another great option is taking a boat ride up the Douro river and returning to Porto by train or bus.
An organized wine tour from Porto would be the most efficient option to visit Douro Valley quintas without a car.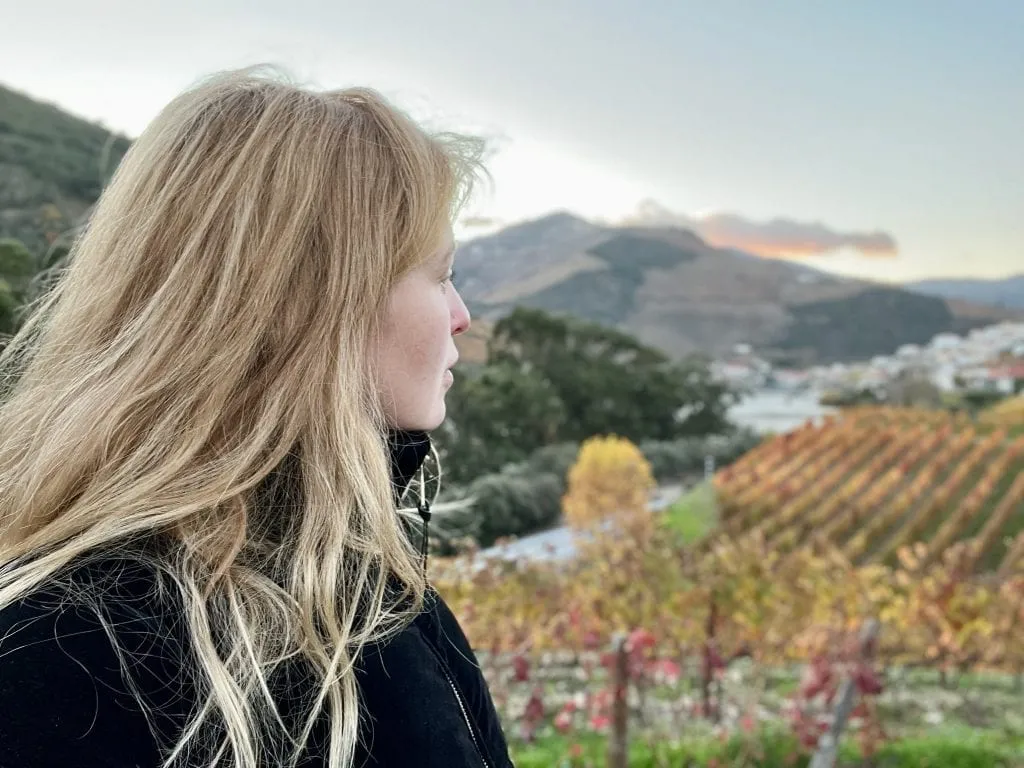 Head to São Bento train station is in the center of Porto and jump on a small train to the Douro Valley. The picturesque train ride will take 2 hours 20 minutes from Porto to Pinhão, and 1 hour 50 minutes to Regua. 
The Douro Valley train schedule can be found here or on the train system site.
When planning your Douro Valley winery visits keep in mind that the train line runs on the north side of the Douro River with only several bridges close to main towns. 
To visit Douro Valley wineries, get off at Régua, Covelinhas, Ferrão, or Pinhão train stations.  You can then take a taxi or walk to the wineries.  Régua and Pinhão stations have taxi stands.  A 5-minute ride to a nearby quinta may cost you about 5 euros.
See the list of Douro Valley wineries here.
Since there are no taxi stands at quintas, you have to arrange with the taxi to wait for you or to pick you up after your wine tour.  Winery staff is often helpful and they will call a taxi for you.
If you are willing to walk a bit, there are several quintas that are reachable by foot from the train stations.  Most walks are along the roads, some will require climbing uphill.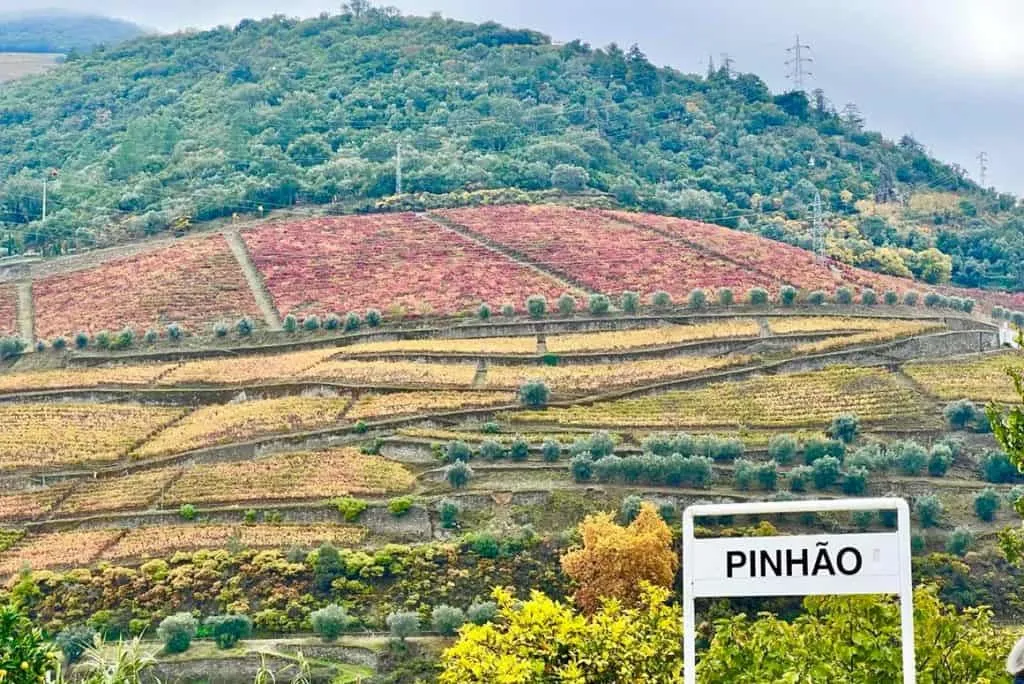 Douro Valley Wineries Close to Train Stations
Quinta dos Murças is located on the right bank of the Douro River right by the Covelinhas train station. 
The quinta offers tastings of DOC Douro wines and ports, walks, and picnics.  
Quinta do Crasto is in the walking distance from the Ferrão train station if you are ready for a hike uphill.  Allow at least half an hour for a beautiful walk with amazing views and excellent photo opps. 
If you need a break, consider stopping at Quinta da Marka which is on the way.
Another beautiful winery not too far from the Ferrão train station is Quinta Nova.  This beautiful winery with a wine museum, a hotel and a restaurant is worth 35 minutes walk.
Quinta Nova focuses on production of high-quality dry wines.
To get to Quinta do Bomfim and to taste some of the finest ports in Douro, get off at the Pinhão station and walk for approximately 5 mins. 
Join guided tours and tastings or have a picnic on a terrace overlooking the Douro river. 
If you are looking for a tasting of both dry wines and port wine, visit Quinta de la Rosa near Pinhão.  
You can reach there within 15 minutes on foot from the Pinhão train station on a relatively flat road along the Douro river.
Quinta de la Rosa has a beautiful winery hotel  and  an amazing restaurant.
Quinta das Carvalhas offers unique views over the Douro Valley.  
Take about 10 minute walk across the bridge in Pinhao to reach a private scenic road that goes to the top of the hill through vineyards and gardens.
Quinta da Roêda is where famous Croft port wines are made.
Quinta da Roeda is located approximately 30 minutes away from Pinhao train station on foot.  The road is mostly flat near Pinhao and with a little bit of a climb closer to the estate, however, the views, the surroundings, and the Croft port tasting are well worth it.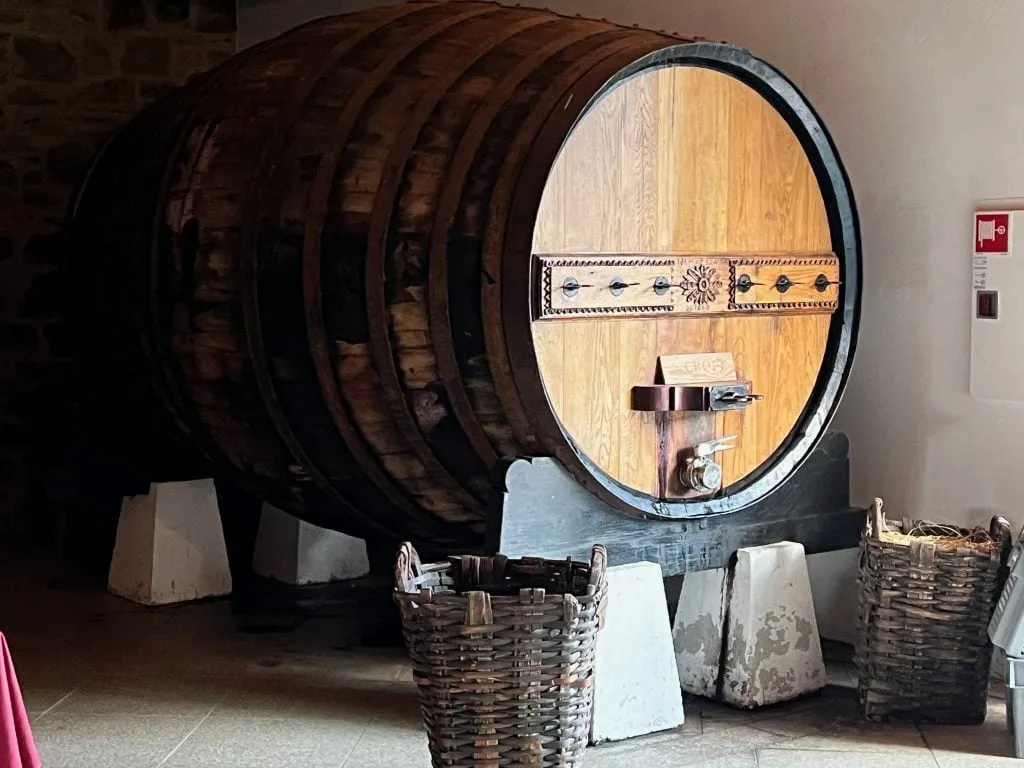 Douro Valley by Boat from Porto
A great way to see the Douro River is to take a boat tour up the river to the Douro Valley.
Here are some options for you to consider.
Day Cruise from Porto to Pinhão 
Day Trip from Porto to Régua by Bus and Return by Boat
Perhaps, an important thing to mention is that the boat tour can be quite long and you will likely have time to visit only one winery.
If you opt for a train tour, but still want to cruise the Douro River, it is easy to jump on a Douro River cruise in Pinhao. However, buy your boat tickets in advance during busy times, especially in April, May, September, and October.
Douro Valley Wine Tours from Porto
Douro Valley Hotels Near Train Stations
These are my three hotel suggestions in Pinhao where you can stay without having a car or hiring a taxi.
See more options on the map below.
Tip:  Anything further away from the river means that some climbing will be necessary.