Pinhão is one of the most popular stops in the Douro Valley.  The beauty of surrounding landscapes and the number of famous wine estates ("quintas") located around the town attract visitors year round.
You can reach Pinhão wineries from Porto by train, by bus, by river cruise, or join a wine tour with transportation.  See more in How to Get to the Douro Valley.
There are several great wineries within the walking distance from Pinhão or within a short car ride.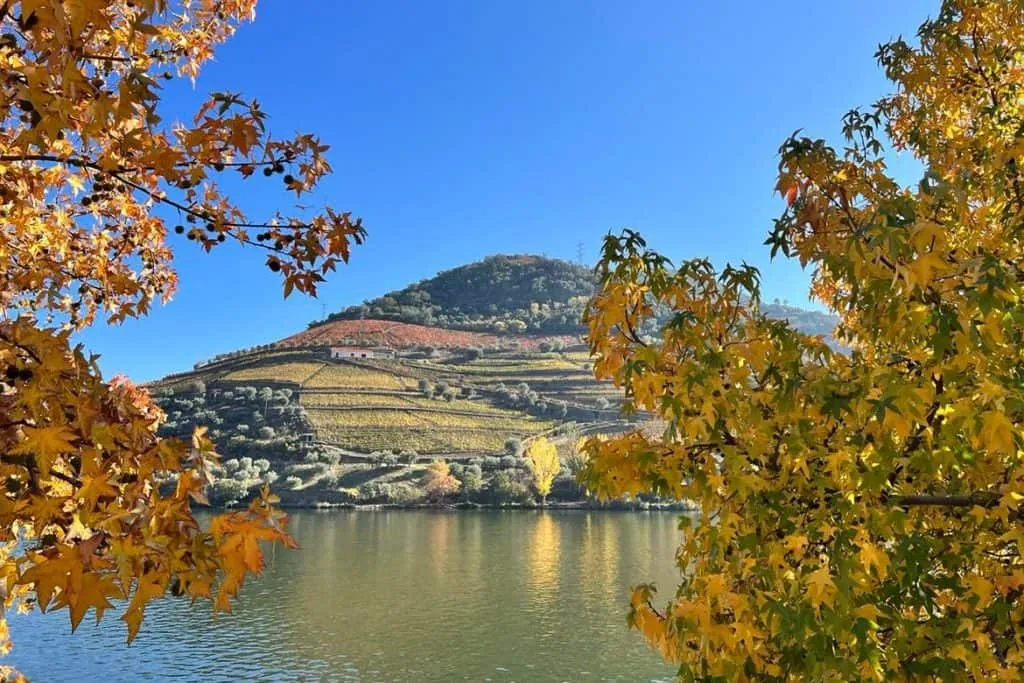 Why Visit?
Delicate port wines and excellent white and red dry wines
We got to taste white and red Douro DOC wines as well as ruby and tawny ports that were really special. 
Walking distance to the village of Pinhão and the train station
Quinta de la Rosa is approximately 15-20 minutes away on foot from Pinhão.  The hike along the Douro River is easy and beautiful.
Fantastic tasting setting inside the port ageing cellar with the views of the Douro river 
One of the most atmospheric tasting rooms you will ever experience. The guided tasting is very detailed and informative.
Even if you don't have lunch her, at least stop for a glass of wine or a cup of coffee and enjoy the views.
Why Visit?
A long tradition of Croft Port wine production.  
Besides traditional ruby and tawny ports, taste the innovation – Croft Rose Port.
During the guided visit, you will be taken to the vineyards.  I have seen many wine estates, but I was blown away by the views of the Douro vineyards at Quinta da Roeda in November.  
A variety of tasting experiences including picnics. 
A picnic on a shaded vineyard terrace with some of the best views in the world will be a highlight of your trip. 
Tip: The picnic baskets need to be ordered in advance. The winery also offers barbeque options and can arrange a dinner.
A short 5-minute drive from the Pinhão train station.  
Harvest and grape stomping experiences.
In fact, Quinta da Roeda is one of a few in the region offering visitors an opportunity to tread grapes in the lagares during the harvest season in September. 
Accommodates small and large groups. 
Hospitality is a focus at Quinta da Roeda.  You will be comfortable whether you are a couple or a group of 20.  Plus, they are open every day including weekends.
Discounted visits and tastings with the Porto Card.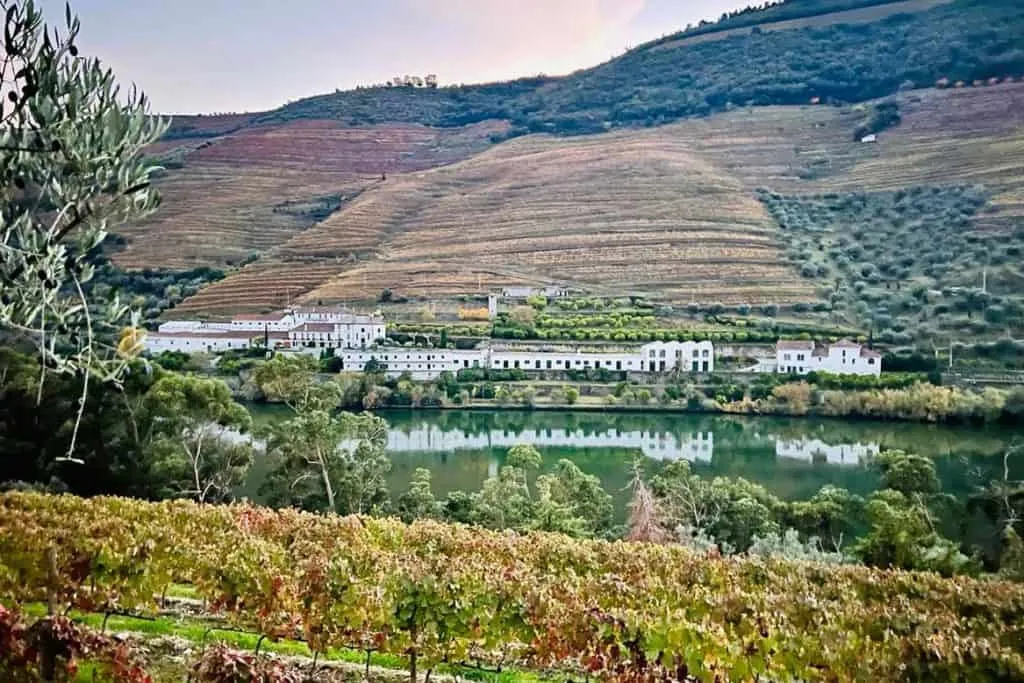 Why Visit?
Unique views over the Douro Valley.
A private scenic road goes to the top of the hill, through vineyards and gardens, where the property's guesthouse is located, offering a 360º panoramic view.
Rich and characterful ports made from grapes grown on terraced mountains.
Quinta das Carvalhas has 134.5 hectares of vineyards of which 37.7 hectares are traditional old wines, a complex blend of indigenous varieties used to produce Vintage port.  Also available, Ruby Reserva, Tawny Reserva, 10, 20, 40 years old LBV.
A variety of visitor experiences.
Quinta das Carvalhas offers visits including a walk through the vineyards followed by a tasting of port wine, sightseeing tour in a minibus, harvest experience, and pairing of top wines with local tapas at an open-air tasting room.
The highlight is the personal tour with Álvaro Martinho, the viticultural manager at Quinta das Carvalhas. This unique tour finishes at the wine shop with a tasting of the top wines of Carvalhas (White, Tinta Francisca, Touriga Nacional & Vinhas Velhas) paired with a platter of local cheeses and charcuterie and finishing with a glass of Port wine.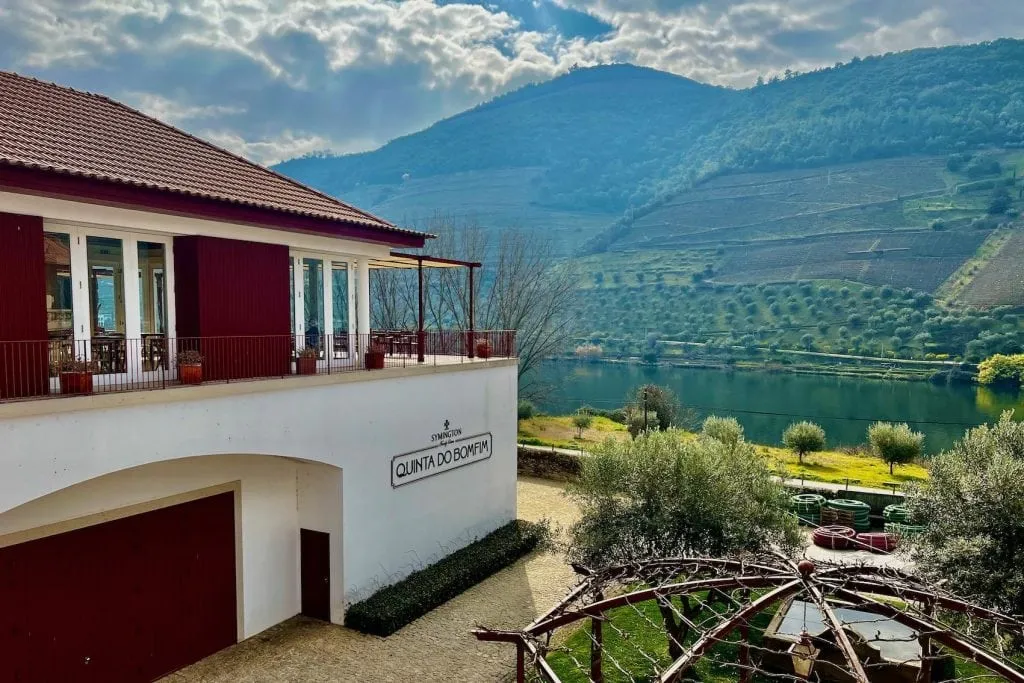 Why Visit?
Owned by the Symington family, Quinta do Bomfim is home to the famous Dow's ports. 
Two most famous vintage ports, Dow's 2007 Vintage port awarded 100 Points by the Wine Spectator, and Dow's 2011 Vintage port which was nominated the N°1 Wine in the World in 2014 are made here.
A very short walk from the village of Pinhão.
This historic estate is situated on the north bank of the Douro River, and it is the closest to the village.
Excellent spot to enjoy a glass of wine or a picnic on a terrace with a view. 
You can take a self-guided walk in vineyards.  They give you a hat and a bottle of water.
Book picnics at least 24 hours in advance.
There is an excellent gastronomic restaurant by сhef Pedro Lemos  located right at the quinta.   
Why Visit?
Focus on top-quality dry wines. 
Quinta Nova presents some highly sophisticated red and white dry wines of which my favourite were the Mirabilis brand reds. Made from grapes selected from the best parcels, these wines are intense and well-structured.
High-quality accommodation.
Quinta Nova Luxury Wine House hotel and Terraçu's restaurant are part of the luxury Relais & Chateaux network.
Easy to access from the train station.
Ferrão is one before Pinhão if you are coming from Porto.
The only estate in the Douro Valley with a Wine Museum Centre.

Excellent views from the estate on the Douro river and the surrounding vineyards.
How to Move Between Quintas
Other Things to Do in Pinhão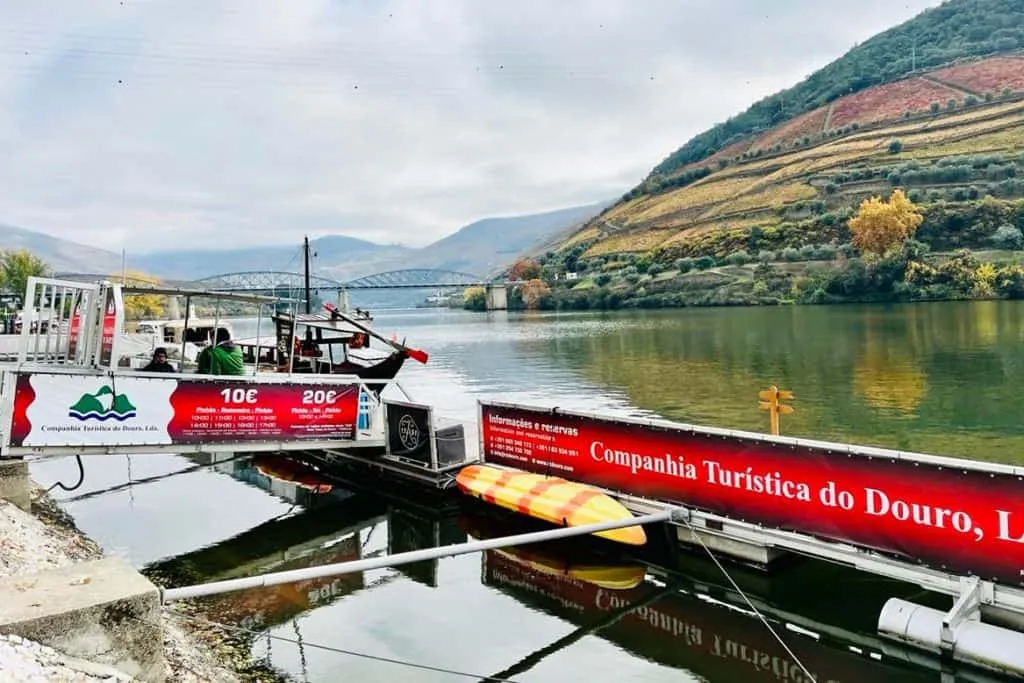 Other than visiting wineries around Pinhão, you can do these:
Book your Douro Valley wine tour
The WOW Wine Experience
The top Eropean wine museum in Porto
Useful Portugal Travel Links