Whether you plan to visit wineries in the Douro Valley or just going to admire its gorgeous nature, the Douro Valley makes for an excellent day trip from Porto. 
Staying in the Douro Valley overnight or longer is a great idea.  You will agree with me once you arrive at this magical place. In that case, here are some ideas on stays in the Douro Valley.
You can reach the picturesque part of the valley by car, by train, by boat or by bus, or hop on a wine tour.
In this article, I have summarized all you need to know about visiting the Douro Valley by train from Porto:
Where does the Douro Valley train depart from
Douro Valley train schedule and where to buy train tickets
Which station to get off at
Pros and cons of taking a train to the Douro Valley vs. driving, boating or a wine tour
Traveller's tips for your train ride from Porto to the Douro Valley.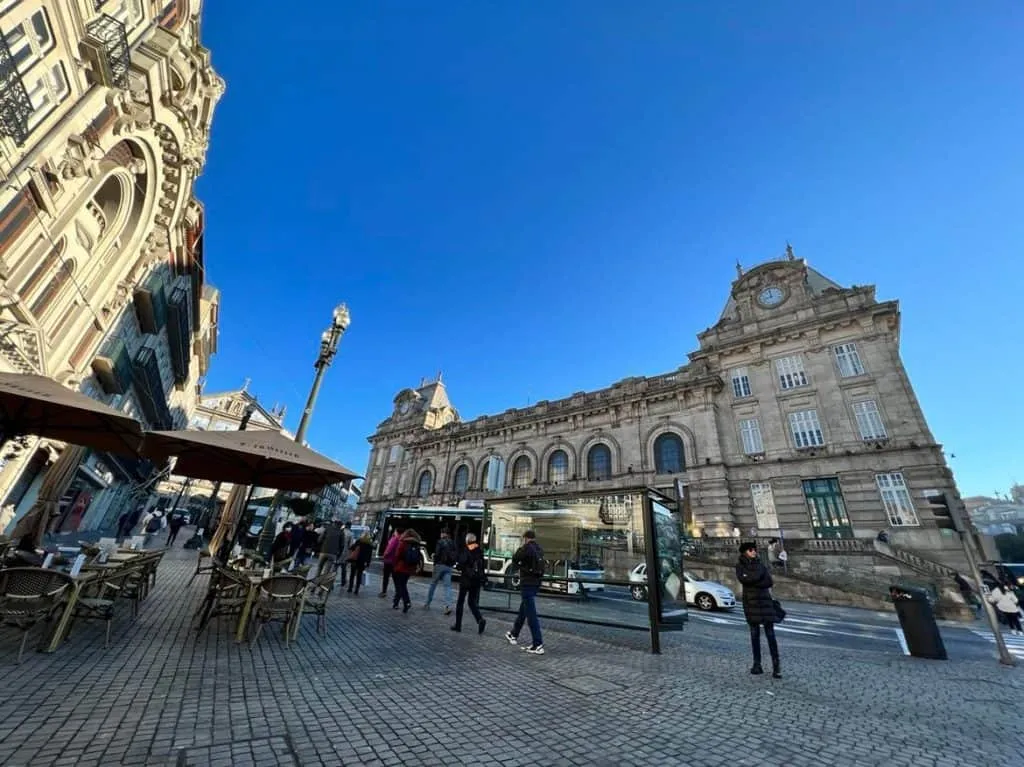 Trains to the Douro Valley depart from the São Bento train station in the center of Porto or Porto Campanhã.  Most trains from Porto Campanhã have Regua as a final destination.
The train line called Linha do Douro connects Porto and the town of Pocinho in Eastern Portugal near the Spanish border.
Train schedule and tickets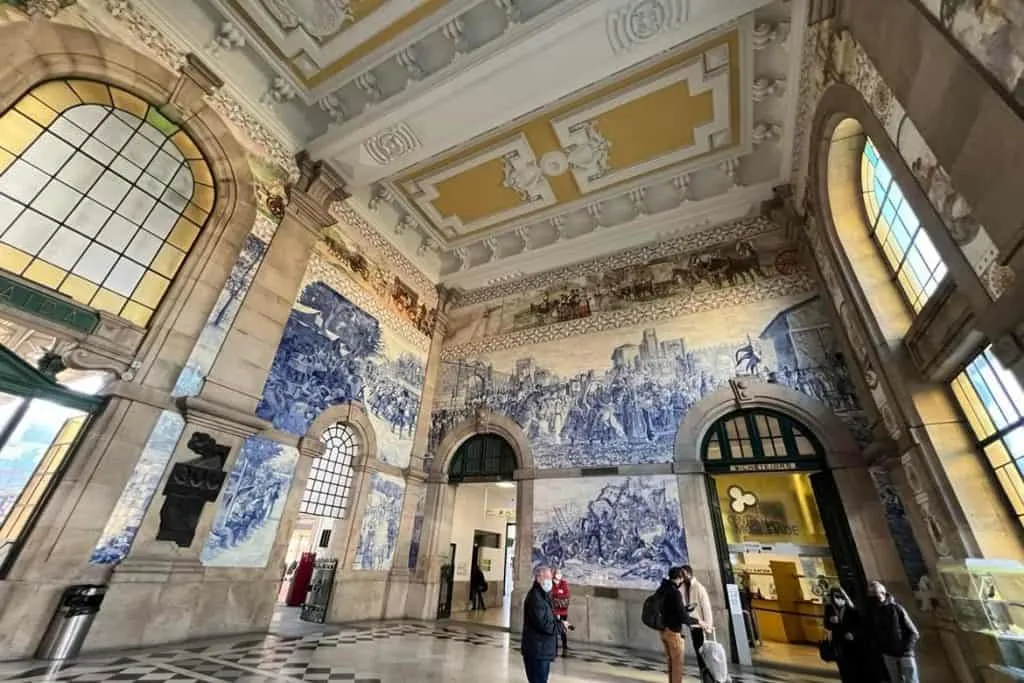 You can book tickets on the railway website or at ticket booths at the station.  Once you enter the beautiful hall of the São Bento train station, the ticket office will be to your right.
I find the online purchase was quite complicated, and prefer to buy my tickets at the counter.
I found this summary of the Linha do Douro route and schedule very helpful.  You need to catch one of the Interregional (IR) trains to get to Pinhão or further.  There are only 5 departures per day.
Pinhão is one of the more popular destinations for its scenery and the number of famous quintas around the little town.  Other popular wine country destinations are near Regua, Covelinhas, and Ferrão stations.  If you travel further east from Pinhão to Pocinho you are on for a very scenic ride.
Trains leave Porto about every two hours and the duration of the trip from Porto to Pinhão is about 2 hours and 25 minutes.  If you plan to visit wineries in the Douro Valley, allow at least 3 hours to get to your destination.  
I found that for a day trip to the Douro Valley, it makes the most sense to take the 9-20 am train from São Bento station, have lunch in the valley, visit a couple of wineries in the afternoon and then hop on the 6:14 pm train from Pinhão.
The return ticket to Pinhão is approximately 20 euros.  
I recommend buying return tickets at the São Bento station, as your train station in the Douro Valley may be closed in the evening.  Plus, save yourself a euro or two.  Alternatively, you can buy your tickets from the train staff by cash or card.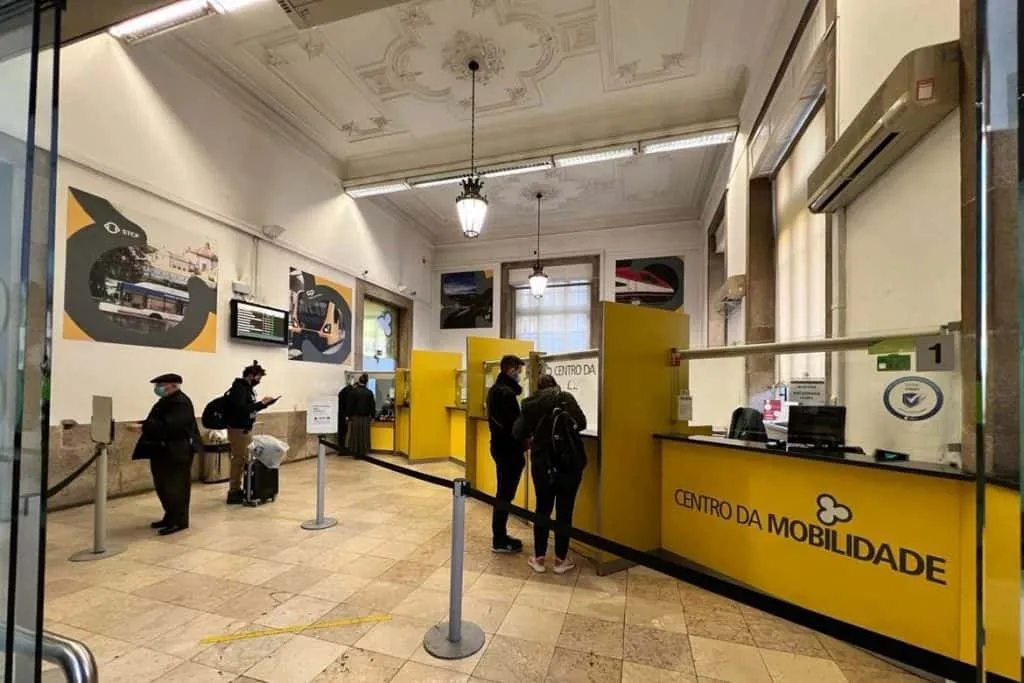 Tip: the train ride is quite long, you may want to get a little snack and water for the ride.  including the trip back.  You won't be able to buy food or water on the train.
Across the road from the São Bento train station, you will find several traditional Portuguese bakeries and cafes.  I took a photo of my favourite cafe below.  The staff speaks English and the service is very fast.
There are several vending machines and cafes at the São Bento station in case you need to buy water or snacks.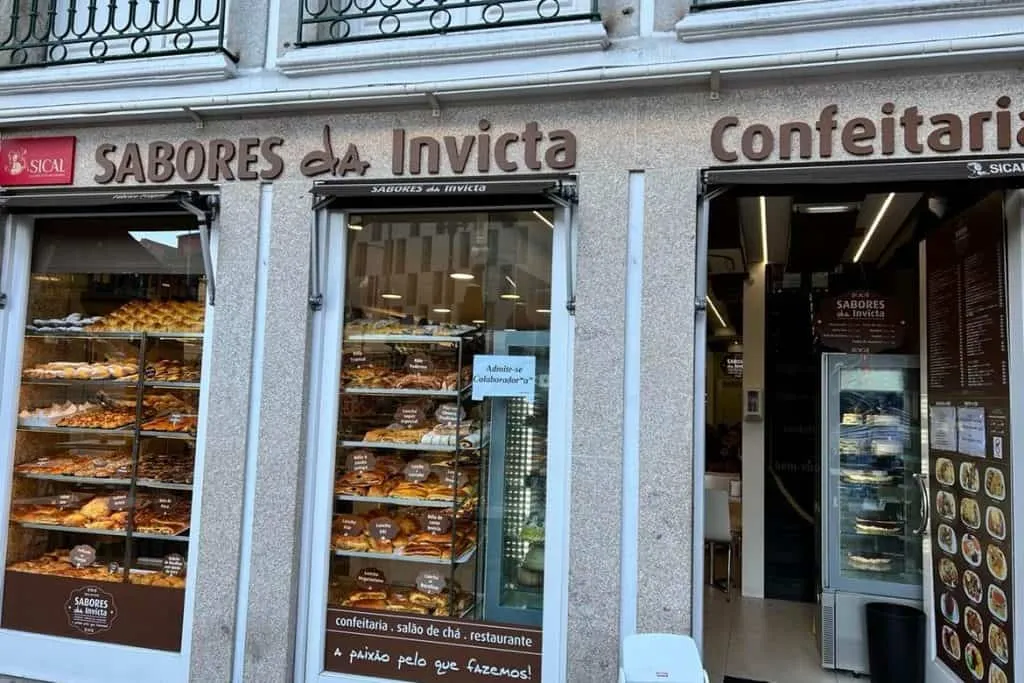 The Douro Valley train usually departs from platform 1 of the São Bento station.
Tip:  Try to  grab seats on the right side of  the train as this is where you will get the best river views.
The train looks antique, but it is clean and well taken care of.  There are bathrooms on the train. 
However, you won't find electricity sockets on the train and there is no WiFi.  Mobile Internet is intermittent.  You may want to carry a power bank and download a few things for your ride back.
You will have to show tickets to the train staff once the train departs.  No prior validation is required on paper tickets, at least as of 2022.
Tip: You will not hear any station announcements.  Watch out to not miss your station.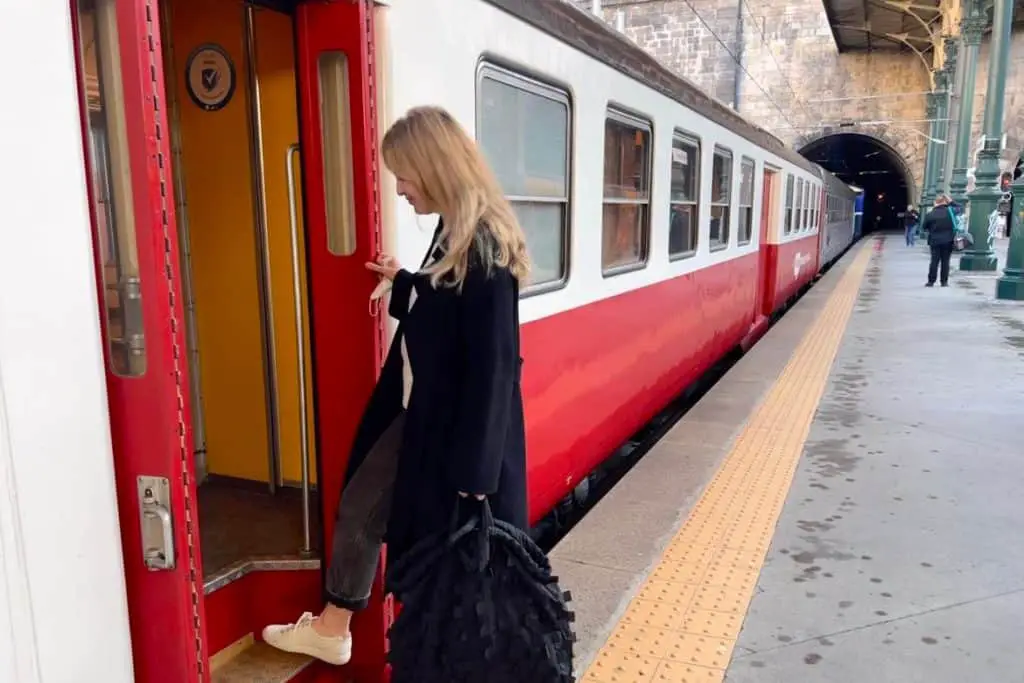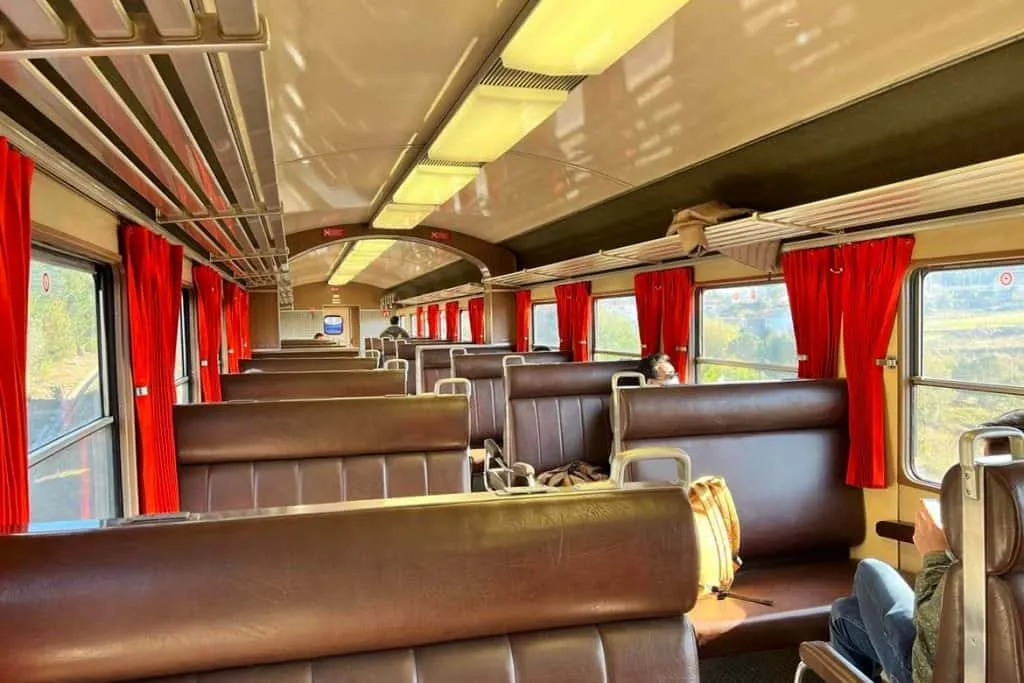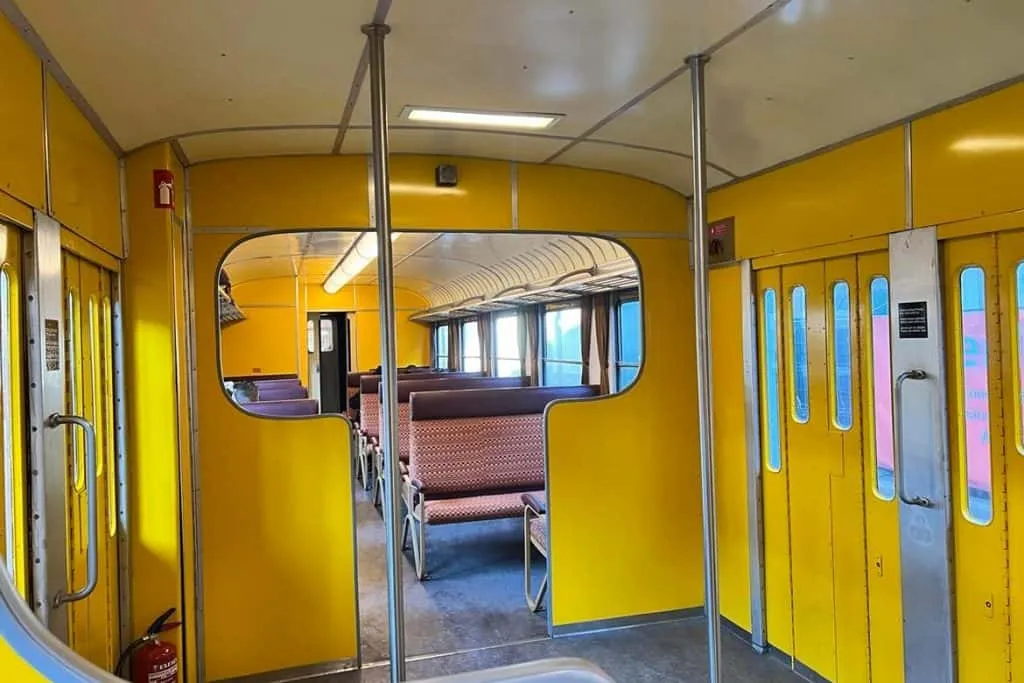 Some of the incredible views you will have from the train.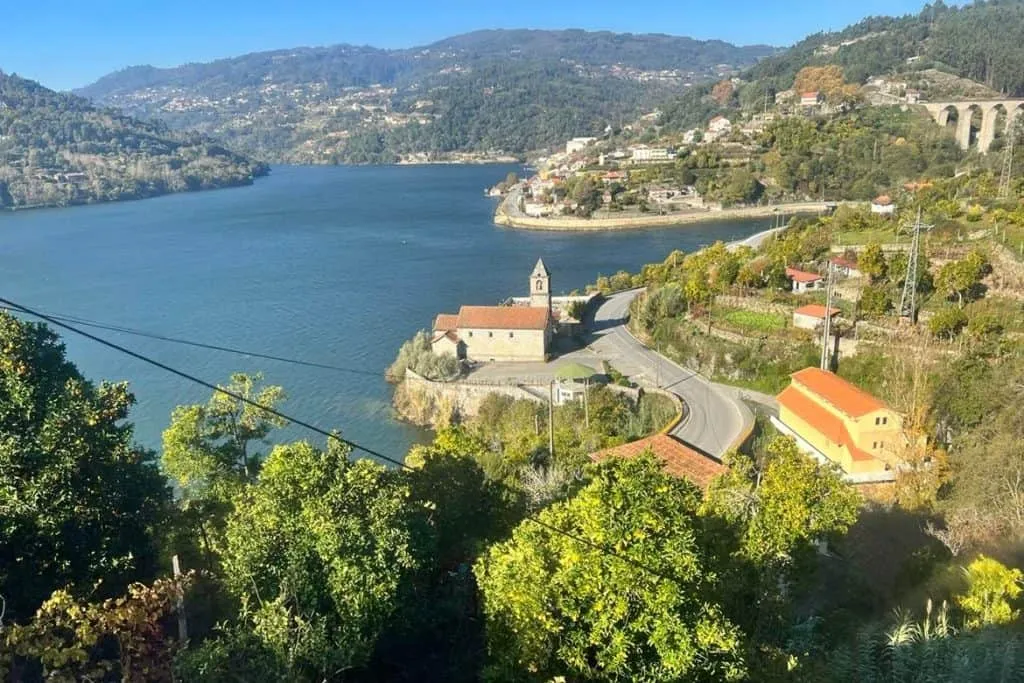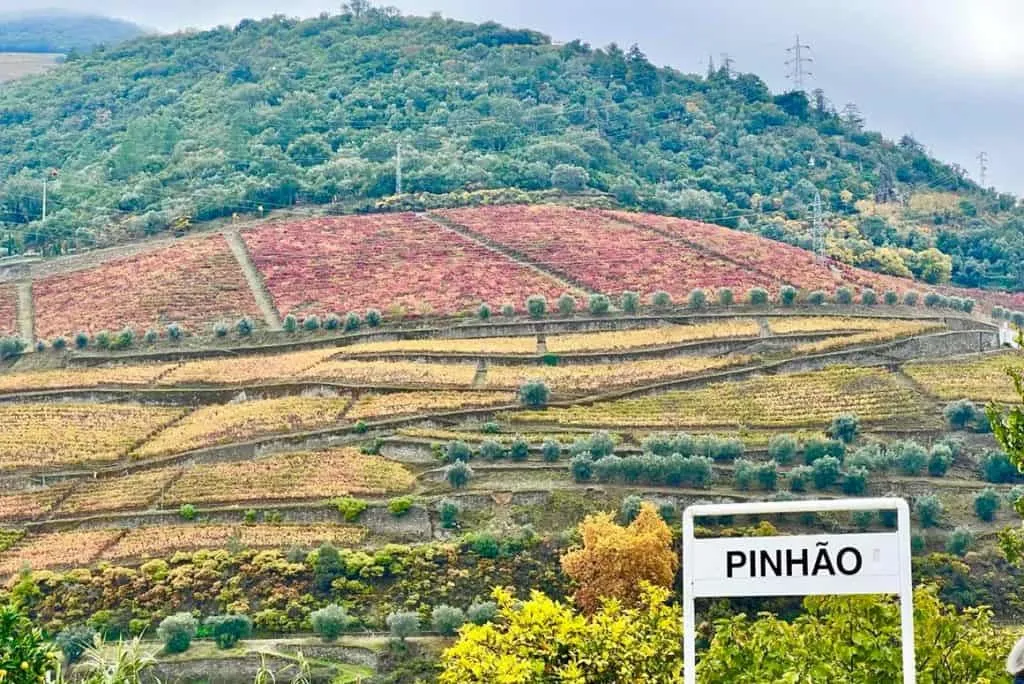 The Pinhão train station is beautifully decorated with azulejo tiles in the wine theme.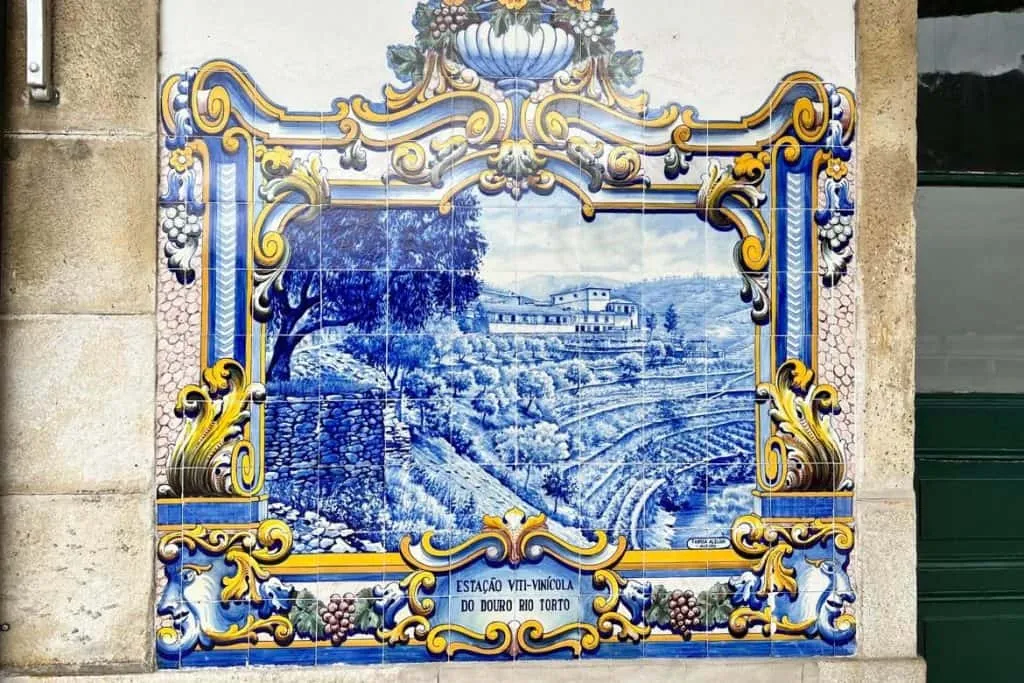 If you get off at Pinhão, you can visit several quintas in the area by foot or a short taxi ride. 
There is a taxi stand right by the station.  I found taxi rates to be very reasonable. We only paid 5 euros to get from Pinhão to Quinta da Roeda, a 5-minute ride.  Your taxi driver will give you their phone number so you can call them to fetch you after the tour.
My article about visiting wineries in the Douro Valley without a car may be helpful if you plan an independent wine tour.
If you want to add a ravelo boat tour when in Pinhão, head over to the harbour which is just a few minutes walk from the train station.  To make advance reservation, check out these options for the Douro river boat cruise and a private Douro boat tour.
For your return ride after 6pm, the station at Pinhão and all services could be shut down.  Keep this in mind when planning your trip, buying tickets, snacks etc.
Pros and Cons of Visiting Douro Valley by Train
Even though the day in Douro Valley is quite long, the experience it is well worth it.  
Pro's
Low-budget option. Nothing can beat a 20 euro return ticket cost.
Scenic ride.
Train can be crowded during high season.
Con's:
Long ride, can only visit a maximum of 2 wineries per day
Runs only every couple of hours
Needs careful planning
You will need to arrange transportation from train stations to wineries.
As an alternative to a train ride, check out these Douro Valley wine tours from Porto and these boat tours from Porto. There is also and option of coming to the Douro Valley by bus and returning by boat.
Also, my colleague Yara organizes private tours in the Douro Valley as well as other wine regions.
Book your Douro Valley wine tour