The Rioja wine region is definitely worth visiting if you are interested in wine, or if you simply want to experience the beauty and culture of this region of Spain.
Rioja is a wine region (Rioja DOC) located in northern Spain in the provinces of La Rioja, Navarra, and parts of the Basque Country and Castilla y León. It is known for producing high-quality red wines made from Tempranillo, Garnacha, and Graciano grapes.  Rioja also makes white wines, which are less famous than its full-bodied reds.
The region is home to many wineries and vineyards with rich wine-making history and traditions.  At the same time, many wineries have stunning cellars which are modern architectural masterpieces.
However, it is not only the wineries, that make a trip to Rioja worthwhile.  The region is also home to beautiful landscapes, charming villages, and cultural attractions.  The gastronomic scene and the hospitality are amazing in Rioja.  
These are my top 5 reasons to visit the Rioja region: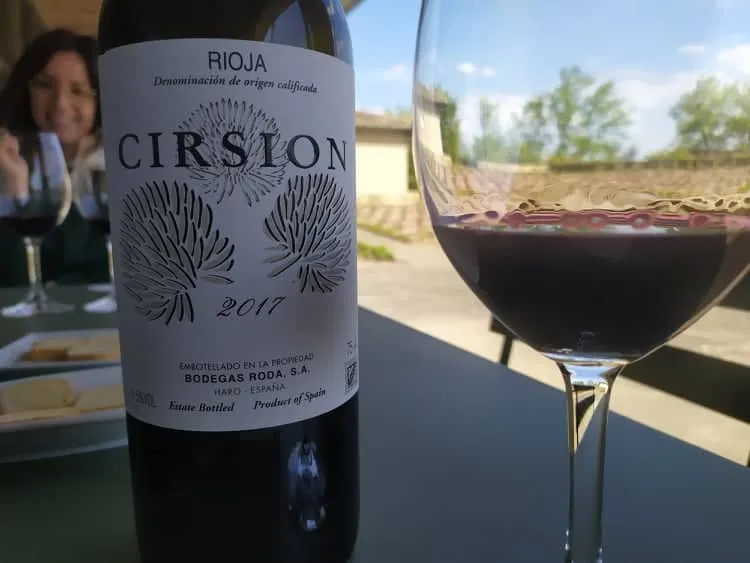 Rioja wines are highly prized by wine lovers and are considered some of the best in Spain.
Rioja wines are known for their depth of flavor and complexity, with notes of cherry, plum, and spice. They can be enjoyed with a variety of dishes, including cured meats, roast meats, grilled vegetables, and hard cheeses.
Tempranillo grape is the most widely used variety.  Red wines are aged in oak barrels and later in bottles until they are ready to be drunk.  
While Rioja is primarily known for its red wines, the region also produces white wines made from a variety of grapes, including Viura, Malvasía, Garnacha Blanca, and Tempranillo Blanco. These white wines tend to be medium- to full-bodied with flavors of citrus, green apples, and tropical fruit. They can be enjoyed as an aperitif or paired with seafood, poultry, and grilled vegetables.
In addition to traditional white wines, Rioja also produces sparkling wines, including Cava, as well as sweet dessert wines made from air-dried grapes.
You can find more information about Rioja winery visits in my winery catalog here.
Some ideas for Rioja wine tours can be found here.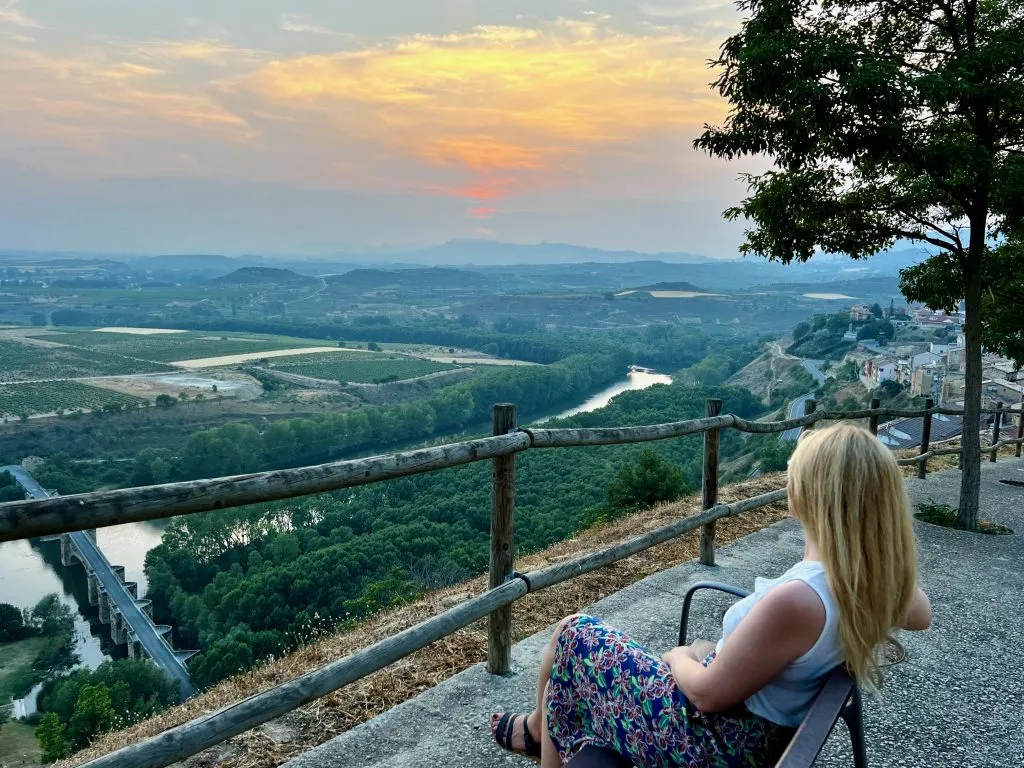 The region is situated in the heart of the Ebro Valley and is surrounded by the Cantabrian Mountains, the Pyrenees, and the Iberian System. This diverse and varied landscape provides ideal conditions for growing grapes and producing high-quality wines.
In the Rioja region, you can find rolling hills covered with vineyards, magnificent mountains, charming villages with narrow streets and traditional houses, and beautiful countryside landscapes. 
If you enjoy nature and outdoor activities, the Rioja region is a great destination for hiking, biking, and picnicking in the countryside.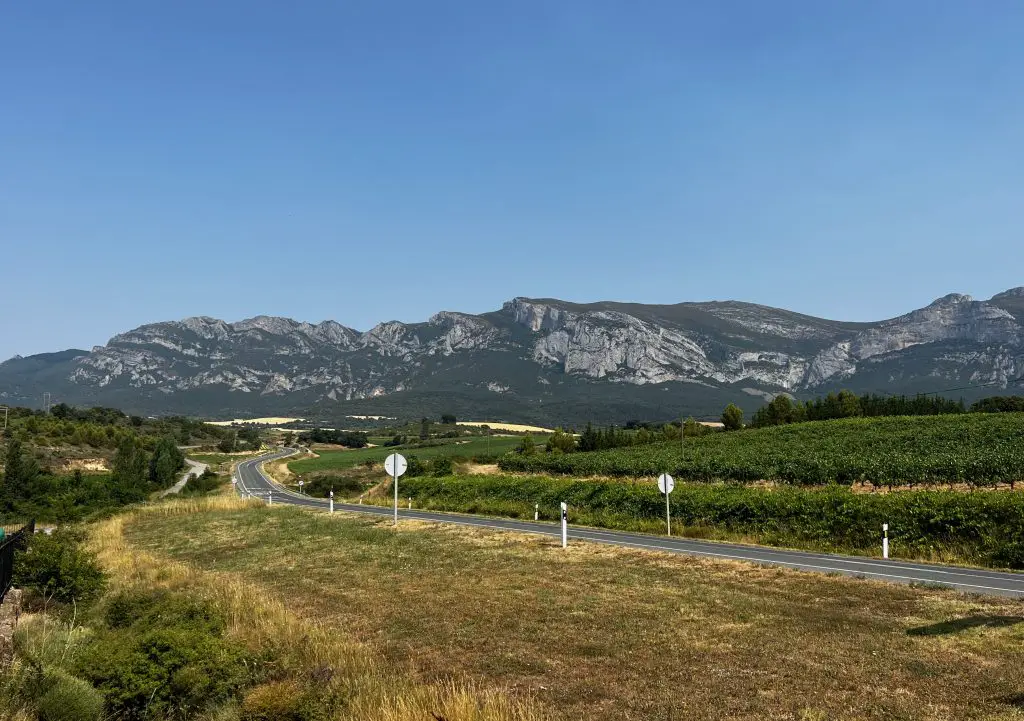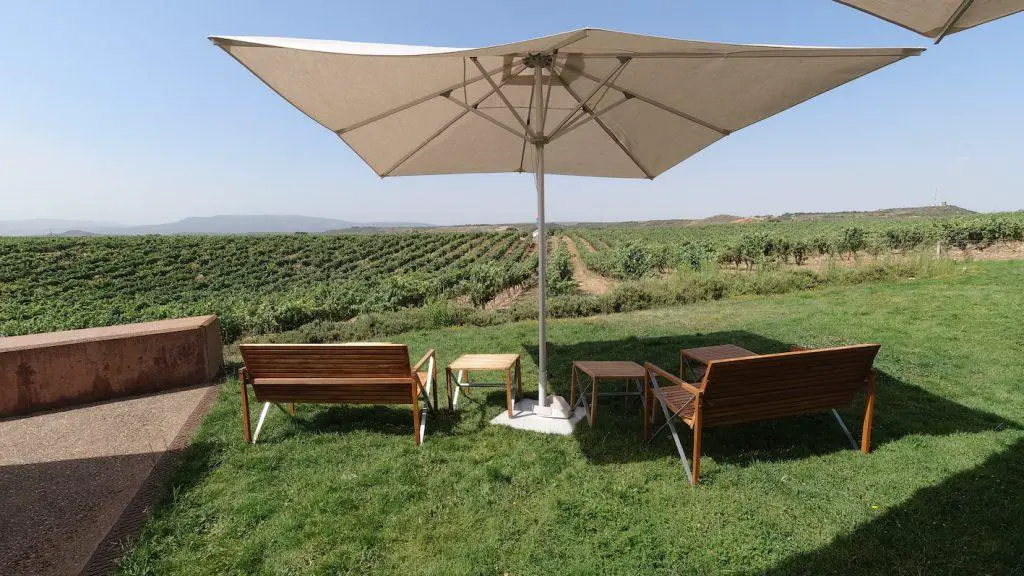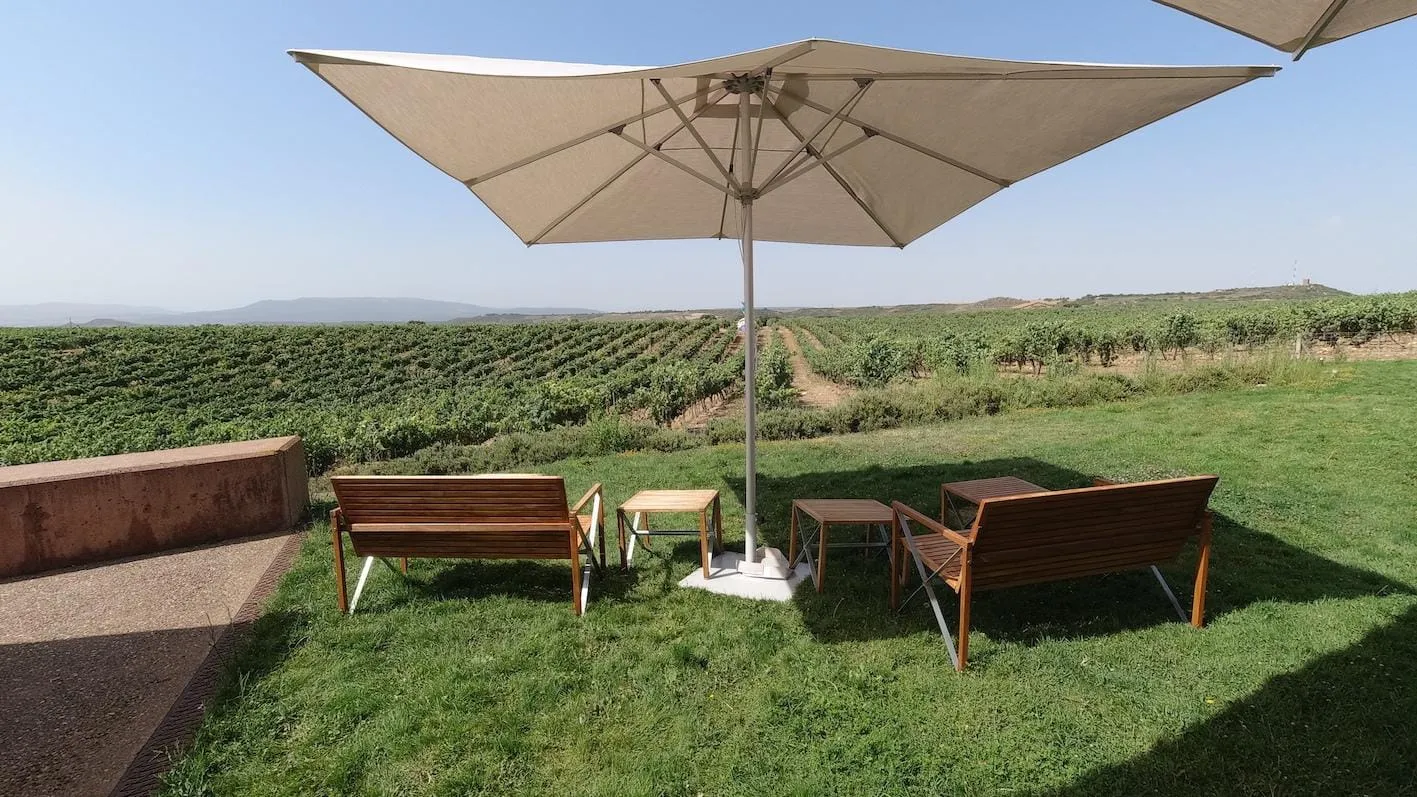 he Rioja wine region in Spain is known for its warm and welcoming hospitality, and visitors can expect to receive excellent service while traveling in the region. 
The pours are generous and there are always Jamon and Manchego cheese to accompany your wine.   
The region is home to a variety of accommodation options, ranging from luxury hotels and resorts to charming bed and breakfasts and holiday apartments. Many of the hotels in the region are located in or near the wineries, and they often offer wine-themed packages and experiences for guests.
In addition to the hotels, the region is also home to many restaurants that serve traditional Spanish cuisine and local Rioja wines. You can enjoy a variety of dishes, including world-famous pintxos.  
Logroño is a fun place to go out for a bar-hopping tour.  Logroño is known for its tapas culture, and there are many bars and restaurants in the city that serve tapas, which are small plates of food traditionally served with drinks at bars in Spain. 
Calle Laurel in Logroño is the best place to experience this part of Spanish gastronomic culture.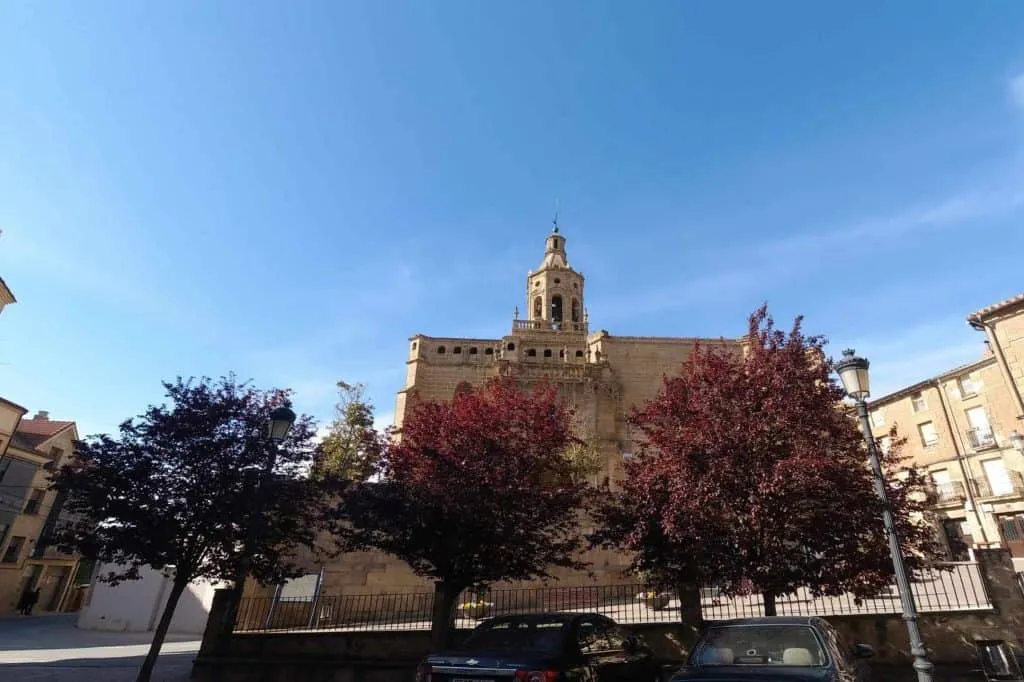 In addition to the stunning landscapes, the Rioja region is also home to several historical and cultural attractions, including medieval castles, churches, and monasteries.  
The region has a long and rich history dating back to the Romans, and it has been inhabited by a variety of different cultures over the centuries, including the Visigoths, Moors, and Christians. Many towns have a well-preserved medieval center, surrounded by walls and towers, with narrow streets and charming squares.
Laguardia, Briones, Elciego, and San Vicente de Sonicerro are just some of my favorite villages to visit in the Rioja region.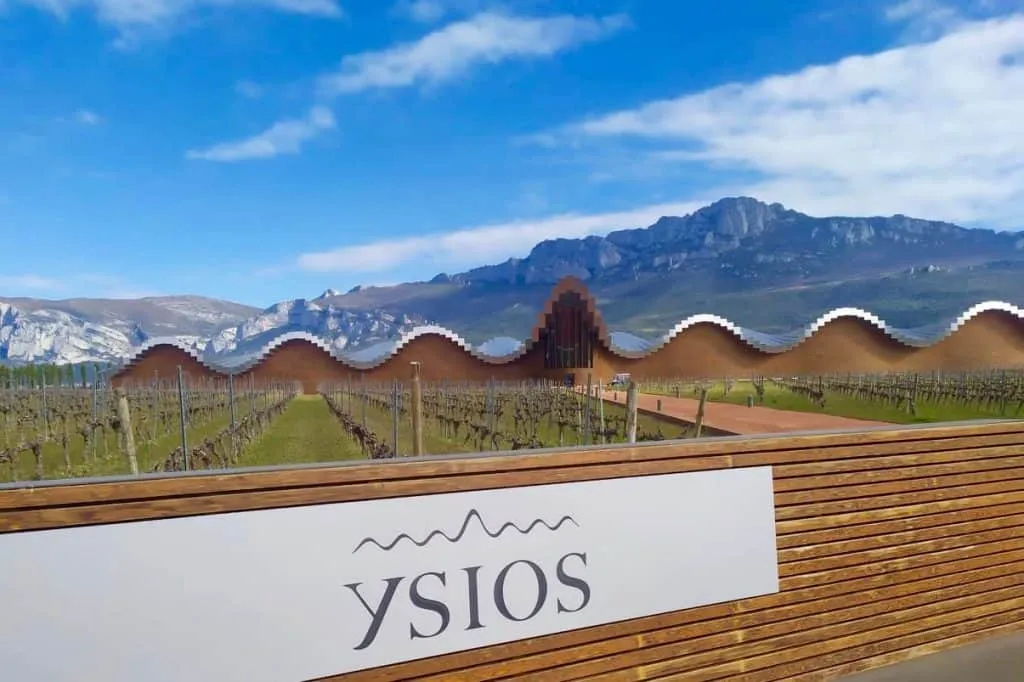 Many of the wineries in the Rioja region are located in charming villages or in the countryside, and they often feature traditional Spanish architecture with red tile roofs, white stucco walls, and arched windows and doors. Some of the wineries are housed in historic buildings, such as castles or mansions, that have been converted into modern winemaking facilities.
Other wineries in the region feature more modern architectural styles, with sleek, contemporary design elements and state-of-the-art winemaking equipment. Many of the newer wineries in the region have been designed to be eco-friendly and sustainable, with features such as solar panels, rainwater harvesting systems, and energy-efficient lighting.
Marques de Riscal is located in the town of Elciego, in the province of Álava, in the Basque Country of northern Spain. The winery hotel is housed in a building that was designed by the famous architect Frank Gehry.
Bodegas Ysios nearby in Laguardia is an example of modern architecture, which was designed by the Spanish architect Santiago Calatrava. The building is clad in stone and glass, and it is shaped like a wave, with a series of undulating roofs that follow the contours of the hillside behind it.
Visit these and other architecturally interesting wineries on this Wine and Architecture tour.