When organizing your tour of the Douro Valley, you might find yourself pondering over the best wineries to include in your itinerary.
Within this article, I have compiled a selection of wineries that left a lasting impression on me due to their exceptional wine quality and warm hospitality.
RELATED:
This historic estate is situated on the north bank of the Douro River near the village of Pinhão.
The property derived its name from Vale do Bomfim, 'the well-placed valley', the old name for the area around Pinhão. In 1912, Andrew James Symington became a partner in Dow's. Since then generations of Symington winemakers have worked the vineyards to create the finest port wine for Dow's.
Today, the family of British and Portuguese, 10 people of the the 4th and the 5th generations of the Symington family run four port houses: Graham's, Dow's, Warre's, and Cockburn's and produce dry wines of Douro and Alentejo.
Quinta do Bomfim is the home of the two most famous vintage ports: Dow's 2007 Vintage Port awarded 100 Points by the Wine Spectator, and Dow's 2011 Vintage Port which was nominated the N°1 Wine in the World in 2014.
Wine Tours
Quinta do Bomfim offers guided tours and tastings of its world-famous port wines and Douro DOC dry wines. Tours are available in English, Portuguese, French and Spanish.
1st March to 31st October: every day from 10:30 am to 7 pm (last visit at 6 pm)
1st November to 28th February: every day from 9:30 am to 5:30 (last visit at 5 pm)
Closed on December 25, January 1
The estate offers a wonderful option of a picnic on the terrace overlooking the Douro river.
Quinta do Bomfim also houses an excellent gastronomic restaurant Bomfim 1896 with Pedro Lemos and a more casual Casa dos Ecos up in the vineyards. Both restaurants offer excellent views of the Douro Valley.
The winery and the restaurants are easily accessible from Pinhão and the Pinhão train station.
Quinta do Vallado is located on the banks of the Corgo River, a tributary of the Douro River, right next to its mouth and close to the town of Peso da Régua.
The estate was founded in 1716. Quinta do Vallado belonged to Dona Antonia Adelaide Ferreira, a Portuguese businesswoman known for leadership in the cultivation of port wine and for winemaking innovations. The winery still belongs to her great-great-great grandsons.
Today, Quinta do Vallado develops 65 hectares of vineyards with altitudes ranging between 80 and 400 meters.
The new modern winery built in 2009 is equipped with state-of-the-art technology to produce dry wines (red, white, and rose) and зort wines, and an impressive aging cellar. Quinta do Vallado still uses the traditional foot treading method in granite lagares for some wines.
Wine Tours
Quinta do Vallado is open to the public throughout the year, with daily wine tasting conducted in Portuguese and English.
English
11:00 am, 2:30 pm, 4:30 pm
Duration: 1h15
Portuguese
12:00 pm, 3:30 pm, 5:30 pm
Duration: 1h15
Quinta do Vallado also offers wine tasting, winemaking, blending, and viticulture workshops which run in small groups of up to 4 participants.
You can also opt for a private tour and wine tasting, available by appointment. This way you can customize your wine tasting and choose the wines you always wanted to try.
There is a possibility to stay at a beautiful vineyard hotel at Quinta do Vallado. There are 5 rooms in the traditional house and 8 in the modern building. I love their pool surrounded by orange orchard.
If you are travelling from Porto by train, get off at Régua train station. Quinta do Vallado is a short taxi ride away.
Situated on the right bank of the Douro River between Régua and Pinhão, Quinta do Crasto estate dates back into ancient times. The name Crasto comes from the Latin "castrum" meaning "Roman fort". The earliest records mentioning Quinta do Crasto and its wine production date back to 1615.
Quinta do Crasto has been in the family of current owners Leonor and Jorge Roquette for more than a century. In the past, the estate was focused on production high-quality Port wine. Today, Quinta do Crasto also produces the Douro DOC wines that have become famous domestically and abroad.
Wine Tours
Winery tours are by appointment. Quinta do Crasto is open daily from 10 am to 6 pm.
During a visit to Quinta do Crasto you will be shown the grape reception area, the newly renovated winemaking facilities, the innovative aging cellar, the quality control lab, and the Century-Old House, where the commented tasting of five wines will be offered. The estate offers pairings with cheese or chocolate.
The duration of the visit and commented wine tasting is approximately 90 minutes.
Visits with lunches or dinners are also a possibility.
Quinta do Crasto is in the walking distance from the Ferrao train station if you are up for a serious uphill hike.
Set on the South Bank of the River Douro between the city of Régua and the village of Pinhão, Quinta do Seixo, with its 100 hectares of vineyards is one of the most traditional wine-producing estates in the Douro Valley.
The original house and the chapel of Quinta do Seixo date back to the 18th century.
A state-of-the-art winery built in 2007 was constructed as a series of terraces that follow the slope of the hillside, perfectly integrated into the Douro landscape. From the tasting room of Quinta do Seixo opens a fantastic view of the Douro river and the picturesque village of Pinhão. This is one of the best views you can find in the Douro Valley.
Quinta do Seixo is part of the Sogrape consortium which also owns Portuguese wine brands Mateus, Barca-Velha, Sandeman and the Spanish brand LAN.
Wine Tours
You will be greeted Sandeman Don, the mysterious figure with a Portuguese student's cape and a Jerez sombrero, a symbol of Sandeman Port designed by Scotsman George Massiot Brown in 1928. Sandeman Don will lead you through the quinta, the historic building and the modern installations of the winery.
Quinta do Seixo offers classic visits and tastings of Port wines. You can also choose a tasting of Douro DOC Wines from the emblematic Douro brand Casa Ferreirinha.
Why not a picnic with a breathtaking view?
March to October: 10:30 am to 6:30 pm. The last tour starts at 6:15 pm.
November to February: 10:30 am to 12:30 pm and from 2:00 pm to 5:30 pm.
Last morning tour starts at 12:15 pm, last afternoon tour starts at 5-15 pm.
Located approximately 200 km from Porto, near Pocinho, Quinta do Vale Meão is a destination that should not be missed, particularly for its renowned wines. The estate holds a significant history, having been purchased and developed by the astute businesswoman Dona Antonia Adelaide Ferreira in 1877.
Remaining in the Ferreira family for many years, it wasn't until 1994 when Francisco Ozabal, a great-great-grandson of Dona Antonia, acquired the property. Initially, the estate focused on grape production for Barca Velha, Portugal's most famous red wine. However, since 1999, Quinta do Vale Meão has independently produced both ports and Douro dry wines, successfully establishing itself as one of Portugal's leading wineries.
Wine Tours
The winery offers visits of the winery with tastings of 4 or 5 wines (1 hour) as well as tour of the their vineyards in a 4 x 4 vehicle and a tasting (2 hours). All experiences include a light snack.
You can reach Quinta do Vale Meão by car, by train from Porto to Pocinho, by boat or by helicopter.
Visiting Quinta do Noval is another detour well worth it.
This is where you will taste some of the best wines of the region.
Quinta do Noval is a prestigious and historic wine estate located near Vale de Mendiz north of Pinhão.
It is renowned for producing exceptional Port wines in particular its Vintage Ports, which are highly regarded for their complexity, elegance, and ability to age gracefully.
In the mid 1980, under the ownership of Van Zeller family, Quinta do Noval started producing age-worthy dry red wines and later dry white wines.
In 1993, Quinta do Noval became a part of AXA Millésimes, an international viticultural group, a subsidiary of the French insurance company. Subsequent developments included the completion of a new bottling line and warehouse in Alijo, near Pinhão, in 1997. This pioneering project made Quinta do Noval the first traditional Port shipper to centralize all of its activities in the Douro Valley.
Wine Tours
Wine tours to Quinta do Noval offer an exclusive and intimate experience. To ensure availability, I recommended requesting an appointment in advance. Upon arrival, you will be warmly welcomed and treated to a personalized and homely visit.
While reaching Quinta do Noval from Pinhão involves a steep drive, the effort is rewarded with awe-inspiring views that surpass anything you have seen before.
If you miss visiting Quinta do Noval, you can drop into their wine shop and tasting room in the village of Pinhao or in Vila Nova de Gaia across the river from Porto.
RELATED:
For five generations, the Alves de Sousa family has been dedicated to crafting exceptional wines in the beautiful Douro Valley.
Tiago, a talented winemaker from the family's fifth generation, has made a name for himself as one of Portugal's top winemakers.
The wines produced by the Alves de Sousa family have received high praise and have been honored with numerous esteemed awards. Their commitment to quality and excellence is evident in every bottle. The estate's significance in the Douro region is highly regarded and has even been compared to the renowned Chateau Cheval Blanc in Bordeaux, highlighting its prestigious status and contribution to winemaking.
Wine Tours
Visits and tastings are by appointment Monday to Friday between 9:30 pm to 12:30 pm and from 2:30 pm to 5:30 pm.
The modern winery made of schist stone and a top floor tasting room with fantastic views of the valley will add to the tasting experience.
When in the Douro Valley, do not miss tasting Quinta da Gaivosa Tinto and Abandonado made of grapes from old vineyard, some of the best red wines of Douro.
The original winery was founded in 1764. Quinta Nova de Nossa Senhora do Carmo has been listed since the first demarcation of the Douro wine region in 1756.
Today, Quinta Nova has 120 hectares of vineyards. Since 1999, the estate has been owned by the Amorim family who is made their fortune on producing cork stoppers for port wine.
Today the focus of Quinta Nova is on high-quality dry red and white wines, from mainstream Pomares brand to high-end Mirabilis.
Come here for excellent wines, warm hospitality, a wonderful hotel, and a Terracu restaurant with a view of the Douro river and the valley. Not to be forgotten – Quinta Nova is the only estate in the Douro with a Wine Museum presenting artefacts of port wine production in the 19th and the 20th century.
Wine Tours
Quinta Nova de Nossa Senhora do Carmo is the first wine estate in the Douro to open wine tourism facilities, and is one of the most highly-rated wine tourism spots in Portugal.
Visits and tastings are available from Tuesday to Saturday. There is a beautiful tasting room with a panoramic views where wines can be can be accompanied by tapas.
Quinta Nova is a part of the relais & Chateaux network. You can stay at the manor house of Quinta Nova located next to the original winery, built in 1764 and feel the ambience of a large Portuguese family home, surrounded by the valley's spectacular scenery.
Sample exquisite wines enjoy genuinely delicious food in the Terraçu's restaurant that guarantees an excellent service, marked by an attentive and knowledgeable team.
The port wine shippers, the Bergqvist family, has owned Quinta de la Rosa since 1906 when it was given to Claire Feuerheerd by her English grandmother. Starting in the early 1990s, the family was one of the pioneers in producing high-quality dry red wines in the Douro Valley.
Today, Quinta de la Rosa develops around 55 hectares of vineyards and produces around 80,000 litres of port and 300,000 litres of wine each year.
Quinta de la Rosa Craft Beer came up in 2017 with the idea to adapt La Rosa's wine equipment to see whether making the Douro's first craft beer was possible. Today La Rosa IPA and La Rosa Lager are brewed at Quinta de la Rosa.
Wine Tours
You can customize your tasting experience to taste wine, port wine or both, as well as pair wines with local cold meats, cheeses, almonds and chocolate. Self-guided tour of vineyards is a possibility too.
My favourite experiences at Quinta de La Rosa include walks down from the top of their highest vineyards followed by a guided tour and a tasting.
In 2001, Sandra Tavares da Silva and Jorge Serôdio Borges embarked on an exciting winemaking project known as Wine & Soul.
Their winery, located in the charming Vale Mendiz area just north of Pinhão, is a captivating blend of innovation and rustic charm. It occupies a historic space that was once an old Port lodge.
Sandra and Jorge started making Pintas wine from their 2-hectare plot of 70-year old vines comprised of 30 different grape varieties, later adding other neighbouring plots in the Pinhao valley.
Wine Tours
Wine & Soul offers a variety of experience for visitors from simple tastings, to picnic lunch at Quinta da Manoella and creating your own bottle of wine.
Their tastings are intimate and well-organized. Enjoy their excellent wines, beautiful views and a chance to meet one of the most regarded young winemakers in Portugal.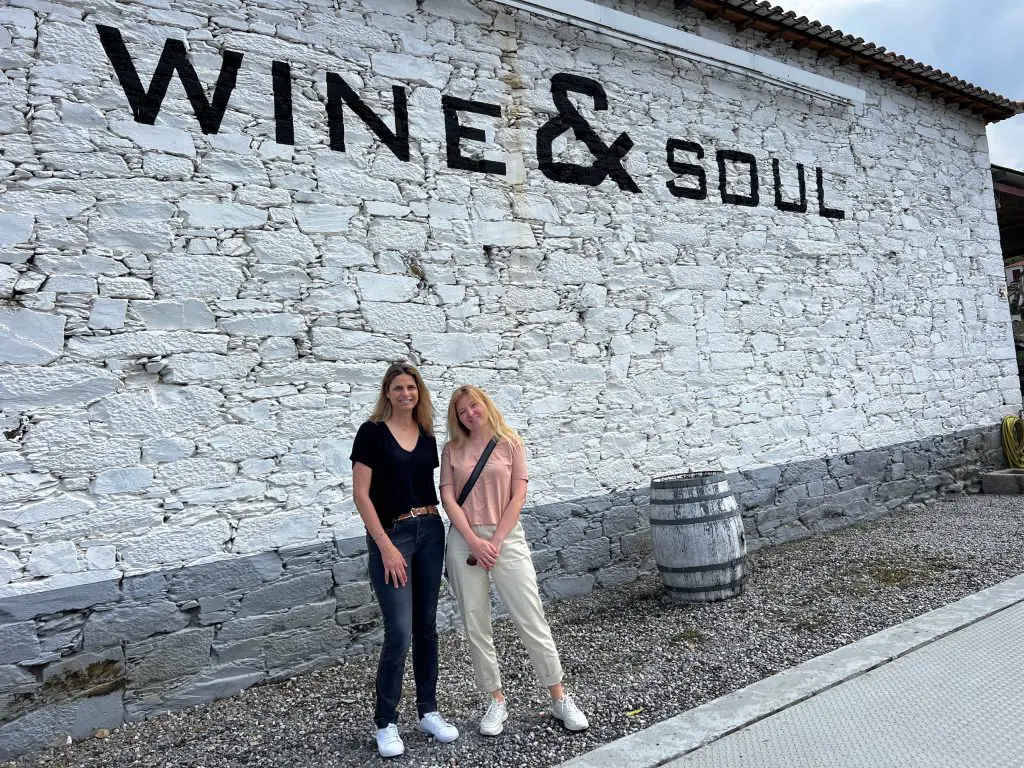 Quinta da Pacheca, one of the best known estates in the Douro region. It is also one of the oldest. It was first mentioned in a document dated 1738 as a property of D. Mariana Pacheco Pereira.
Since 1903, winemaking has been developed by Dom José Freire de Serpa Pimentel. Today, the fourth generations of the Serpa Pimentel family are in still involved in Quinta da Pacheca.
Quinta da Pacheca focuses on production of quality dry Douro DOC wines and Port wines. The estate was one of the first in the region to bottle its own wines.
Quinta da Pacheca is one of the most visited estates in the Douro Valley region.
What makes the Quinta da Pacheca visit different? There is a spa and a wine house hotel, where you can stay inside a giant barrel!
While there are many other noteworthy wineries in the Douro Valley, exploring the ones mentioned in this article will guarantee a memorable day in this amazing wine region.
For more tips on visiting the Douro Valley wineries see my Douro Valley Blog.