In 2020, the WOW museum complex opened its doors to visitors of Porto.  
Seven new museums were created on 55,000 sq meters of former port wine warehouses.  The entire district of Vila Nova de Gaia is now revitalized by this $117 million project by the Fladgate Partnership which also owns Taylor, Croft, and Fonseca ports, as well as luxury hotels including The Yeatman and Infante Sagres in Porto, and The Vintage House Hotel in the Douro Valley. 
Two of the seven WOW museums dedicated to wine – the Wine Experience and the Pink Palace Experience. The WOW also houses a wine school, which offers wine tastings and masterclasses.
Other WOW experiences celebrate the city of Porto and the traditional industries of Portugal – Planet Cork, Porto Region Across The Ages, The Bridge Collection, The Chocolate Story, and Porto Fashion & Fabric Museum.
Besides the museums, there are twelve restaurants and cafes, some with unbeatable views on Porto, excellent souvenir shops, and sleek and modern public spaces.
I am in constant search of wine experiences in Europe, so I am frequently visiting wine museums.  I was curious to compare the WOW wine museum to the Cite Du Vin in Bordeaux.  
Here are my impressions of the WOW wine experiences and some practical tips 
How to Get to the WOW Museums in Porto?
I stayed in the Porto side of town. To get to the WOW, I crossed the river by the Dom Luis I bridge to the Gaia side.  
The museum complex is just a couple of blocks from the river and its port wine houses.  The WOW is just below Taylor's port house sign.  It would take you approximately 15 minutes to get here from the waterfront on the Porto side on foot and approximately the same time from the nearest yellow line metro stations in Gaia: Jardim do Morro or General Torres. 
Although there are several parking areas nearby (the WOW car park, the Gaia car park, and the General Torres car park), it is easier to navigate the historic area on foot.
Buses 901 and 906 stop within 2 minutes walk. You will need Choupelo bus stop.
The WOW official address is Rua do Choupelo, 39, 4400-088 Vila Nova de Gaia.
You can enter the WOW Wine Experience museum from the central building with a square in front of it, which is in the picture above. The entrance is to the left of the main reception area.
The alternative entrance is through the lower level next to the Wine School.  From there, you would have to cross a hall and take an elevator to the 4th floor.
I found the WOW complex to be accessible and fluid.  It is easy to navigate, there are multiple entrances and several ticket counters on different levels.  
Where to Buy the WOW Museum Tickets?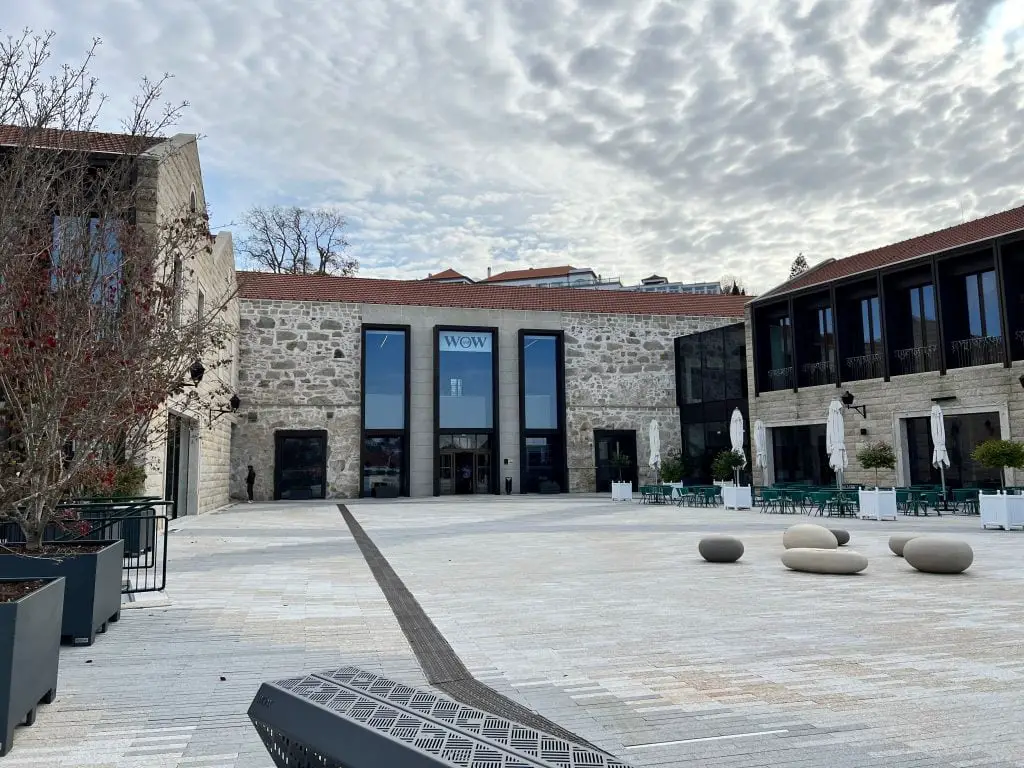 Entrance to the WOW grounds is free, while you have to pay for museum tickets.
Entry prices vary for different museums.  The Wine Experience ticket was 20 euro, and the Pink Palace was 25 euro.  Visiting 2 or more museums gives you a significant discount – I paid 28 euro for the two museums.  
Your tickets are valid for 6 months.  I recommend taking a picture of a ticket if you are leaving one of the museums for another day.  You can later access it by using a QR code on your phone.
Ticket counters open one hour before the experience starts.
You can also buy your entrance tickets online.
What Are the Opening Hours of the WOW Wine Museum?
The Wine Experience is open from noon to 7 pm on weekdays and from 10 am to 7 pm on weekends.  
For updated hours, please check the official WOW website.
What is the WOW Wine Museum Like?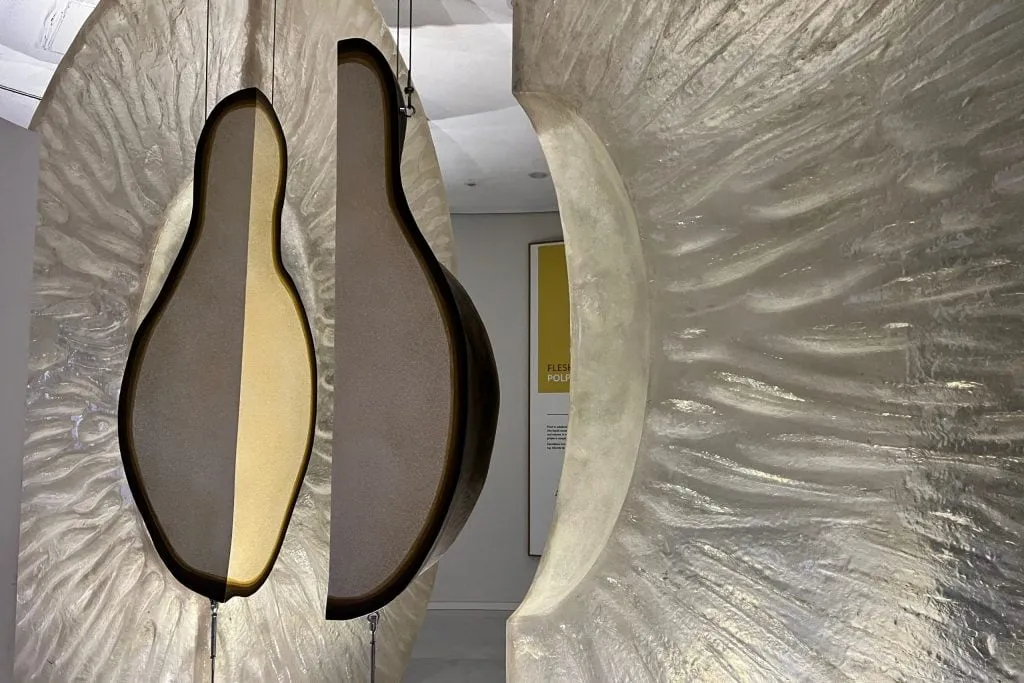 The exposition on the lower level is dedicated to how wine is made.  
Although the information is quite detailed, the creators' approach was to demystify viticulture and winemaking.
You will be taken inside a giant grape berry where you can see where wine tannins are coming from. Visitors can watch a video inside a fermentation vat, walk into a winemaker's home, become part of the harvest team, see all stages of juice turning into wine, and walk inside port aging cellars.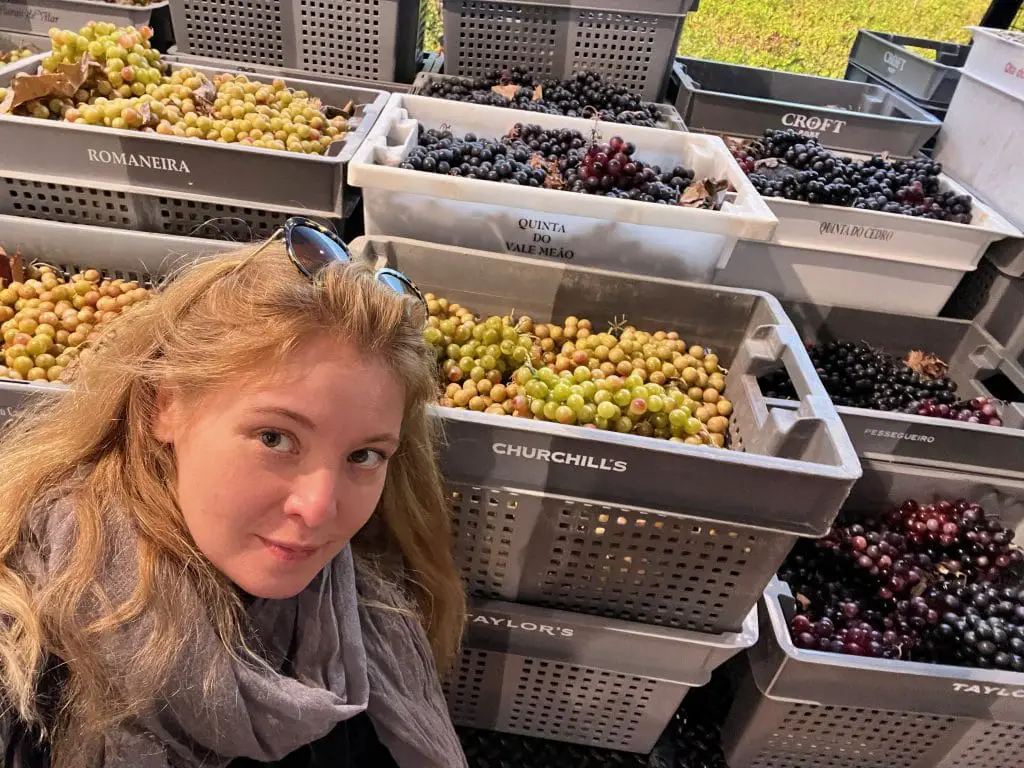 The museum mixes up high-tech demonstrations and tactile experiences.  Touch freshly harvested grapes and smooth oak staves that will become a barrel and smell all possible wine aromas.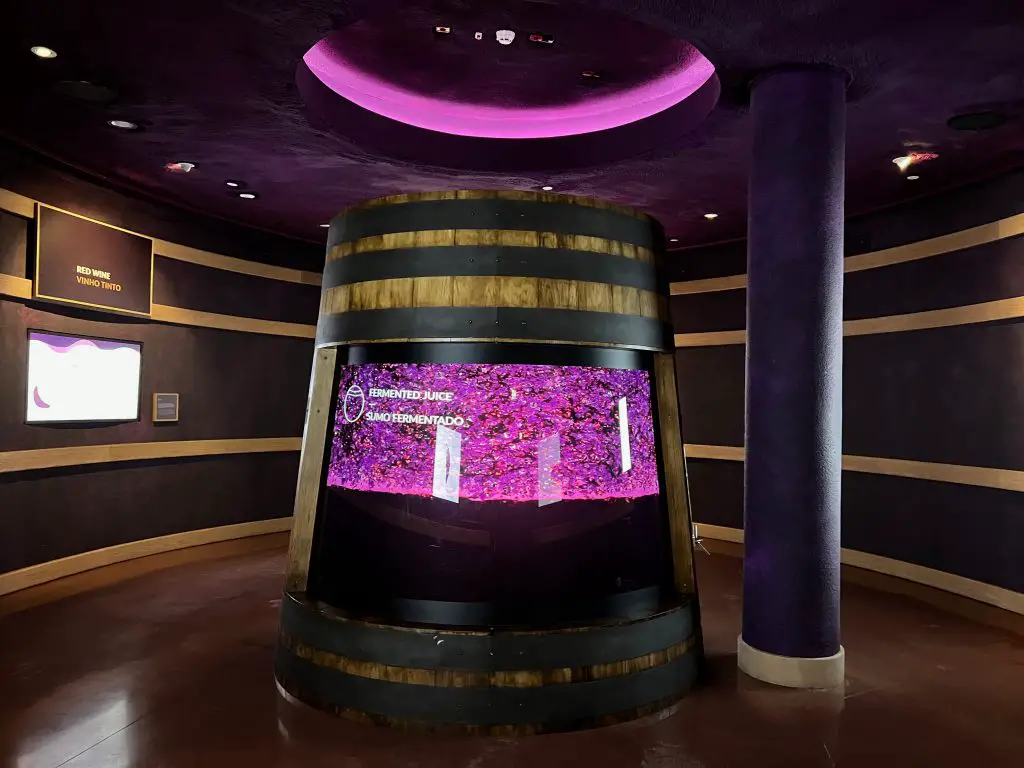 The most interesting part of my wine studies has been to learn how soils, landscapes, climate, and grape variety affect the taste and quality of the wine. Portugal produces almost any kind of wine. The museum takes you to vineyards of various Portuguese wine regions to explain the differences.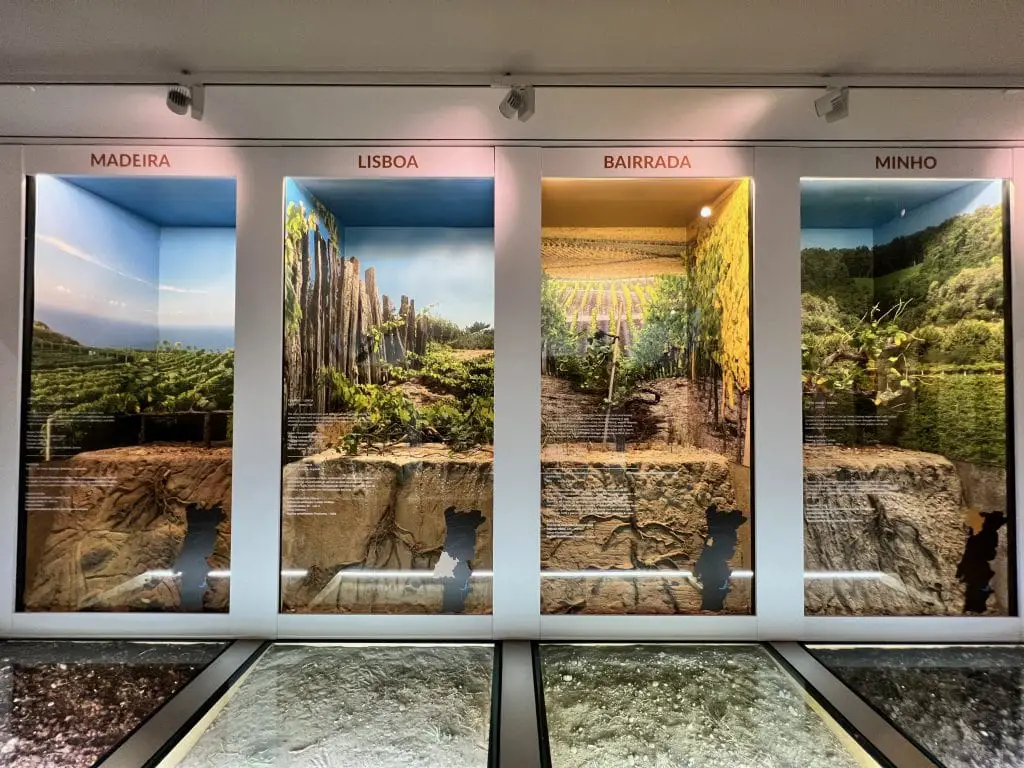 The top level is dedicated to the diverse wine regions of Portugal and their winemaking traditions.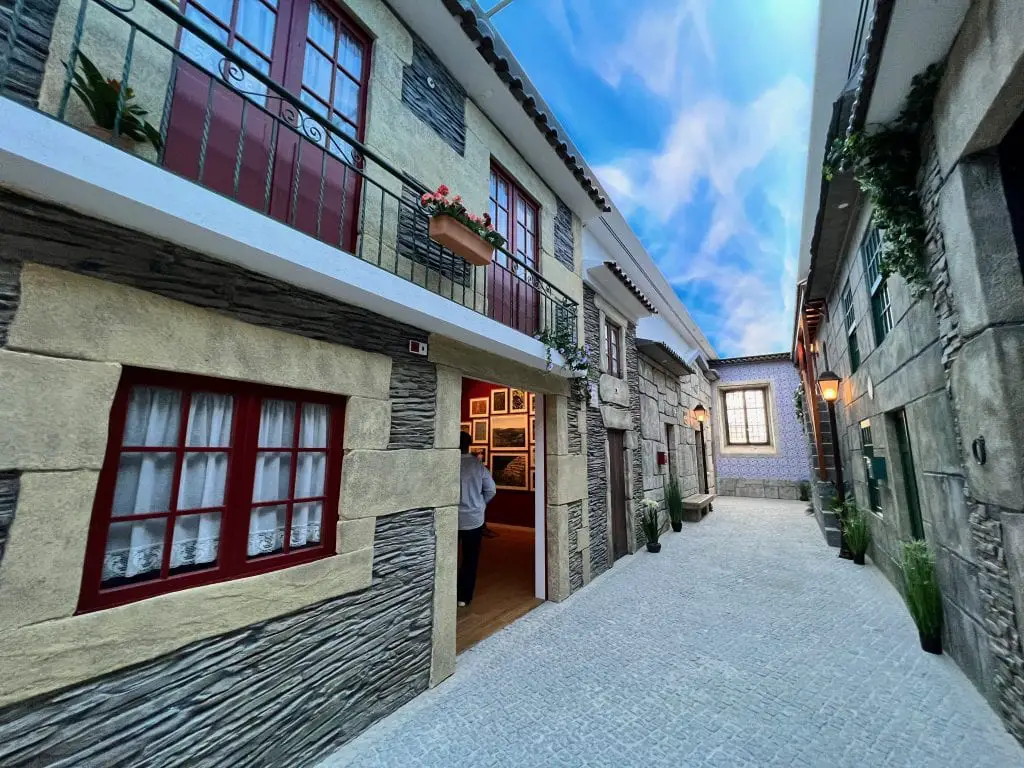 Walk through the streets of Portuguese towns, enter the winemakers' houses and learn about wines of Douro, Dao, Alentejo, Madeira, and Minhas.
Kids would love this unexpected visit to a winemakers' village.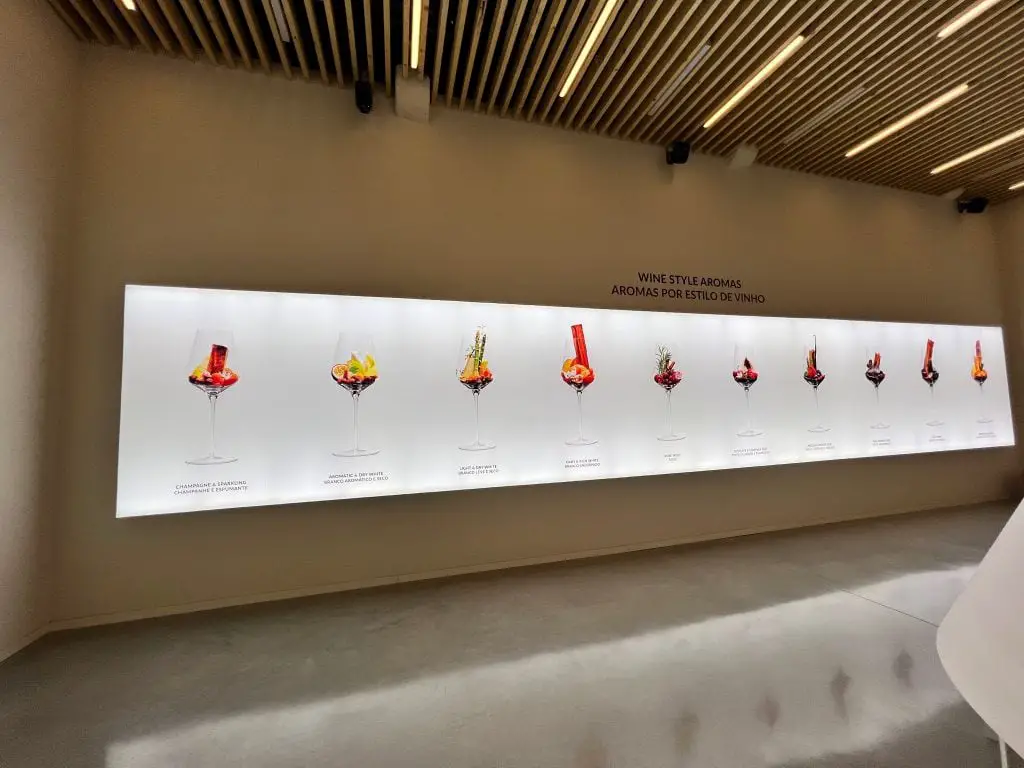 The visit to the WOW wine museum ends with a guided tasting of two wines in English or Portuguese.
I am a fan of museum souvenir shops and the ones at WOW are fantastic. Besides the souvenir stuff, there are interesting pieces by local designers and my favorite Portuguese pottery by Costa Nova.
How Long is the Visit to the WOW Wine Museum?
Depending on how much detail you want to cover, 1.5 or 2 hours would be sufficient to cover most of the WOW Wine Experience. 
Allow for more time to wander the WOW village, enjoy incredible views, browse shops, and have a coffee or a meal at one of the twelve restaurants. 
Dining Options at WOW Porto
1828 Steakhouse offers unrivaled views of Porto and Douro River complemented by the restaurant's elegant décor.
The steak beef is sourced from the Minho region of Portugal and Galicia in Spain.
Tuesday to Saturday from 7 pm to 11 pm
Angels Share is an intimate and relaxed bar wine bar with the best view of Porto from the outdoor terrace. Angels Share serves a wide variety of wines by the glass which can be paired with cheese and cured meat.  
Daily from 5 pm to 1 am
Root & Vine is a vegetarian restaurant with excellent views.
Monday to Friday from noon to 3 pm and from 7 pm to 11 pm
Weekends and Holidays from noon to 11 pm 
The Golden Catch is about fish and chips. Portugal is one of the best places to enjoy fresh fish. The Golden Catch offers an outdoor terrace onto WOW's central square.
Monday to Friday from noon to 3 pm and from 7 pm to 11 pm
Weekends and Holidays from noon to 11 pm 
Suspiro is a café located next to the main ticket counter. Suspiro is serving coffee and traditional Portuguese sweet treats.
Daily from 10 am to 7 pm
Mira Mira is a part of the Porto Fashion & Fabric Museum. An haute cuisine restaurant, it offers upscale tapas with a healthy twist.
Lemon Plaza is serving traditional Portuguese snacks and light meals .  Great for a sandwich or a meal to go.
V.P. Brunch is serving delicious brunch every day with the best view over Porto.
Daily from 10 am to 6 pm
Friday & Saturday also from 6 pm to 10 pm
T&C is located on the ground floor of the Wine School, in a renovated port wine cellar.  So far, it has been my favorite place with genuine Portuguese dishes that you can enjoy inside a former port fermentation vat.
Monday to Friday from noon to 3 pm and from 6 pm to 10 pm
Weekends and Holidays from noon to 10 pm 
Vinte Vinte Chocolate Café is located at the end of The Chocolate Story experience serving coffee and sweet treats made by its very own chocolate factory.
Weekdays from 11 am to 9 pm 
Weekends from 10 am to 9 pm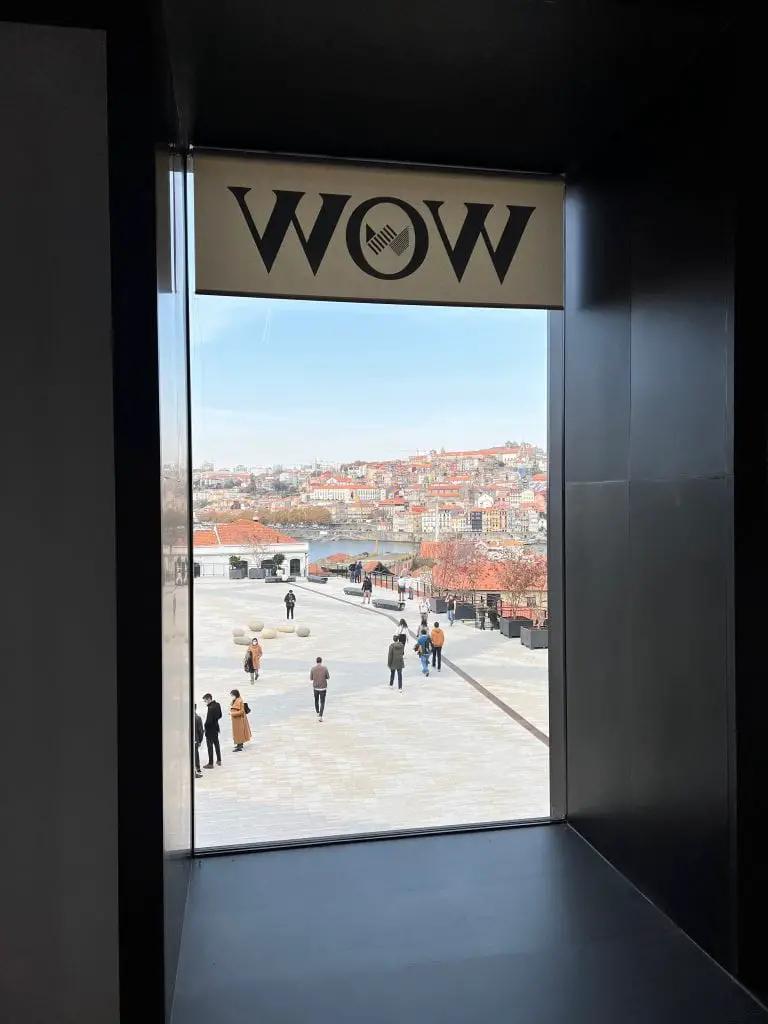 What I Thought About the Pink Palace Experience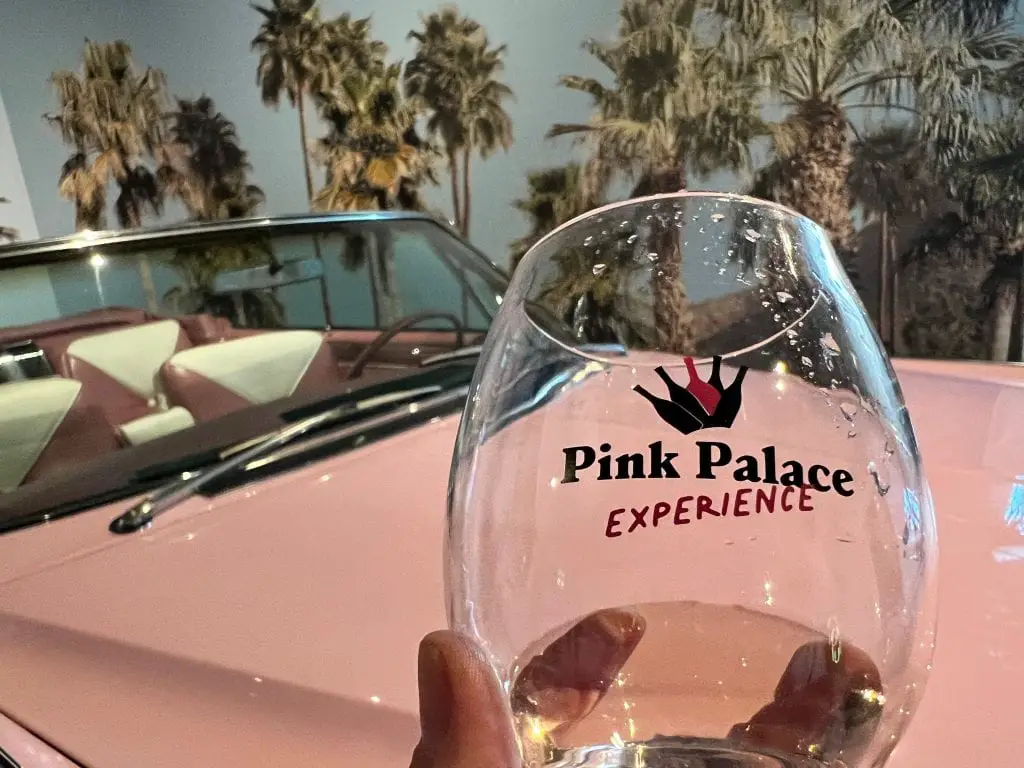 The Pink Palace is in a separate building and is dedicated to rose wine and pink port.
You are given a bracelet with five tokens which you can exchange for 5 tastings of rose wine as you wander through a short museum path: three samples of Portuguese rose, including the traditional Mateus brand, one rose from Provence, France, and a sample of Croft pink port, a novelty in the port world.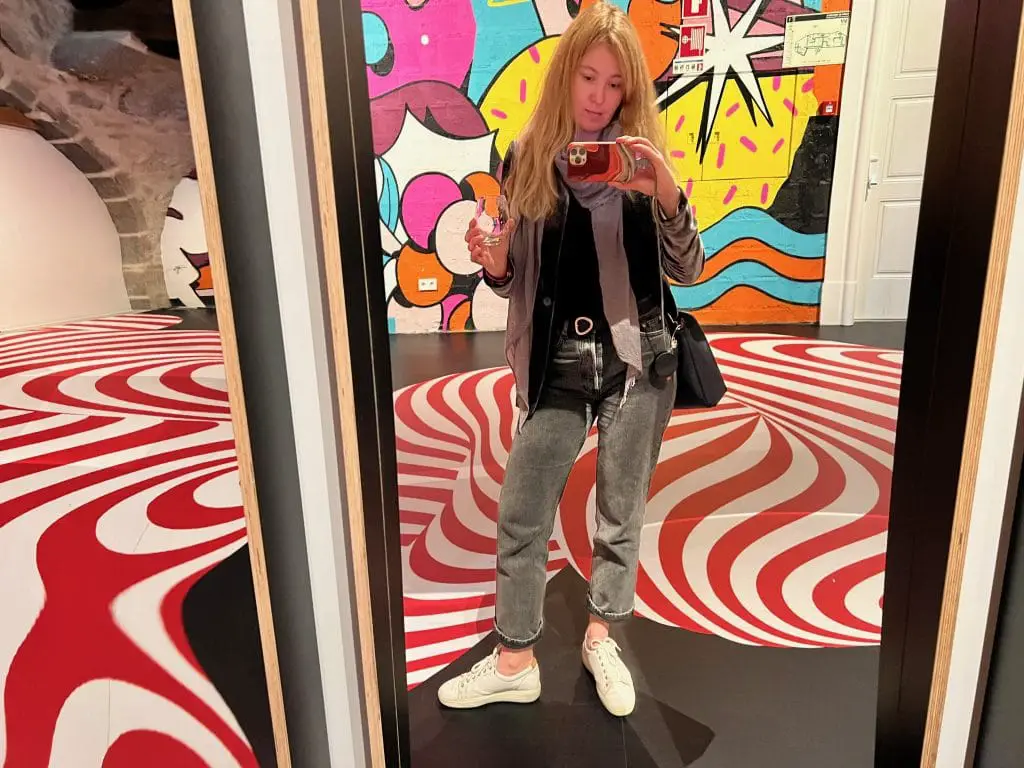 The Pink Palace is certainly more about entertainment than knowledge or history.  Here, get a little tipsy and shoot a bunch of Instagram photos.
It is a happy place, but I would rather spend my 25 euros on drinks elsewhere in the city of Porto.  However, if you are also visiting the Wine Experience, the Pink Palace ticket comes at only extra 3 euros, making it a very good deal.
Book your Douro Valley wine tour