The Douro Valley is mostly known for its fortified wine called port.  Over half of the region's vineyards are producing port wine.  In recent years, much greater priority is given to the production of table wines, in particular red wines.  White and rose wines are made in smaller quantities as well.  Table wines make up approximately 50% of total production.
When visiting the Douro Valley, you will have an opportunity to taste both port wines and table wines.  
Is the Douro Valley Worth Visiting?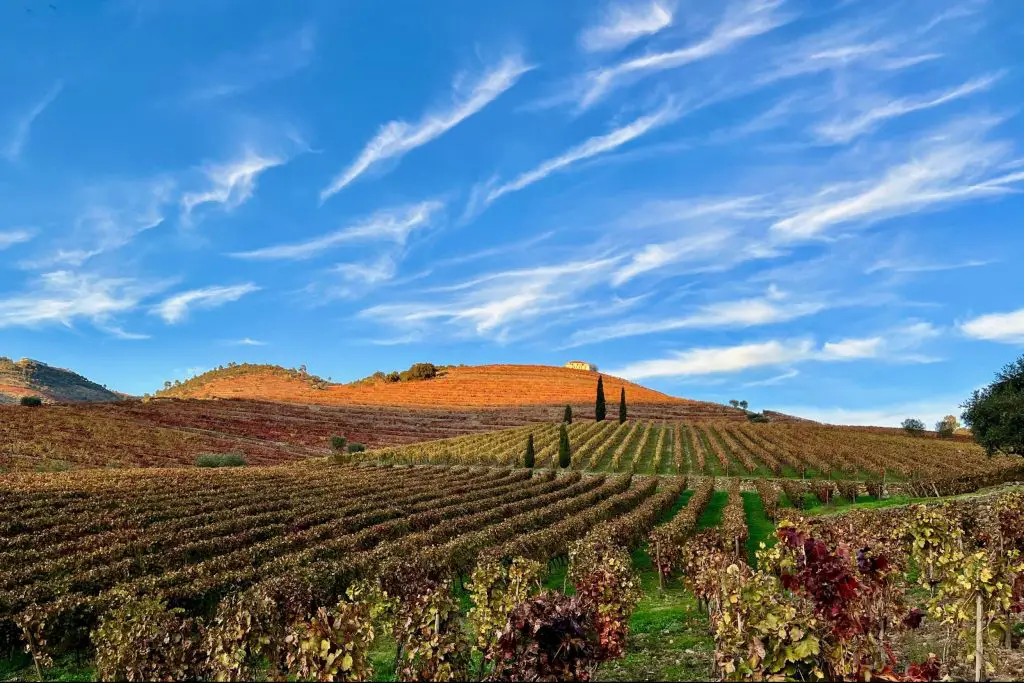 The Douro Valley wine region was first demarcated as the wine region in 1756 under the rule of Prime Minister Marquis de Pombal. 
Initially, the demarcation applied only to port wine, however, in the 20th century, it was extended to cover table wines produced under the rules Douro DOC denomination of protected origin.  
The demarcation limits the area where ports and Douro DOC wines can be made – along the river Douro, known as Duero in Spain, which runs through the Northern part of Portugal to the Atlantic ocean. Currently, the area is limited by the village of Barqueiros on the west and runs to the Spanish border on the east,
The vineyard area is sub-divided into three areas Baixa (Lower) Corgo, Cima (Higher) Corgo, and Douro Superior.  Cima Corgo with the center in Pinhao is considered to be the heart of premium port production.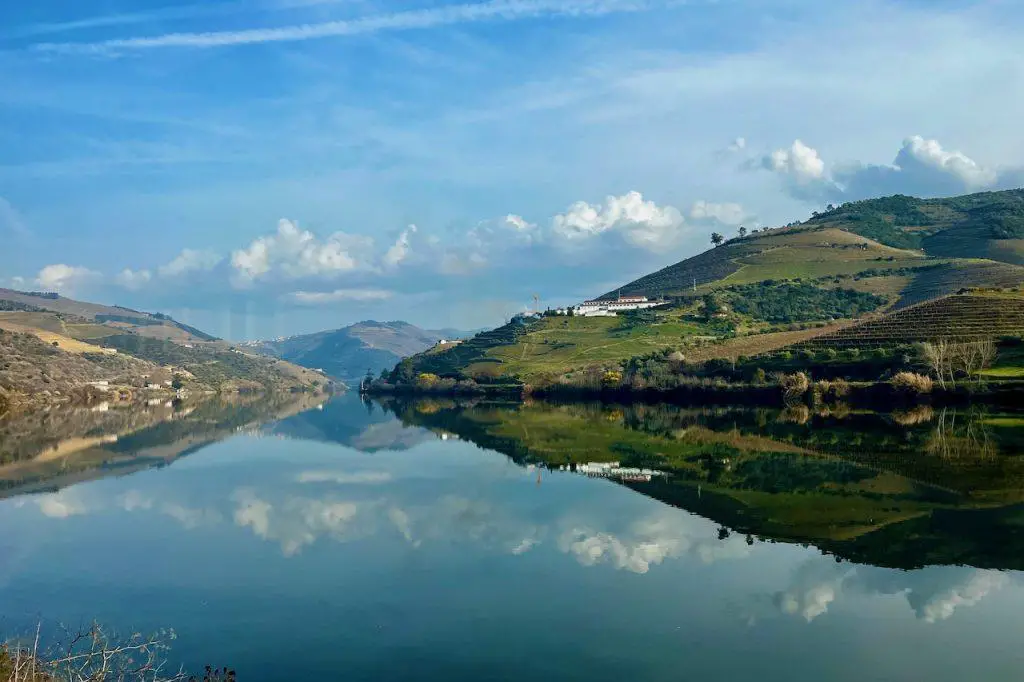 The vineyards in the Douro Valley are protected by the range of mountains of Serra do Marao reducing rainfall in the valley. The Douro Valley is hot and dry in the summer with temperatures reaching 35C-40C. The area can have rainy winters with freezing temperatures at times.  
Vines are grown on steep slopes of the hills, on thin and infertile schist soils, which allow for vine roots to grow deep to find the necessary water and nutrients in subsoils.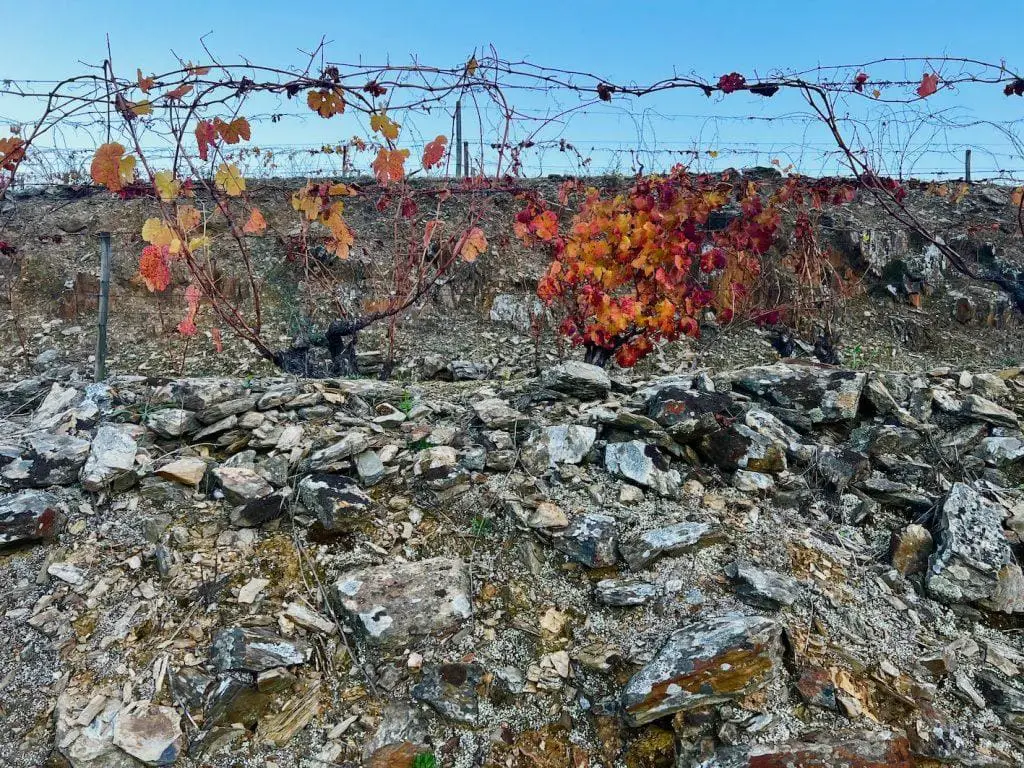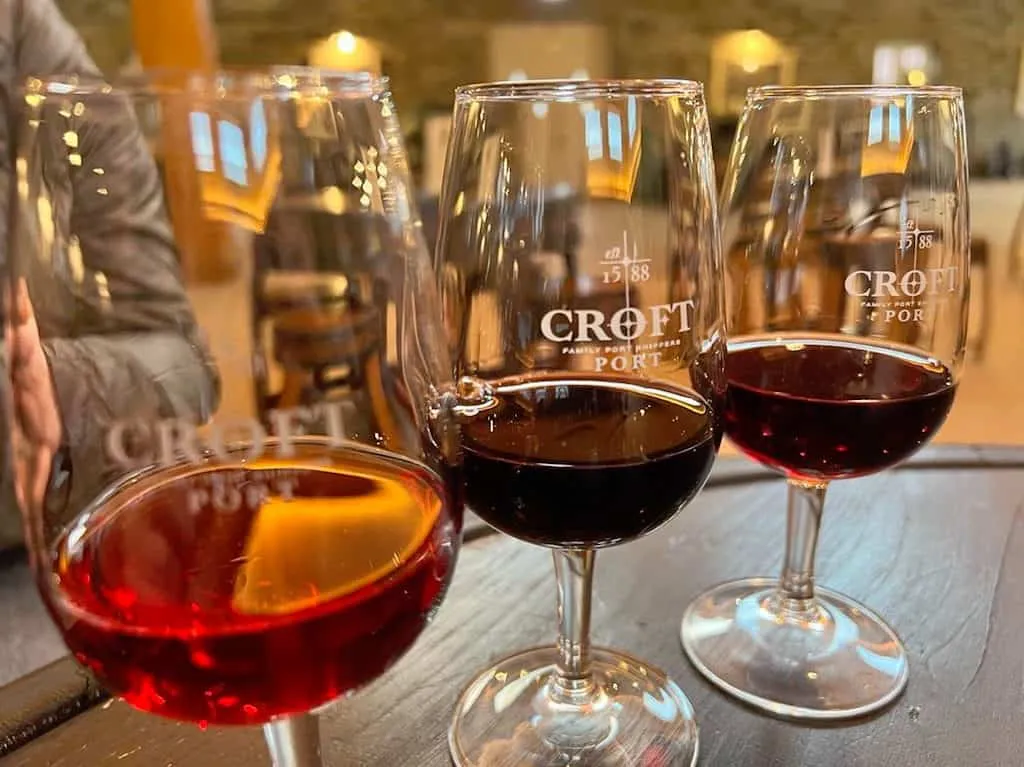 The history of port wine is tightly related to the 18th-century trade wars between England and France.  
With the outbreak of the War of the Spanish succession, French wines imported to England had become subject to heavy duties, which is why English wine merchants discovered wines of Portugal and the Douro Valley. 
Initially, in the 17th and the early 18th century, most of the wines produced in the Douro Valley were made in a dry style.  
To preserve the wine shipped to England, wine merchants started to add brandy to the wine.  Adding alcohol into wine 2 or 3 days into the fermentation process kills yeast and stops fermentation thus leaving residual sugars in the wine.  This explains the natural sweetness of port wines.  
Due to the addition of 77% abv spirit, port wines have an alcohol content of 19 to 20 degrees. 
Which grape varieties are used in port wine?
More than 80 grape varieties can be used to produce port wine.  
Old vineyards often contain a mixture of grapes, and the composition may be unknown to the winemakers.  New plantings that have been made more orderly contain mainly black varieties Touriga Nacional, Touriga Franca, Tinta Barroca, Tinta Roriz (Tempranillo) and Tinto Cao.   
White port is most often made of the blend of Malvasia Fina, Gouveio, and Viosinho.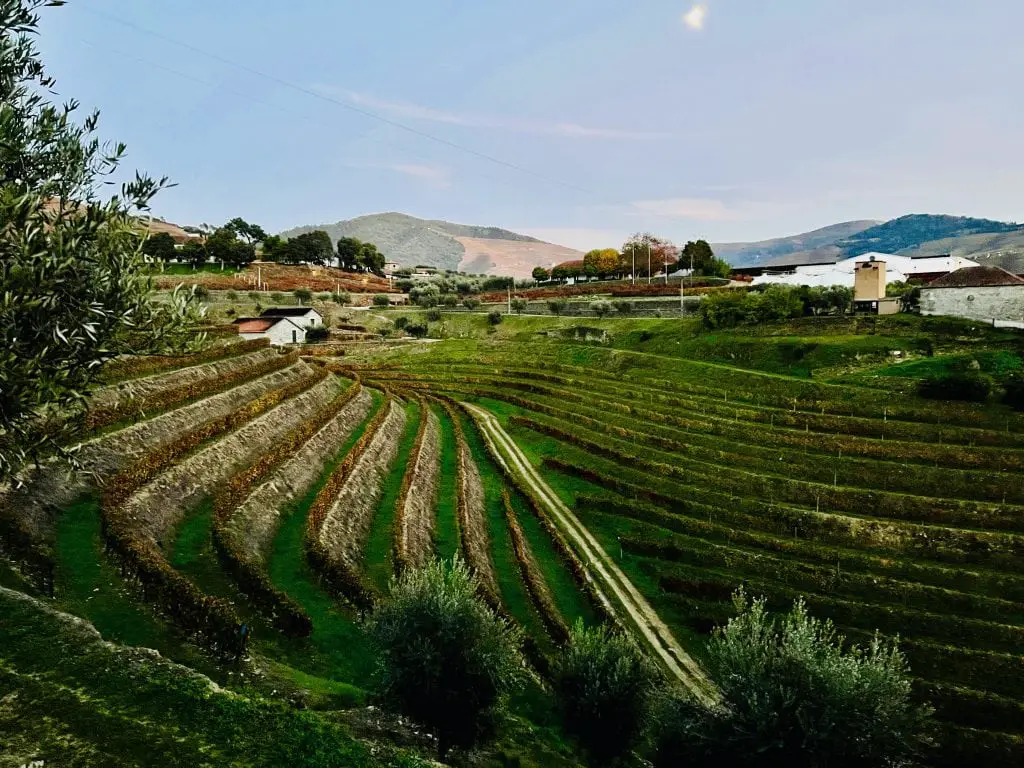 Vines are grown in 1 or 2 rows on steep hillside terraces where no mechanisation is possible.  These old walled terraces are called socalcos. 
More recently, in the 1970s, the system called patamares was introduced.  2 rows of vines are grown on terraces without retaining walls supported by vegetation.  
On a flatter area closer to the top of the hills, wines are grown un-terraced planted in rows up and down the hills.   
As the grapes are harvested by hand in September in the Douro Valley, they are brought to wineries equipped with lagares, low stone throughs made from granite.
Here, the grapes will be trodden by feet.  This type of treading is considered ideal for wine making.  On one hand, it allows to extract maximum of colour and tannins.  
Since fermentation for port wine only takes 2 or 3 days, as compared to several weeks for table wines, vigorous threading is required as typical red winemaking techniques are not extractive enough.  On the other hand, human feet do not squish grape seeds that would make wine bitter.
Today, some wineries in the Douro Valley producing premium-quality ports still use lagares, however, many have replaced humans with treading machines (piston plungers and robotic lagares), others are using autovinification tanks.  
It is still possible to experience foot treading in the lagares at several Douro Valley quintas in September.
How to Visit Wineries in The Douro Valley?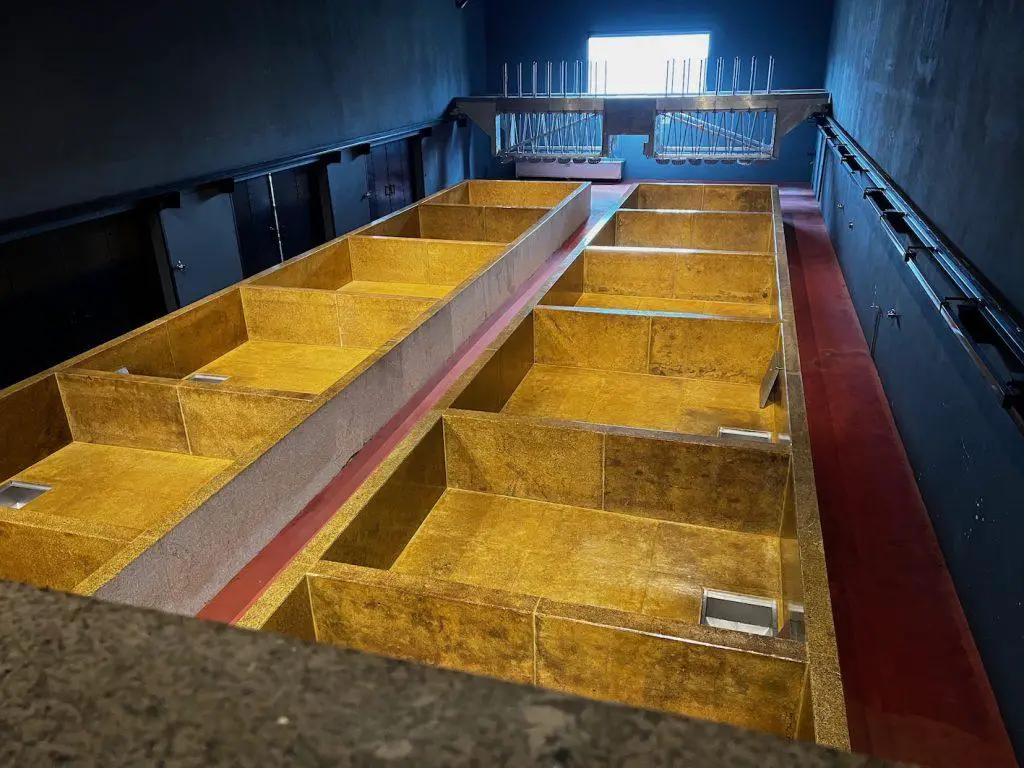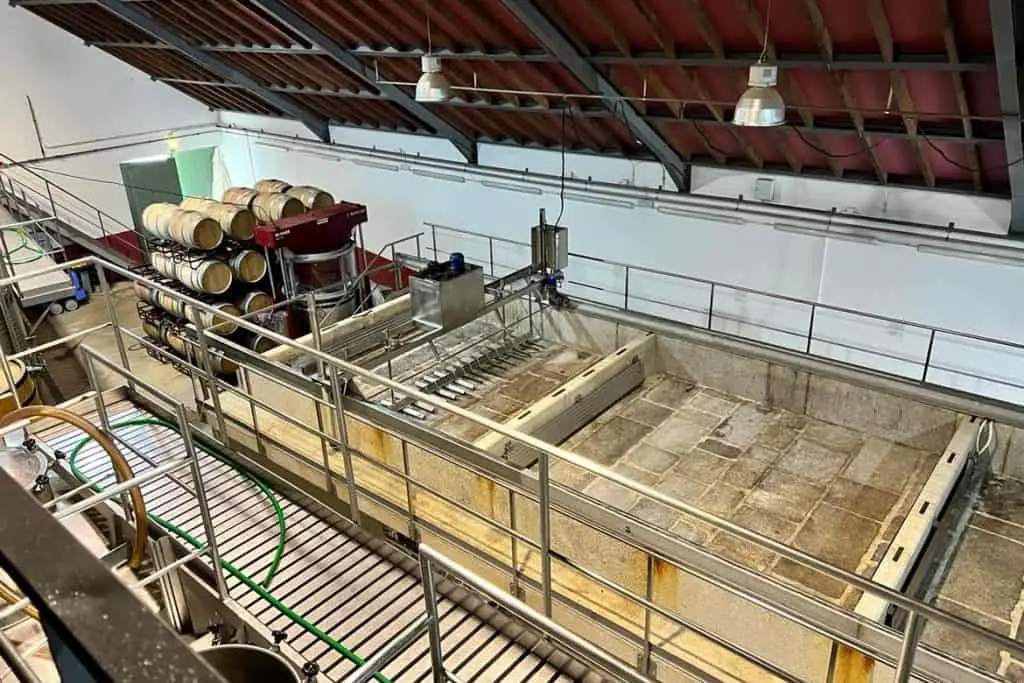 Following the fermentation for 24 to 36 hours, the must is transferred by a system of pipes into vats filled by one-fifth with 77% abv grape spirit.  Alcohol kills the remaining yeasts and the fermentation stops.
After vinification, the wine will be kept at quintas until spring when it will be shipped by trucks to the port lodges in Vila Nova de Gaia across the river from Porto.  Historically, the Rabelo boats were used for wine shipping.  The boats have been replaced by trucks.
The climate in Porto is cooler and more humid than in the Douro Valley, which is considered to be important for slow ageing.
The wine spends a number of years in wooden casks in the lodges of Vila Nova de Gaia until it's time to blend and bottle. 
More recently, some quintas started ageing ports at the Douro estates using air-conditioned cellars. Quinta do Noval is one example of this approach.
The shipping and ageing process is strictly controlled by IVDP,  the Institute of Douro, and Port Wines, which oversees all aspects of port wine production and trade.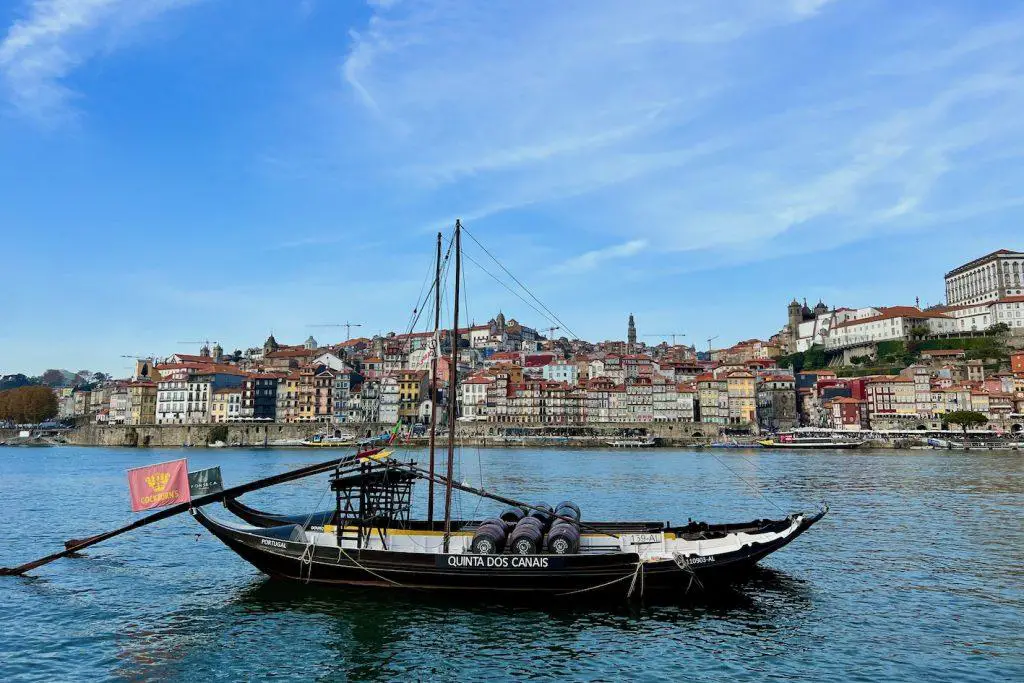 Ports can be divided by the role of oxygen in their maturation as well as by quality levels.
Ruby ports
Ruby ports are usually the simplest and the least expensive. 
Ruby ports are aged in bulk for two or three years and bottled while the color is still not affected by oxidation.  Ruby ports have berry fruit aromas and flavors.
Premium ruby ports can be produced as ruby Reserva, LBV, Crusted, Vintage, and Single Quinta Vintage.
Tawny ports
Tawny ports are aged in wooden casks for six years or longer.  With time, the wine loses its color and becomes amber-brown while gaining a soft and silky structure and elegant nutty character.
Tawny Reserva must spend at least seven years in wood.  You will also find 10-year-old, 20-year-old, 30-year-old or 40-year old tawnies.  The indication of age is approximate, as tawnies can be blended from a number of years, which should average the age declared on the label.
White ports
Modern white port styles are made using little or no skin contact during fermentation.
White ports can be made in intensely sweet lagrima style or drier style called leve seco.
Pink ports
Pink ports is a relatively recent innovation introduced by Croft port in 2008.
The pink port was initially classed as "light ruby", however, it has now become one of the industry standards and several port houses produce pink port.
Similar to rosé wines, the pink port is made from red grape varieties vinified with minimal skin contact.
Colheita is a unique type of port.  These wines are made from single harvest wines with the date of the harvest displayed on the label.  These ports are reflecting the nuances of a particular vintage/year.
Vintage port is the most expensive style of port.  It can only be produced from grapes grown on the best plots. Grapes must reach ideal ripeness.  Vintage ports are only made years in years with excellent summer conditions.  Port houses declare their vintage years which must be approved by the IVDP.  
Single-quinta vintage ports are made using the French chateau principle from grapes of one estate. Single-quinta ports are sold only when it's ready to be consumed, usually 8 to 10 years after the harvest. 
LBV, or late bottled vintage port, is a wine from a single year, bottled 4 to 6 years after the harvest.  LBV ports need to be decanted before serving.
Crusted port is called this way because of the deposit that is accumulated in the bottle,  the "crust", as they are bottled young with little or no filtration.  Crusted ports are full-bodied with rich dark color.
Where to taste Port wine?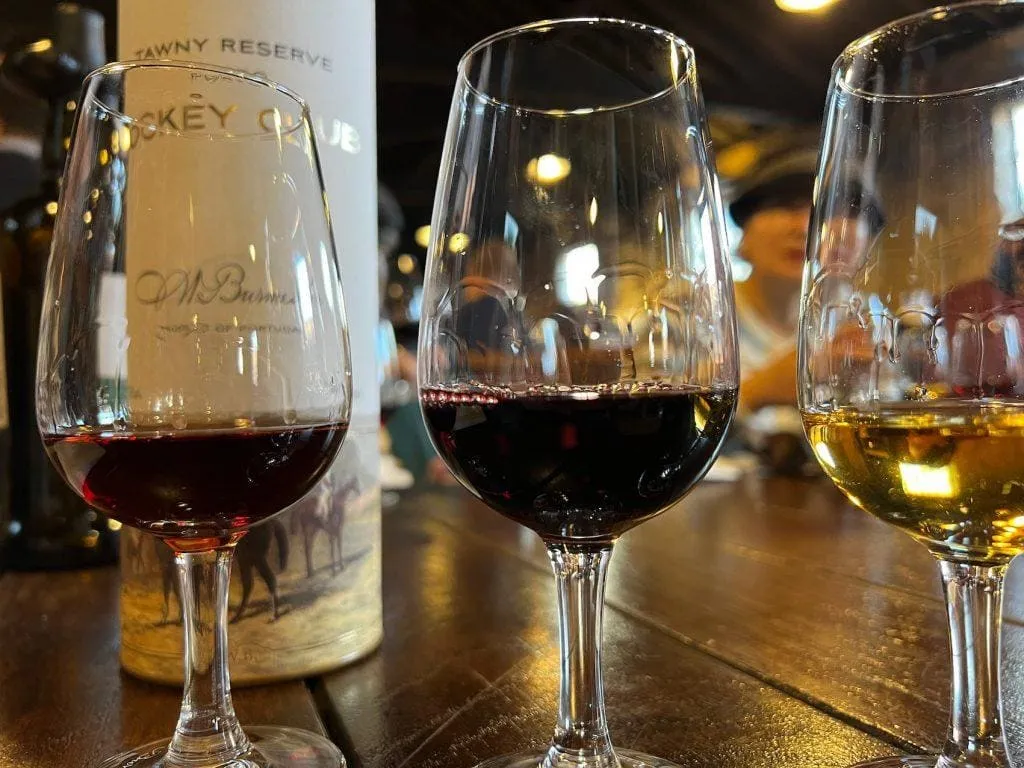 Port wines can be tasted at port wine lodges of Vila Nova de Gaia across the river from Porto.  
I have listed my favourite houses here: Best Port Wine Houses to Visit in Porto
Here are some quick links to book your visits via Getyourguide or Viator:
If you are visiting several port lodges and other attractions in Porto, the Porto Card can save you a few euros.  They give a 10% to 50% discount on tastings and wine purchases at several port lodges including Calem, Sandeman, Ferreira, Graham's, Taylor's, Ramos Pinto, Real Companhia Velha, Poca, Burmester, and Fonseca.
If you have at least an extra spare day in Porto, I highly recommend visiting the Douro Valley. 
Besides wine tasting, the Douro Valley is a must-visit for its landscapes, history, and developing gastronomic scene.  
Is the Douro Valley Worth Visiting?
In my blog, I write about the best quintas to visit and how to reach them from Porto and Lisbon.
It is the easiest to taste port wines in the Douro Valley by joining a Douro Valley wine tour from Porto.
The WOW Wine Experience
The top Eropean wine museum in Porto
Table wines of the Douro Valley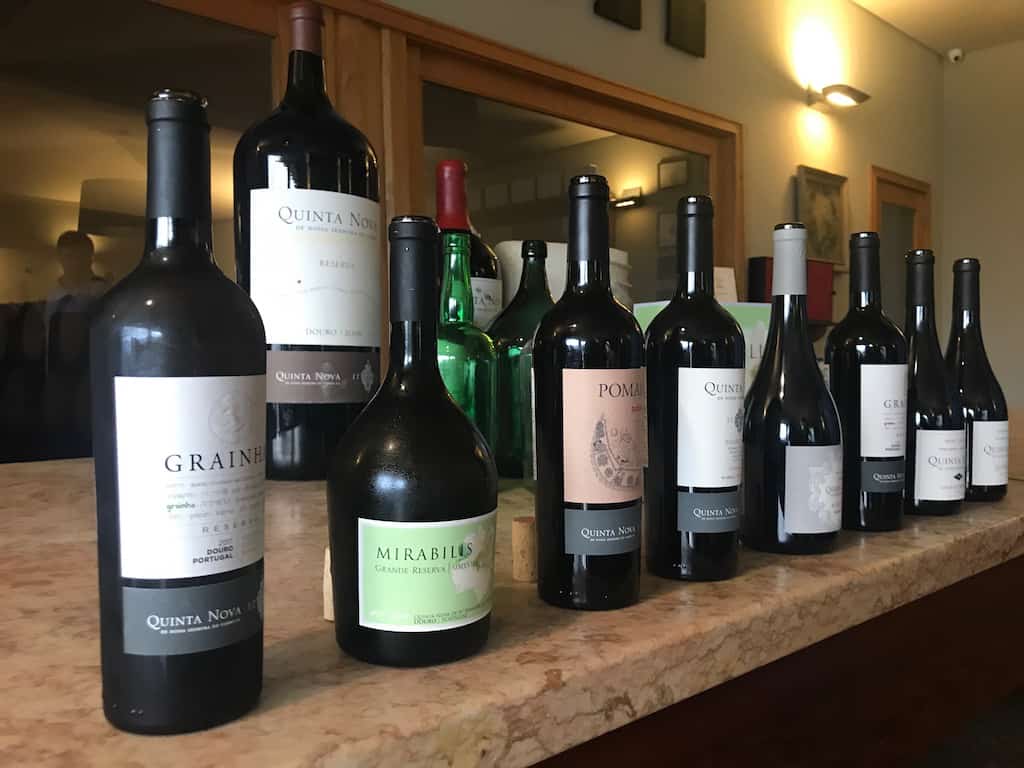 In the past, the best Douro Valley grapes were used in the production of port wine. 
Recently, a number of port winemakers and individual quintas are giving much greater priority to table wines.
The trend started in the 1950s when Ferreira port house started producing Barca Velha, one of the favorite Portuguese wines.  Today, quality Douro DOC wines are widely available in Portugal and exported around the world.
Which grape varieties are used to make Douro table wines?
Touriga Nacional and Tinto Roriz (Tempranill) are the most popular black grape varieties in the Douro Valley.
Gouveio, Malvasia Fina, Rabigato and Viosinho are widely used for Douro white table wines.
How to read Douro wine labels?
Douro table wines can red (tinto), white (branco) and rose (rosado).
Douro DOC refers to the Denominação de Origem Controlada – appellation of protected origin and indicates that the wines were produced in the demarcated area and followed all appellation rules.
Espumanto do Douro (sparkling wines) and Colheita Tardia (late harvest wines) may be also produced as Douro DOC.
Vihno de Mesa – table wine
Vinho Regional – regional wine
In terms of quality, wines can be produced to meet certain criteria and be labeled Reserva or Garrafeira.
Reserva indicates that wine from signed vintage was tasted by a panel and meets the alcohol content requirements of 11.5% for white and rosado wines or 12% for red wines.
Garrafeira ("private wine cellar") meets all Reserva requirements plus aged for at least two years in a cask, followed by one year in bottle for reds and six months for in bottle for whites.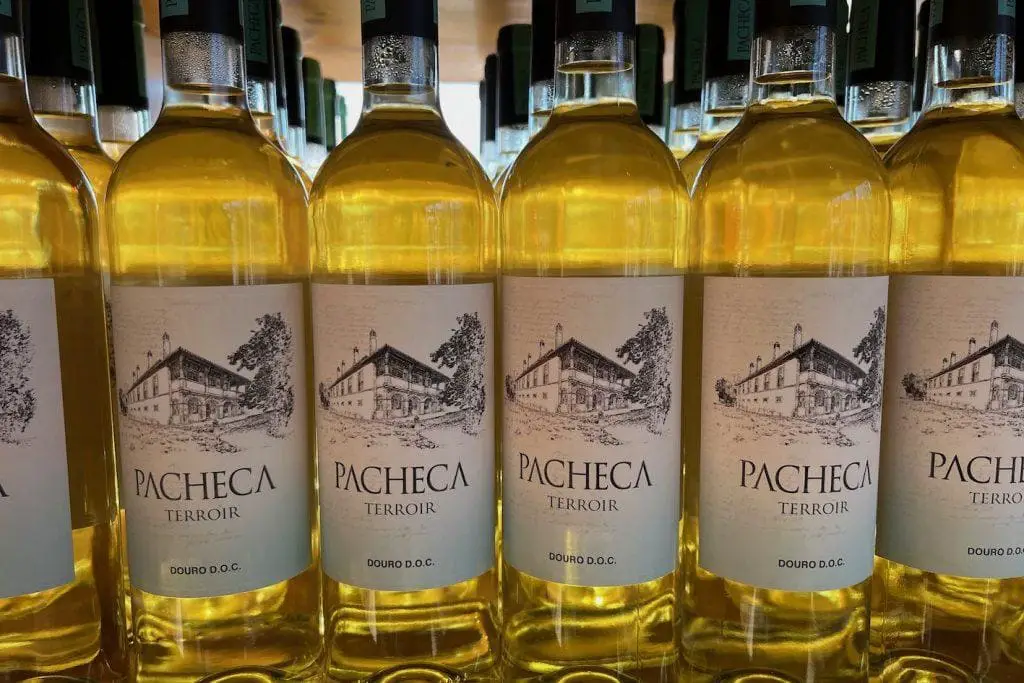 Where to Stay in the Douro Valley?
Pinhao and Paso da Regua are the main towns for wine tasting in the Douro Valley.  See more information about the centers of wine production in the Douro Valley in my article.
You can stay at a hotel in Pinhao or Regua.  
Recently, several hillside quintas opened excellent hotels and B&Bs.
Useful Portugal Travel Links