In 1820, brothers William and John native to Scotland and running a textile business in Porto, accepted twenty-seven barrels of port wine as payment of a debt. And the story of W&J Graham's began.
Since then, the Graham family, already involved in international trade, had invested in developing the port wine business. The famous Graham's lodge in Gaia was built in 1890, and during the same year, the Grahams bought Quinta dos Malvedos, the estate which plays a key role in the finest Graham's ports to this day. 
In 1970, Graham's was acquired by the Symingtons, a British and Portuguese family which also owns other premium port brands including Cockburn's and Dow's. 
A small museum at Graham's displays a collection of historic documents and photographs that bring up the past of the two families – the Grahams and the Symingtons – and their work creating what Graham's is today. 
One of the most prestigious wine brands in the world
Graham's is a widely known brand of fine ports.  The company sells its products in 80 countries.
Since 2017, the Symington Family Estates are the official supplier of Graham's port to the British royal court.  It is known that Graham's 1977 Port was one of the favourite drinks of Queen Mother.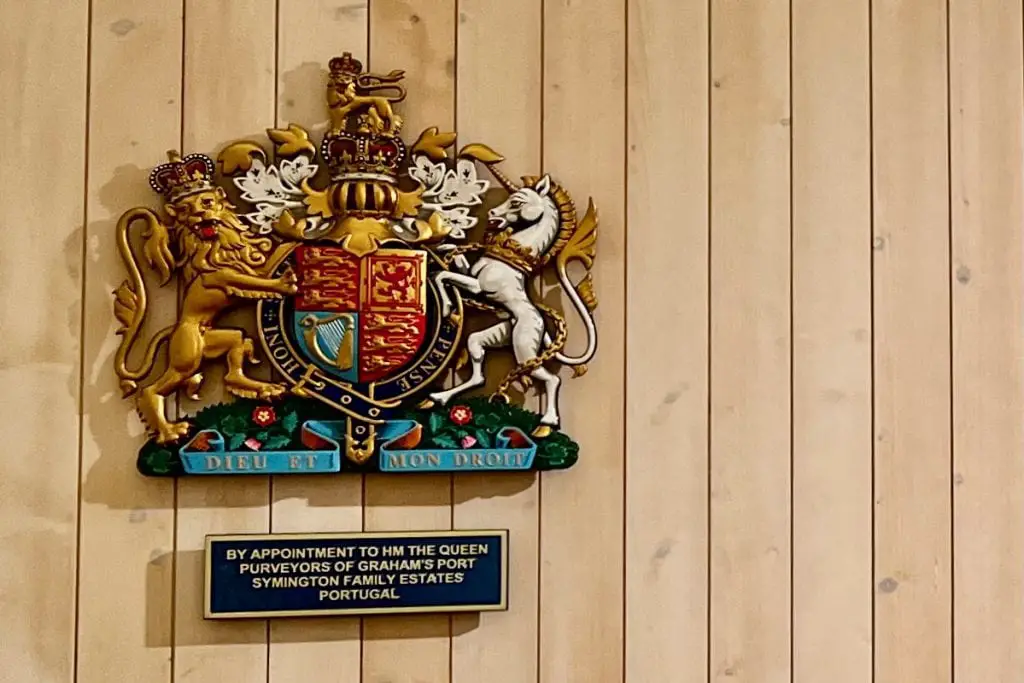 The Royal Warrant of Appointment issued by Queen Elizabeth II is proudly displayed at Graham's lodge welcome center and on the port lodge doors. 
Graham's port is a family-owned company. Since Andrew James Symington arrived in Porto in 1882, five generations of the Symingtons have been producing port wines.  Today, the business is managed by 10 family members representing the 4th and the 5th generations of the Symington family. Graham's is the only remaining British Port company independently owned by a single family.
Symington Family Estates is a member of Primum Familiae Vini, an association of the twelve "Leading Wine Families" of the world that unites family dynasties of Antinori, Sassicaia, Baron Philippe de Rothschild, Pol Roger, Vega-Sicilia, Famille  Hugel, and other big names in the wine industry.  
This precious case displayed in the visitor centre contains bottles made by the twelve celebrated family businesses, where Graham's is the only port wine.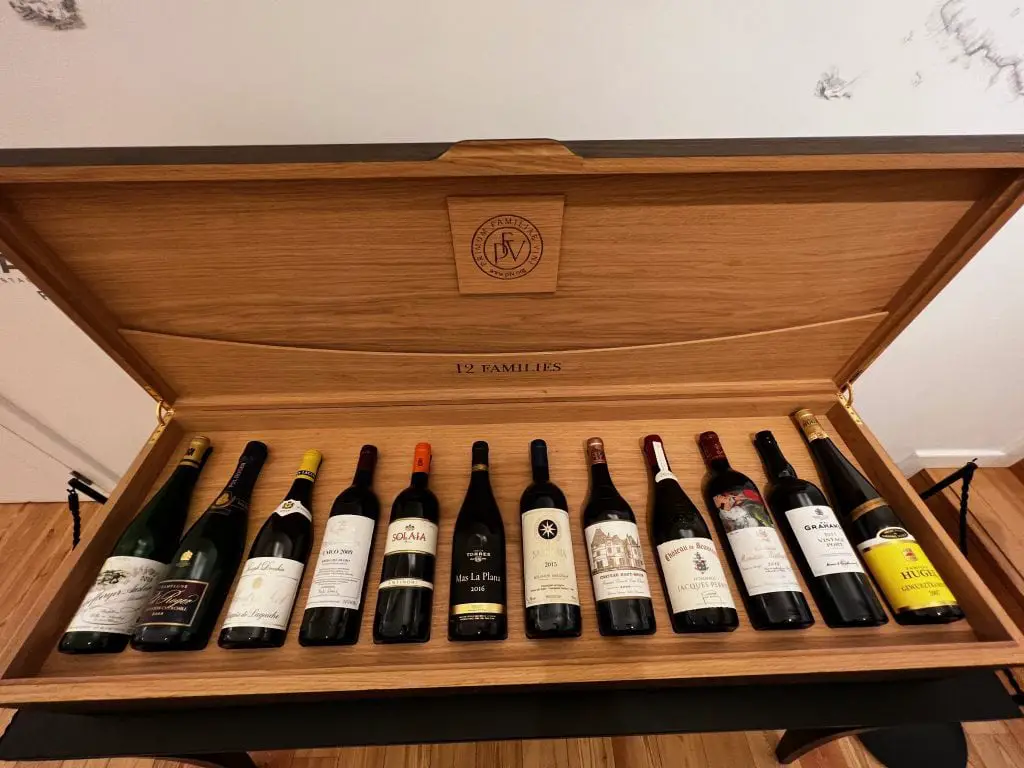 My tour started with a video showing the wine estates of the Douro Valley quintas and the people who are making port behind the scenes.  
Quinta dos Malvedos, Quinta do Tua, Quinta da Vila Velha, and Quinta do Vale das Malhadas in the Upper Douro Valley are the main grape-growing estates for the top Graham's ports.
Wines are fermented and fortified at the Douro Valley quintas and later transported to Graham's port lodge in Vila Nova de Gaia.
Here, wines would age in 40 huge wooden vats, smaller casks, or in a bottle aging cellar.
To keep vats and casks in good shape, it is important to keep the right humidity level in the cellars, I have learned that the gravel-laid cellar floor plays a key role in that.
Vats and casks are used here for decades and require regular upkeep.  During my visit, I was able to watch Graham's team of coopers fix one of the huge metal rings to prevent leaks.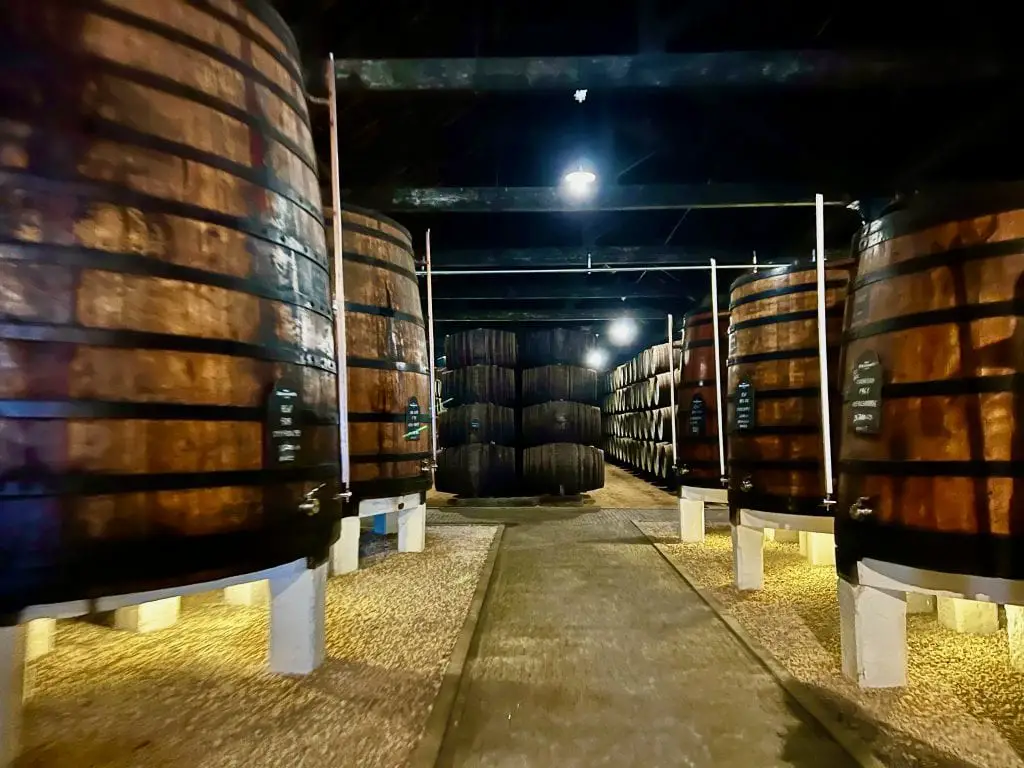 The smaller oak barrels are holding future tawny ports. There are 2,000 of them!
What an exquisite aromatic experience – the aromas of raisins, dry fruits, and nuts are in the air.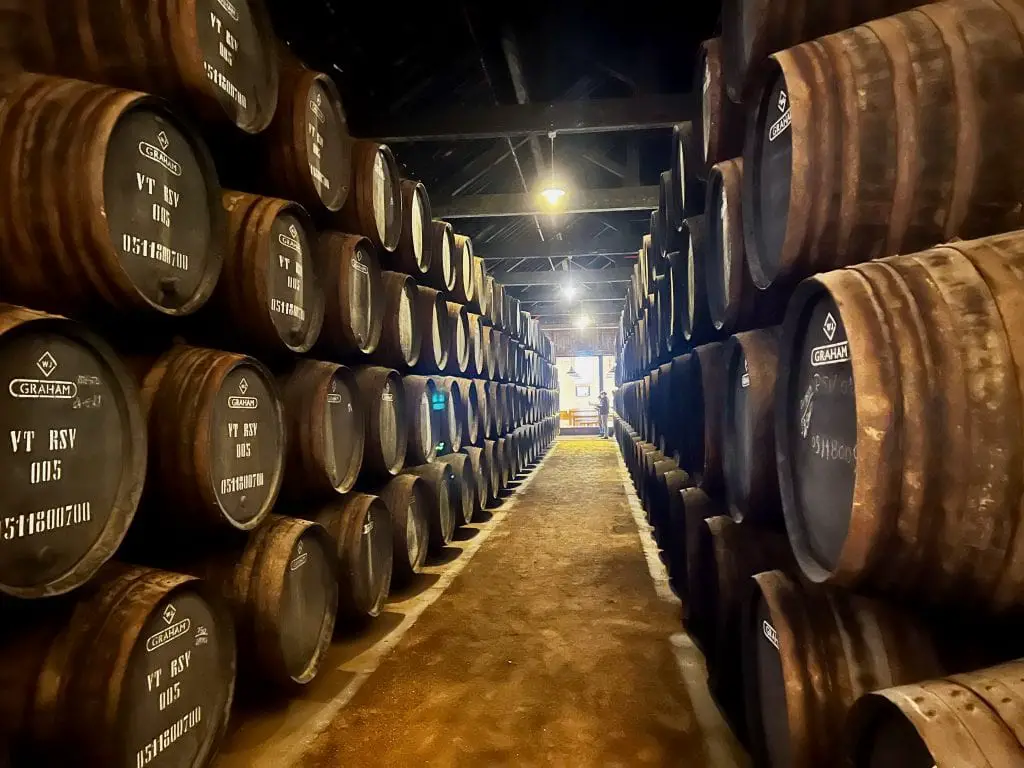 These casks marked VV Old Tawny contain port that dates back to the arrival of Andrew James Symington in Portugal in 1882. 
The family has bottled 656 bottles of this very old port named 'Ne Oublie' leaving the two barrels to the next generation of the family. 
We are also taken to the Vintage Port cellars with thousands of port bottles, some of which have been held here for over 100 years.
An extended port wine tasting menu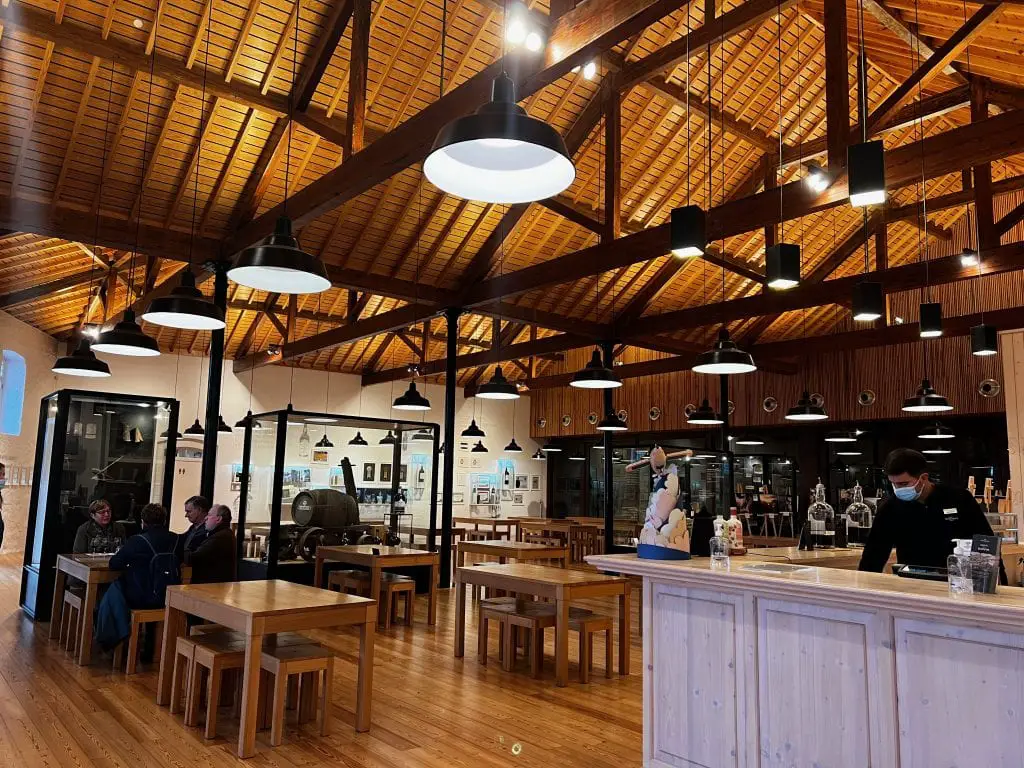 A guided tasting is held in a spacious and bright main tasting room with a view of Porto and a barrel cellar.
A classic guided tasting includes a tasting of three – usually, they are Six Grapes, LBV, and 10 Year Old Tawny. 
You can also upgrade to a premium port tasting, which at the time of my visit was
Premium Port Tasting
Six Grapes, Crusted Port, and Quinta dos Malvedos.
Premium Tawny Tasting
The Tawny, 10 Year Old Tawny, and 20 Year Old Tawny.
Premium Tasting with Pairings
Graham's LBV & Chocolate, Graham's Quinta dos Malvedos & Cheese, Graham's 20-Year-Old Tawny & Custard Tart.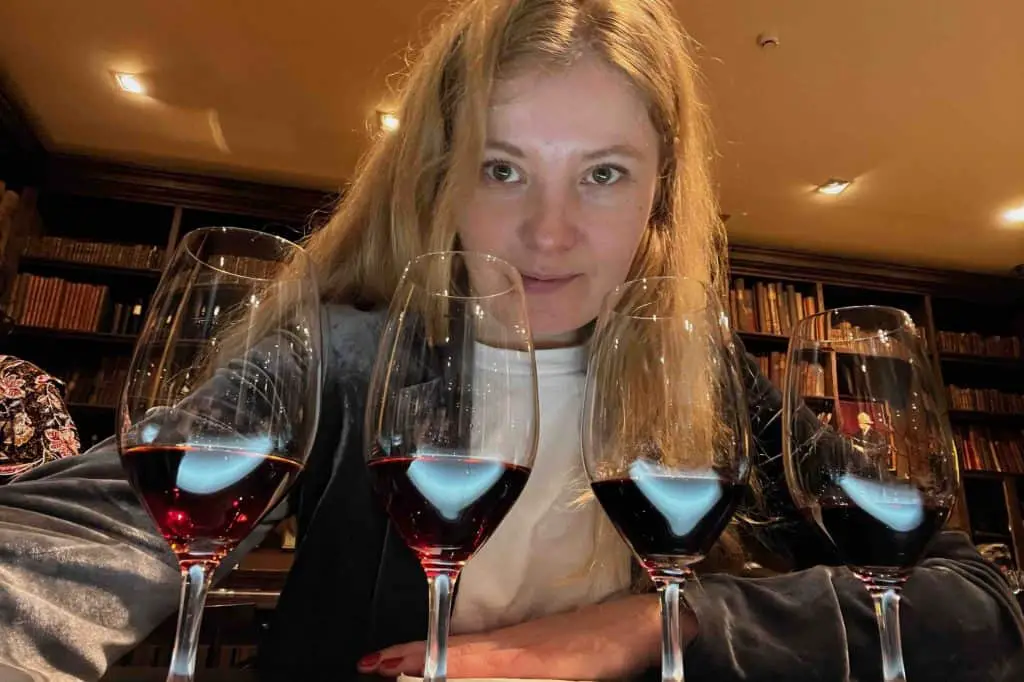 Our tasting was held at the Vintage Room.  Here, you can enjoy the atmosphere of a classic salon with comfortable armchairs and 19th-century books that perfectly suits the tasting of premium and rare ports.
The port house offers "the Graham's Tasting" in the Vintage room.   You can also upgrade to a Super Premium tasting of tawny and vintage ports.
The Graham's Tasting
Graham's LBV, Single Harvest 1990 and Quinta dos Malvedos Vintage
Super Premium Tawny
30 Year Old Tawny, 40 Year Old Tawny, and Single Harvest 1994.
Super Premium Vintage
Graham's Vintage Ports 1983, 2000, and 2016.
Symington Tasting
Graham's 2007 Vintage, Quinta do Vesúvio 2000 Vintage, Dow's 1994 Vintage, Warre's 1980 Vintage, Graham's 10 Year Old Tawny, 20 Year Old Tawny, 30 Year Old Tawny and 40 Year Old Tawny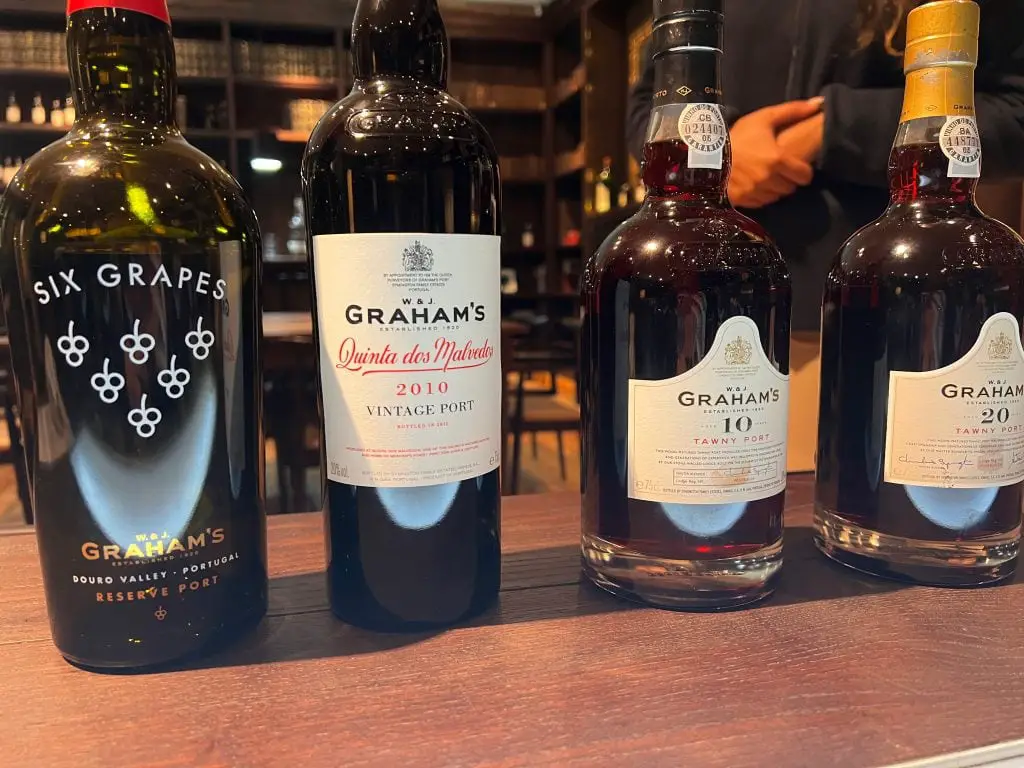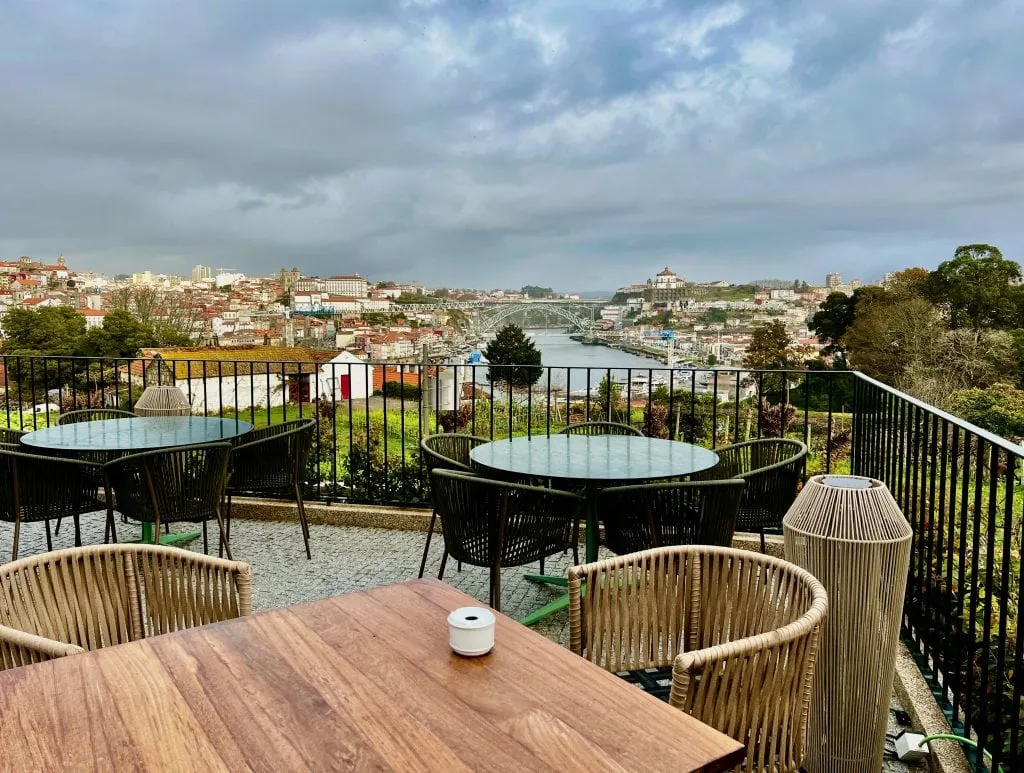 Graham's wine lodge is located above most other famous port wine houses in Gaia, yet only a few blocks from its buzzing waterfront.
Just a short climb up the hill and you will be rewarded with some of the best views of Porto and the Dom Luis I bridge as you enjoy a glass of wine or a meal on the terrace of the Vinum Restaurant and Wine Bar.
Symigton Family Estates are also producing dry wines in the Douro Valley and the Alentejo regions available to taste at the wine bar or to buy at the boutique.  
A special treat is olive oil made from olives grown at Douro Valley vineyards.
Focus on vistor experience
Having visited hundreds of wineries, I felt that Graham's is focused on giving its visitors a complete high-end experience.  
It starts with friendly tour guides and goes all the way to modern tasting rooms, a well-thought tasting menu, an inviting state-of-the-art boutique and restaurant with the most impressive views on Porto.  
Enjoy your visit and wine tastings at Graham's! 
Book your Douro Valley wine tour
If you are staying in Porto for several days, and plan to mostly visit the city's historic sites and taste some wine, I would recommend to stay in the city center. 
Anywhere in the proximity of Sao Bento train station, within 10 minutes walk from it, will make sense.  Also, consider areas in Ribeira by the river.
If you prefer Vila Nova de Gaia, on the opposite side from Porto, consider areas close to the Dom Luis I bridge or close to metro stations, as you will most likely have to walk or commute to the Porto side.