No, there is no Uber in the Douro Valley. Currently, Uber and other taxi apps operate in major cities in Portugal, including Porto, which is the closest major city to the Douro Valley, however the Douro Valley region is not yet covered.
I understand that Uber's main competitor in Portugal, Bolt is not available in the Douro Valley either.
However, there are alternatives for moving around the Douro Valley.
Alternatives to Uber in the Douro Valley
Car rental
It is best to explore Douro Valley by car. Having a car gives you the freedom and flexibility to explore the Douro Valley at your own pace. You can create your own itinerary, visit beautiful and more remote wineries, and discover hidden gems that may not be easily accessible by public transportation.
The systems of highways in Portugal is great, so you can reach the region easily.
The Douro Valley is known for its breathtaking landscapes. The scenic drives along winding roads, terraced vineyards, and the Douro River provide stunning views at every turn.
With a car, you can easily visit multiple wineries in a day as opposed to travelling by train which would allow to visiting 1 or maximum 2 wineries per day.
Some great hotels in the Douro Valley require a car to get to.
When travelling the Douro Valley by car it's important to keep in mind a few considerations:
Be prepared for narrow and winding roads in some parts of the Douro Valley.
Be careful to not drink and drive.
Parking may be limited in Pinhão and Peso da Régua, but otherwise, there is not a big problem with parking in the Douro Valley.
Consider that you would need to pay tolls on most highways.
For local car rental rates you may want to check rentalcars.com.
If you are planning a self-guided Douro Valley wine tour my articles may help you:
Self-guided Douro Valley Wine Tour
One-day Douro Valley Itinerary
Taxi in the Douro Valley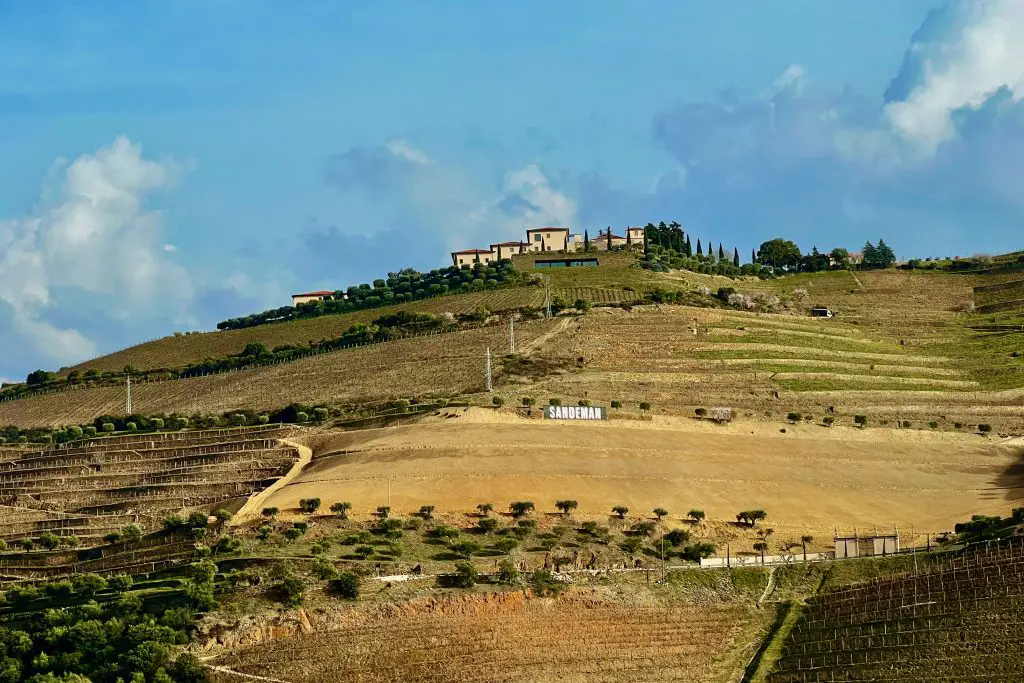 It is possible to hire a taxi in bigger towns in the Douro Valley. For example, there are taxi stands at Peso da Régua and Pinhão train stations.
You can also call a taxi. Some useful numbers to save:
Taxis Régua Douro Valley: +351 934240572
Taxi Alves Pimenta Lda – Vila Real: +351 259 324 353
Fares are not that high to move between wineries, around 10 euros for a 10-minute drive, however, a taxi ride from and to Porto may become a bit expensive. During a rail strike, we hired a taxi from Pinhão in the Douro Valley to Porto for 160 euros.
In many cases wineries and hotels in the Douro Valley will call a taxi for you.
Private driver to Douro Valley
Hiring a private chauffeur to travel to the Douro Valley seems like the best option. You can hire a driver in Porto or in Lisbon and spend a day leisurely exploring the Douro Valley.
This is a good solution for those with a lot of luggage and wanting to visit wineries in the Douro Valley. Get private transfer rates through gettransfer.com where you can hire a driver for several hours, or check out one of the transfer options below.
Train in the Douro Valley
You can take a train from Porto to the Douro Valley. I describe this journey in detail in Douro Valley by Train from Porto.
When already in the Douro Valley you can use the train to move between Pinhão and Peso da Régua and Pocinho, however the service is infrequent and not 100% reliable at times due to strikes.