The Douro Valley boasts some truly stunning scenery, with its steep slopes and winding mountain roads that can make even short distances feel like a grand adventure.  
However, exploring the Douro Valley by car is entirely doable. Most of the roads are well-kept, clearly marked with signs and road markings, and equipped with guardrails in the riskiest spots. Plus, road conditions have improved in the past years, resulting in a much lower accident rate.
If you like to feel safe avoid smaller winding mountain roads and stay close to the main towns in the Douro Valley.
Driving to the Douro Valley from Porto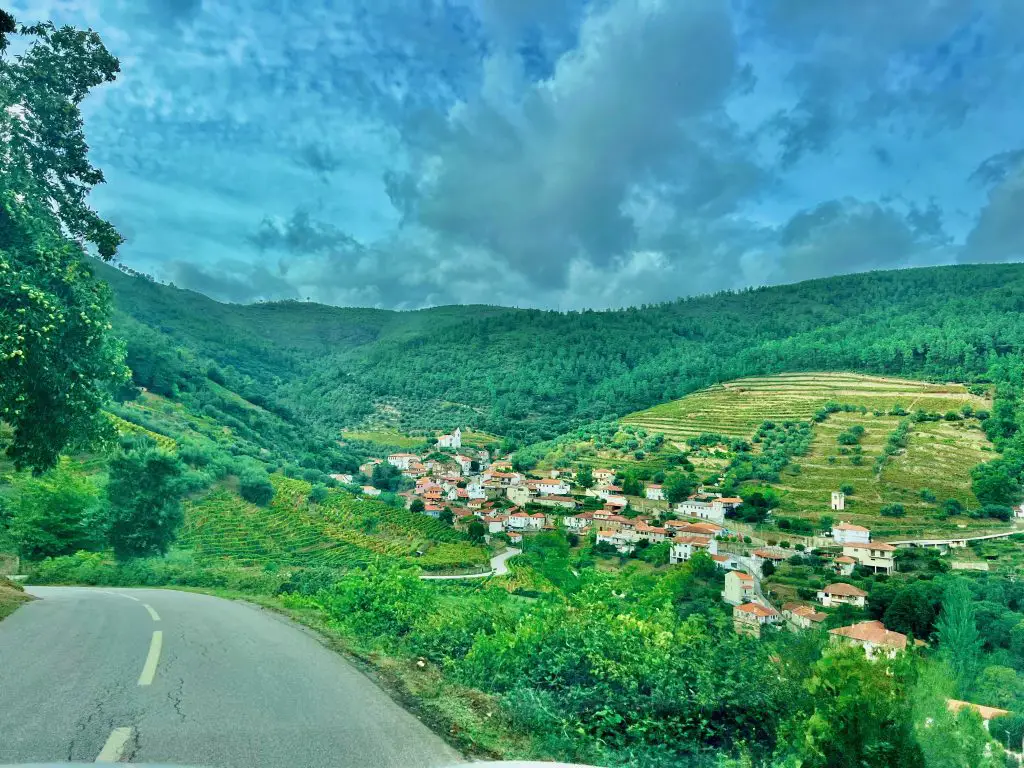 If you're traveling from Porto to the Douro Valley by car, your initial route will probably take you along the A-4 highway in the direction of Valongo/Vila Real, a remarkable road featuring modern bridges and tunnels. 
Speed limits on these highways typically vary between 100 to 120 kilometers per hour. 
Driving along these scenic highways is straightforward thanks to clear signage providing excellent guidance in all directions.
Toll Roads in the Douro Valley
Be prepared for toll roads on the way to the Douro Valley.  Tolls are charged at toll booths and by electronic tolls which take pictures of your plates.
Typical fair between Porto and Pinhão ranges from 7 to 10  euros one way.  
In Portugal, you can rent a car with a Via Verde transponder which means you can go through Via Verde toll gate (marked with a Green V) without stopping.  Confirm with the car rental company whether your car is equipped for both "Via Verde" toll lanes and for the electronic tolls.
If you do not have a Via Verde membership/transponder head to regular toll booths marked by purple circle.
Payment by contactless credit and debit cards at payment booths is quite convenient.  On some highways in Portugal, I came across toll booths that only accept Portuguese cards.  I recommend having some cash with you when driving just to be safe.

If you are driving a foreign car and have registered your credit card on the border, I understand that the registration is valid for 30 days and your card will be direct debited for all tolls.  You can find more information here.
Traffic in the Douro Valley
Traffic in the Douro Valley is typically light, but it can experience increased congestion during peak tourist seasons and the harvest period when tractors and trucks are more prevalent on the roads.
Near the city of Porto, the traffic situation becomes notably busier, and you may encounter potential delays, especially in areas around Valongo.
Parking in the Douro Valley
The majority of quintas and hotels in the Douro Valley offer designated parking areas, although occasionally, you may find yourself having to park on steeper roadside.
In places like Pinhão and Régua, finding parking spots can be a bit of a challenge, particularly during the high tourist season.  Street parking in popular areas is paid through parking meters which accept coins for payment.
Scenic Roads in the Douro Valley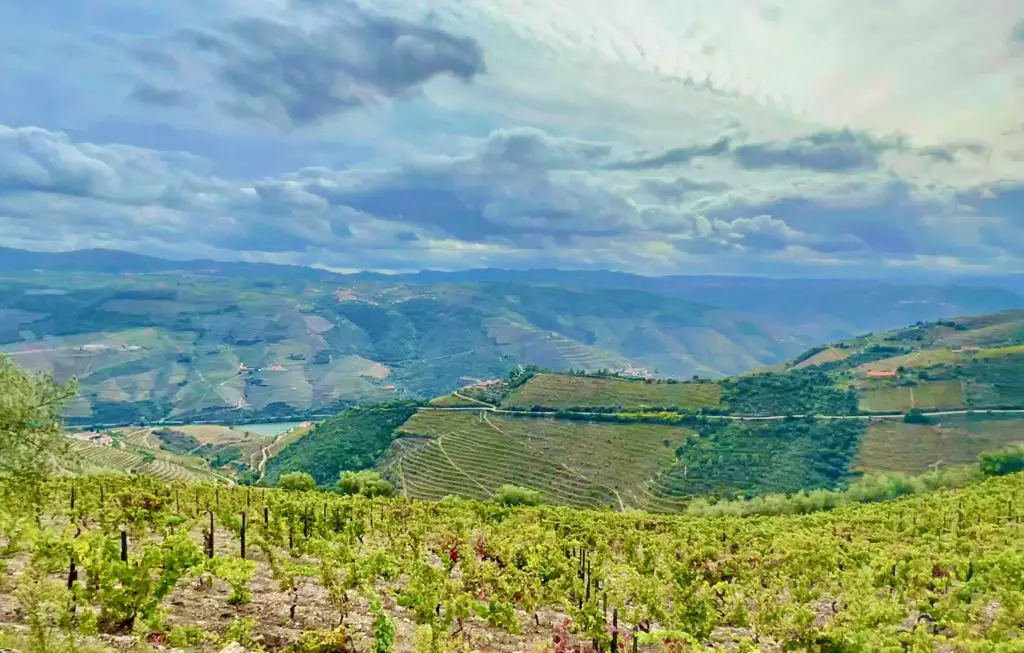 The Douro Valley is renowned for its scenic roads that offer travelers a mesmerizing journey through its picturesque landscapes. These winding routes traverse lush vineyards, terraced hillsides, and the meandering Douro River.
One of the most iconic drives is along the N-222, frequently recognized as one of the world's most beautiful roads, offering breathtaking vistas of the valley.  N-222 runs by the Douro River between Régua and Pinhão and climbs uphill past Pinhão in the direction of Ervedosa do Douro and São João da Pesqueira.
The  national road N-323 takes you through charming villages and offers panoramic views of the Douro's wine country in both directions. As you explore these scenic roads, each bend reveals a postcard-perfect scene, making every mile an unforgettable experience.  There are several well-equipped viewpoints along N-323.  Be prepared to stop when navigating N-323 as there are several crossings near view points.  They are clearly marked by red lines on the road.
Narrow and Steep Countryside Roads in the Douro Valley
Smaller roads in the Douro Valley, while very charming, are often narrow, and you might need to give way to larger vehicles like buses or trucks when navigating tight turns. Passing slower vehicles can be a bit tricky,
Local drivers, who practically know every bend in the road, tend to drive a bit faster and may pass you when they see a decent stretch of road ahead. Don't fret – just maintain a steady pace, and if needed, slow down a tad to let them go ahead. 
When driving to quintas, hotels and view points roads can also get very steep. 
Some winding roads that snake through the Douro Valley may lack the protection of guardrails.  Usually, those are roads marked CM (caminhos municipais). 
While the views are undeniably breathtaking, the sheer cliffs alongside CM-1268-1 between Quinta de La Rosa and Quinta Nova give me sweats. In fact this make many tourists opt for a guided tour instead.  
Driving Distances in the Douro Valley
What might initially appear as a short journey that can be completed in a matter of minutes can easily transform into a considerably longer drive when the road winds its way through the mountains.  For example an easy 1 stop train ride between Pinhão and Ferrão train station transforms into a 40-minute drive up in the mountains on a narrow winding road.
When making your winery appointments, I recommend checking driving distances and plan accordingly.