UPDATE:  Chateau Haut Brion closes for renovations in the winter of 2022.  See our other Bordeaux wine tours.
Chateau Haut-Brion is a synonym of Bordeaux's legendary fine wines. Today, as hundreds of years ago, both red and white wines of Chateau Haut-Brion are at the top of the Bordeaux hierarchy.
The history of the Haut-Brion vineyard goes back to the first century AD. The wines of the chateau are known to be first recognized as a "Cru" in 1521.  In the 17th century, wines of the estate were delivered to the English King, the Court, and the upper class in London. 
Chateau Haut-Brion is the only first growth in the Pessac area recognized by the 1855 Classification of Bordeaux wines, while the other four Bordeaux First Growth estates are located in the Pauillac appellation, in the Medoc.
Chateau's history in the 20th century is tied to the Dillon family.  Clarence Dillon, the American banker and one of the wealthiest men in the United States purchased Chateau Haut-Brion in 1935 and carefully restored it, starting a family wine business which today is managed by Prince Robert of Luxembourg, who represents the fourth generation of the family.
RELATED: How to Visit Chateau Mouton Rothschild Near Bordeaux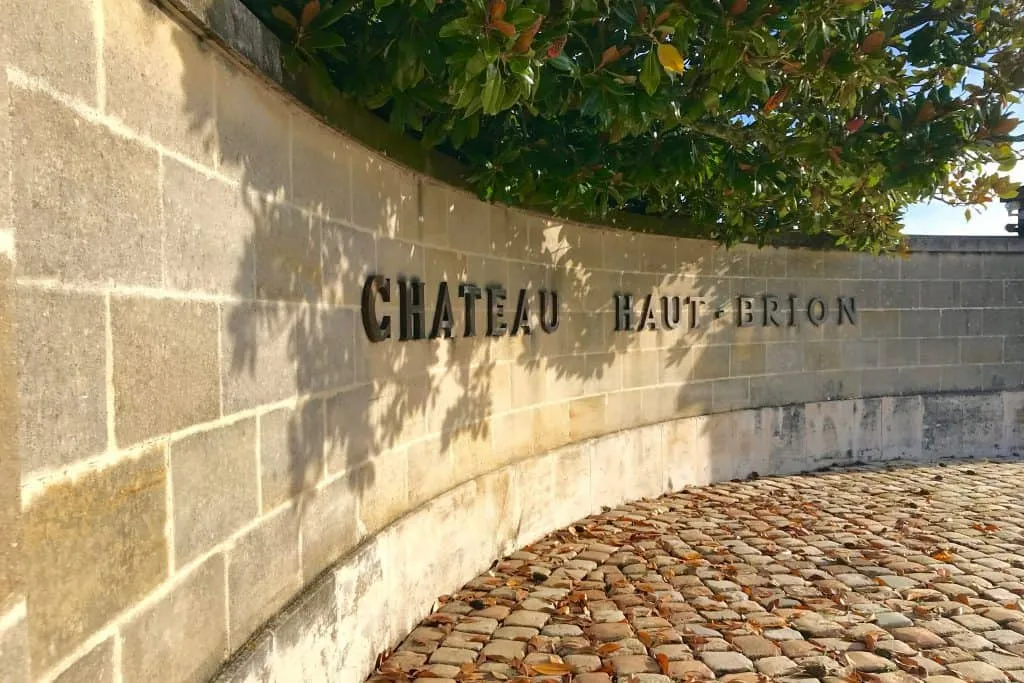 What is Special About Chateau Haut Brion Wines?
The wines of Chateau Haut Brion are not only the oldest in Bordeaux but also one of the most sought-after.  
Chateau Haut-Brion vineyards cover 51 hectares. They are located on small slopes with excellent exposure and natural drainage. Gravelly soils consist of small stones including the important quartz. Most of the vineyards, 48 hectares, are planted with red grapes, while white grapes are grown on 3 hectares.
The white wines of Chateau Haut-Brion are made in small quantities – only 400 to 650 cases each year. The whites are characterized by powerful citrus and passion-fruit aromas. On the palate, they present complexity, full-body, and unusually long fragrant finish.  The blend of Chateau Haut-Brion whites is comprised of Sauvignon Blanc and Semillon. 
The reds of this Château Haut-Brion are dark and radiant with fresh and spicy notes on the nose. The tannins are well-rounded, refined, juicy. The blend of Merlot, Cabernet Sauvignon, Cabernet Franc, and Petit Verdot, these wines also produce excellent length.  
The best vintages of both reds and whites of Chateau Haut-Brion have been recently rated 100 out of 100 points by top wine critics.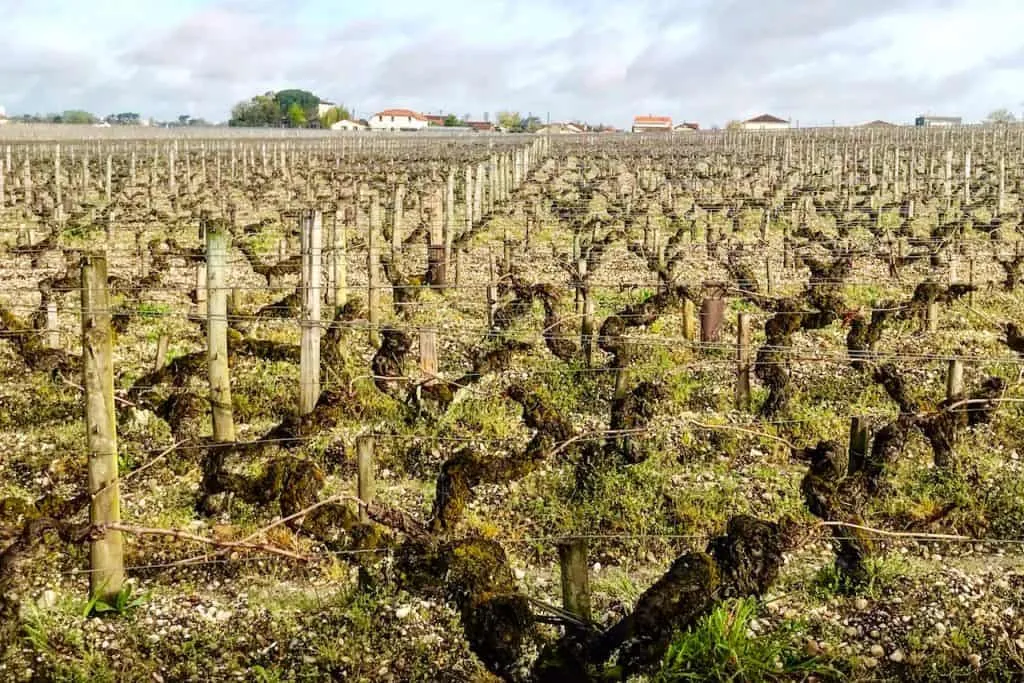 Is Chateau Haut-Brion Open for Visits?
Yes, Chateau Haut-Brion accepts visitors.  You can also visit its sister wineries: Château La Mission Haut–Brion in Pessac  and Château Quintus in Saint-Emilion.
At Chateau Haut-Brion you get to see the castle, the winery, the barrel cooperage, cellars, and taste wines in the most impressive tasting room in Bordeaux. 
Tours are held Monday through Friday morning strictly by appointment.  Their visit schedule is quite limited, you will need to book very early in advance. 
You can also ask your wine tour guide to inquire about a visit to Chateau Haut-Brion. A visit to Chateau Haut-Brion is usually a part of the Pessac-Leognan wine tour, it can also be combined with visiting another winery in Saint-Emilion or in the Medoc.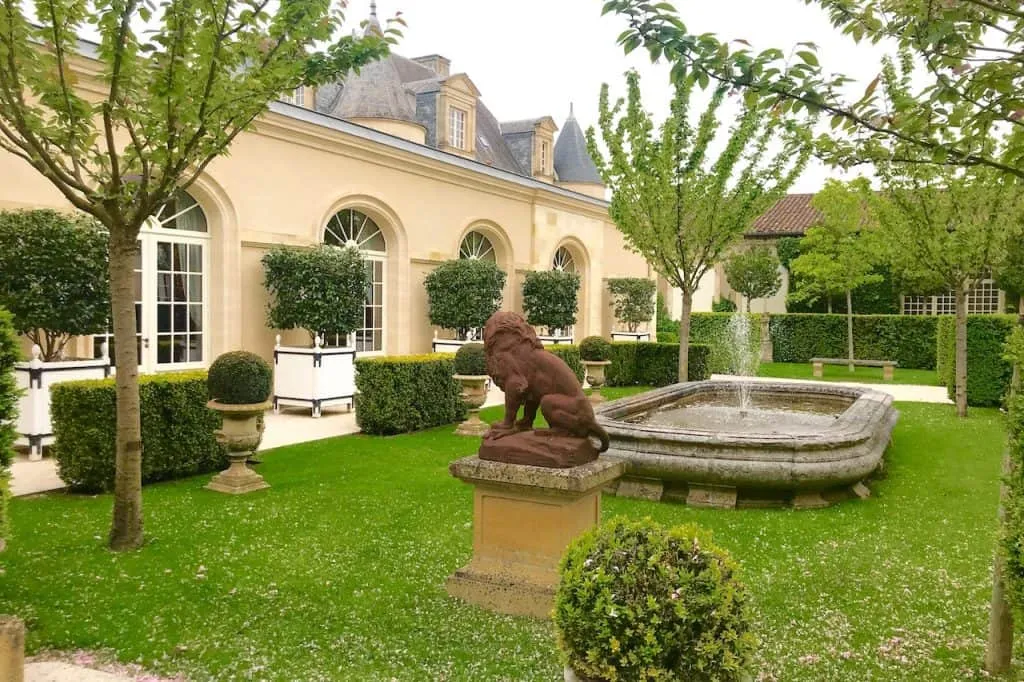 How to Get to Chateau Haut-Brion?
It surprises many how close Chateau Haut-Brion is to the city of Bordeaux.  Its vineyards stretch by residential areas of the town of Pessac in the greater Bordeaux area.    
You can reach Chateau Haut-Brion in just 15-20 minutes from the city center by car.  There are also public transport options.  Catch TBM Bus 4 at Tourny Square or Gambetta Square and get off at Sembat stop.
Inside Chateau Haut-Brion
When Clarence Dillon purchased Château Haut-Brion in 1935, he restored it to its former glory. The chateau was recently renovated in 2012 under the eye of Prince Robert of Luxembourg.  
During your tour, you will walk through the gardens of the chateau, the classic interiors decorated with works of art, a collection of old books and furniture.  
RELATED:  What to Wear for a Wine Tasting in Bordeaux, France?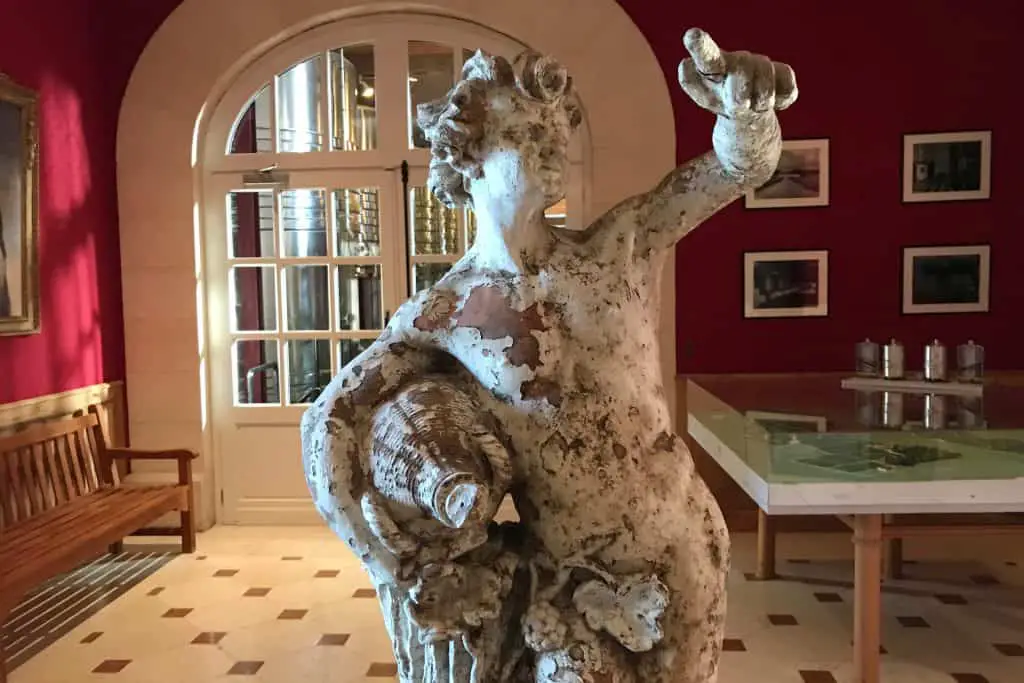 The high-tech vat room was inaugurated in 1991.  These stainless steel vats although look quite normal on the outside, are truly remarkable inside, unlike anything else you will see in Bordeaux. Take a peek inside through an empty vat door when you are there.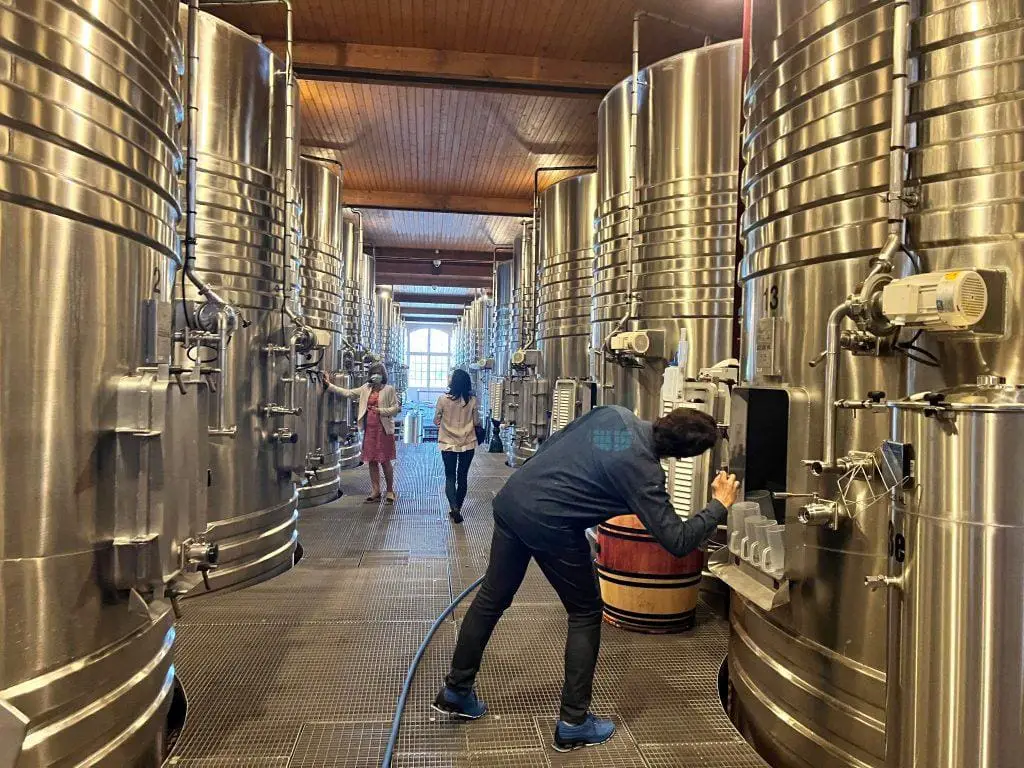 Chateau Haut-Brion is one of the very few in Bordeaux to house their own cooperage.  Toasting barrels for Haut-Brion wines is a special task and a secret that is kept inside the chateau doors.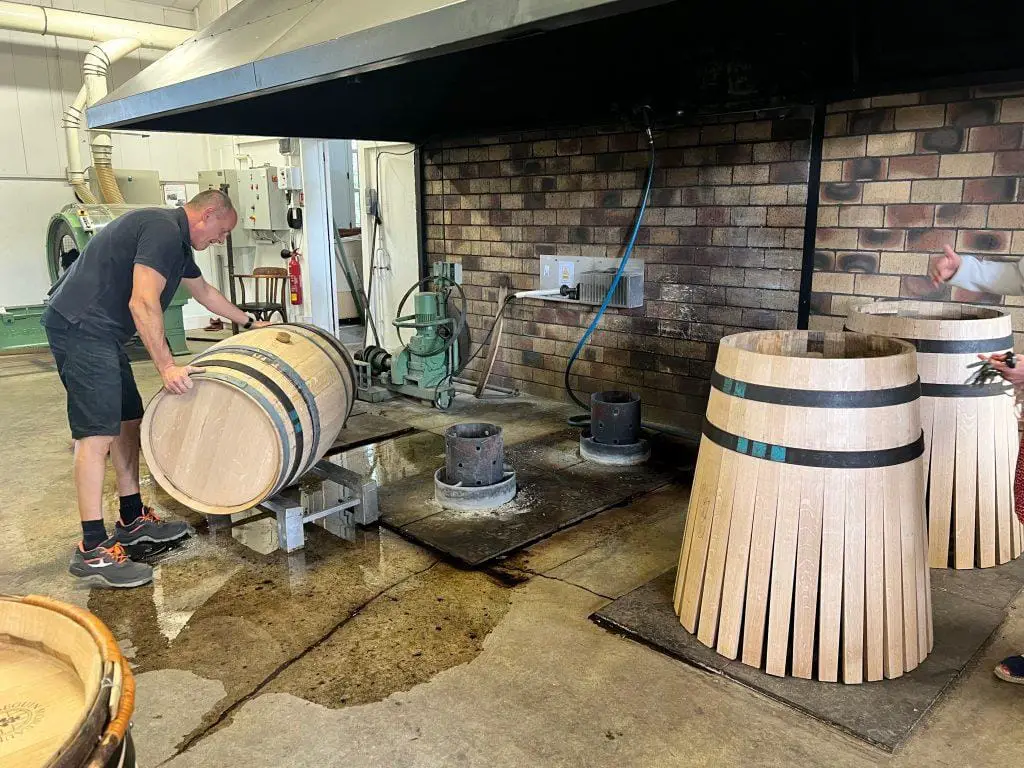 Only new French oak barrels are used by Chateau Haut-Brion.  Aging in a barrel takes 20-24 months, after which aging continues in a bottle.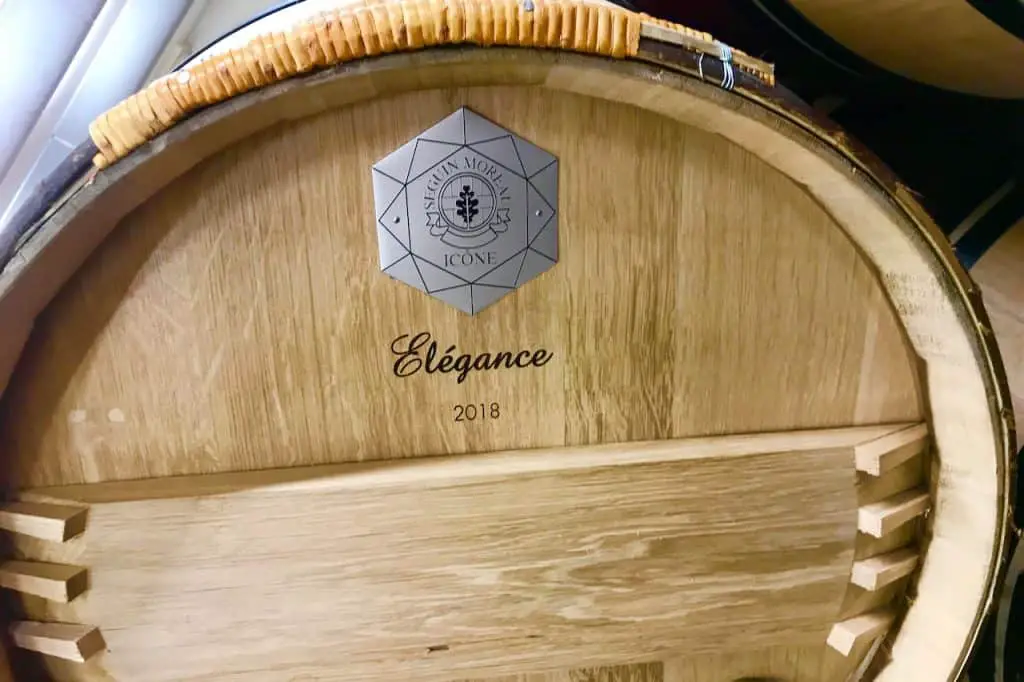 Barrels are not left alone in a dark cellar.  Winemakers are constantly busy topping up, racking, cleaning barrels, and fining the wine. The process of racking is performed by hand using an empty wine glass and a candle. Apparently, only candlelight shows how much sediment is left in the glass. 
I was lucky to see the process of fining that is traditionally done using egg whites.  Eggs will be cracked in the cellars and the several whites will be mixed into a barrel using a special umbrella-like device.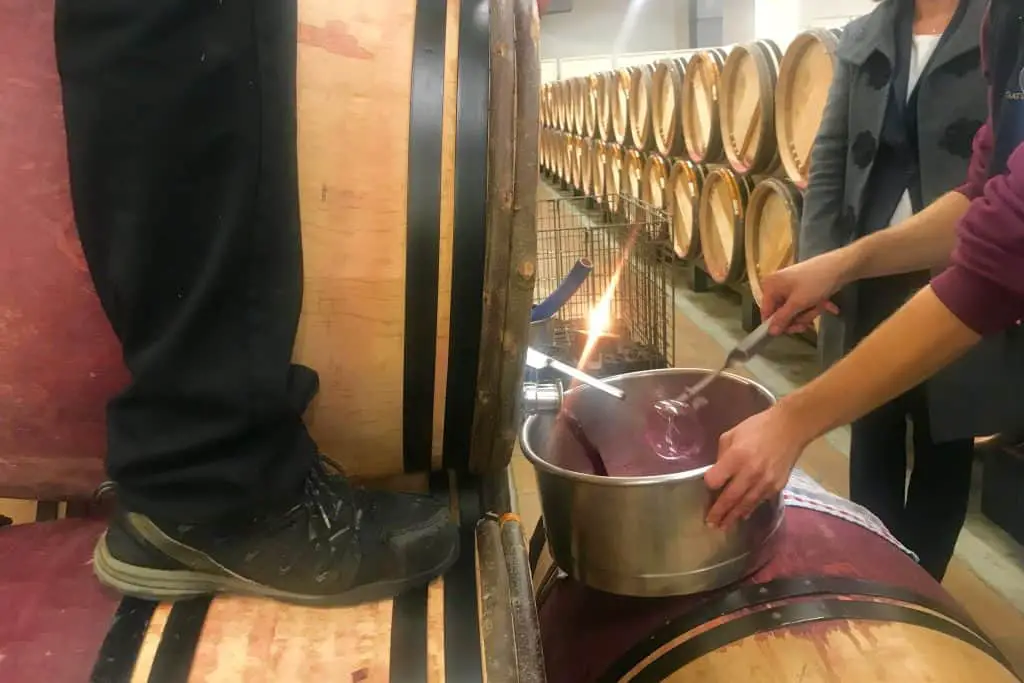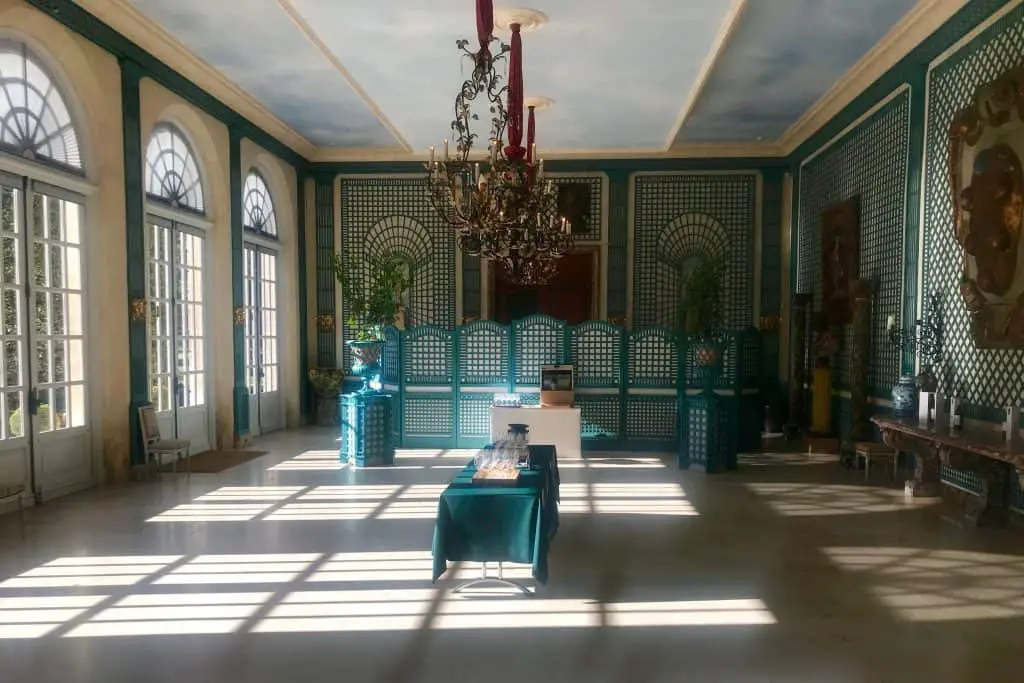 The cellar is adjacent to this incredible tasting room with a view on the castle of Chateau Haut-Brion. 
Enjoy the tasting of the world's top wines!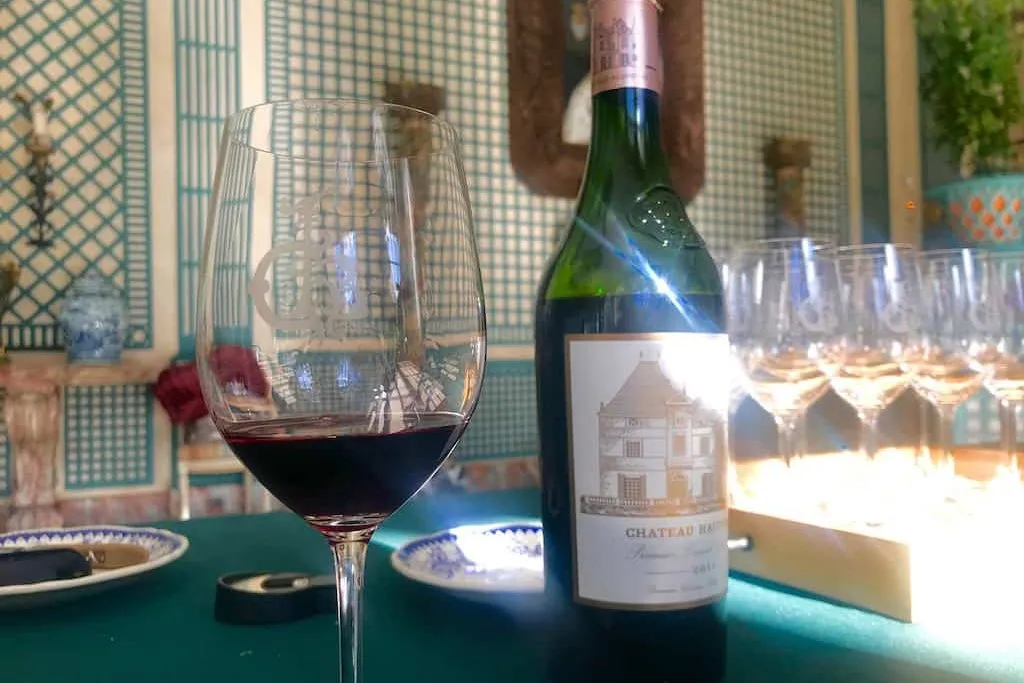 Where to stay near Chateau Haut-Brion in Pessac-Leognan?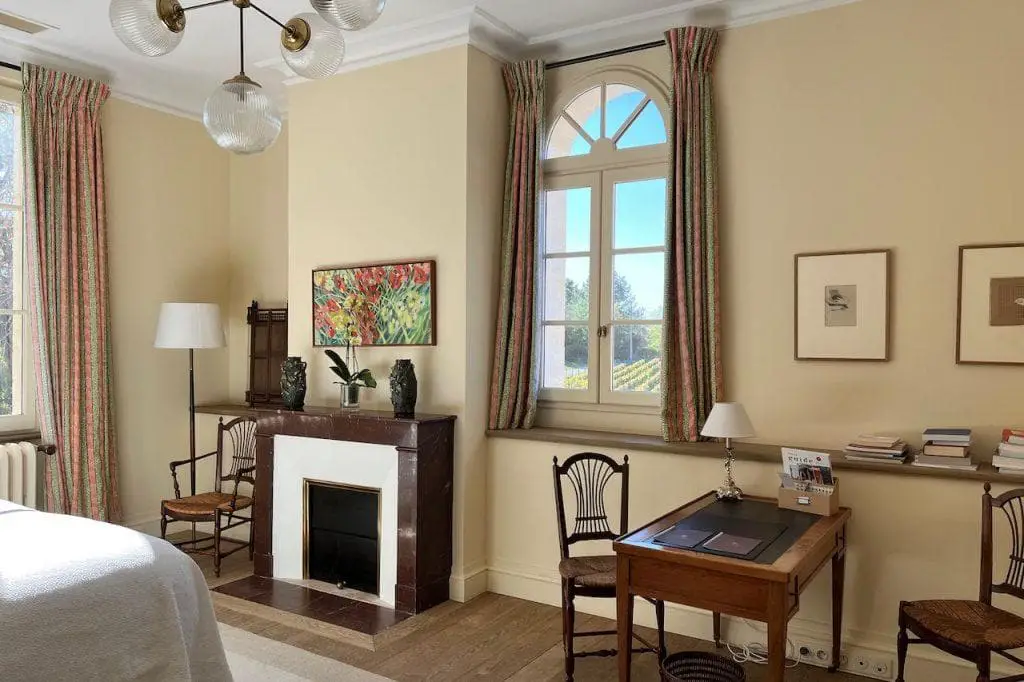 Here are some ideas for winery stays in the Pessac-Leognan wine country near Chateau Haut-Brion: