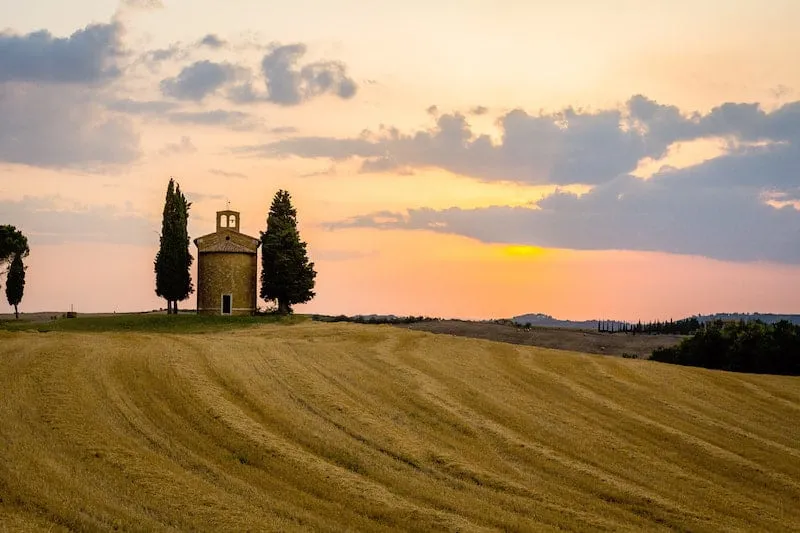 Where is Chianti Wine Coming From?
Chianti is dry red wine which comes from the area of Tuscany between the cities of Pisa, Florence, and Siena. The Chianti area was originally delimited in 1716 by Cosimo III, Grand Duke of Tuscany, and later extended to meet the growing demand.
Chianti vs. Chianti Classico
Chianti wines are made mostly from the Sangiovese grape.  Canaiolo Nero, Colorino, Cabernet Sauvignon, Merlot and other local grapes can be added to a Chianti blend, however, they cannot represent more than 20%.  
When looking at a bottle of wine from Chianti you will see the following on the label:
Chianti DOCG (Denominazione di Origine Controllata e Garantita).  These wines come from producers of larger volumes that source their grapes from the greater region of Chianti. 
Higher quality Chianti DOCG may be made from grapes of one of the seven particular sub-zone of Chianti.  In that case the label will mention Rùfina, Colli Senesi, Colli Aretini, Colli Fiorentini, Colline Pisane, Montalbano, or Chianti Superiore. 
Chianti DOCG wines should be drunk when young – within 3 years from their production. 
Chianti Classico DOCG is an area separate from Chianti. These wines come from vineyards  at higher altitudes than those of Chianti DOCG. The cooler conditions slow the ripening of Sangiovese and give wines with greater acidity and herbal aromas.
The trademark always found on bottles of Chianti Classico is the black rooster, a historic symbol of the Chianti Military League. 
There are three levels of quality within the Chianti Classico.  
Chianti Classico Annata 
These wines must be aged for 12 months before they are sold. Simple wines with high acidity, usually coming from younger vines in the vineyard, 
Chianti Classico Riserva 
Riserva wines are more complex and structured. Must be aged for at least 24 months including 3 months in a bottle.
Chianti Classico Riserva Grand Selezioni 
Represents the best wine of Chianti. Grapes are sourced from a single estate or vineyard and must be aged for 6 months longer than Riserva.
Source: jamessuckling.com
1. Castello di Monsanto, Barberino Val d'Elsa
Chianti Classico DOCG 2017
The Bianchi family manages Castello di Monsanto for more than half a century. During this time, the family changed the tradition of Chianti by introducing separate vinification of grapes from different vineyards. Previously, such selection and precision were not common in Chianti.  
The 2017 Chianti Classico Annata contains 90% of Sangiovese and 10% of Colorino and Canaiolo. 
This is a medium-bodied wine with pronounced aromas of red cherry and currant and remarkable concentration. Good balance and very good acidity despite very warm 2017 temperatures.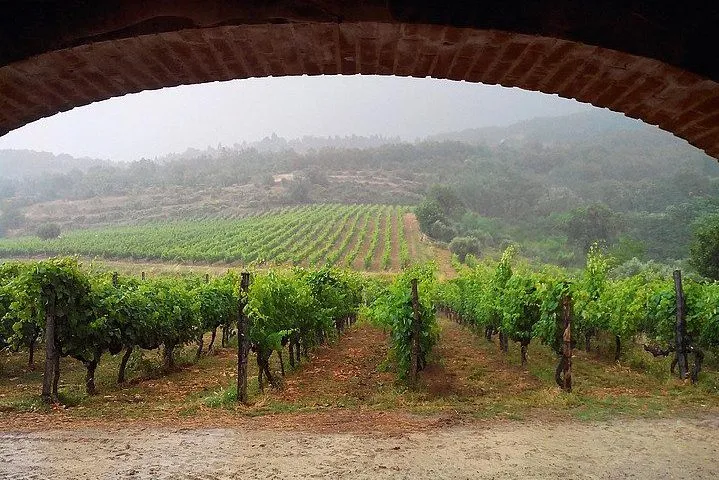 2. Frascole di Dicomano, Rufina
Chianti Rufina DOCG Riserva 2016
Rufina is the smallest sub-area of Chianti. 
The family-owned Frascole estate is overlooking the Dicomano village located near the green Tuscan Apennines away from industrial areas and busy streets. The grapes grow at approximately 400 meters (13,000 feet) above sea level on limestone soils. 
The family uses organic methods and only manual harvesting. 
In the bottle of Chianti Rufina Riserva 2016, you will find 90% Sangiovese and 10% Colorino, the local grape variety adding beautiful color and spicing up the blend.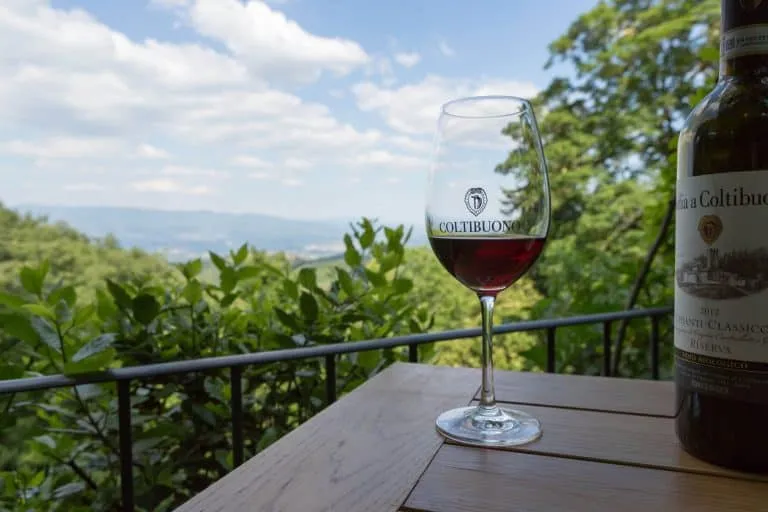 Source: Badio a Coltibuono website.
3. Badia a Coltibuono, Gaiole in Chianti
Chianti Classico DOCG Riserva 2016
Organic wine from the Stucchi Prinetti family who own Badia a Coltibuono since 1846.  The fifth-generation, Emanuela, Paolo, and Roberto Stucchi Prinetti manage this historic estate of  150 acres of vineyards along with 50 acres of olive trees. 
As anywhere in Chianti, Sangiovese is dominating the blend. However, the family also produces other traditional varieties that are allowed but often omitted in Chianti Classico: Canaiolo Nero, Ciliegiolo, Colorino, Foglia Tonda, Malvasia Nera, Mammolo, Pugnitello, and Sanforte. 
The Riserva wines are grown on the vineyard that dates back to 1937. 
Here is how the winery describes the Riserva: "Intense, deep ruby red color with subtle glimmers of garnet. The wine shows a splendid, full nose with hints of blackberries and pleasant notes of tobacco and spice. In the mouth, the wine is soft with an elegant, fresh finish and a persistent, generous acidity in the aftertaste. Full of mature tannins and fruitiness."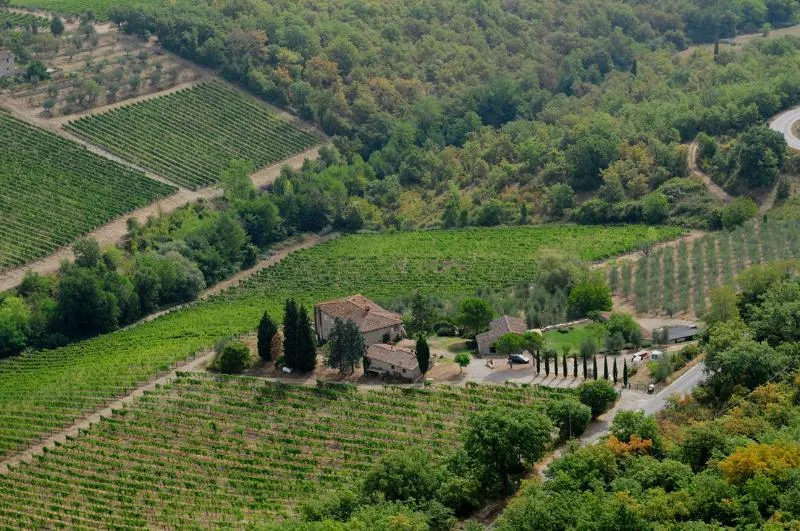 Source: Val delle Corti website.
4. Val delle Corti, Radda in Chianti
Chianti Classico DOCG Riserva 2016
Val delle Corti's vineyards are planted on marly limestone soil, rich in stony material and high in mineral content. The soil, and, especially the altitude, make Radda wines in general known for high acidity. 
Also, the vines are grown on the eastern-exposed side of the hill, receiving shade of the Monte alla Croce mountain, which allows the grapes to ripen evenly and retain acidity. 
Therefore, this Riserva has a great potential to improve over the years to express the quintessential features of Chianti Sangiovese: minerality, fresh fruit, and outstanding elegance.
The 100% Sangiovese Riserva is only made in exceptionally good years with the best Sangiovese selected from the estate's oldest vineyards planted over 40 years ago.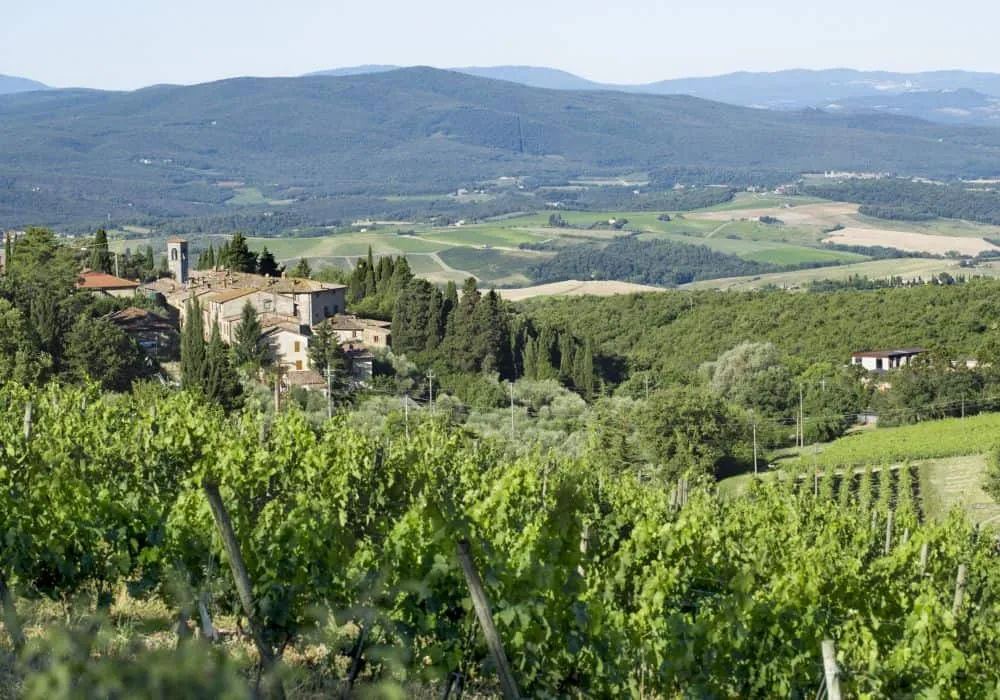 Source: Castello di Fonterotuli website.
5. Castello di Fonterotuli, Castellina in Chianti
Chianti Classico DOCG Gran Selezione "Castello Fonterotuli" 2016
The Mazzei family own the Fonterutoli Castle located in the Siena hills since 1435.  24 generations have perfected the art of winemaking. 
The grapes  for the Gran Selezioni are coming from 50 best parcels at elevations of 420-510 meters (1,380-1,670 feet) with south and southwest exposure, and use 36 biotypes of Sangiovese.
The grapes from each parcel of land are harvested by hand, turned into wine, and aged in French oak barrels separately for 20 months. The wines have great structure and complex bouquet of dried flowers.
92% Sangiovese, 8% Malvasia Nera and Colorino are combined in the blend of this very highly regarded vintage.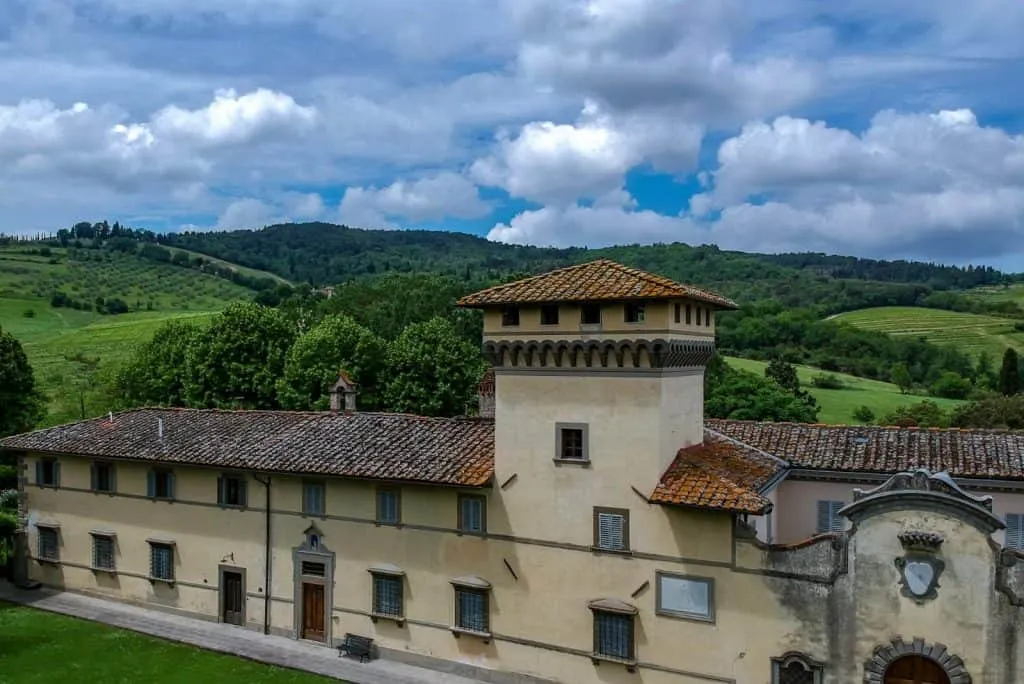 6. Conti Capponi – Villa Calcinaia di Greve in Chianti
Chianti Classico DOCG Gran Selezione "Vigna Contessa Luisa" 2016
The Counts Capon own Villa Calcinaila from 1524.  They have been producing internationally recognized wines since the beginning of the 20th century. Over the last 50 years, the Capponi have continuously been investing in their winemaking in order to improve the quality.
Cuvee Vigna Contessa Luisa is dedicated to Luisa Vonwiller, the mother of Ferrante Capponi, who planted the Contessa Luisa plot in 1959.  It is today the oldest vineyard of the estate. 
The plot is only about 2 hectares on a small hill's west side. It  enjoys the warmth of the afternoon sun. The soil has significant clay content. The main varietal is Sangiovese, but along with it lives a small community of other varietals.
The wine produced from this vineyard tends to have a very rich and opulent nose and structured tannins. 

7. Castello di Albola, Radda in Chianti
Chianti Classico DOCG Gran Selezione "Il solatio" 2016
The magnificent medieval village of Castello di Albola stands on the hills of Chianti that produce some of the best wine in the area.  
The estate first founded at the end of the 15th century belonged to some of the noblest Tuscan families. In 1980, it was acquired by the Zonin family who restored the vineyards and the villa and built a new winery.
The Gran Selezione Il Solatio comes from the sunny southeast-facing steep slope known as Solatio, a one-hectare parcel planted with 100% Sangiovese.  Altitude, which ranges from 550 to 580 meters (1,800-1,900 feet), and rocky soil are the key elements of the Il Solatio plot.
The wine has an intense ruby color, intense aromas with hints of cherry jam, spices, cinnamon, pepper, and tobacco. On the palate, Il Solatio is elegant and savory with notes of dark-red berry fruit and spices and long, persistent finish.
8. Ricasoli del Castello di Brolio, Gaiole in Chianti
Chianti Classico DOCG Gran Selezione "Colledilà" 2016
Located on top of an isolated hill a few kilometers from Gaiole in Chianti, the Brolio castle has been the property of the Ricasoli family since 1141.
The estate spread over 1,200 hectares (3,000 acres) of gentle hills, valleys and thick woodlands of oaks and chestnuts includes almost 240 hectares (590 acres) of vineyards and 26 hectares (65 acres) of olive groves.
Since 1993, Baron Francesco Ricasoli has totally renovated the vineyards. The soil is a calcareous clay, rocky, rich in calcium carbonate, and poor in organic matter. 
The Colledilà vineyard is on a geological formation called Monte Morello, also known as Alberese. Seven hectares (17 acres) in size, it is located at 390 meters (1,300 feet) above sea level and has a southeastern exposure. 
Colledilà is 100% Sangiovese.  This vintage stands out for its complex structure and great, modern elegance. The grapes are handpicked and only perfect berries become Colledilà.  
9. Terra di Seta, Castelnuovo Berardenga
Chianti Classico DOCG Gran Selezione "Assai" 2015
Since 2001, Terra di Seta winery is part of a family-run farm of Daniele Della Seta and his wife Maria Pellegrini.
The family adopted organic agriculture methods.  In 2008, they added kosher certification to their entire production.
The wine is from the southern exposure vineyard on a hill near Siena at 480 meters (1,574 feet) above sea level. 
Assai made of 100% Sangiovese is a full-bodied wine with an intense ruby color. Aging in French oak barrels adds complexity to this pleasantly intense, fruity, and spicy wine. Assai is slightly balsamic on the nose, smooth, consistent, and persistent in the mouth.
10. Castell'in Villa di Castelnuovo Berardenga
Chianti Classico DOCG Riserva 2013
The ancient medieval hamlet of Castell'in Villa is at the top of the hill with amazing views of the Chianti valleys and Siena.  The wine production is on 44 hectares (110 acres) of vineyards cultivated with low yields.
The Castell'in Villa Chianti Classico Riserva is made of Sangiovese grapes entirely from the best parcels of the property. Aging in oak takes between 2 and 3 years. 
The wine is concentrated, with good tannins and with an elegant fragrance. The taste is complex, showing ripe fruit, black cherries, and some deep earthy spicy tones. It is ready to drink in 2020.
Shop Millesima for some of the top-rated Chianti wines and get free 10% off your first order with code SHAREASALE10.