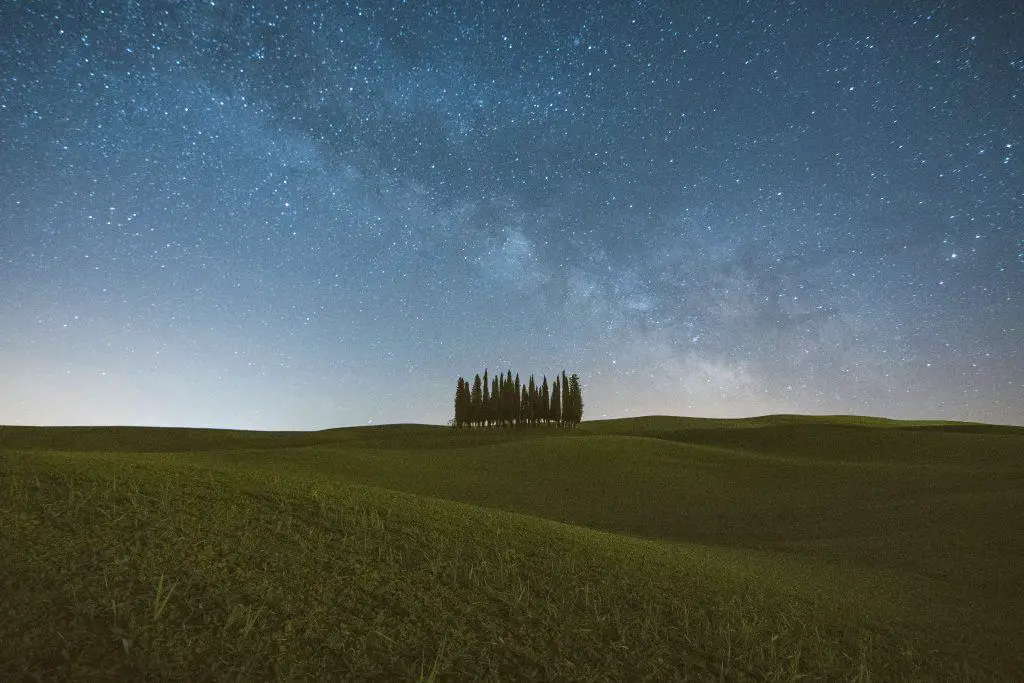 Since 2001, Terra di Seta winery is part of a family-run farm of Daniele Della Seta and his wife Maria Pellegrini. 
The family adopted organic agriculture methods.  In 2008, they added kosher certification to their entire production.
Come to Terra di Seta to enjoy panoramic views of Tuscan countryside just a few minutes from Siena.  
Terra di Seta offers to stay at guest apartments in the 700-year old farmhouse in quite and natural surroundings.
The owners will take you on a wine tour with a personal touch followed by a tasting of top Chianti Classico.  
Their Assai Chianti Classico DOCG Gran Selezione 2015 wine is among top 10 Best Chianti Wines According to the Italians.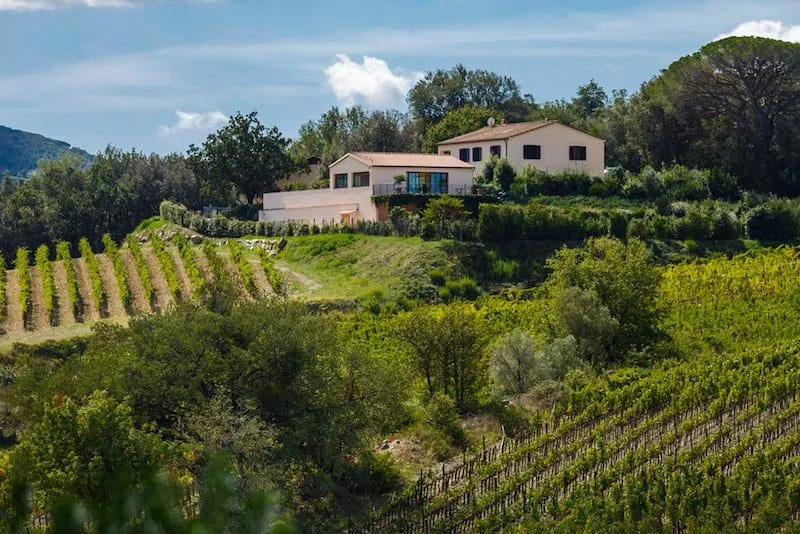 Grattamacco was founded in 1977. The estate is on a top of a hill overlooking the Tuscan coast between Castagneto Carducci and Bolgheri.
Grattamacco extends over 80 hectares, of which 28 are vineyards and 14 are olive groves.
The winery grows not only French grapes typical for Super Tuscans, but Sangiovese and Vermentino as well. 
Since 2002, the property is part of the ColleMassari Group.
The wines of the estate have been rated highly by the Wine Advocate's Robert Parker, James Suckling and other acclaimed critics.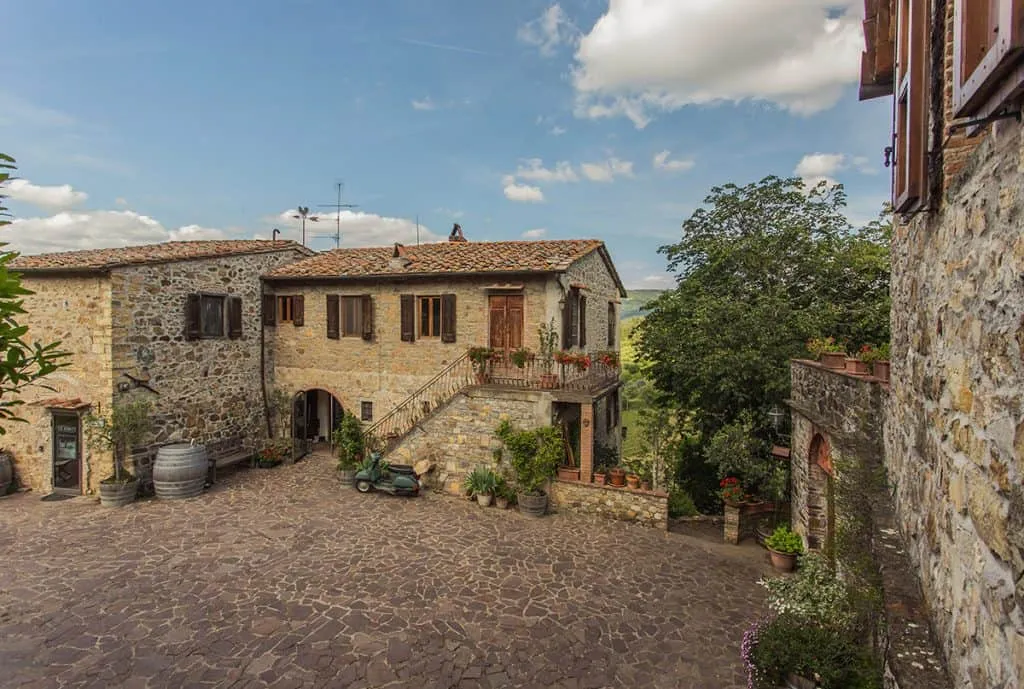 Halfway between Florence and Siena, in the village of Panzano, just below the village church, you will find Fattoria Le Fonti.  
If you like visiting small wineries with a family feel, come to Le Fonti.  The winery is in the hands of the German and Italian Schmitt-Vitali family since 1994.  
The new owners have replanted the vineyards and introduces sustainable farming methods.  Today, the vineyards and olive groves of Le Fonti are certified organic.
Come in to meet the owners and to taste a variety of high-quality delicious Chianti Classico at affordable prices.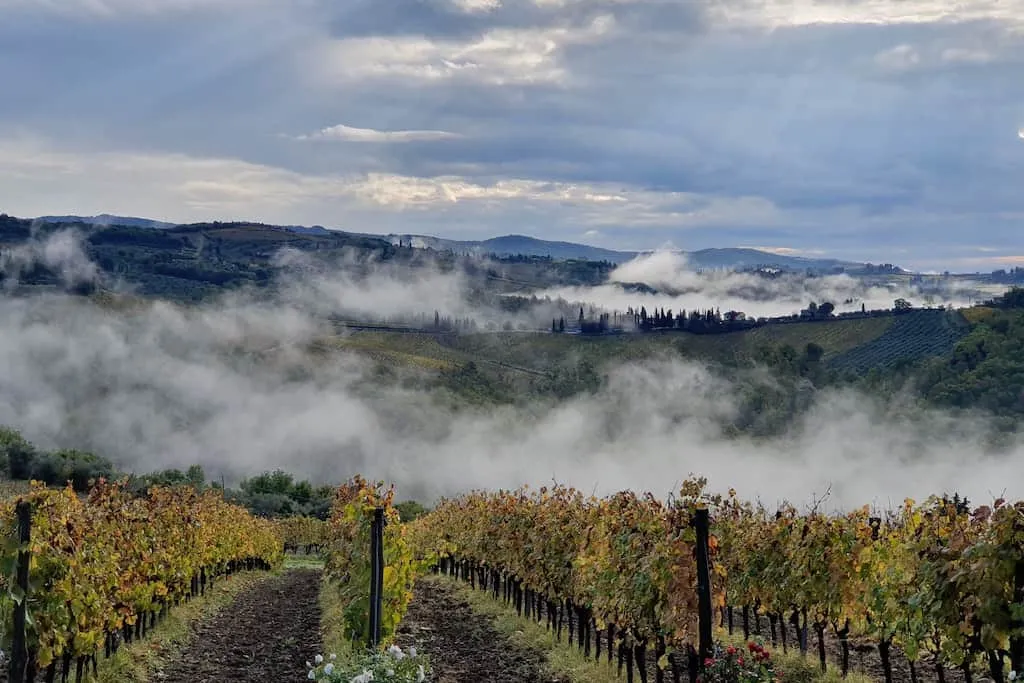 Viticcio has been making wine since 1964 on a 120 hectare estate among the rolling green hills of Tuscany near in Greve in Chianti, between Florence and Siena.
Since 2003, eight hectares of vineyards are developed using biodynamic methods. Since 2013, the entire production has been organic.
Besides winery tours and wine blending workshops, the winery offers agriturismo stays in authentic Tuscan farmhouse style apartments, yet with all modern amenities.  The highlight is a saltwater swimming pool with a view on vineyards and olive trees.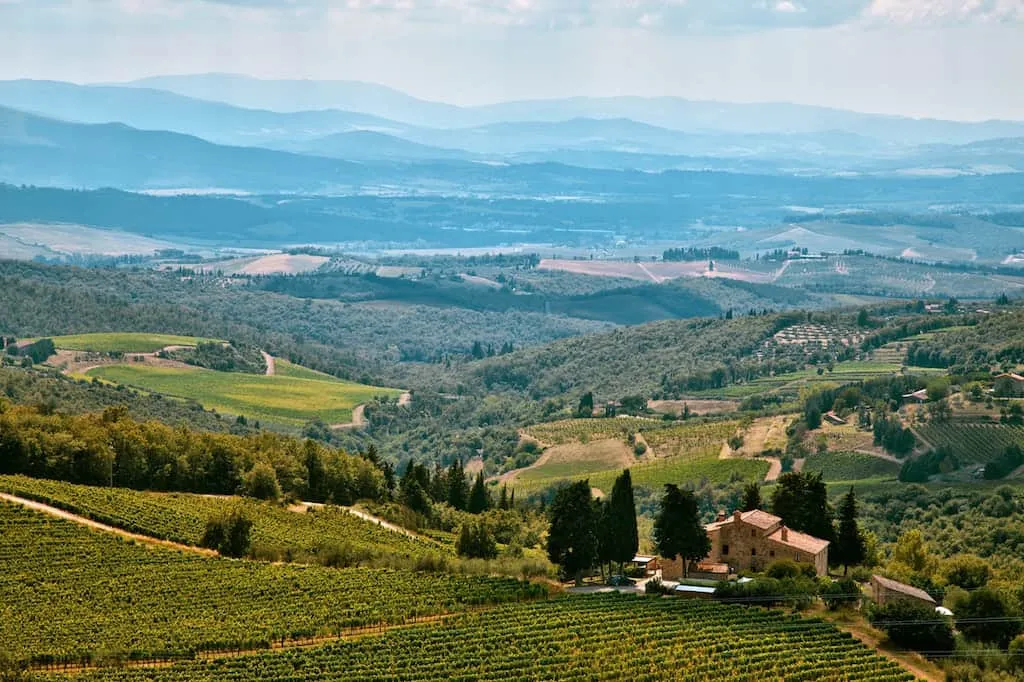 Castellare di Castellina is in the heart of the Chianti Classico region near Castellina in Chianti. The wine estate was born in the 1970s as a union of four estates with the aim of producing wine of the best possible quality.
The first vintage of Castellare di Castellina vintage dates back to 1977. The label features a goldfinch, a bird commonly seen in Tuscany.
The Castellare winery was one of the first in Italy to adopt the use of French oak barrels.
Today, the property covers a total of 80 hectares including 20 hectares of olive groves and 33 hectares of vineyards at an average altitude of 370 meters above sea level. Excellent exposure, good drainage and mixed soils allow to produce 400,000 bottles of well-structured, intense wines suitable for long ageing in the bottle. Castellare wines are well-known in the world and received top ratings by famous wine critics.
At Castellare di Castellina you can also taste grappa and olive oil.
The wine estate also offers stays in a rural farmhouse that has been carefully restored.  Villa delle Upupe has a private swimming pool surrounded by garden greenery.  The views and are breathtaking.
From the villa, you can watch beautiful Tuscan sunsets over the valley and the towers of San Gimignano.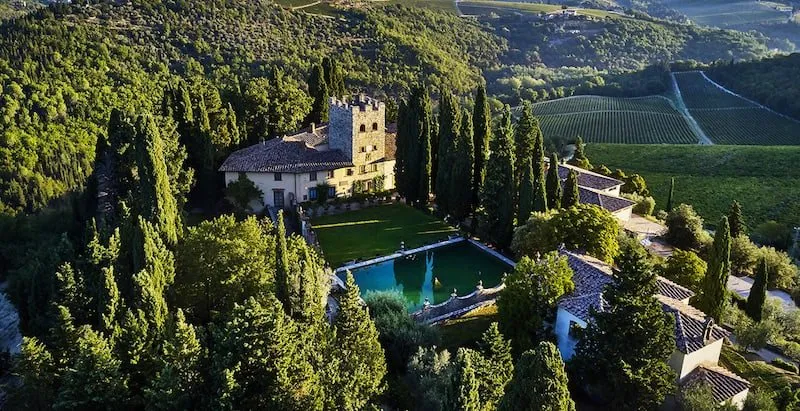 Castello di Verrazzano, the scenic castle of over 1,000 years old is surrounded by 52 hectares of vineyards.
Vineyards are set at altitudes between 260 and 420 meters above sea level, in a stony soil rich in limestone.
Castello di Verrazzano has adopted organic fertilization and the agronomic techniques.  The wines have been rated highly by critics, particularly the Sassello.
They also produce olive oil, balsamic vinegar and prosciutto that you can taste and buy at the shop.
The winery offers guided tours with tasting accompanied by local products, wine and food pairing experience at the winery's restaurant for lunch and dinner or a just a wine tasting at a bar. 
Enjoy scenery, history, wine and gastronomy at Castello di Verrazzano.
The winery is reachable by SITA public bus from Florence with some walking through vineyards.  Monday through Saturday, hop off at bus stop "Greti".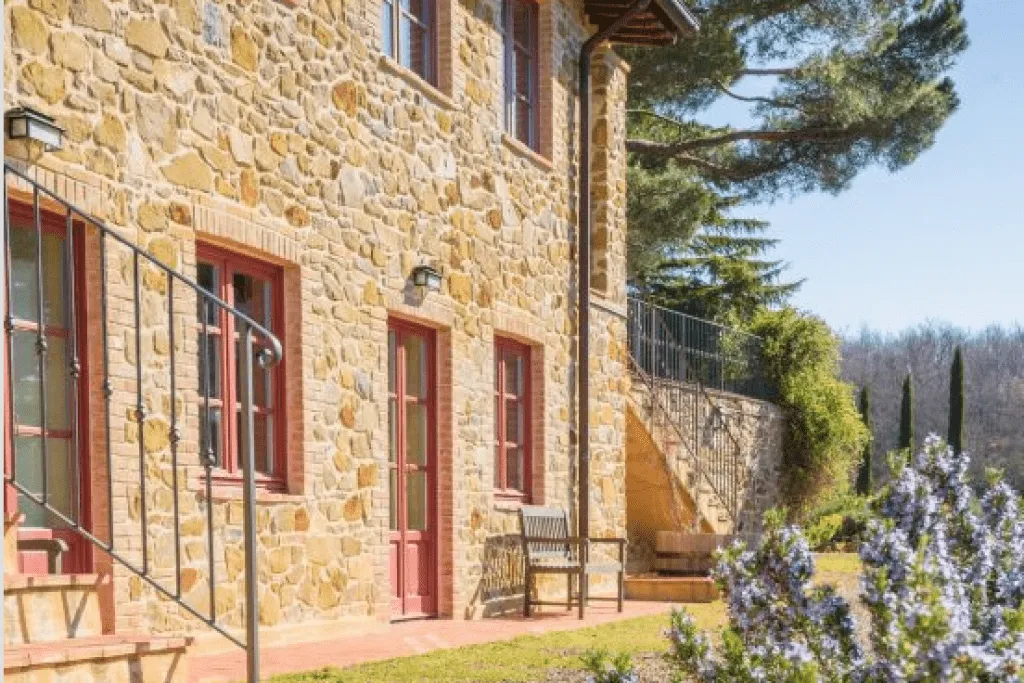 Found just south of Montalcino this winery follows organic agriculture methods and produces excellent Brunello wines well-recognized in the world.
Come here to stay at a rustic farmhouse, enjoy trekking or mountain biking through scenic Tuscan nature or a relaxing massage.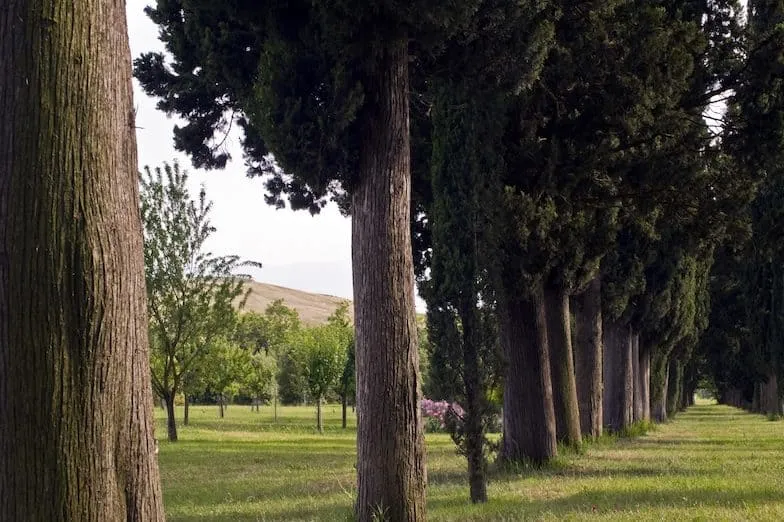 Col D'Orcia means the hill overlooking the Orcia River which marks the southwest border of Brunello di Montalcino area. 
In 2010, Col D'Orcia has become the largest organic wine producing farm in the whole of Tuscany. The entire estate including vineyards, olive groves, other fields and gardens are farmed following exclusively organic agricultural practices.