Which Bordeaux wine regions can be explored by bike?
The best Bordeaux vineyards to explore by bike are Saint-Emilion, Pomerol, Entre-Deux-Mers on the Right Bank, and Margaux on the Left Bank.  You can join a guided bike tour or rent a bike and explore vineyards at your own pace.
Guided Bordeaux vineyard tours on a bike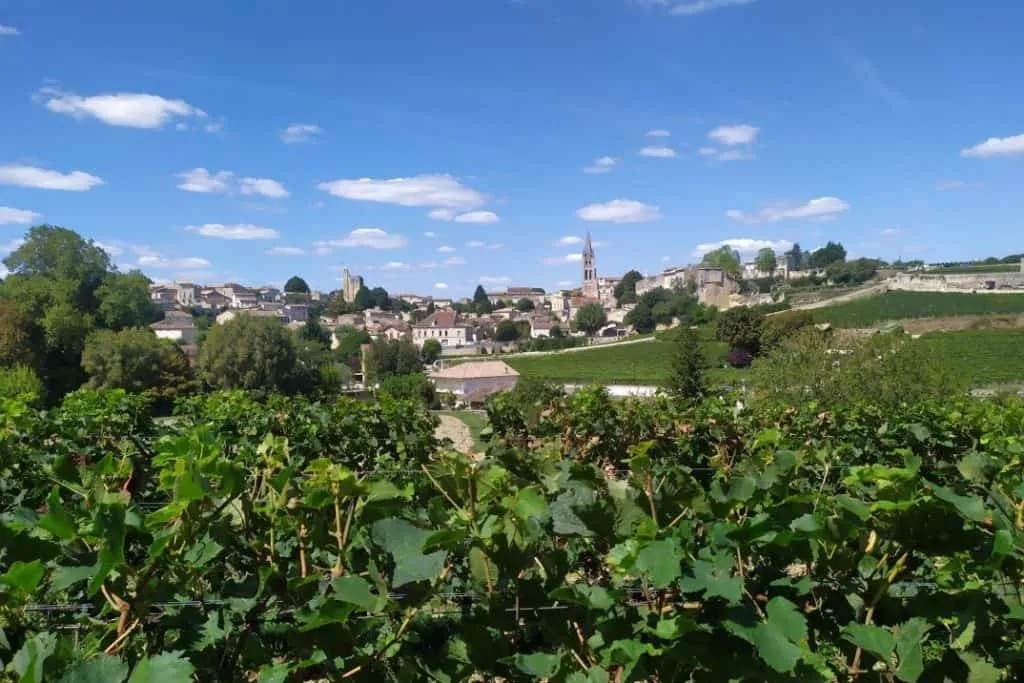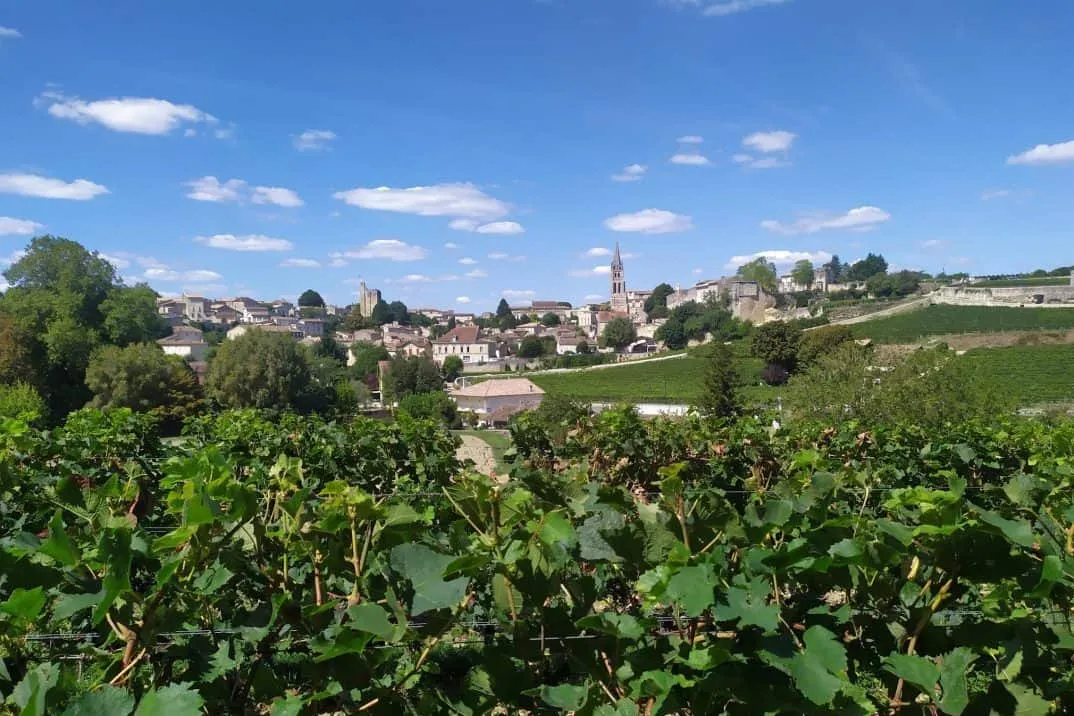 In my experience, most guided bike tours take place in the Saint-Emilion wine region on the Right Bank.  The roads are calmer here and the area is very picturesque with the Medieval town of Saint-Emilion dominating the landscape.
Accompanied by a knowledgeable local guide, relax and enjoy postcard-perfect scenery and a wine tasting on your route. 
Guided bike tours of Bordeaux vineyards can be private or in a small group.  Most bike tours in Bordeaux wine country would be on an electric bike.
Some guided tours are half-day, and others last 7-8 hours with a stop for lunch at a winery or a picnic lunch.   Visiting the town of Saint-Emilion is most likely going to be on your itinerary. 
When booking your bike tour, pay close attention to the starting point.  There are two options – meeting your guide in the wine country or meeting in the city of Bordeaux and traveling by car to hit the trails.
If you are going to spend time in Saint-Emilion, my suggestions on What to Do in Saint-Emilion – The Ultimate Guide to Saint Emilion and the Wine Country may be helful.
Where to rent a bike in Saint-Emilion?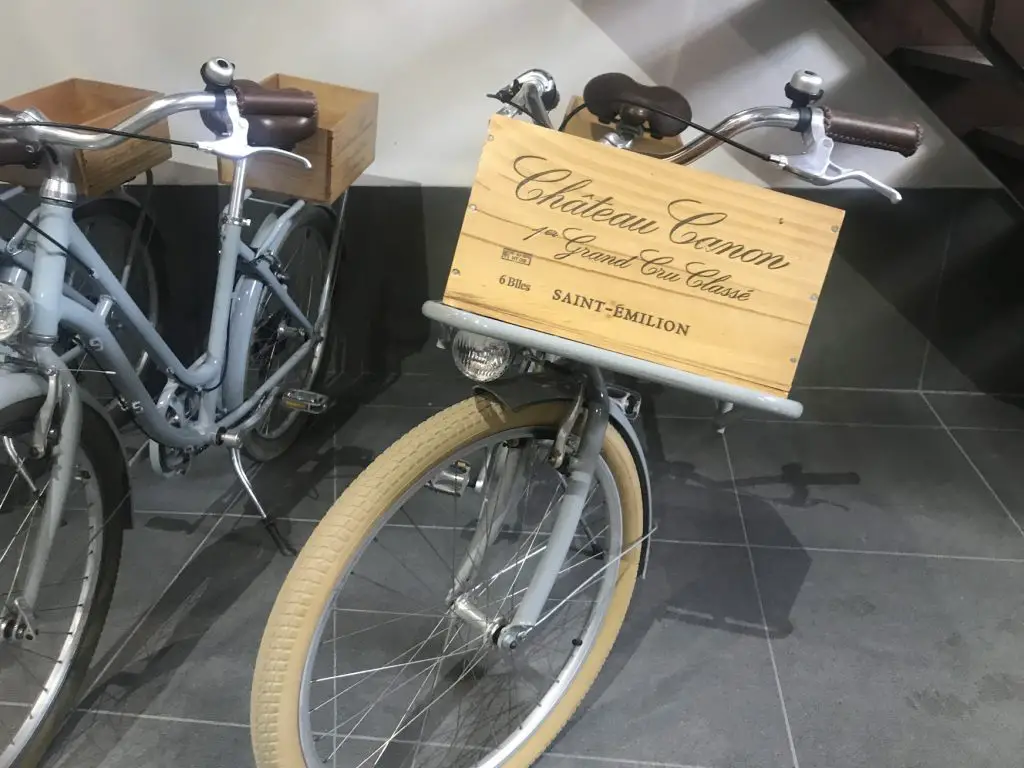 For a self-guided tour of Saint-Emilion wine country, rent a bike in the town or at one of the chateaux and explore your favorite vineyards at your own pace.
The bike rental is available every day of the week at the Office of Tourism located here.
You can make a reservation on their website and collect your bikes between 10 am and 5 pm, except during lunch break from 1 pm to 2 pm. The rentals include helmets, child seats, and locks. Children's bikes are also available. 
Prices are 19 euros for daily rental but remember to bring a deposit of 250 euros per bike in the form of cash, cheque, or a credit card.  Please check current prices and rental conditions before you book.
Phone: +33 5 57 55 28 28 
Chateau Soutard is less than half a mile away from the town of Saint-Emilion. 
The winery offers tours and tastings.  You can also rent one of their bikes and explore the vineyards of Saint-Emilion on your own, or with family and friends.  Bike rentals are available for adults and kids.
Chateau Soutard provides a map with three bike routes. 
Château Rozier ran by nine generations of the Saby family offer to explore their winery and the surrounding wine country by electric or regular bikes.  Prices for bike rentals range from 22 to 35 euros.
The family also offers a guided tour of two of their estates, a tasting of eight wines, lunch, and a visit to Saint-Emilion which you can book here.  A truly authentic experience!
Where to rent a bike in the Medoc?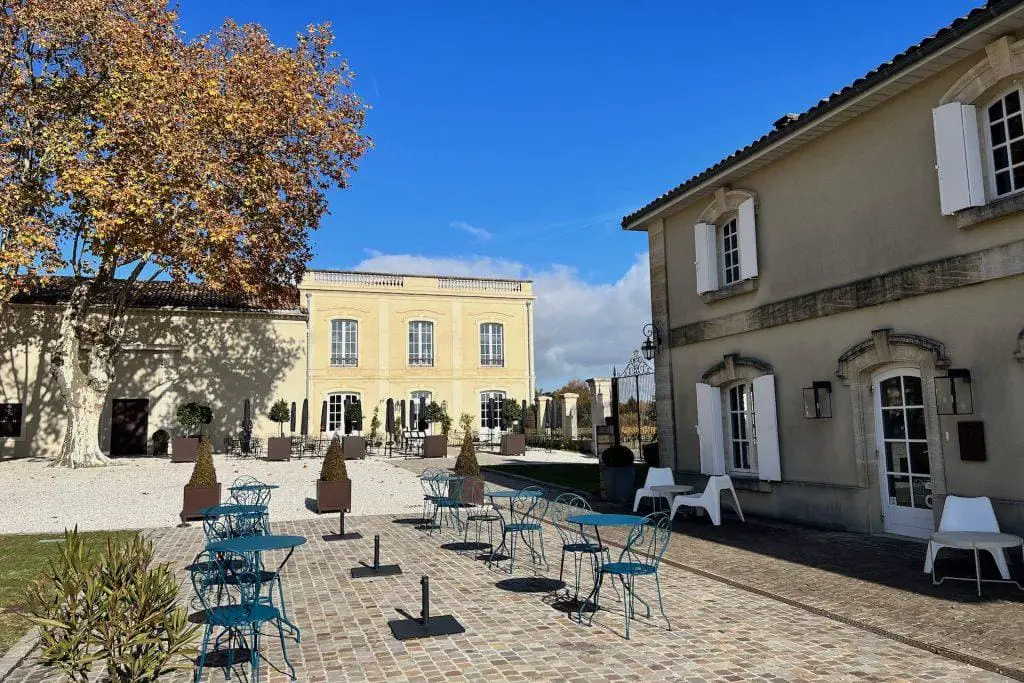 This beautiful 1855 Grand Cru Classe Chateau in Margaux Cantenac provides bikes for rent as well as hosts guided visits and tastings.
2. Chateau Codeillan Bages, Pauillac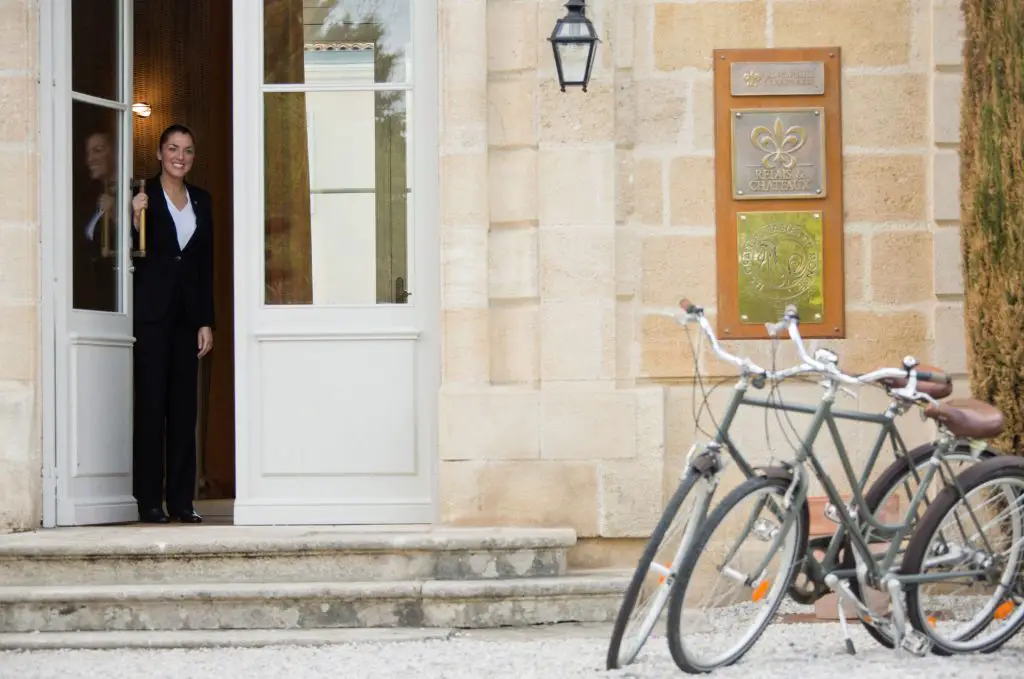 Bike routes in Bordeaux vineyards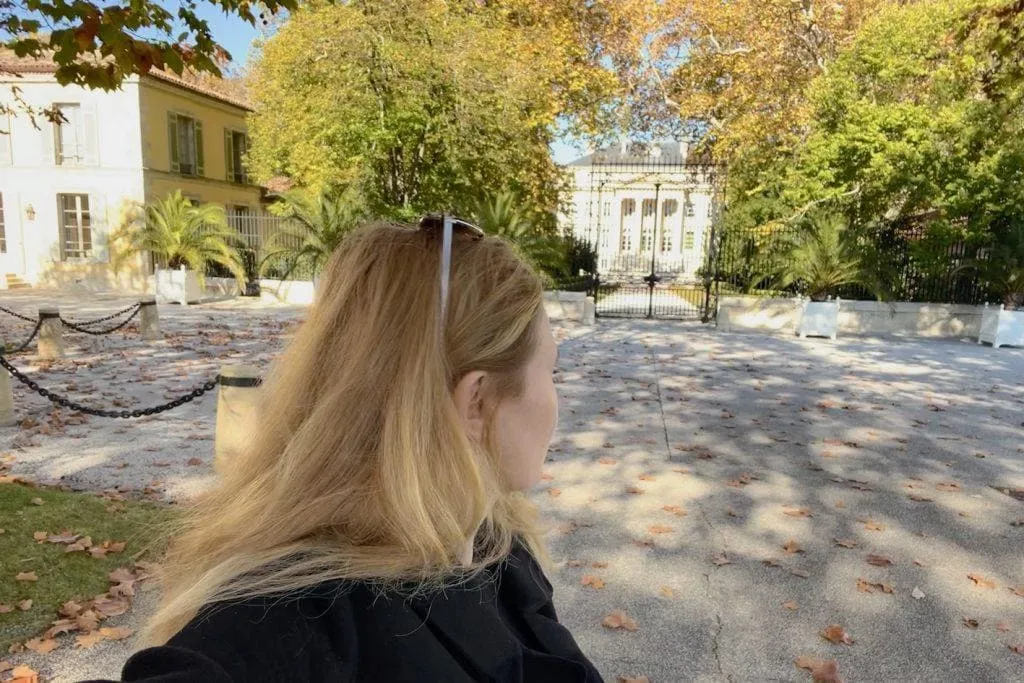 Find more Bordeaux resources in my blog.  More information on my wine tours can be found at Atlas Bordeaux.