You can participate in harvest activities including grape picking and stomping at the Douro Valley quintas, usually in the month of September.
You can arrange harvest experiences yourself or join an organized harvest tour in the Douro Valley.
Harvest season in the Douro Valley is a time that symbolizes the culmination of a year's hard work and the anticipation of exceptional wines.  
Due to its difficult to manage landscapes, Douro Valley wineries mostly practice hand-picking as tractors cannot access steeply terraced vineyards.
A dedicated team of grape pickers, who are often family and friends of wine growers, meticulously hand-select the grapes from the vineyards and place into baskets or crates.  
The crop is delivered to a winery where grapes will be stomped by feet of several workers moving insync in dance-like manner pressing and crushing the grapes to release their juice. This process is accompanied by traditional songs.
Although many wineries have replaced people with automated treading machines or presses, you can still see and participate in traditional harvesting and grape treading at some Douro Valley quintas.
When is harvest in the Douro Valley?
The exact start date of the harvest season in the Douro Valley varies each year, usually occurring between late August and the middle of September. The timing depends on weather conditions throughout the year and the vineyards' response to those conditions.
Hotter summers would trigger earlier harvesting in late August.
Logistically, harvesting and grape stomping experience is not always the easiest, as factors such as weather, availability of ripe grapes and harvest teams make it a bit unpredictive.
Wineries will often schedule your participation and confirm the night before.  Harvest will not take place on a rainy day.
Can I experience harvesting in the Douro Valley?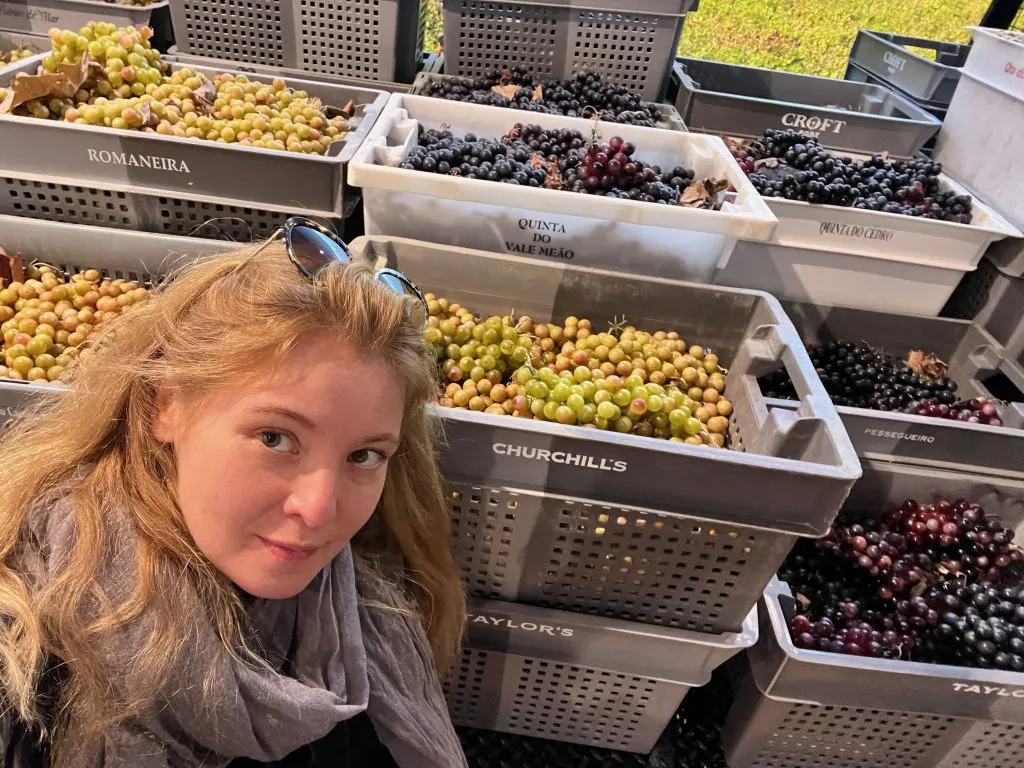 Yes, harvest experience is possible in the Douro Valley. 
You can participate in grape picking and grape stomping at some quintas.
While harvesting is hard physical labor often involving long periods under a scorching sun, bending and lifting, it is a way to explore the winemaking, enjoy nature and make new friends.  Plus, vineyards in the Douro Valley are incredibly beautiful.  A day of harvesting in the Douro Valley will be a lifetime memory.
Stomping is a traditional way of pressing grapes.  I first saw in the Adriano Celentano movie.
In the Douro Valley grape stomping is traditionally done in granite lagares, square-shape containers.  After stomping, free run juice is typically moved to larger vats for fermentation.
I often ask winemakers why grape treading by feet is so important and wheather there is any difference in wine pressed by human feet vs. machines.
Apparently, human touch is very important.  When people stomp grapes they do not crush seeds which gives wines softer tannins and more elegant taste.
Which Wineries in the Douro Valley For Grape Stomping?
Located near the town of Peso da Régua, Quinta da Pacheca is one of the oldest and most traditional estates in the Douro Valley. They offer two harvest options:
– Shorter duration program: Includes a visit to the estate, available in Portuguese, English, French, and German, followed by a wine tasting and a fun stomping session. There's also the possibility of extending the program and having dinner at the property at the end of the day. The dinner buffet includes well-known Portuguese staples such as cod fritters, regional charcuterie and cheeses, and different cuts of meat.
– Full-day experience: Includes grape picking, traditional harvest lunch, and grape stomping. 
Dates vary year on year. Usually, harvest experiences at Quinta da Pacheca start in late August and continue through late September.
You are given a nice T-shirt to keep and lent a pair of blue shorts to wear during stomping.
After your hard work, you can stay at Quinta da Pacheca Wine House Hotel with a spa or dine at their restaurant.
How to Reserve?
Online at HARVEST EXPERIENCES – Quinta da Pacheca – Douro Valley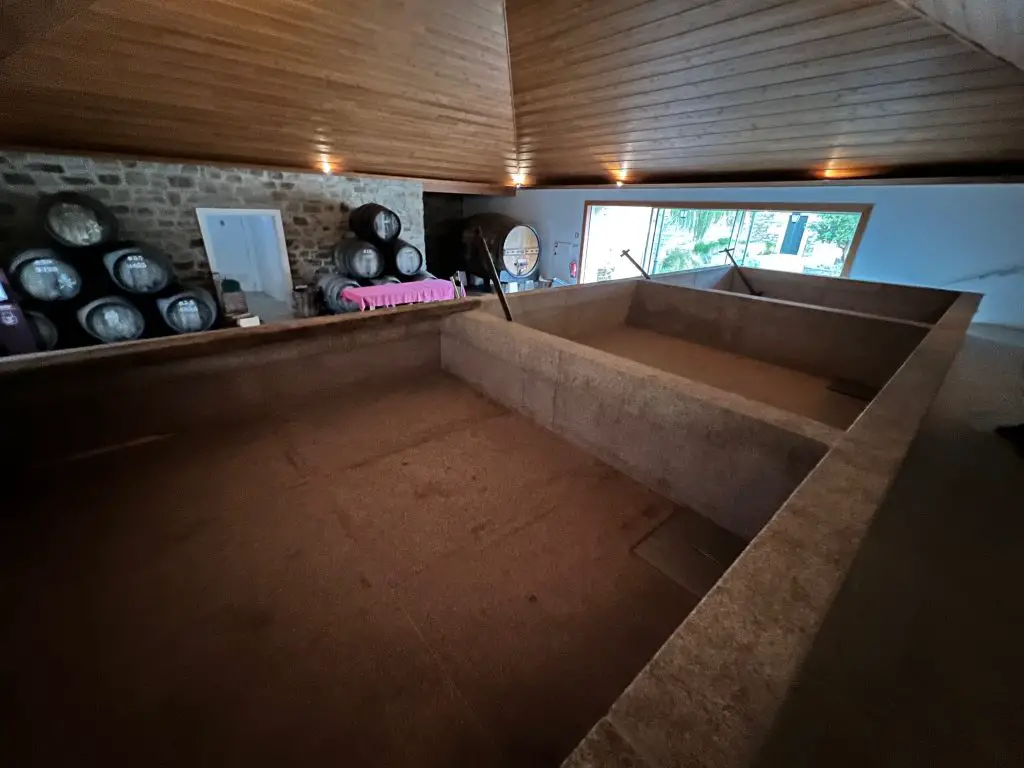 Become part of the making of the famous Croft Port.
Quinta da Roeda offers grape treading in the traditional lagares. The price of the harvest experience is very reasonable includes a visit to the winery and a tasting.  
I would also highly recommend checking a picnic option at Quinta da Roeda which can be a nice relaxing moment after the treading.  For more picnic spots, see Where to Have a Picnic in the Douro Valley?
How to Reserve?
Grape Treading – Croft Port or by calling  +351 220 133 102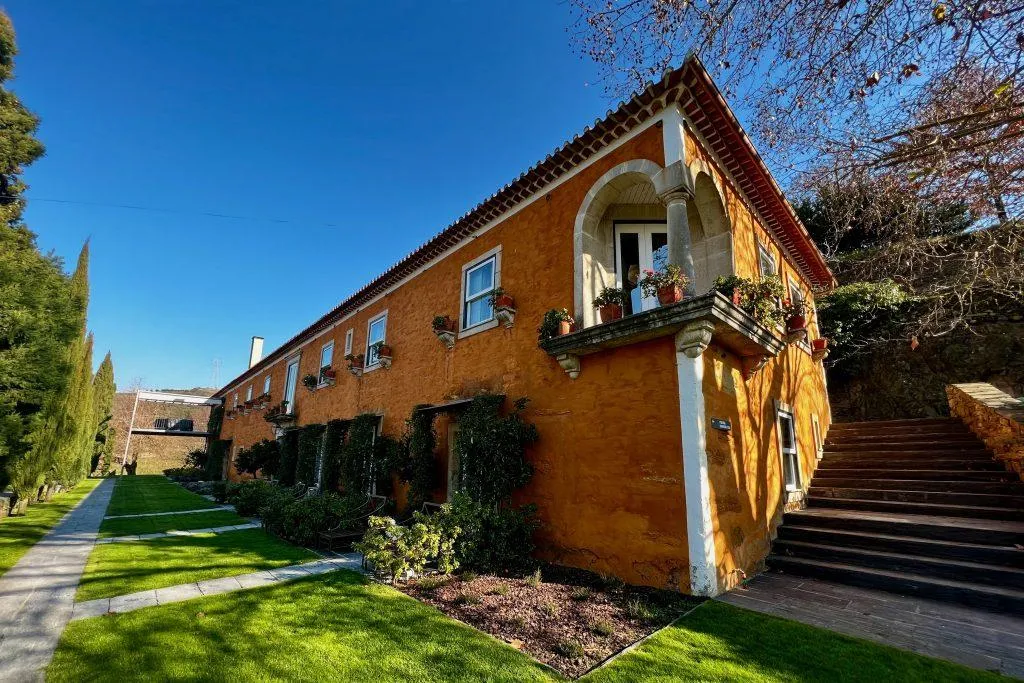 Established in 1716, Quinta do Vallado is one of the oldest wine-producing estates in the Douro region. Their harvest program offers a comprehensive experience:
– Morning Option: Starts with a light breakfast and a short briefing on the day ahead. Participants are provided with a "harvest kit" including scissors, a bucket, a hat, and a t-shirt. They then head out to the vineyards to pick grapes and enjoy the beautiful scenery. Afterward, there's a tour of the winery and cellar, followed by a wine tasting session and grape stomping. The experience concludes with a traditional harvest lunch.
– Afternoon Option: Includes a tour of the winery, a wine tasting, a grape stomping session, lunch, grape picking, and a regional snack.
In 2023, the experience is scheduled for the 30th of August, however, contact the quinta a few weeks in advance to confirm the dates.
To complete your day, consider staying at Quinta do Vallado hotel overlooking the vineyards. 
How to Reserve?
Harvest at Quinta do Vallado or by emailing enoturismo@quintadovallado.com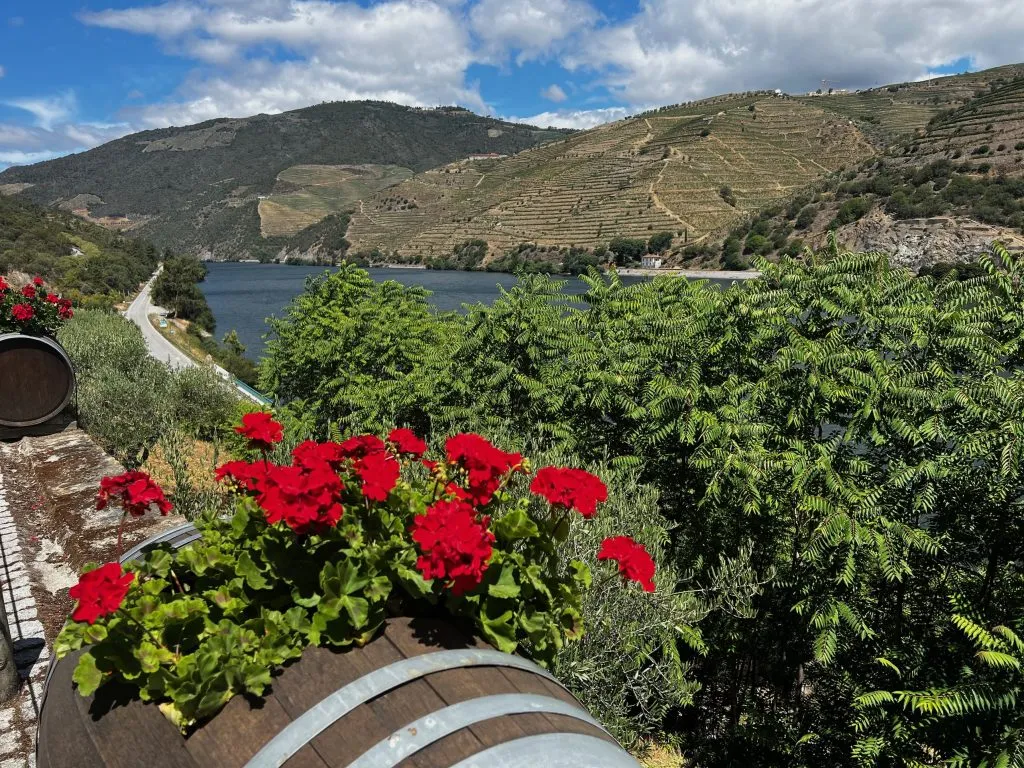 Quinta do Tedo offers a unique hands-on harvest experience led by owner Kay Bouchard. Guests will be given scissors and buckets and head to the organic vineyards to help harvesting.  After a traditional lunch with grape pickers accompanied by Quinta do Tedo wines, participate in grape stomping in old lagares.
Please bring your own gloves and sunscreen.
In 2023, the session was scheduled for September 1.  The dates may differ from year to year.
If you are in the Douro Valley on a different date, Quinta do Tedo offers visits and tastings as well as picnics.
How to Reserve?

Quinta da Côrte, located in Valença do Douro, offers a "A Day to Harvest" program usually from the end of September to the beginning of October. 
The program starts at 10 a.m. with a welcome coffee, followed by grape harvesting of typical wine grape varieties like touriga nacional and touriga franca. Participants then proceed to the winery for the traditional grape stomping, known as "pisa."  The experience concludes with a tasting of their selected wines, such as Princesa or Quinta da Côrte.  A typical lunch of the region paired with two table wines and two ports is included. 
To participate, a minimum of six people is required. 
How to Reserve?
For reservations, email enoturismo.reservas@quintadacorte.com. 
Take part in the harvest at Quinta da Côrte ! – Quinta Da Côrte – Vins, Portos et Oenotourisme – Douro, Portugal (quintadacorte.com)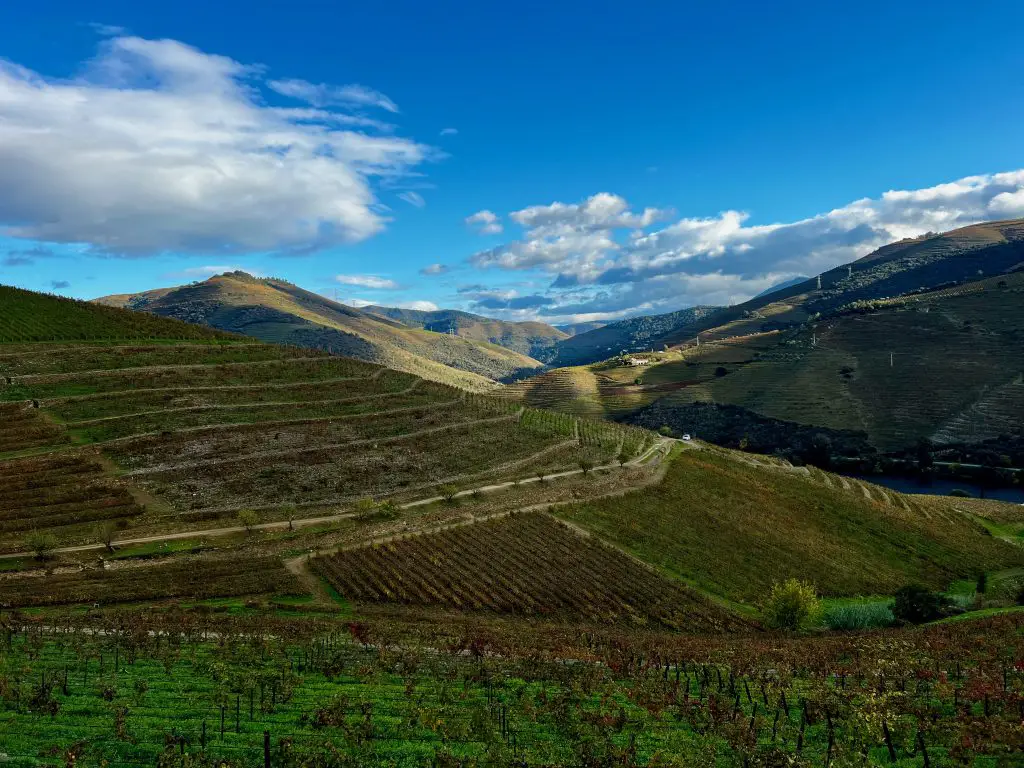 Quinta Nova in Covas do Douro, with its rich history and listed status since 1756, offers an immersive premium harvest experience. 
In 2023, you can join the harvest on September 8th or 12th, cut the grapes, enter the winery and taste the first wine. 
Participants engage in grape picking, a guided tour of the vineyard, the Fernanda Ramos Amorim Wine Museum Centre, the winery, historic wine cellar, and barrel rooms. They also taste the first wine and enjoy a classic Douro wine tasting. The experience concludes with a regional harvest lunch.
Quinta Nova is a place to indulge in gastronomy – visit its Terraçu's restaurant offering the best of the local cuisine.  A small luxury hotel at Quinta Nova is part of the Relais & Chateaux network.  There is much more discover.
How to Reserve?
Online or by emailing quintanovawinetourism@amorimfamilyestates.com