This is the second most popular question I get when organizing wine tours in Bordeaux, France.
The simple answer is that…
…there is no dress code at French wineries. There is no need to dress up for wine tastings in France.  Casual style is usually appropriate.  To be on the safe side, avoid flip flops, heels, shorts for men, torn t-shirts and very short miniskirts. Wear comfortable, closed-toe shoes, layers and something colorful and stylish to take nice pictures.
Read on if you want to dive in and make your wine tasting in France even more fun and comfortable.
Of course, everything depends on the season.  As most wine tours in France happen in the summer, let me touch on what to wear for a wine tour in France in the summer.  I have also included some suggestions on useful accessories to pack for your wine vacation in France.
What Are the Best Shoes for a Wine Tasting in France?
My first advice is to not make your shoes a style statement on your wine tour. Simply wear your most comfortable pair.
Visiting wineries in France may involve walking in vineyards over dirt and pebbles.  
As you may have heard, in France, except in the Champagne region, most wineries are in the countryside.  It is explained among other things by the appellation requirements that wines should be made and bottled in the same location where grapes are grown.
This may be different from other wine regions. For example in Porto, Portugal, or in La Rioja, Spain, you will find wineries and tasting rooms right in the city and next to one another since winemakers in those countries are allowed to buy grapes elsewhere for their wines and age wine away from the wine growing estate.
All this is to say, you almost always have to travel to the countryside for your wine tour in France. Keep this in mind when choosing shoes for your wine tasting.
Wineries, especially older ones. may have underground cellars with steep stairs and uneven floors. 
Cobblestone streets in French towns like Saint-Emilion are another reason to prefer a comfortable pair of flats with an anti-slip sole.
Some cellars may be cold, dark and wet. Closed-toe shoes should be your preference for safety and comfort.
I strongly advise against flip-flops.  Not only they are unsafe on uneven surfaces, but a "faux pas" in French culture.  In France, wearing flip-flops anywhere outside beaches may get you a judging look.  Also, keep in mind that flip-flops are banned when driving in France and Spain.
Avoid white or light fabric shoes that can get stained. There isn't only a risk of spills during tastings. If you are at a winery around harvest time, grapes and grape juice are everywhere.  It will be wise to keep your white keds for another occasion.
Best shoes for wine tours in France:
Loafers or mocassins
Ankle boots
Comfy sandals
What Should I Wear for a Wine Tour in France?
Should I Dress Up for a Wine Tasting in France?
French people know how to look elegant and classy in any circumstances. Your hosts may appear quite overdressed.  French dress code is on average more strict than in the United States.
Of course, there is no dress code for visitors on a wine tour.
However, if you are visiting a winery that is a luxury establishment, such as a grand cru classe chateau, for example, Chateau Mouton Rothschild near Bordeaux, you may want to dress up just a tad.  At these wineries, your tour guide will likely wear a suit.  You will walk through museum-like rooms featuring art collections and taste high-quality wines. 
I would also suggest dressing up a little for formal meals at wineries or for your lunch at a nice Michelin-star wine country restaurant. 
French men often wear shirts, pulls, slacks, and club jackets on these occasions.  For other less formal wine tastings, a simple polo shirt, denim jeans and sneakers will do just fine.
Ladies, see more suggestions below. 
RELATED: Bordeaux Michelin-star Restaurants with a Map
You will likely be touring wineries for a full day. I would suggest wearing layers.  Mornings can be cool in a wine country, by the afternoon temperatures may raise  may well be hot. Bordeaux is often foggy in the morning as our main wine regions, the Medoc and Saint Emilion are on the river banks.   
Another reason to dress in layers is cold temperatures in aging cellars.  Wineries often take you to see their precious barrels or historic underground cellars. You may need a light sweater or a jacket as cellars keep a constant temperature of approximately 13C (55F) throughout the year. 
The cellars of  Chateau Villemaurine in Saint Emilion are so cool that they offer blankets to their visitors!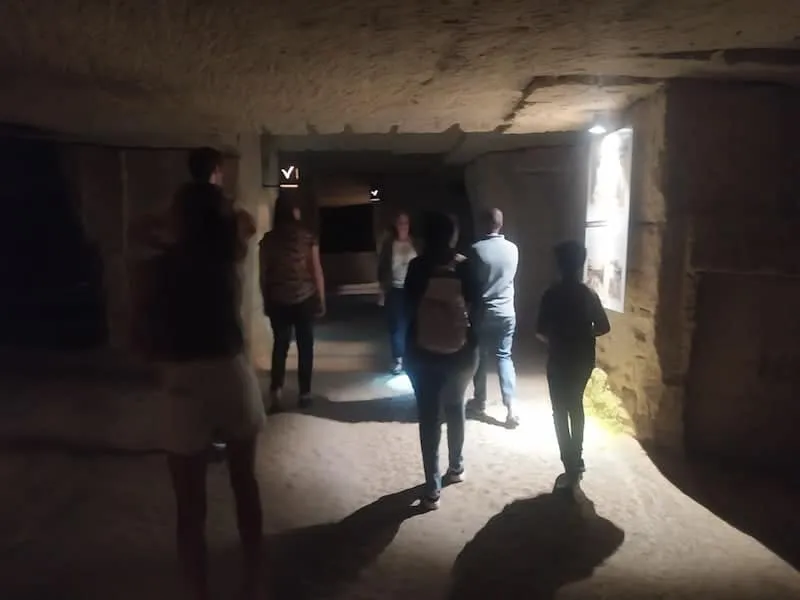 White is beautiful on a sunny day in the wine country, but I would never wear anything white for wine tasting events, at least nothing you care about.
Stains are way too common when during tastings, winery picnics, and even when just walking through the winery especially during harvest in September and October.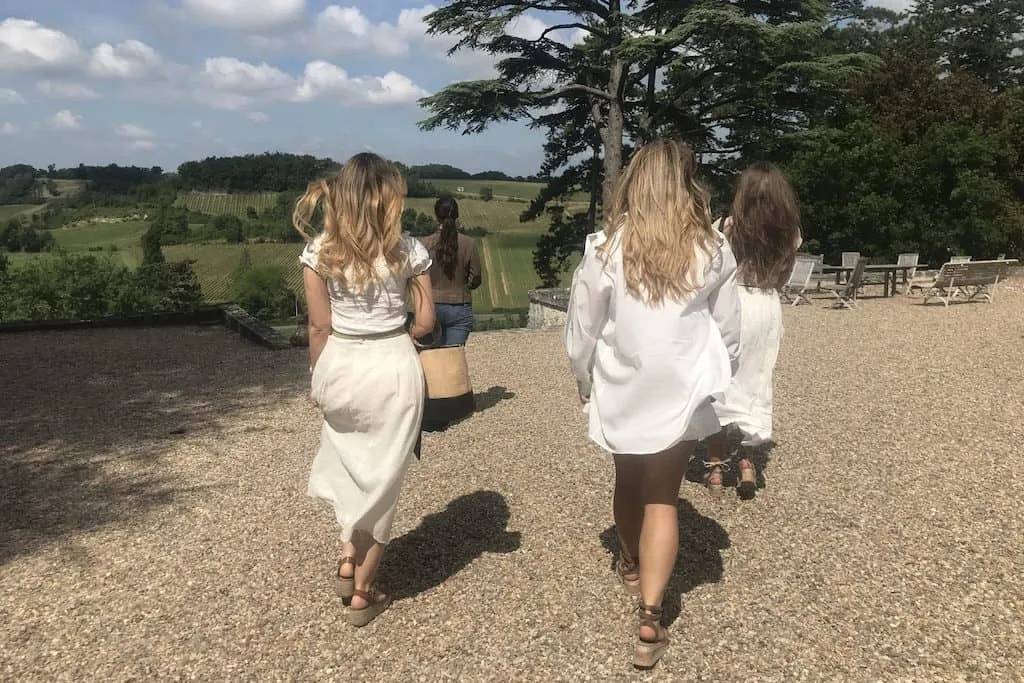 Wine tours are a wonderful photo opp.  Bring home a couple of romantic pictures in vineyards or on the stairs of a chateau.  My advice would be to wear something colorful – a dress, a skirt, a blouse or even a purse. Wine tours are fun and the right moment to wear fun outfits.
Bohemian and romantic floral dresses look fantastic in the vineyards.  Colorful maxi dresses are my favorite. Remember to avoid greens and dark colors for your photoshoot in vineyards or lavender fields.
Classic and elegant outfits would look nice in a Champagne tasting room.  
You may want to be careful with skirts that are too short.  At the wineries you often have to take steep stairs. 
Light cotton pants paired with a bright blouse are another option for summer wine tours in France. 
I have noticed that French men are not afraid of bold bright colors.  Red pulls, salmon color pants, and even fluorescent green shirts can be frequently seen.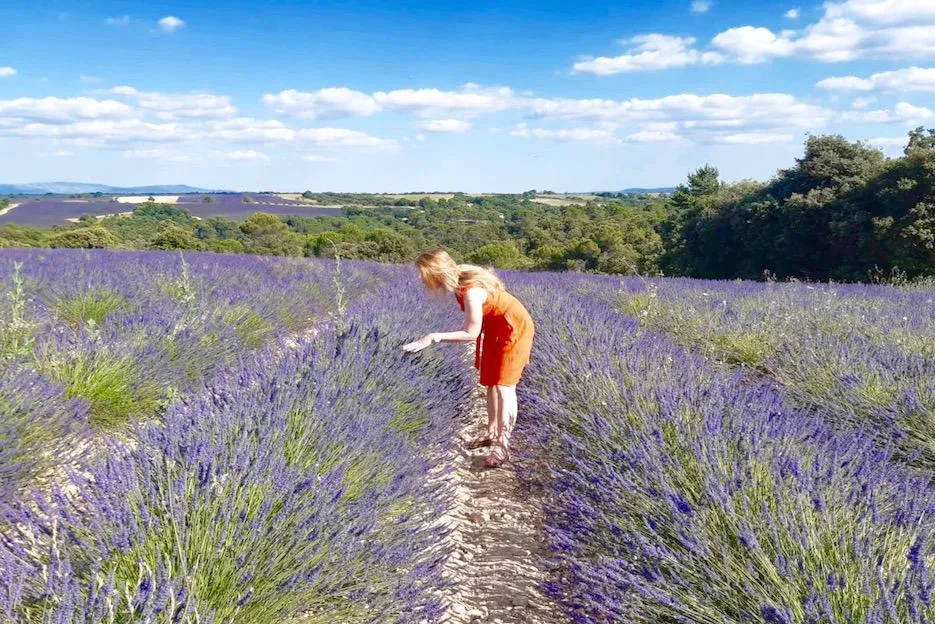 I like my orange dress on pictures in Valensole, Provence.
Essential Accessories for Wine Travel
A hat or a panama and sunglasses are essential.
Pick up a straw hat or panama for a summer picnic at a winery.  I found hats online that guarantee high levels of UV light protection UPF 50+.
The cork sunglasses will steal the show on your wine tour.  I am not a fan of cork items in general but these cork sunglasses look quite trendy and they are practically weightless.
I never leave home in France without sunscreen as my skin is very fair and is prone to sunburn. 
I have been looking for the best sunscreen for years and found this French brand Anthelios by La Roche-Posay.  
It has a nice fluid texture and good protection level SPF50. However, its best feature is its bottle shape. The sunscreen comes in a small flat bottle which fits well even in the tiniest cross-body bag. 
You can buy it in the US or pick it up in France at a local pharmacy.

Wine Sleeves and Bottle Protectors
If you are hopping wineries and buying a bottle here and there, the packaging is not great. Most often a winery will hand you a bottle in a plastic bag.  
If you plan on bringing some bottles home in your luggage, there is a great and cheap solution to avoid wine spilling inside your bag. Bottle protector sleeves don't take much room in your bags. 
A budget alternative is an inflatable bottle protector that comes with a small pump.
Some of my Bordeaux wine tour clients want to bring a few valuable bottles of their favorite Bordeaux wine with them.  In fact, it does make very good sense to bring home rare vintages.
This TSA-approved wine suitcase holds up to 12 bottles of varying sizes and shapes.  You can use it as a regular checked-in bag.
Have you heard of this wine tour essential?  I have not tried them yet, but I imagine that is a must-have for anyone tasting a lot of red wine. 
Wine wipes claim to remove wine stains from teeth and lips without interfering with the taste or experience of enjoying wine.  Let's put them to the test!
More Bordeaux resources for you…
In any case, there is no need to stress about what to wear for a wine tasting.  Bring yourself, relax and have fun!  
I will be happy to organize your Bordeaux wine tour.  For other wine regions see my wine tour destination guides here.
Get more tips on organizing your wine tasting in Europe in my blog.