When you travel to Bordeaux, you may wonder where to buy authentic Bordeaux wines and to not break the bank.
Bordeaux is all about wine, there is no shortage of shopping options here. 
There are pros and cons of each, depending on the type of wine you are buying and whether you already know what you are looking for.
When buying wines in Bordeaux consider the following:
How many bottles can you bring back to your country duty-free? 
Does your country allow the import of wines? What is the import duty?
Remember when sending wine abroad, you are exempt from paying 20% French sales tax.
Shipping costs are steep. Is it worth to send wine to your country? Fine wines can be worth sending home while "Tuesday wines" may not be worth it if you are shipping overseas.
Check whether the same wines and vintages are available in your country.
If you live in a hot place, avoid shipping wines during hot months.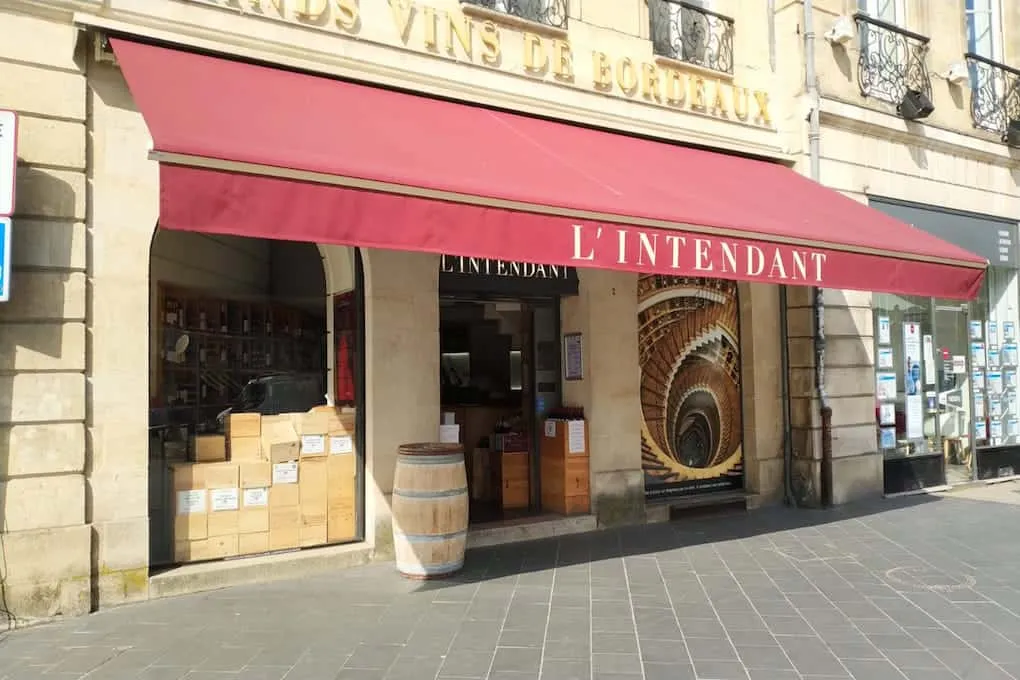 1. Wine Shops in the Center of Bordeaux
Wine shops concentrated around Allees Tourny in the Grand Theatre area, are a convenient option, if you are staying in the city center and not going on a wine tour outside of Bordeaux. 
These shops are serving both locals and visitors. They will be happy to give you advice on local wines and ship a case or two to your house. Normally, they will have someone speaking English to help you.  
Here, you will find a good selection of fine wines – grand cru classe of Medoc, Premier crus of Saint-Emilion, top wines of Pomerol, Cognacs, and Armagnacs. 
French wines from other regions are presented too, however, the selection isn't as wide. Prices may be higher than elsewhere, but not necessarily. 
Click on the map to see details
2. Smaller Wine Shops (Caves) and Bars
These are small privately-owned wine shops spotted all around the center of Bordeaux and the Quartier St Michel.
They will carry a selection of Bordeaux in a popular segment as well as new, organic, and other interesting wines selected for the local crowd. 
You will likely not find a lot of fine Grand Cru Classe wines in all of these shops, but I was able to get some very nice French wines in the 15 to 30 euro range.  
Walk in and start a conversation. These shops often offer wines to taste.  For example, Cousin & Compagnie offer tastings of 3 wines for 12 euros.  There are also upgraded options such as 5 wines to taste and the tasting of grand cru classe (49 euros). Book through their Facebook page or drop in.  
I also had excellent tasting experience with the wine tasting at Le Pied à Terre at Bordeaux Place Gambetta.
Many bars are authorized to sell wine "to-go".  Don't hesitate to ask.
These shops are the best option when you want to explore new and interesting French wines, to get some local advice, and go buy a few bottles to drink while you are in the area. Drink like the locals do!
Click on the map to see details
Cash Vin is a wine and beer wholesaler. They carry a wide selection of all kinds of French wines and have occasional flash sales of excellent Bordeaux – Chateau Lafite Rothschild and the likes.
There are several locations, however, they are outside the city center.  The closest to the city center will be in Merignac, a suburban area close to the Bordeaux airport.
Check out their website to get an idea of the selection and prices. The website is in French only.
A wine tour in Bordeaux is pretty much a "must-do" and an opportunity to taste wine. On a full-day tour would usually visit 3 wineries where you can buy wines. 
During the winery visit in Bordeaux you will be shown around the winery and the cellars. You get to taste the wine and to see the place where it is made and even meet the winemaker. The wine will be an excellent memory of your vacation. Plus, you help small wineries by buying directly.  
Aside from that, if you are looking to buy specific vintages and old vintages of top Bordeaux, they may be available only at the chateaux. 
Some fine wine bottles will spend a lot of time traveling around the world and being displayed in less than ideal storage conditions at wine shops, which can result in various wine faults. 
On the contrary, wines you buy at the Bordeaux chateaux would have never left the cellars.
For example, my favourite Saint-Emilion Chateau Beausejour-Becot keeps its bottles in moist underground galleries dug under the vineyards between the 10th and the 18th century. Imagine, buying a bottle of your birth year that have never left the dark cellars of the chateau. It is priceless and you know the wine is 100% authentic.
It makes the most sense to buy rare vintages of fine wines directly from the chateaux. More recent vintages of top chateaux can be widely available, even in your country.  Compare prices at wine shops, at the chateaux and online.  
Another reason to buy directly is that small chateau wines may not be available elsewhere and not exported to your country.
Most wineries these days will be able to ship wine abroad. Shipping costs are quite steep and start from 100 euros for a case of 6 bottles and 130 euros for 12 bottles. However, let me sweeten this up.   
Firstly, your bottles are fully insured.  
Secondly, the shipping cost often includes all import taxes (confirm with the chateaux). 
And lastly, if you buy wines in France and ship them abroad, you are exempt from 20% local sales tax. Depending on the wine you buy, the shipping cost may be offset by sales tax savings. 
Only a few wineries will have a wine club subscription, it is not a common thing at Bordeaux wineries (yet?).
Although in most cases you will be able to buy wine at the chateaux, you may find that some of them are sold out on many good vintages, or not engage in retail sales at all. They will refer you to shops and merchants to access their wines.  
This goes back to the old Bordeaux tradition where the noble chateau owners considered trade as "low" and outsourced it to wine merchants, about 300 of whom are still in charge of sale of the most of the Bordeaux wine today.  
5. Wine Shops in Saint-Emilion​
There are dozens of nice wine shops in the capital of wine, the town of Saint-Emilion. The best thing about them is that they let you taste many wines and you can choose your favorite and get professional advice.  
Most of the shop owners and staff speak English and are knowledgeable about local wines. 
My suggestion would be to focus on wine of petit chateaux (small wineries) discovered by these cavists. Many wineries only produce a few cases and they give exclusivity to the local shops. There are some great finds there.  
Of course, the wine shops carry a great selection of top Bordeaux wines including rare vintages. Some of the merchants here will buy Bordeaux wines from chateaux in futures (En Primeur) which gives them (and hopefully you) a better deal. 
Do your homework and compare prices online for specific vintages. After all, Saint-Emilion is a touristy place. Unlike other places, you can haggle a little if you are buying a case or more.  
During the Saint-Emilion wine tours we usually stop in the village where you can check out the numerous wine shops.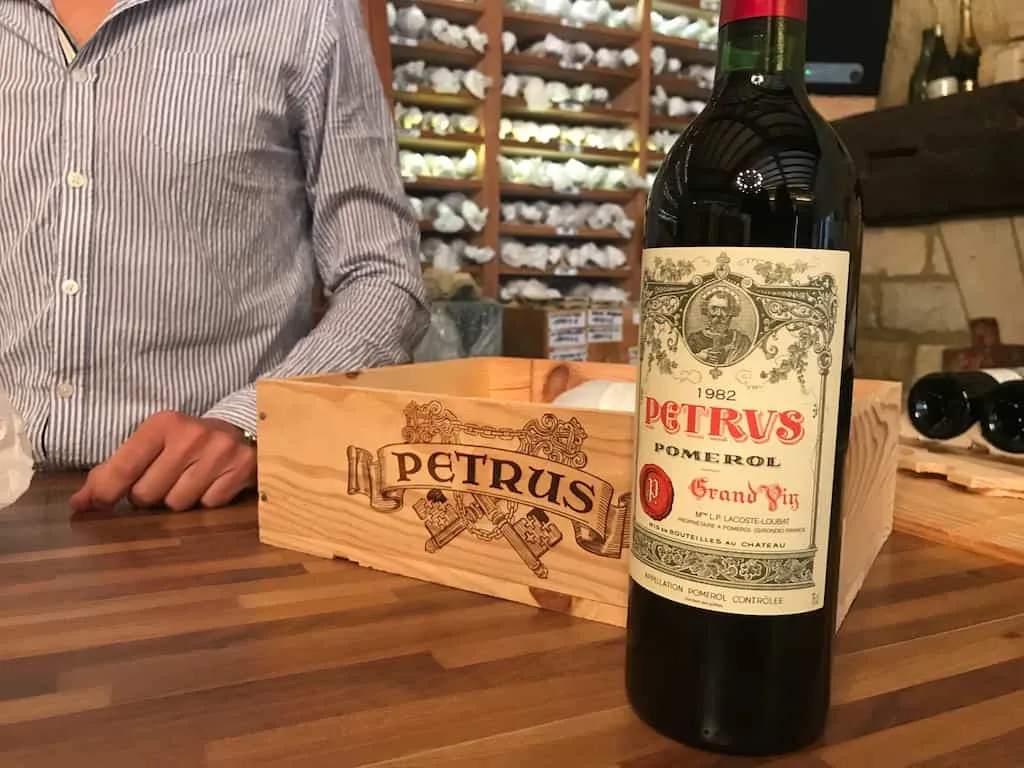 French supermarkets carry alcohol including some very fine Bordeaux wines. It is not uncommon to see the best vintages of the First Growth wineries on the supermarket shelves.
To get a better choice, head out a little away from the city center.  The larger big-box supermarkets E.Leclerc, Auchan, Carrefour, InterMarche have immense wine isles with the big names. Hopefully, storage conditions have been followed carefully. 
You may be pleasantly surprised by prices. However, there is no option to ship, consultations or tastings aren't possible either.