The best months to visit the Douro Valley are April, May, June, September, October and early November.
The Douro Valley experiences during December though March can also be excellent, just be prepared for a chance of colder and rainier weather.  There are plenty of beautiful sunny days during winter and early spring, great to enjoy the calm, the wines, the food and personal connections with those who live and work in the Douro Valley.
RELATED:
Is the Douro Valley Worth Visiting?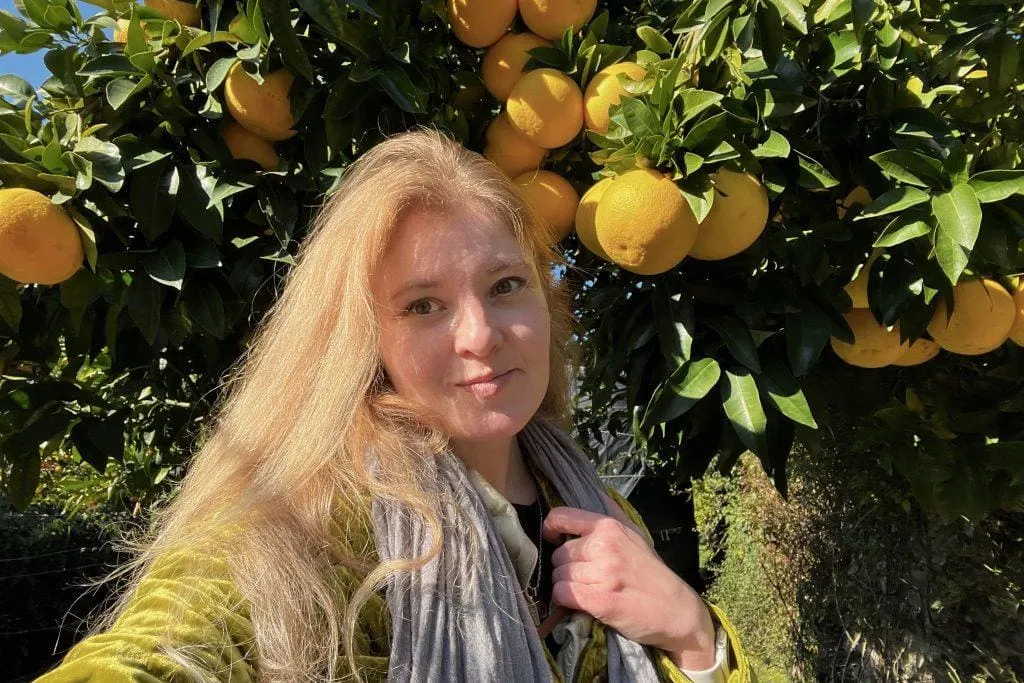 I have been visiting wineries in Douro in all different seasons.  Let's discuss what months are the best to visit the Douro Valley and why.
In January, Douro Valley is quiet and magical.  As you navigate the roads that follow the meandering river or travel to Douro by train, you may encounter an ethereal fog or wisps of smoke rising from wood burning, casting a mysterious veil over the tranquil waters.
January in the Douro Valley can bring colder temperatures at night, rainfall and higher humidity. Average daytime temperature is around 13°C (55°F), while lows can go below 7°C (44°F). I often hear from those who live in the Douro Valley that frost is common during the winter.
It is important to know that some hotels in the area may be closed in January for their annual maintenance and staff vacations.
However, most wineries are open for visits except everything is closed on January 1 ,   You will enjoy personal attention of your guides, extra long tastings watching the quiet beauty of the Douro Valley. There are no leafs on the vines in January. Only workers busy pruning and preparing for the new season.
Douro Valley Hotels Open in January:
Much like in the month January, February is a tranquil month although i have always been lucky with sunny and dry weather and warmer days at 14°C-16°C (57°F-60°F).  Night time temperatures are around 5°C-10°C (41°F-50°F) with risk of frost.
February is excellent for hiking, wine tastings, gastronomic experiences and observing the tranquility of the valley.  Another idea for a colder day is tasting ports wines or even a learning about wines like in this Beginner Wine Course in Pinhão.
Plus, enjoy low season prices at the best Douro Valley hotels. This is the time to enjoy luxury hotels & spas if you are up for those experiences.  I have once stayed in February at a 3-bedroom "casa" near Casal de Loivos for only 20 euros with fantastic views and homemade breakfast included.  
In February, Douro Valley wineries are open for the season and welcome guests.  
Some restaurants may still be closed.  I recommend checking opening days with the restaurants and making reservations before going.
RELATED: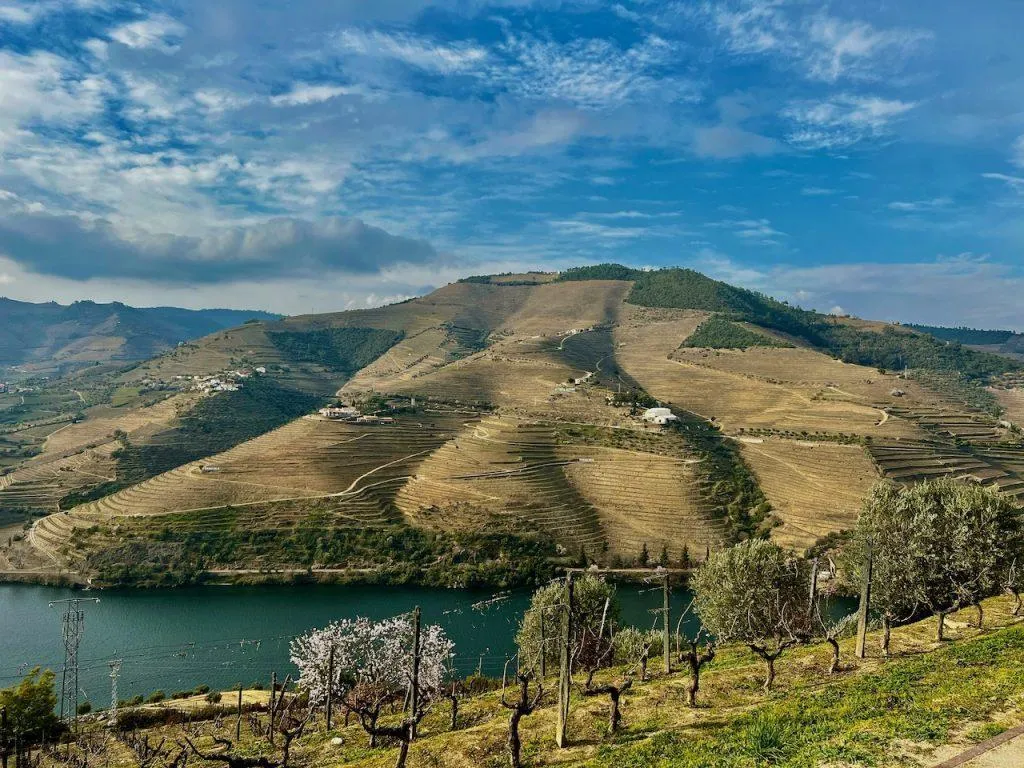 March in the Douro Valley marks the transition from winter to spring. March has higher chance of rain than January and February, but the temperatures are warmer averaging 16.5°C (62°F) during the day but it can still feel cool in the evenings.  You may want to pack layers to accommodate the fluctuating temperatures.
March is a lovely time to visit the Douro Valley as nature begins to awaken after winter. The vineyards and hillsides start to turn green again. My favourite site of Douro in March is flowering almond trees. 
Hotel prices are still excellent, days are longer.
March is a good time to walk, taste wines, and take a river cruise, but look up the weather forecast to avoid a trip on a rainy day.  
Here are some ideas for Douro Valley wine tours.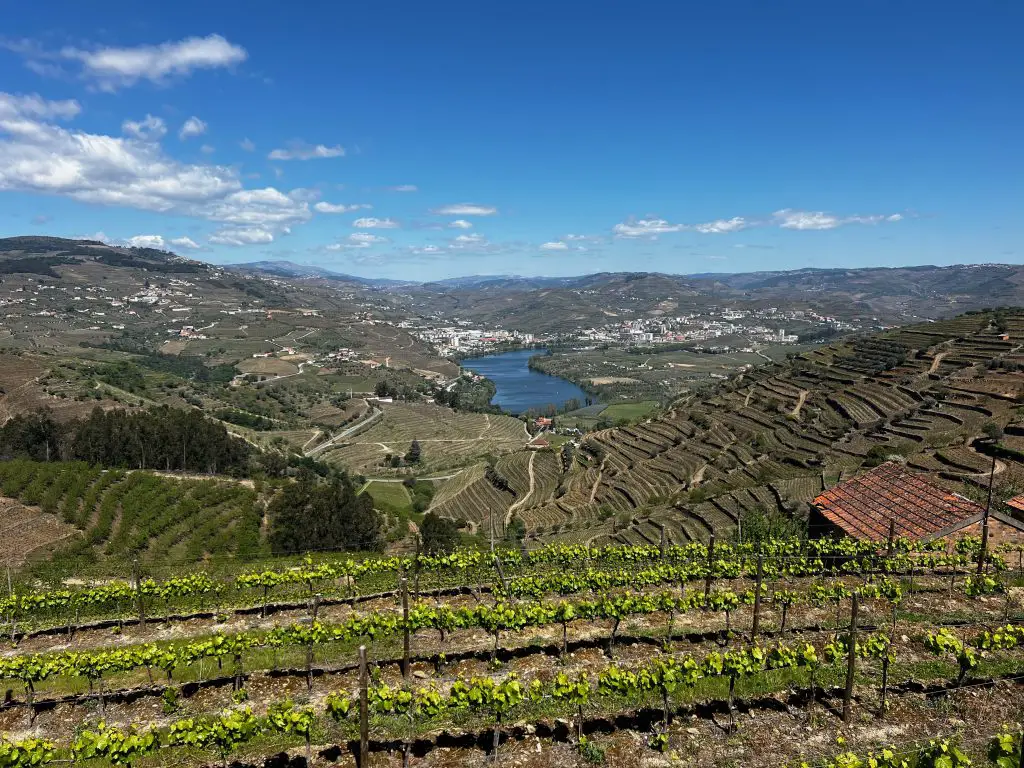 Abril, águas mil! which means that April can be a wet month in the Douro Valley with an average of 11.3 rainy days.
Douro Valley temperatures in April range between average low of 9 °C (48°F) and an average high of 18.4°C (65.1°F).  
April is a great month to visit the valley – not too hot, not too warm.  Indeed, an ideal time to observe developing vines and enjoy greenery and cool fresh air. In April. vines reach their adolescent stage showing bright green foliage and even flowers.
I took the picture above in the middle of April during a hike in Lamego.  It was a T-shirt weather already.
You will still see best deals for hotels in the month of April before they go up in May. 
However, hotel prices may be quite high during the Easter weekend.
RELATED: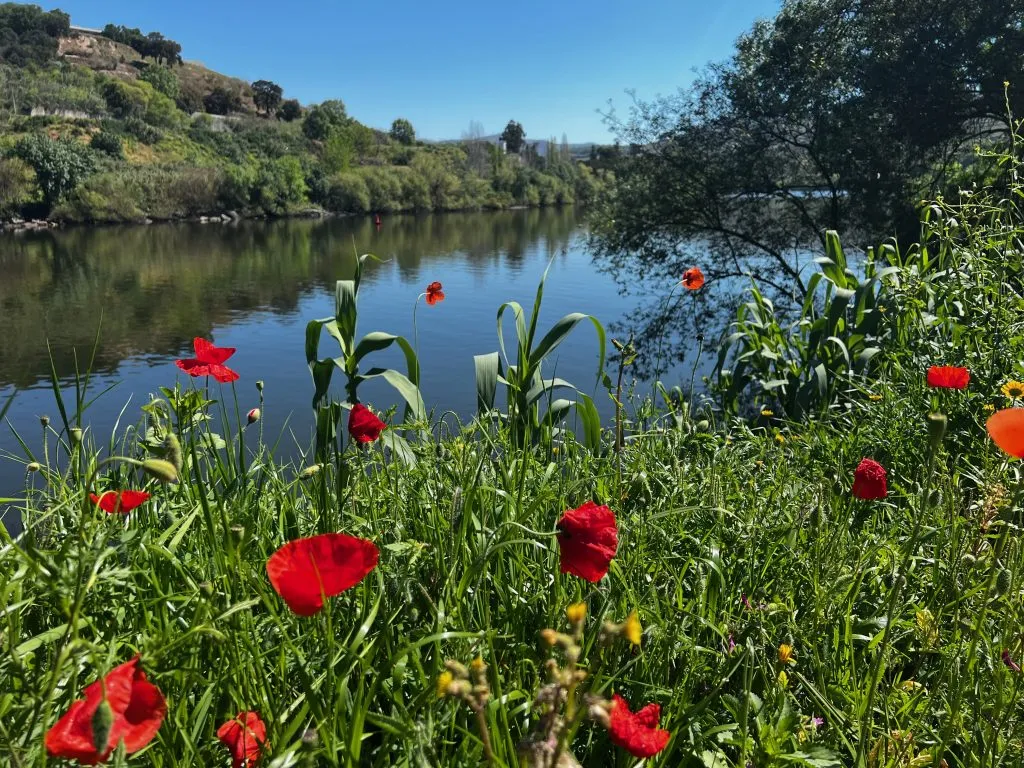 May is excellent to visit anywhere in Europe and of course, May is one of the best months to visit the Douro Valley.
May temperatures are pleasant, no extreme temperatures, an average high of 22°C (71.6°F) and an average low of 11.8°C (53.2°F).  
You will still need a jacket, but do not forget a hat and use sunscreen. 
Douro Valley is blooming in May – poppies and cherry trees blossoms are my favourite May flowers.
May in the Douro Valley is great for everything – river cruises, hiking, kayaking, wine tastings, outside dining at gastronomic restaurants, and  picnics with amazing views.
May holds some wine festivals –  Festival do Vinho do Douro Superior in Vila Nova de Foz Coa takes place at the end of May.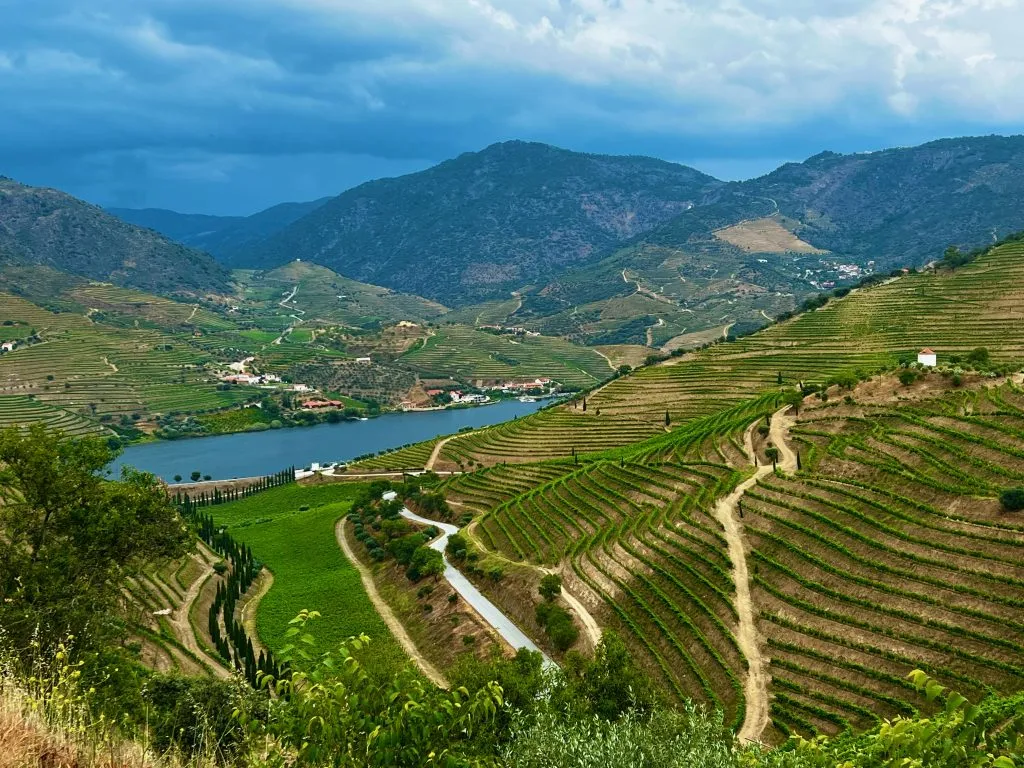 June is a popular month in the valley and marks the peak of hotel prices.  
But it is for the reason.  June is a beautiful time to visit the Douro Valley as the vineyards are lush and vibrant with green foliage. 
June is a moderately hot month, with an average temperature fluctuating between 13.7°C (56.7°F) and 24.1°C (75.4°F).  Temperatures may go up to as high as 30°C (86°F).

Enjoy the valley day and night, jump into an infinity pool and enjoy the jaw-dropping landscapes.
With the pleasant weather, June offers an array of outdoor activities in the Douro Valley. You can go on scenic cruises along the Douro River, taking in the panoramic views of the valley from the water. Kayaking is also a popular option for exploring the river and its surroundings more closely. Outdoor dining is particularly enjoyable during this time allowing you to savor the local cuisine while admiring the stunning views.
July can experience hotter temperatures.  It is also a very dry month in the Douro Valley.
Grapes are turning black showing the potential of the harvest.  They are already plump and sweet.
I recommend choosing a hotel with an AC and a pool.  Mornings are the best for walks in the vineyards as afternoons get quite hot with temperatures over 30°C (86°F) sometimes reaching as high as 45°C (113°F).  Hat and sunscreen are important.
Nights can still be cool and pleasant near the river.  In my opinion, there is nothing better than stargazing in Douro on a warm night in July.
August is another hot month in the Douro Valley.  
Although the average high temperature of the day is 27.7°C (81.9°F), much higher temperatures are not unusual.  In August, Douro Valley temperatures can exceed those in Porto by nearly 15°C-20°C.
The chance of rain is low, with the average number of rainy days per month at only 2.5.
Similar to July, a hotel with an AC, indoor restaurant, and a pool is a good idea.  Enjoy summer picnic and a cool glass of wine.  
Watch the grapes ripening everyday getting ready to be picked up in September.
Douro Valley in September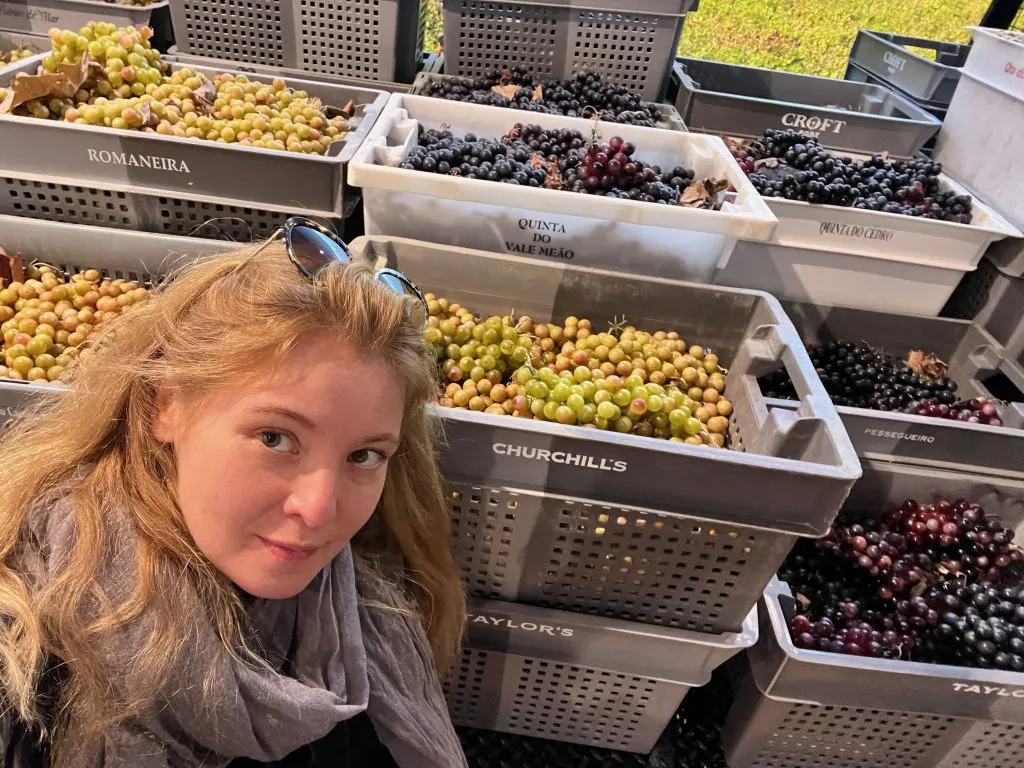 September in the Douro Valley is a busy month with grape harvest in full-swing.
You may witness vineyard workers picking grapes and transporting them to wineries. The roads can be busier than usual with trucks loaded with grapes, and it's not uncommon to find yourself following a tractor along the scenic N-222 road.
However, it is a wonderful month to see the region at the peak of its activity and even participate in harvesting and winemaking joining workers for grape stomping in the historic lagares. 
Whether you're interested in wine tasting, exploring the countryside, or simply enjoying the pleasant weather, September is one of the best months to visit the Douro Valley.
Although a bit cooler than August, September can be quite a warm month. On average the daytime temperature is 26.2°C (80°F) with low chance of rain.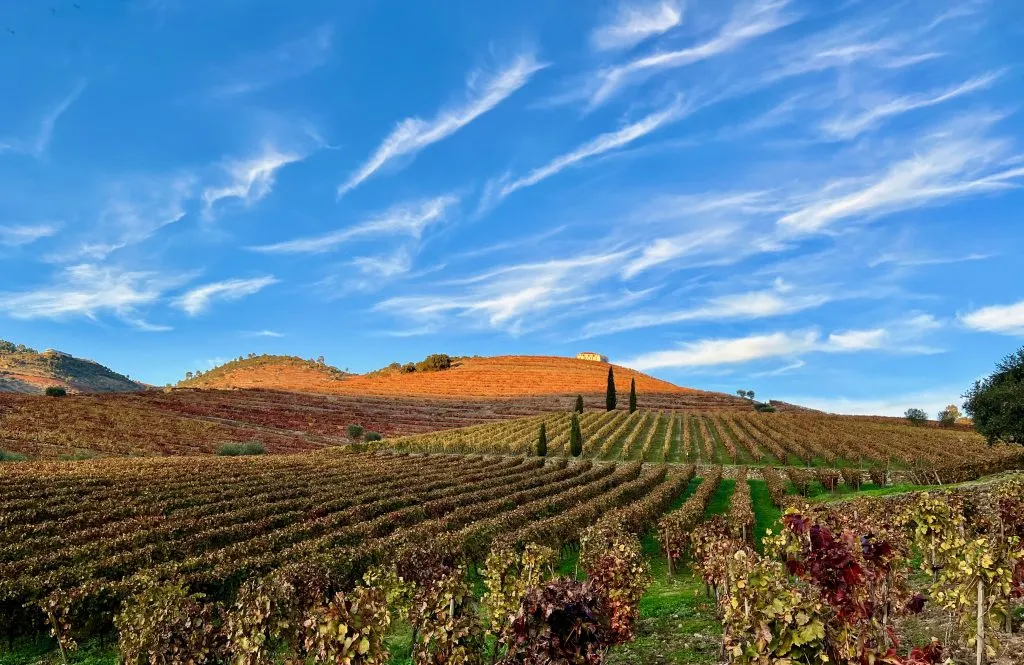 October is my favourite month in the Douro Valley.  It offers a mix of mild temperatures, beautiful scenery, and the chance to experience the ongoing winemaking process.
October offers stunning landscapes in the Douro Valley. The vineyards are in their autumnal glory, displaying vibrant hues of red, orange, and gold as the grape leaves change colors.
In October, temperatures gradually cool down to 15°C to 20°C degrees Celsius (59-68°F), and evenings can become cooler, especially towards the end of the month. It's a good idea to pack layers and a light jacket for the changing temperatures. Be prepared for occasional showers and cloudy days.
October is generally less crowded compared to the peak tourist season. You may find it easier to book accommodations and enjoy wine tours without large crowds.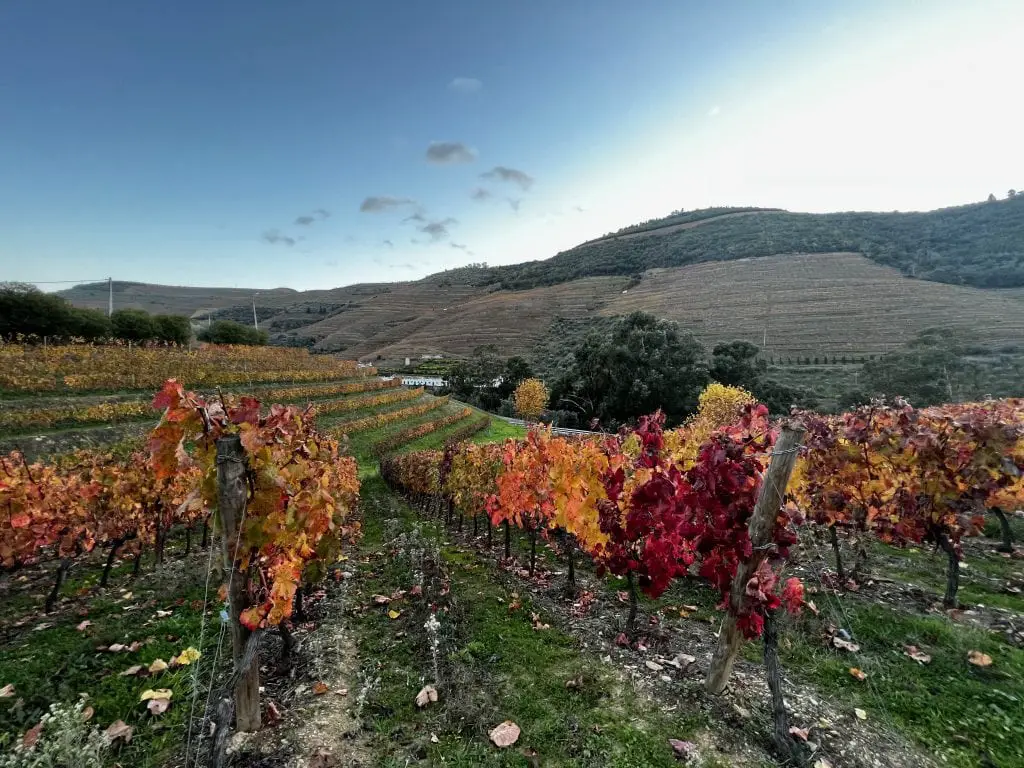 November brings cooler temperatures to the Douro Valley. Daytime temperatures typically range from 10 to 15 degrees Celsius (50 to 59 degrees Fahrenheit), and evenings can be even colder. Depending on the day, you might consider a coat, sweaters, and layers, to stay comfortable during your visit.
November is considered the most wet month in the Douro Valley. 
While the autumn colors may be fading by the end of  November, the vineyards may retain their leaves until about mid-month.  There is a unique beauty, especially if you appreciate the peacefulness and serenity of the countryside during the off-peak season.
The wineries continue their activities, and you can enjoy wine tastings and cellar tours. Additionally, the region's gastronomy, featuring hearty and warming dishes, can be a delightful experience during the cooler weather.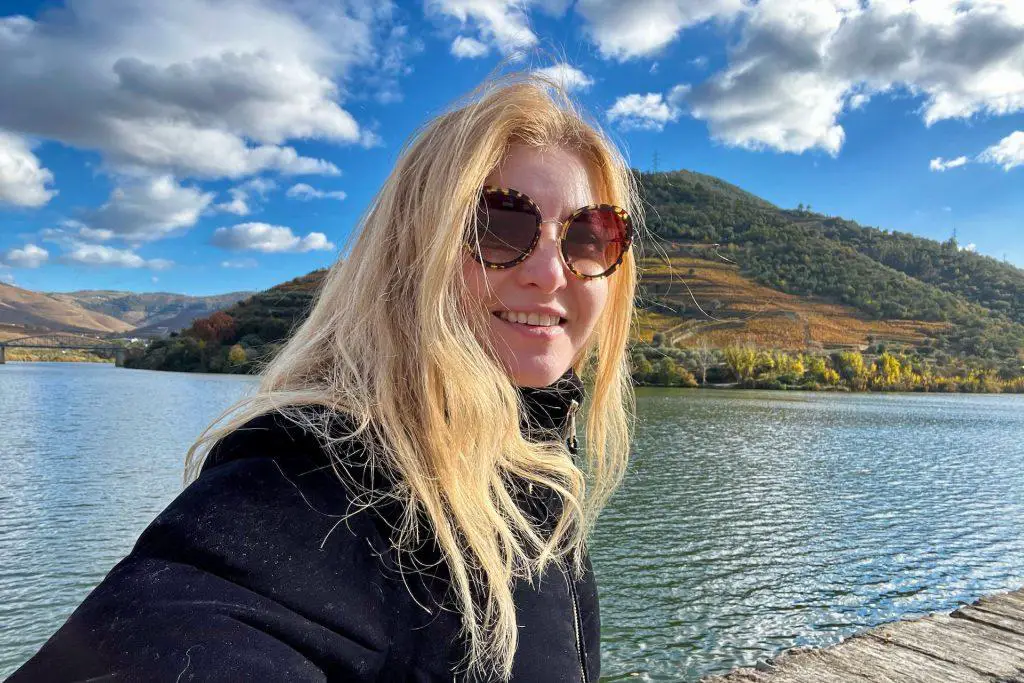 December in the Douro Valley brings the arrival of winter, with cooler temperatures.  Daytime temperatures typically range from 8°C to 13°C (46°F to 55°F), and nighttime temperatures can drop further. It's important to pack warm clothing and a raincoat. 
At this point, the vineyards may appear dormant without the lush foliage of spring and summer, but the landscapes take on a serene beauty. Misty mornings, fog rolling over the hills, and the bare vineyard branches create a tranquil and atmospheric setting for photographers and nature lovers.
In December, wineries continue their activities. It's an opportunity to warm up with a glass of the region's rich and flavorful wines. The local gastronomy also shines during this time, featuring hearty dishes such as stews and roasted meats, perfect for warming up on colder days.
Some businesses and accommodations may have reduced operating hours or be closed for the season, so it's advisable to plan accordingly and check in advance.  The Christmas day is when wineries are closed.
The Douro Valley is a stunning destination that offers its unique charm and beauty in every season. While each season presents different experiences, the valley's natural landscapes, vineyards, and rich cultural heritage make it a captivating place to visit year-round.