If you are looking to discover Tuscan vineyards near Florence, consider booking wine tastings at one of these wineries that can be reached from the center of Florence on foot, by bus, or by a quick car ride. 
There are many great options, but here are ten of our favorites close to the city of Florence. From small family-owned operations to larger luxury estates, these wineries will give you a taste of Tuscany's wine country without going too far.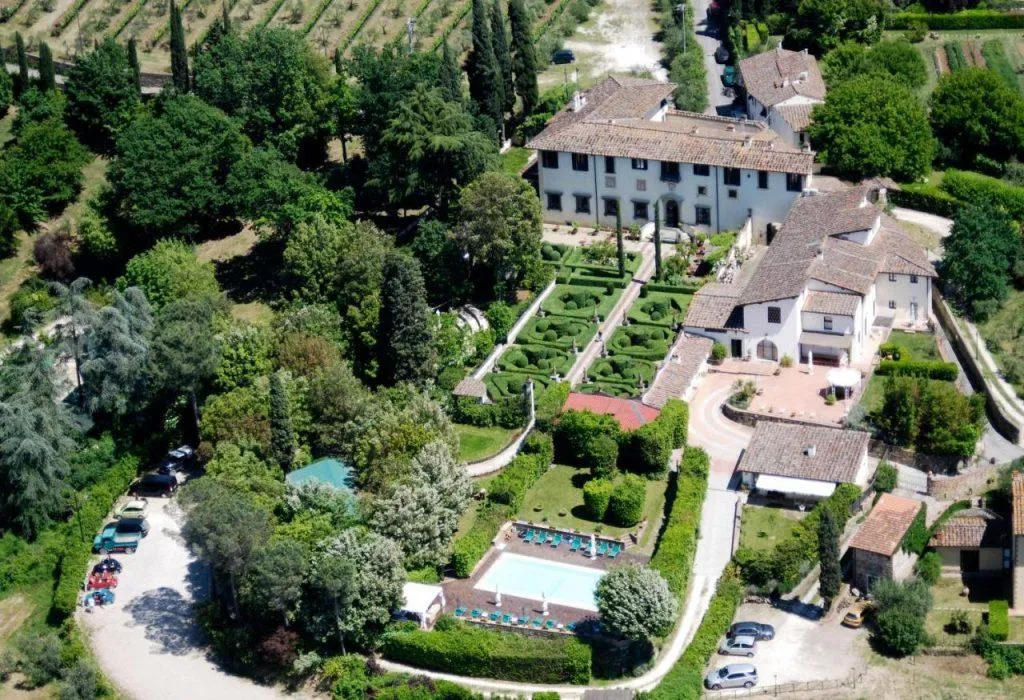 Originally built as the ancient summer residence of the Acciaioli family,  Villa Le Piazzole sits on top of the Arcetri hill with a stunning view over the Carthusian Monastery Certosa di Firenze. 
The estate produces high-quality wine and extra virgin olive oil. The winery of Villa Le Piazzole offers the opportunity to taste and buy its products. 
I love that the wine tasting here is led by a professional oenologist.  A sip of wine will be accompanied by a selection of typical Tuscan bites.  
After the tasting, stay for Tuscan dinner served on the terrace where you can enjoy the famous Florentine steak or the delicious wood-oven pizza.
The villa was recently refurbished and also offers accommodation and serves as a wedding venue.
How to get there?
Located about 4 kilometers away from the center of Florence, this small paradise can be reached on foot or on public transport. 
A walk to Villa Le Piazzole will take approximately 50 minutes from the center of Florence, and a drive may be 15 to 25 minutes depending on traffic. You can also catch bus 366A from the Florence bus station.
Address: Via Gherardo Silvani, 149, 50125 Firenze FI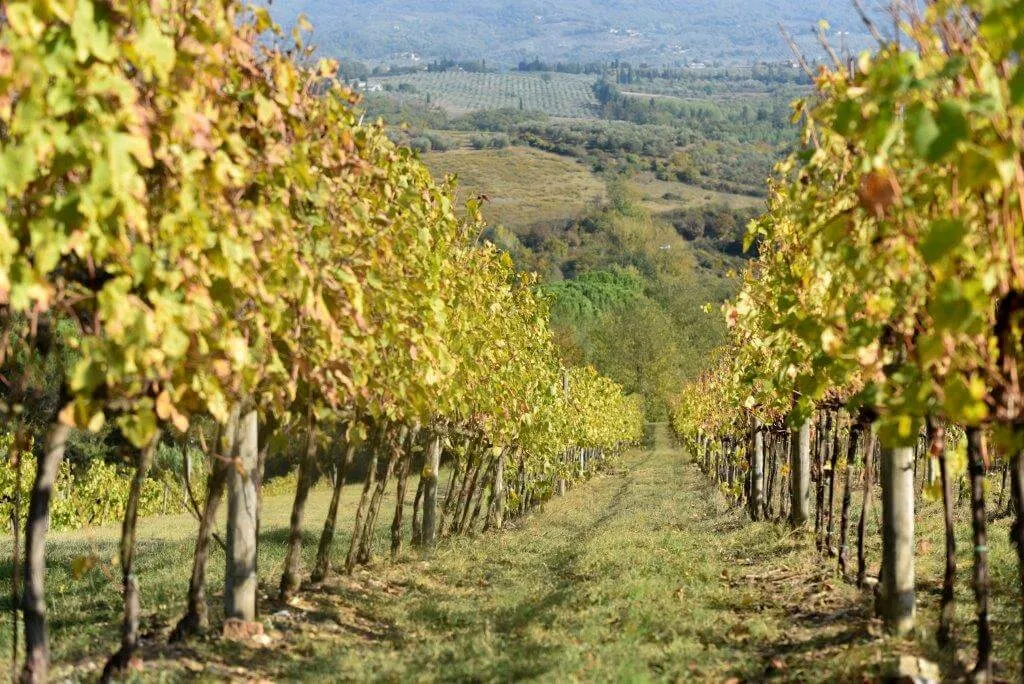 Podere Ema celebrates pure Tuscan wine, "Puro Toscano".
The company produces its wines using only local grapes. In cooperation with the University of Florence, Podere Ema rediscovered ancient autochthonous grape varieties of Tuscany.
At the winery, taste rose, reds and grappa made of Sangiovese, Foglia Tonda, and Colorino – typical Tuscan native grapes.
Discover the unique Florentine wines by booking a tasting on the website.  The winery is open for tastings in the mornings from Monday through Saturday. 
How to get there?
Get on a quick bus ride from the Florence bus station (bus 365A) or drive for approximately 25 minutes.
Address: Strada Chiantigiana, 339, 50012 Grassina (Firenze)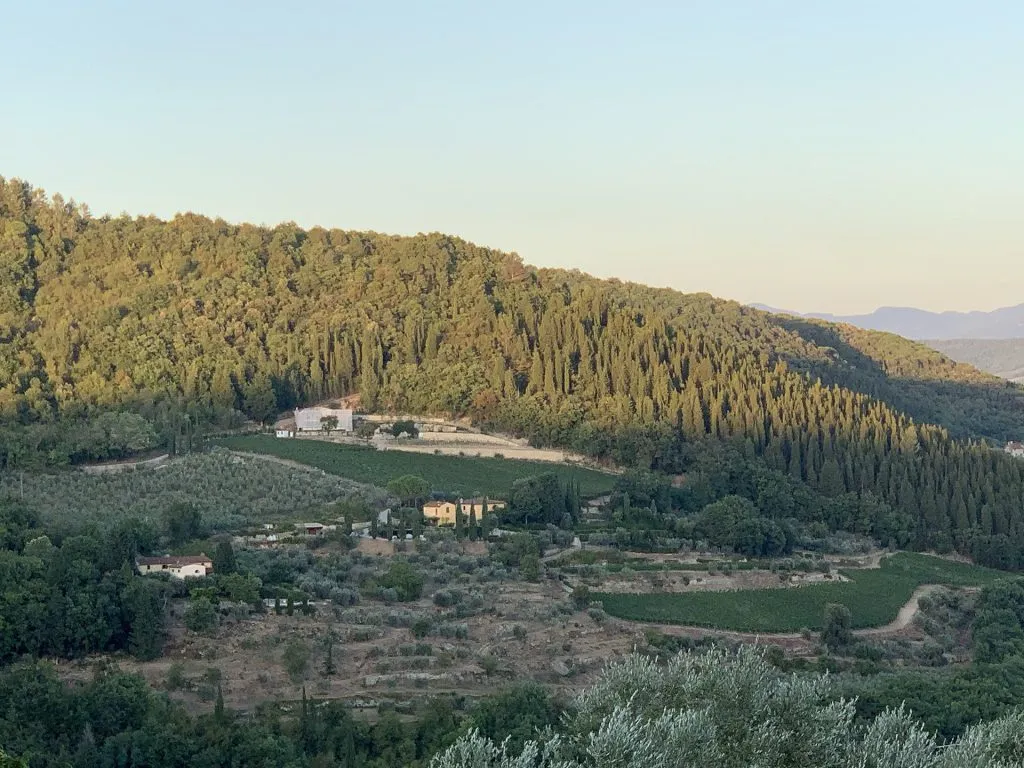 The Poggio La Noce wine estate is located only 15 minutes away from the city of Florence in the hills of Fiesole.
This small estate making delicious hand-crafted wines was created by Claire and Enzo who returned from the United States to their roots in 1999. 
Gigiò, the top wine of Poggio La Noce is made of Sangiovese planted by the couple in 2000.  The winery also produces two other reds Gigetto and Gigino, a rosé Pinko Pallino, along with pet-nat rosé, white wine and grappa.
The estate was certified 100% organic in 2006.
If you are looking for a private visit and a tasting at a small winery, book an appointment at Poggio La Noce. The visit will include a walk through the vineyard as well as a tour of the brand-new winery. 
How to get there?
The best way to get to Poggio La Noce from Florence is by car. Reach the village of Montebeni, Fiesole. Once there, follow Via Ontignano to the bottom of the valley. Once you reach the unpaved section, drive up until you see the "Poggio La Noce" sign.
Address: Via Ontignano, 64, 50014 Fiesole FI, Italy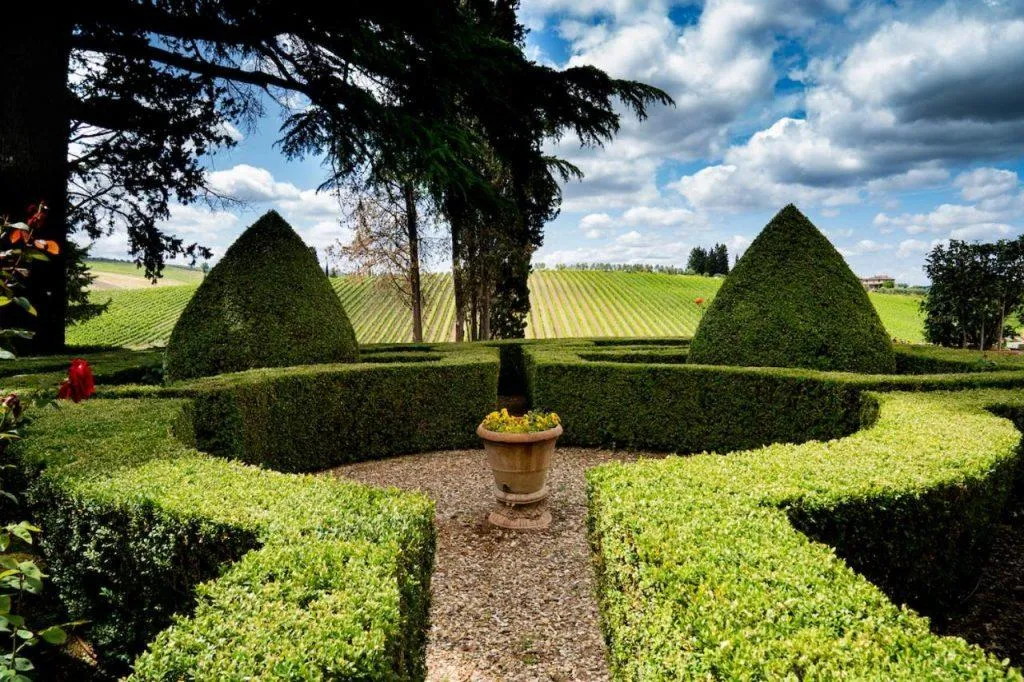 Poggio Casciano is situated in the Tuscan hills, just outside of Grassina, a few miles from Florence. 
The fourteenth-century Renaissance villa overlooking the vineyards features beautiful Italian gardens, an infinity pool, Le Tre Rane restaurant, and the Enoteca wine store.  You can also stay a night at Agriresort Tenute Ruffino. 
How to get there?
A short 25-minute car ride will get you from the center of Florence to Poggio Casciano.  You can also take bus 365A from Florence bus station and then change to bus 49.
Address:  Via Poggio al Mandorlo, 1, 50011 Bagno a Ripoli FI, Italy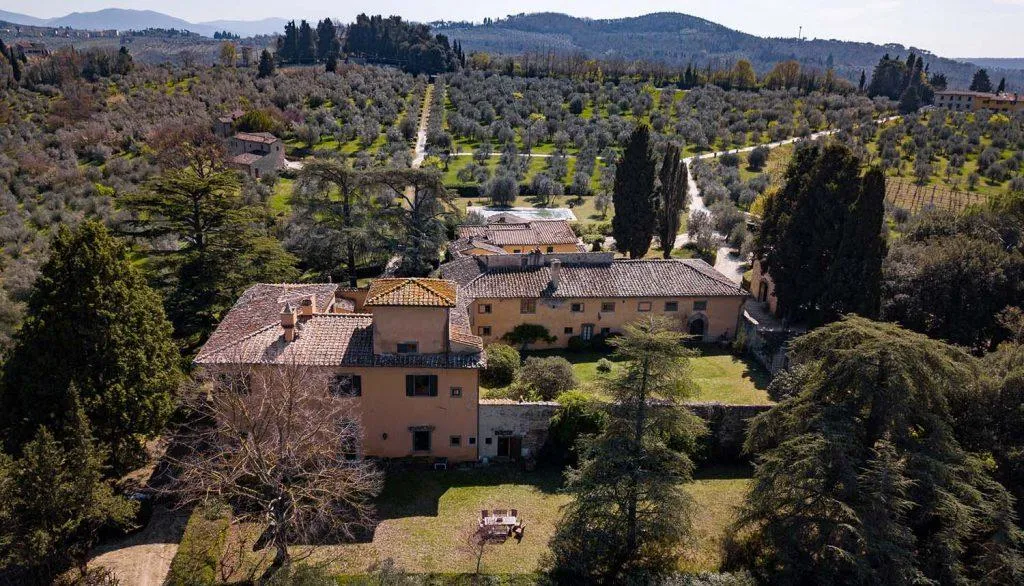 Fattoria di Bagnolo is in Impruneta's hills, dominating Florence from the south.
The estate founded in 1419, belonged to the Machiavelli family in the 15th and the 16th century. 
Since the 19th century, Fattoria di Bagnolo is run by the Bartolini Baldelli family. The high-quality wines are produced on the 25 acres planted mainly with Sangiovese, other native varieties, as well as Cabernet Sauvignon and Merlot.  The family also makes excellent olive oils.
You can book a visit to the estate by calling the owners +39 347 1808 494 (Luciana), +39 333 4865872 (Giovanna).
How to get there?
Take A1 highway and exit Firenze-Impruneta, follow signs for Impruneta. After the town of Tavarnuzze, turn left to find the sign "Fattoria di Bagnolo".
You can also take a bus from Florence bus station, however, you will have to make a change, as there is no direct bus line. 
Address: Via Imprunetana per Tavarnuzze 48 – 50023 Impruneta – Firenze
Bibi Graetz is not your typical Tuscan winery.  
Located just outside of Florence, the winery was wounded in 2000.  Bibi who grew up in a family of artists discovered his passion for wine and acquired a collection of old vines producing traditional local grapes.  
To craft red wines of elegance and finesse the winery uses a rare technique of natural fermentation in open barriques with manual punch-downs a few times per day.
Besides his red wines, Bibi makes whites coming from a small vineyard overlooking the sea from 100% Ansonica grapes, as well as Brut rose.
Address:  Piazza Mino da Fiesole, 37, 50014 Fiesole FI, Italy
Located about 15 km south from Florence, Torraccia di Presura has 35 hectares of vineyards and 16 hectares of olive groves.  
The predominant grape is Sangiovese, but Torraccia di Presura also cultivates Canaiolo Nero, Colorino, Foglia Tonda, Merlot, Cabernet Sauvignon to make their award-winning wines.
How to get there?
It is possible to taste the winery's products at a farmhouse Ulivello in Chianti, via della Montagnola 94 – 50027 Greve in Chianti.
Address:  Via della Montagnola, 130, 50027 Greve in Chianti FI, Italy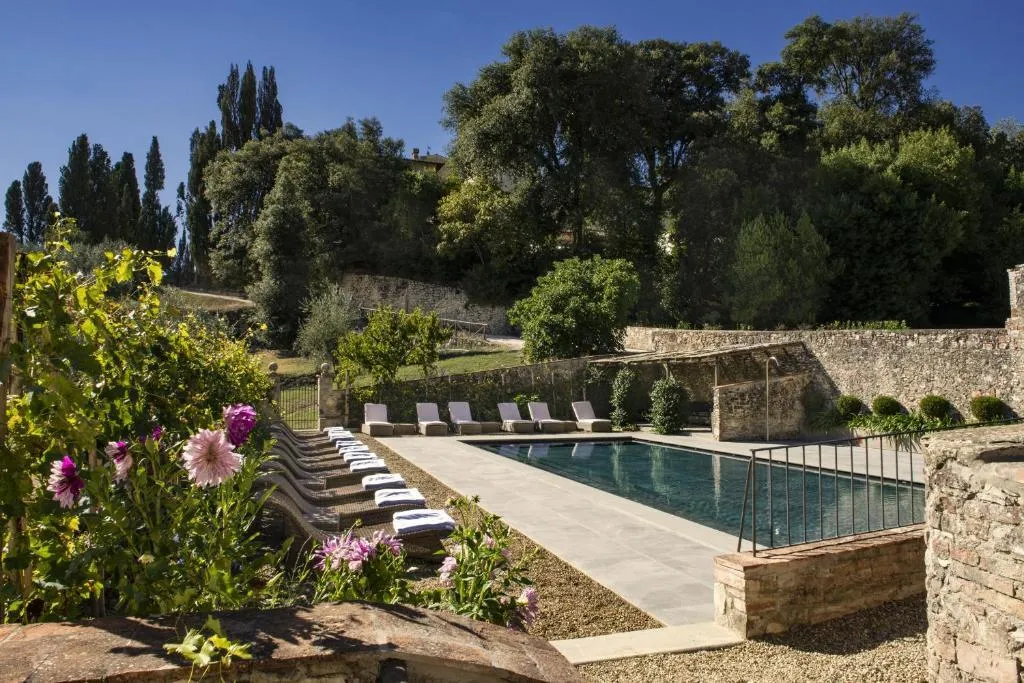 Tucked away in the Florence hills, Fattoria Torre a Cona is owned by the Rossi di Montelera counts. Its 18th-century villa dominates the surrounding vineyards and olive groves.
Fattoria Torre a Cona is a working farm, with olive groves, grain fields and vegetable gardens. Visitors are welcome to wander the grounds, and there are also several hiking trails that wind through the property.  You can enjoy horse riding, truffle hunting, a cooking class, and even viewing bees with a local beekeper.
Of course, the highlight of any visit is the wine tasting. Guests can sample some of the estate's award-winning wines, as well as enjoy a selection of appetizers made with locally sourced ingredients. 
Plus, you can stay in Torre a Cona rooms and apartments or stop for lunch or dinner at their newly opened restaurant.
How to get there?
Bus 351A from the Florence bus station or a 35-minute car ride will get you from central Florence to this Tuscan vineyard.
Address: Località Torre a Cona, 49, 50067 Rignano sull'Arno FI, Italy
9. Azienda Agricola Ottomani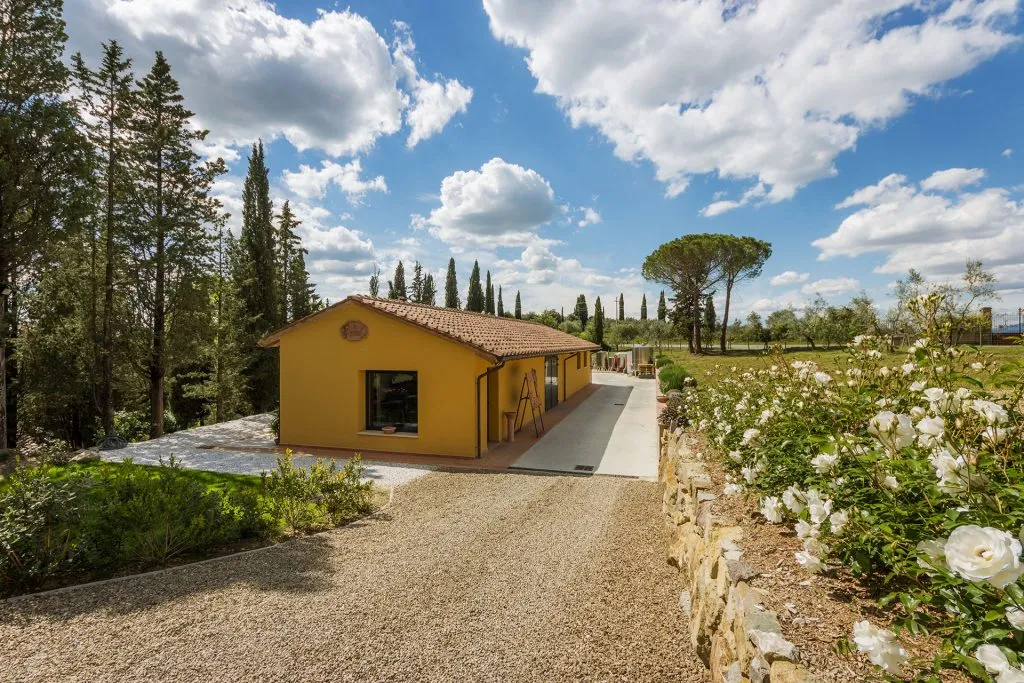 Located in Strada in Chianti, Ottomani is a winery found by four friends. Today, the estate is producing both fine wines and olive oils. The winery follows organic and biodynamic techniques.  Make sure you try their IGT Toscana wines aged in terracotta amphoras.
How to get there?
To get to Azienda Agricola Ottomani, take the A1 motorway from Florence to Greve in Chianti.  The drive will take approximately 30 minutes.
Alternatively, buses 366 A and 365A will get you here from Florence in 45 minutes.
Address:  Via di Pancole, 119, 50027 Strada in Chianti – Greve in Chianti (Firenze)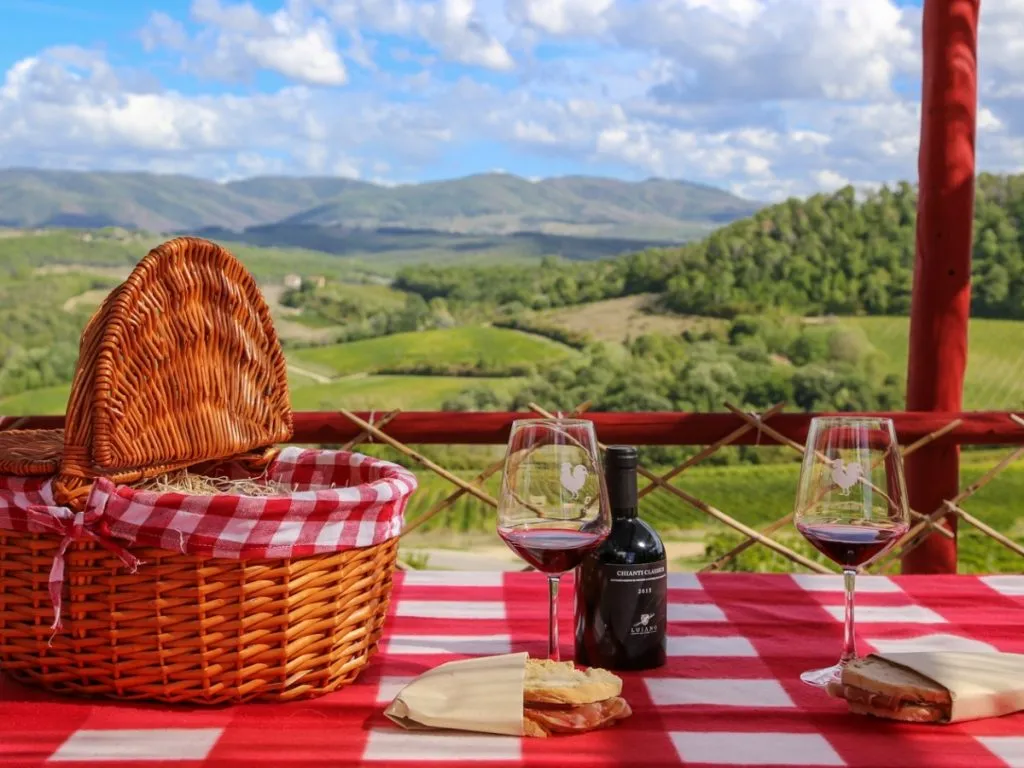 Wine tasting is not to be taken too seriously.  This is why I love the approach at Luiano winery where wine is shared with friends in the philosophy of Wine Entertainment.
Luiano winery is open every day from 11 am to 5 pm.  Guided visits are by appointment, but if you want to just drop in to their wine bar, you will be welcome.
For a more in-depth experience and to visit their 14th-century cellars, call ahead for a guided tour at 11 am, 1 pm, or 3 pm. 
After the tour, enjoy snacks, light lunch, dinner or a cooking class at this friendly and fun family winery. 
My favorite experience is a picnic lunch with a half bottle of Chianti Classico on a white and red blanket at any place you will find in Luiano vineyards.  Luiano offers unparalleled hospitality that will leave visitors feeling at home in Italy. 
How to get there?
"Santa Maria Novella" Station in Florence is located 21 km from Luiano. You will need a car to reach the winery from the train station.
On highway A1 drive towards Greve in Chianti. As you arrive at Falciani, continue towards Greve for 2 km, after which turn right and follow directions for Fattoria di Luiano.
Address:  Via di Luiano, 32, 50026 San Casciano in Val di pesa FI, Italy