Without a doubt, the most stunning views in Porto can be found along the banks of the Douro River.
On the Porto side, you'll be treated to panoramic vistas of Gaia, with its port lodges, the iconic Dom Luis I bridge, and the cable car. On the opposite side, you can enjoy the best views of Porto itself, as well as breathtaking sunsets over the Atlantic.
I listed my favourite wine bars with excellent views in Porto and Vila Nova de Gaia across the river and put them on the map.
Map of Porto Wine Bars With A View
This map will help you navigate the wine bars of Porto.  If you are looking for a guided experience, check out some of these options: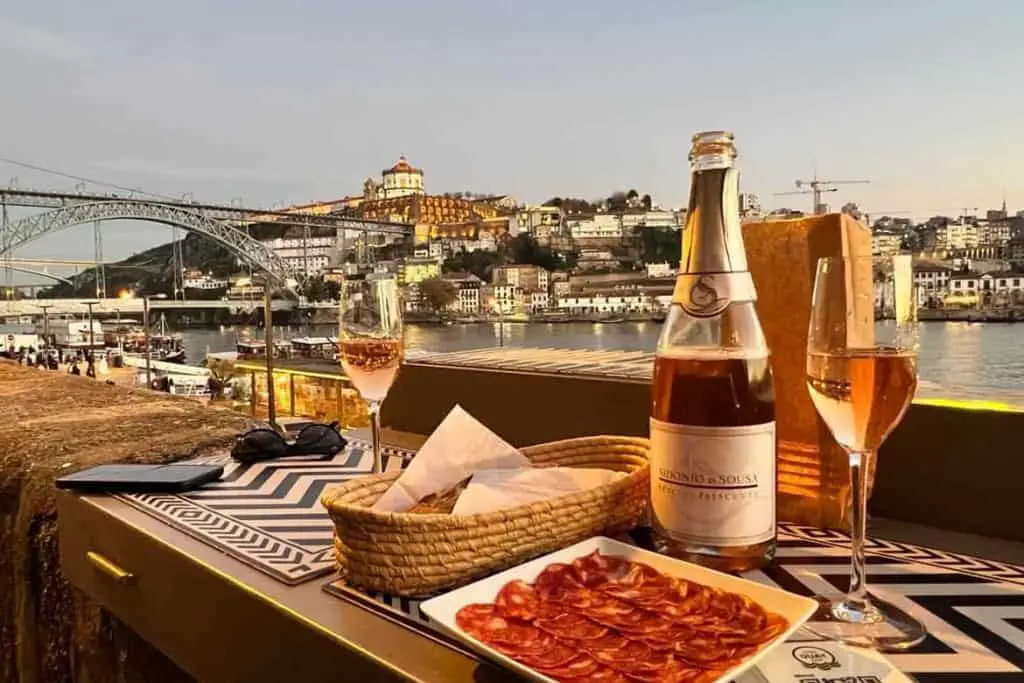 Located on the bustling Porto side of the Ribeira area, Wine Quay Bar offers a prime vantage point above the lively promenade below. The bar provides breathtaking views of the river and the Dom Luis I bridge. It's truly a sight to behold.
When it comes to their wine selection, Wine Quay Bar showcases the diverse wine regions of Portugal. Whether you're in the mood for a sparkling rose wine from Bairrada or a bold red from Alentejo, they have you covered.
Wine Quay Bar also serves high-quality snacks, complemented by the most amazing bread. I also like their chourico boards.
The bar is open Monday to Saturday from 4 pm to 11 pm.
They do not accept reservations. Come early to grab a spot outside and enjoy the view.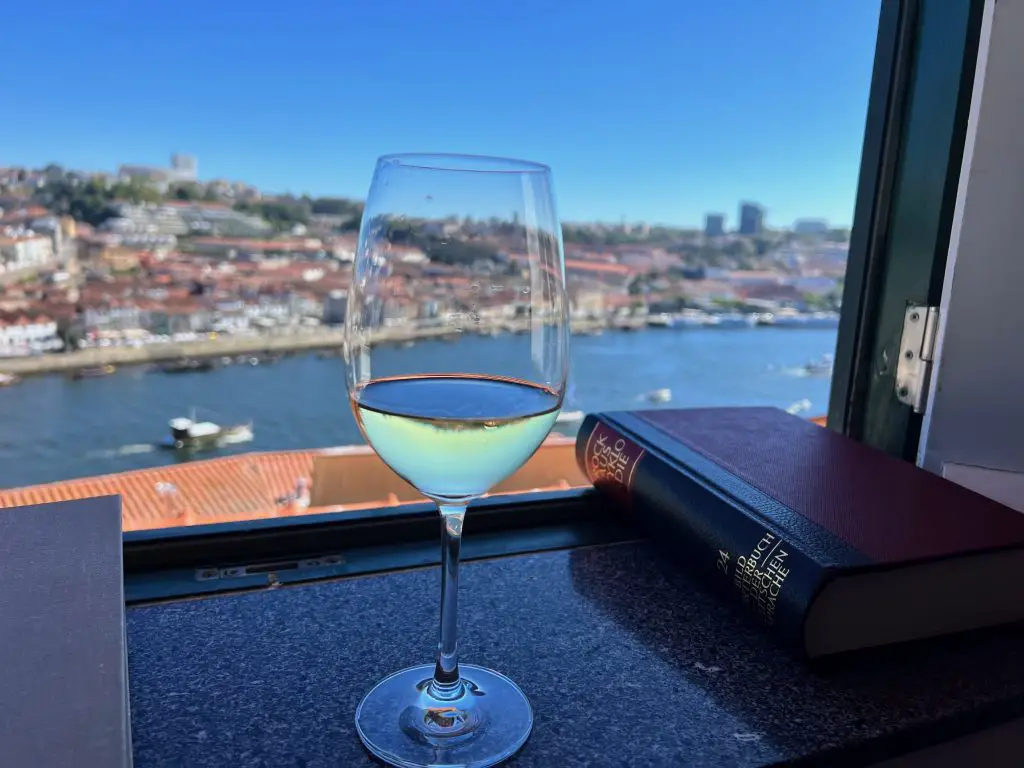 This is the bar where you must get a table a view!
At this new family run wine bar the selection of wines is impeccable, featuring a curated collection from small producers. What sets these wines apart is their emphasis on organic and natural production methods and local wines and products. The cheese, charcuterie, and other products they offer are all sourced from the region, providing an authentic and flavorful experience.
The warm and friendly couple, Alexei & Tatiana, who operate the bar are incredibly passionate about what they do. You can feel their genuine care and attention to detail, making this place truly special.
Open from Thursday to Monday from 1 pm to 9 pm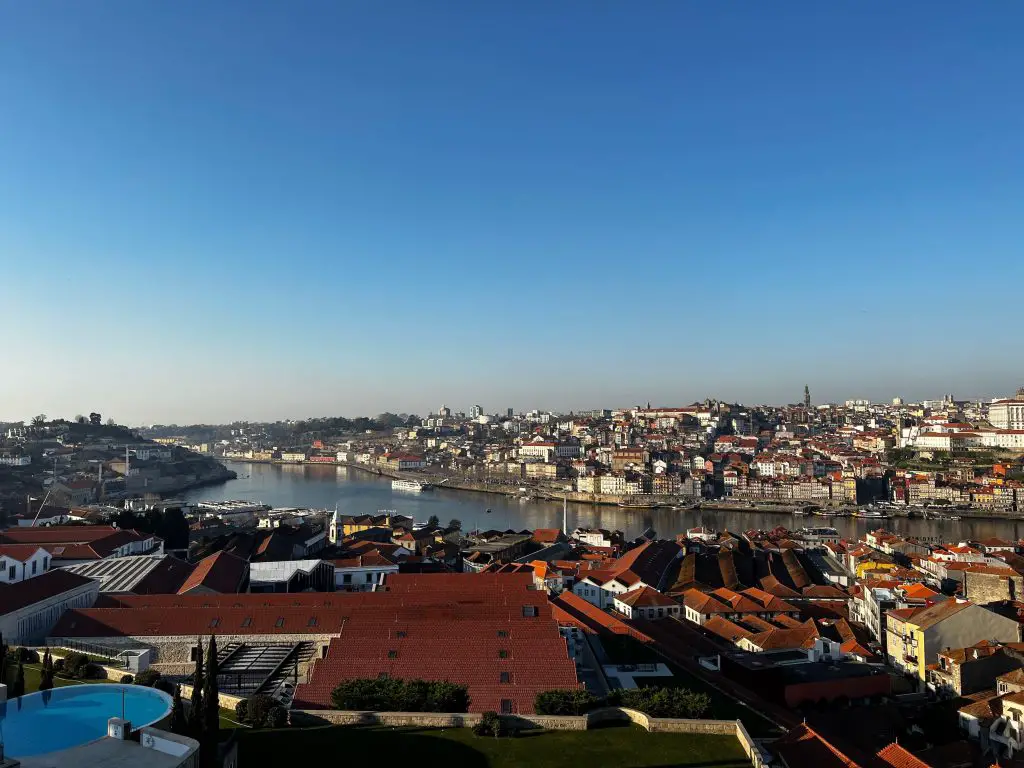 Dick's Bar & Bistro is named as a tribute to the esteemed Dick Yeatman, an important figure in the Port wine industry. Located inside The Yeatman, the top Porto area hotel in Vila Nova de Gaia, the bar exudes an atmosphere of a refined and welcoming private club and features a terrace overlooking Porto and the Douro River.
This spot is one of the best in town for watching sunsets.
At Dick's Bar & Bistro, guests can choose from a wide selection of exceptional wood-aged and Vintage Ports. They also feature a carefully curated selection of wines available by the glass.
In addition to their extensive wine offerings, Dick's Bar & Bistro also serves a variety of snacks and light dishes from 12:30 pm to 11 pm.
Piano music sets the mood from 6:30 pm to 9:30 pm every day, while Fado music takes the stage on Thursdays from 9:30 pm.
The bar does not take reservations.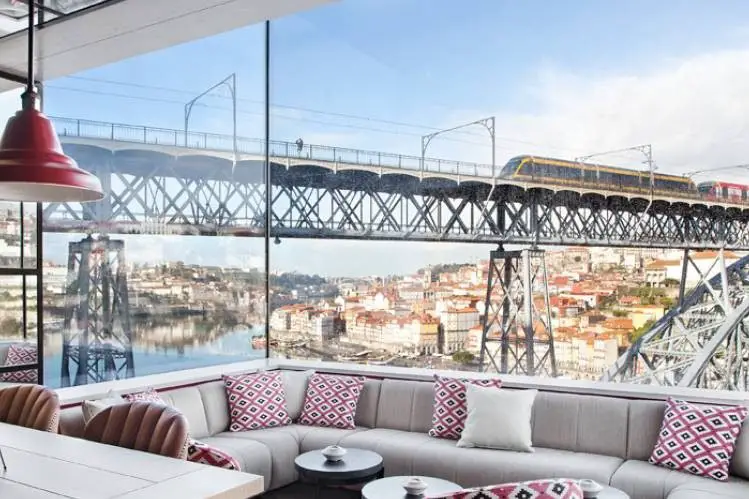 Located on the 11th floor of the 4-star Hotel Vincci Ponte de Ferro, this small gem boasts one of the most amazing views of Porto's Ribeira and the Dom Luis I bridge.
Not a large venue, but an intimate place for a quiet drink and enjoy the sunset. Interesting selection of wine and very good food as well.
VINUM Restaurant and Wine Bar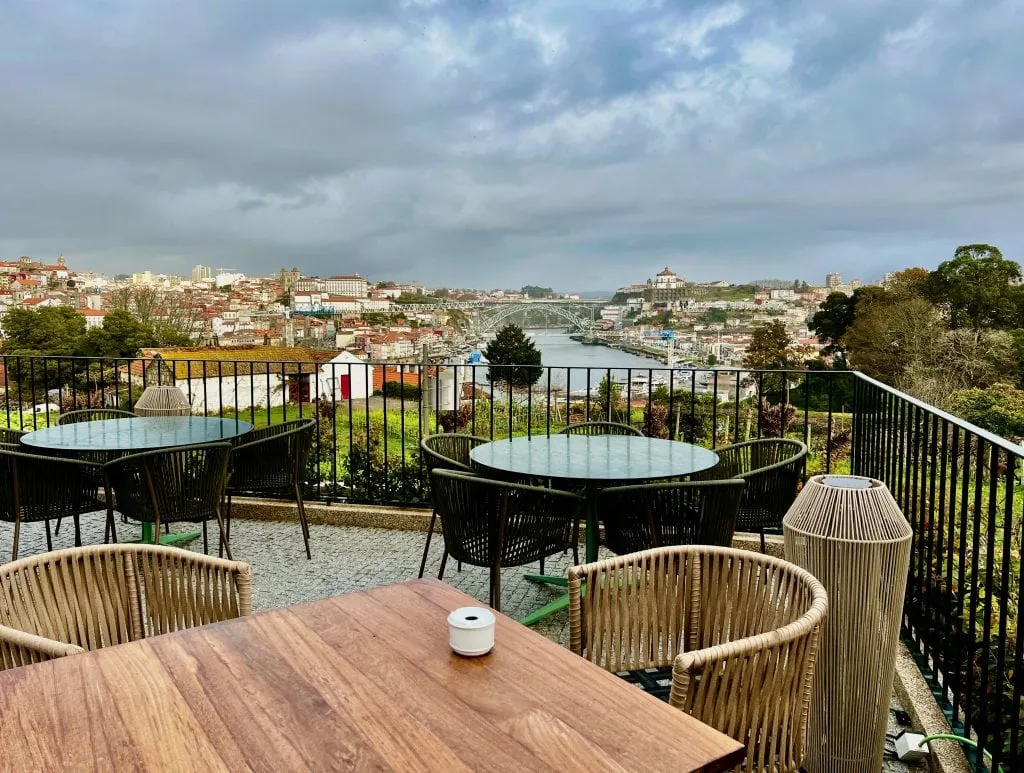 VINUM features a Wine Bar located right next to its main restaurant at Graham's Port Lodge, with a terrace that offers a picturesque view of the Douro River.
This charming spot offers a wines produced by the Symington family and their friends. A wide variety of wines is available by the glass.
You can have a light meal or share a plate. VINUM focuses on traditional Portuguese appetizers. This is also a good spot to taste Portuguese oysters from the Ria Formosa lagoon in the Algarve.
The bar at VINUM is open every day, from 12 noon until midnight.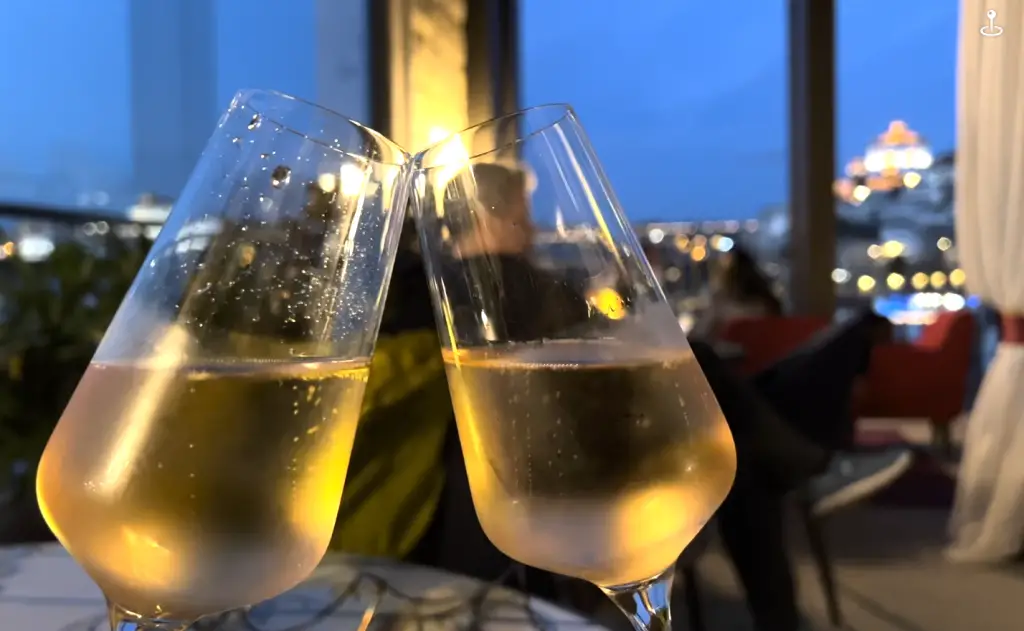 Angel's Share is part of the WOW complex. It is a relatively new establishment opened in 2020, this bar stands out as a stylish and sophisticated choice. You have the option to sit indoors for a luxurious ambiance or opt for outdoor seating to relish the fresh air while taking in the magnificent scenery. The bar's whimsical furniture adds a touch of charm to the setting.
Hands down, one of the best views on Porto are from Angel's Share. I would definitely recommend it as a venue for your romantic evening in Porto.
The bar has a wide selection of cocktails, spirits and a good wine list.
Angel's share is open every day from 5 pm to 1 am.
If you would like more suggestions on the wine bars in Porto, my article The Best Wine Bars in Porto may be helpful. Some of those bars lack the views but offer excellent wines and atmosphere.