When going for wine tastings in Priorat, you can stay in the region's capital Falset, one of the "wine villages", for example, Gratallops, Escaladei, or Poboleda, as well a in the scenic countryside.
Priorat is rapidly developing its hospitality industry.  There are multiple accommodation options including hotels, winery stays, apartments, and rural casas.  
The town of Falset , the capital of Priorat, could be a good base for exploring Priorat This quaint little town is surrounded by mountains and provides access to hotels, restaurants, supermarkets, and other services.
Falset is served by the Marçà-Falset train station, which is an approximately 5-10 minutes ride from the town. 
If you come to Falset without a car, in order to visit wineries you will either need to hire a taxi or arrange a private Priorat wine tour.  
If you drive to Falset, I recommend parking at one of the larger parking lots outside of the town walls, as the streets of old Falset looked too narrow to drive to me.  This Falset parking lot was the closest to my hotel. there are at least two more parking lots for you to use.
Besides hotels and apartments in Falset, there are also several wonderful options just outside the town.  See some suggestions of Priorat stays near Falset below.  
For travelers looking to stay near Falset within a short drive of some of Priorat's best wineries, a stay at Mas Trucafort fits the bill. Surrounded by olive groves and walnut trees, this adults-only hotel is perfect for an authentic Catalan stay.
The hotel has four double bedrooms and one single twin room.
Enjoy a meal onsite at Mas Trucafort's restaurant and participate in one of the many activities the property offers. 
Built on a farm dating back to 1799, this Falset hotel is the perfect rural escape to relax and rest up for all of your wine adventures. 
Lotus Priorat Hotel offers double rooms, studios and apartments (for up to 4 people with an equipped kitchen). 
Not ready to hit the wine trail? Enjoy some Priorat wine and Spanish vermouth at the onsite bar and restaurant. 
On the last Sunday of every month, Lotus Priorat Hotel puts on a live music event featuring wines from wineries throughout Priorat.
Located right in the heart of Falset, Secrets Hotel Priorat is sure to have you sleeping soundly. Spend the night in one of their six well-equipped rooms, enjoy an outdoor picnic, wine tasting, or guided tour provided by Secrets Hotel Priorat. 
Need help booking visits or dinner reservations? The accommodating staff at Secrets Hotel Priorat can help! 
Hotel Hostal Sport in Falset offers both a hotel and apartment option to ensure you have the ultimate comfortable stay. 
The hotel offers a number of packages that include wine tours, tastings and culinary experiences. Need a relaxing massage? They will book you a session with a masseuse. Want to do some relaxing yoga? They will call up a yogi master to guide you. 
Where To Stay In Gratallops?
Gratallops is a small village in Priorat with a number of wineries within its boundaries.   
Find yourself on charming cobblestone streets with historic churches, old stone buildings, authentic cafes and bakeries.  The famous Alvaro Palacios winery can be seen on the side of the village.
It took me about 15 minutes to get here from Falset through winding mountainous roads.
Clos Figueras is a charming little winery hotel with a restaurant in the heart of Gratallops which makes it an excellent base to explore Priorat.
They give a free tour of the small underground wine cellar and offer a wine tasting to the guests.
I love the restaurant terrace in the well-maintained garden. Delicious local food for breakfast, lunch, and dinner.  
The plus of this hotel is that while staying there you can visit several wineries in Gratallops without needing a car.  
The following two hotels are not in the village of Gratallops but are located a few minutes away by car.
Buil & Gine Wine Hotel is at the award-winning Priorat winery a few minutes away from Gratallops.  The hotel is surrounded by terraced vineyards and magnificent views of mountains.   
This four-star boutique winery hotel has three comfortable rooms where you can sip a glass of Priorat wine while watching the sunset over the vineyards. With a restaurant on the property, you'll have everything you need to experience Priorat all from the comfort of your hotel room.

Buil & Gine Wine Hotel will have you playing winemaker for the day (literally they have a winemaker experience you can book!) while you stay onsite at their winery. 
Soak up the magnificent expanse of Priorat vineyards from Trossos del Priorat, a wine cellar, and a hotel near Gratallops.  
This oasis of peace gives you stunning views of the vines that make Priorat famous. Check out my little video of views from the hotel terrace.
Enjoy a picnic among the vines which you can order from the hotel and tour this family-run cellar. 
Where to Stay in Escaladei?
Terra Dominicata - Hotel and Winery
As you drive to the monastery of Escaladei, you will sure be amazed by the views of the luxurious estate surrounded by the views of Montsant Nature Park.
This five-star winery hotel in a restored 12-th century monks' farm is a perfect getaway spot. The estate has its own winery and an excellent restaurant.
Go horseback riding through Terra Dominicata's vineyards, enjoy a guided tour through Escaladei, indulge in a five-hour guided foodie tour, take a yoga class, get a relaxing massage and so much more at this luxurious hotel. 
El Xalet de Prades is located just slightly out of Escaladei, but is well worth the extra few minutes of driving. 
This hotel offers a rural setting with a complex of 100% ecological accommodations. Connect with nature while resting in the Prades Mountains Natural Park. Snooze under the stars from their stargazing igloo room or cozy up in a treehouse. 
You can find more options for stays in Priorat wine country by browsing the map.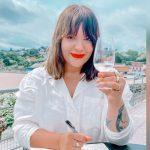 Jessica Blanarik is an American wine and travel tourism writer.  She is currently receiving her master's degree in Wine Tourism with the Wintour Erasmus Mundus program in Spain, France, and Portugal. She believes wine is not only delicious but also an important unifier of people and cultures. You can find more of her work at www.jessisjourney.com.