Bordeaux is a beautiful city known for its historic buildings, squares, cobblestone streets, and limestone buildings. The city center, in particular, is filled with architectural treasures dating back to the 18th and 19th centuries.
I love living in the center of Bordeaux, walking the narrow streets, sitting in cafes and wine bars.
In this article I am sharing my opinion and recommendations on the best neighbourhoods of Bordeaux and the best places to stay in our city.  
Perhaps,  my tips on what to see and where to stop for lunch or a drink would also be helpful.
Where is the Centre of Bordeaux?
The center of Bordeaux,  the "centreville", is located on the left bank of the Garonne River and is comprised of Triangle D'Or, Gambetta, Hotel de Ville, and the neighbourhoods of Saint-Pierre and Saint-Paul.  
These areas are home to many of Bordeaux's main attractions, including the Grand Theatre, the Place de la Bourse, and the Saint-André Cathedral.  Most buildings in Bordeaux center date back to the 18th and the 19th century.  
The centre is a lively and vibrant area, with many restaurants, shops, and cafes. During summer months the city center is busy with locals and tourists, the bars are full and the streets are crowded.
Meriadeck, Chartrons, Saint-Seurin, and the Jardin Public area are the also parts of the Bordeaux center, however, they are more residential.
These are the best neighborhoods to stay in Bordeaux: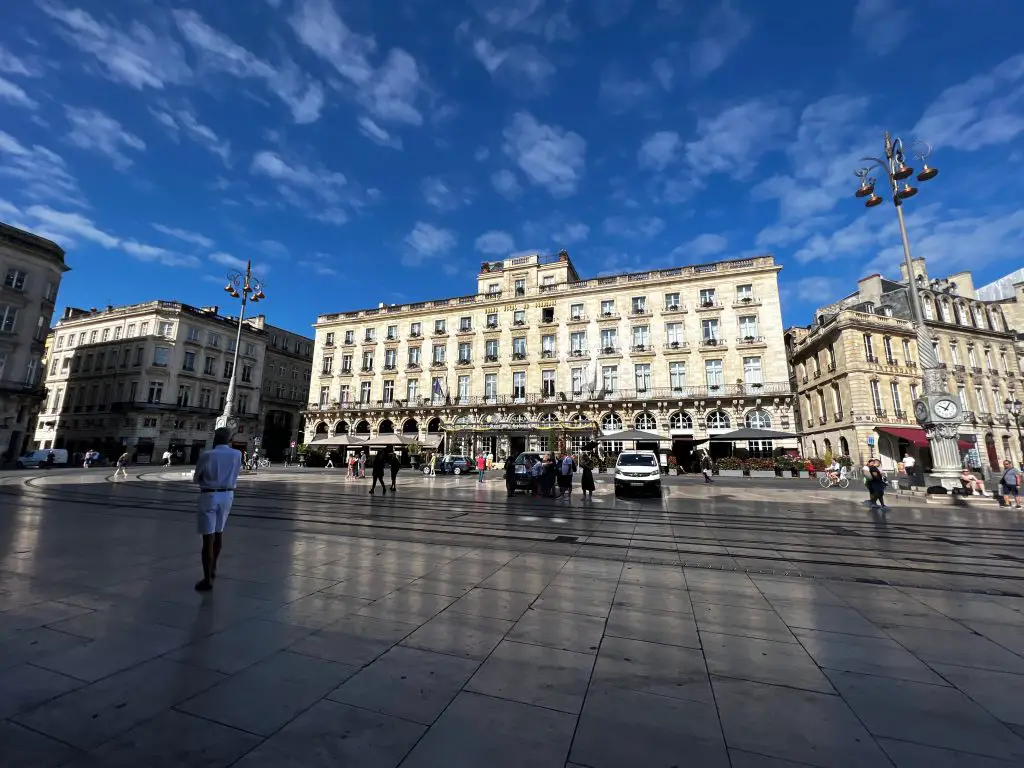 The Triangle d'Or (Golden Triangle) is a prestigious neighborhood, known for its upscale shops, art galleries, restaurants, as well as a number of luxury hotels and apartments. 
The neighborhood is named for its triangular shape and is considered one of the most affluent and desirable areas to live in Bordeaux.  
Place Tourny, the Grand Theatre, the National Opéra of Bordeaux and Place Gambetta are the landmarks surrounding the Golden Triangle. Place des Grands-hommes with cafes and high-end boutiques is in its center.
The beautiful church of Notre Dame built in 1634 is hidden in the streets of Triangle D'or.
The location of Triangle d'Or is unbeatable – close to major attractions, the Office of Tourism and the Quinconces, the station connecting all tram lines.
Plus, if you want to experience living the posh and glammy French lifestyle, you should definitely chose a hotel or an apartment in the Triangle D'Or.  
These are the best hotel options in the area:
InterContinental Le Grand Hotel
Best Western Grand Hotel Francais
Best Western Premier HBEO Bordeaux Centre
For a nice cup of coffee, go to KURO just behind InterContinental.  For traditional French desserts and people watching visit Miremont tea house on Rue Buffon.
My favourite chocolates in Bordeaux are at David Capy.  If you are into French cheeses, stop by at Fromagerie Beillevaire.   
Gambetta and Hôtel de Ville
The area between Place Gambetta and Hôtel de ville is just across the street from Triangle D'Or.  
Very lively, this district is home to main shopping streets of Bordeaux, the Galleries Lafayette store, Pey Berland, the Saint-André Cathedral and the City Hall of Bordeaux (Hôtel de ville).  
The neighbourhood is safe and convenient, very close to all historic landmarks and has excellent food scene.  In fact, there is an entire pedestrian street, rue  devoted to food shopping. 
I recommend checking out these hotel options in the area:
If you are looking for quiet environment, avoid apartments facing rue Saint Catherine, the busy shopping street.
Check out some of the best croissants in Bordeaux at my favourite bakery Boulangerie Jocteur.  
Hands down best coffee shop in Bordeaux is not far from Place Gambetta at L'Alchemiste. You must try the local dessert dune blanche at Dunes Blanches chez Pascal just beside L'Achemiste.
Suzzi at rue de Trois Conils is my favourite place for Swedish brunch.  My recent find is Wood Kitchen, a small place near Porte Dijeaux serving delicious salads for lunch.
Quiet and residential, the quartier Saint-Seurin is within 5-15 minutes walk from the center of Bordeaux.  Saint-Seurin is home to the famous historic sites of Bordeaux – Palais Gallien and the basilica of Saint-Seurin.
Le Palais Gallien is an ancient Roman amphitheater built in the 1st century AD. The structure was discovered in the 19th century, and has since been excavated and restored. 
The Saint-Seurin Basilica built in the beginning of the 11th century. Listed as a UNESCO World Heritage Site in 1998 as part of the pilgrimage route to Santiago de Compostela.
The area has a number of small cafes and restaurants.  19 rue Huguerie is a popular spot for wine and cheese tasting.  If you are at AirBnB, consider a take out dinner from a local rotisserie chicken spot Le Poulailler d'Augustin. On Fridays, there is a cute farmer's market on the square in front of the basilica.
The neighbourhood houses several luxurious boutique hotels and B&Bs.  The hotels generally have larger rooms and offer amenities such as a pool or a spa.
The Saint-Pierre neighborhood is known for its vibrant atmosphere and historic monuments. Saint-Pierre houses narrow streets, lively squares, many restaurants, bars, night clubs and shops. 
I would recommend staying in Saint-Pierre if you are looking to be in the centre of social life and the bar scene.  The area does not have many hotels, but there are a number of private apartments with excellent reviews.
If you are looking for a quieter stay, it is best to avoid Saint-Pierre and chose a hotel in a residential neighbourhood such as Saint-Seurin.
For an excellent night out, check out Ayawasca Cocktail Club and Madam Pang for cocktails, and Le Vertige and Aux 4 Coins Du Vin for wine.
Saint-Paul is a charming historic neighborhood near the Garonne river located between Saint-Pierre and Saint-Michele neighbourhoods.
The tower of Grosse Cloche is the most famous landmark of Saint-Paul, along with the St. Paul church. 
Locals love gathering on the squares of Saint-Paul and along rue Saint James.  The neighbourhood can be quite loud at night with students partying.  However, there are also very quiet areas of Saint-Paul with traditional Bordeaux-style apartments.
For lunch, try to book at Arcada, a wonderful small local restaurant tucked away in the streets of Saint-Paul.  
Frida is a trendy bar and restaurant with a beautiful garden and romantic atmosphere – the place that will leave long memories.  Remember to make advance reservations at both places!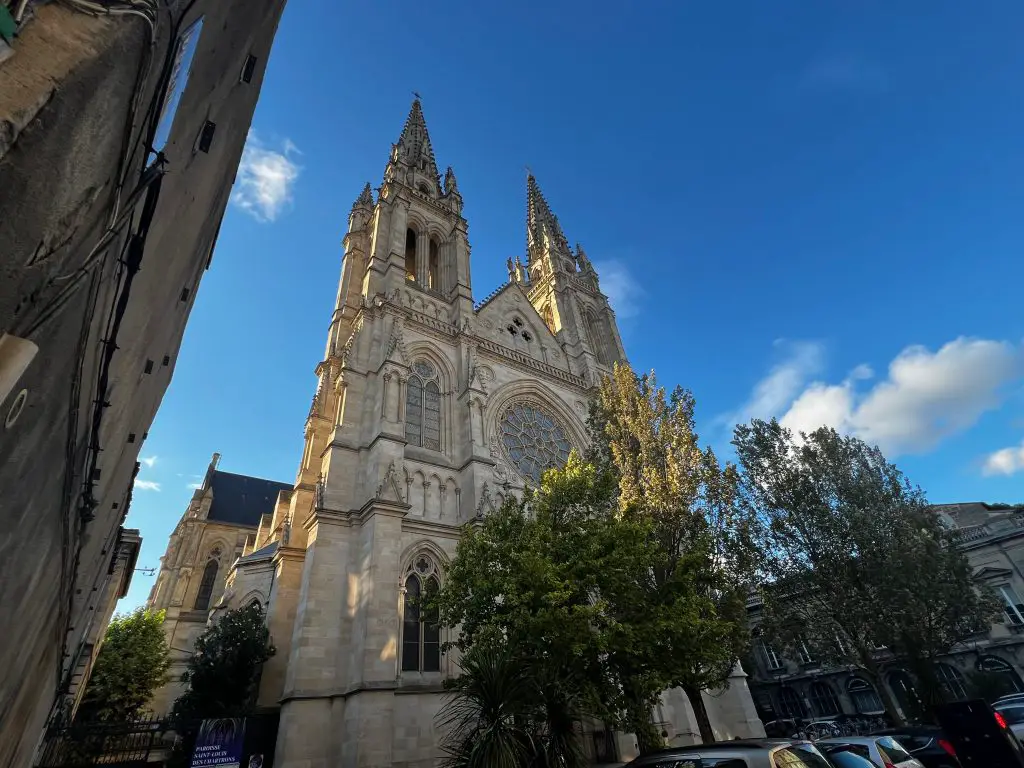 Chartrons is a neighborhood to the north of the city center.  The area was once home to wine merchants and brokers, many of which still have offices and warehouses in the district.
Rue Notre-Dame is the main shopping street in Chartrons, known for its antique markets, art galleries, cafes and restaurants.  Yarra is a wine bar address in Chartrons.  For a good cup of coffee or brunch drop into La Pelle Cafe.
The market square offers a great choice of bars and restaurants as well.  Check out this wine and cheese tasting in the neighbourhood.
Hotel recommendations in Chartrons: